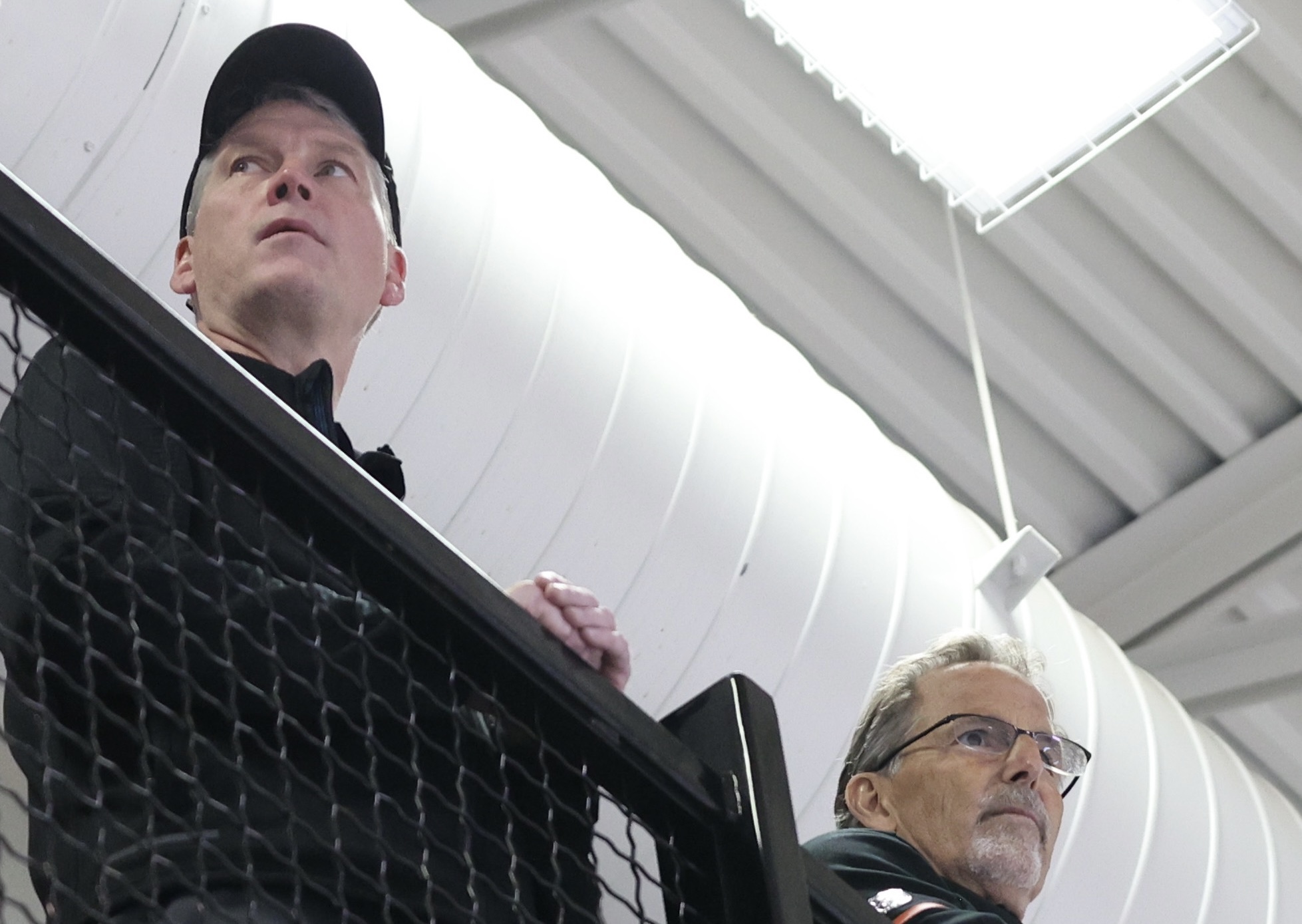 With the Regular Season Ten Weeks Away, How Has the Flyers' Offseason Stacked Up to In-Season Promises and Expectations?
With the month of July coming to an end and a boring and mundane month of August ahead of us, we look back at the season-altering month that never was. Whether you were a fan of a rebuild or a fan for a re-tool, the Philadelphia Flyers somehow found a way to do neither and found a frustrating middle ground. For those who wanted a rebuild, the Flyers ended up keeping their 5th overall selection in the 2022 NHL Entry Draft and selected promising forward Cutter Gauthier but then traded 3 picks for Tony DeAngelo the following day, giving them no second round picks until 2025. For those who wanted an aggressive re-tool or anything of the kind, the trade and then subsequent signing of DeAngelo fits that bill but by doing that they shot themselves in the foot with little to no cap space heading into the first day of free agency. They balked at the possibility of acquiring Alex DeBrincat, were apparently never in on the Johnny Gaudreau sweepstakes, and then bought out Oskar Lindblom to alleviate cap space for depth pieces, before signing off at 5:00pm on the first day of free agency. With the regular season set to kick off in about ten weeks, how have things stacked up so far to our expectations versus the actual reality of our situation.
When rumours were swirling back in January and February that the Flyers were going to be gunning after players like Johnny Gaudreau or Nazem Kadri, it seemed like a pipe dream that either one would actually get signed. It didn't make sense because for starters, the Flyers were hanging around in the basement of the NHL standings so why would the best free agents of the 2022 class want to come over to this mess, but also how would the Flyers even be able to afford their new contracts. From January to April, the front office and the higher executives wanted the fans to know that this season was a disappointment, they wanted to apologize for the recklessness they caused, and they urged the fan base that changes – and big ones at that – were afoot. Then, slowly but surely, the whispers of aggressiveness died down, and aggressive-rebuild, depth, and stabilization started becoming the key buzz words for what was supposed to be an adventurous off-season.
That pipe-dream that was Johnny Gaudreau's home-coming was becoming more and more like a reality as every day came and went. Gaudreau told the Calgary Flames that he wanted out, not because of money or term, but because he wanted to return close to home and play for a team on the East Coast. It was even reported that Gaudreau was texting his family and friends about his interest in playing for his boyhood Flyers, good friends in Kevin Hayes and Tony DeAngelo were trying their best to bring him over, and he even mentioned himself that he was waiting on the Flyers to clear cap space for his eventual signing. The Flyers could not find a way to alleviate enough cap space for his signing as the asking price for James van Riemsdyk's contract was sky-high. Chuck Fletcher acknowledged and admitted that it was very difficult to move contracts around to open up the space for Gaudreau and even though they could've placed Ryan Ellis on LTIR while also going 10% over the cap in the summer, he thought that was extremely foolhardy because apparently the eventual return of Ellis would further complicate matters. He seems to be the only one who is very positive about that possible outcome, even though the rest of the NHL is under the impression that Ellis is going to miss a large chunk of the regular season again. Doesn't help that a large portion of his rehab has yet to begin – or at least that was the case at the end of June as the Flyers have gone radio silent since.
So it became obvious after the first day of free agency, that somewhere between the end of April and the end of June, the Flyers switched and changed their plan for how they would attack the off-season. It took them all the way until the beginning of the summer to realize that they were an abysmal team last year and that the acquisition of one elite forward won't help them leapfrog 40 points within a calendar year. However, if they figured that out earlier, like maybe in and around the trade deadline, they would've shipped Rasmus Ristolainen for a first round pick and then some, instead of extending him to a 5 year deal. Recouping future assets was the name of the game apparently at the trade deadline, except when it came to Ristolainen and Martin Jones. The Flyers found themselves tied up with the Claude Giroux sweepstakes that didn't end up favouring them all too well since he only wanted the Florida Panthers, which ended up lessening the return. Had they realized their current predicament and standing in the NHL, they would've been better equipped heading into the draft with several more picks in their pocket and more cap space at hand.
It's a telling sign that every free agent defenseman outside of Kris Letang got paid less than Ristolainen and DeAngelo, including comparable defensemen like Josh Manson, Ben Chiarot, Nick Leddy, Nikita Zadorov, and Erik Gudbranson. The Flyers' impatience cost them more than it needed to and worst case, they could've found cheaper, similar quality, and more quantity than what they ended up with had they waited. They were also very fearful after the news of Joel Farabee's injury and their knee-jerk reaction was to keep James van Riemsdyk for top-6 duties during his absence but at the same time buy out the final year of Lindblom's deal. They also felt that his injury and absence in the lineup would create a rippling effect similar to when Ellis went down last year, so they decided to use the open $3.5 million on depth pieces like Nicolas Deslauriers, Cooper Marody, and Justin Braun.
Speaking of injuries, after dealing with numerous setbacks last year with the lengthy injuries to Ryan Ellis, Sean Couturier, and Kevin Hayes among others, this summer hasn't been any different as Farabee is set to miss at the least the first month of the season, Bobby Brink is out for 5 months, and Ellis' situation hasn't been resolved in the slightest – which is alarming for a player who went down in October-November. While we also can't forget about Ivan Fedotov, who was destined to become the Flyers' backup goalie this season. He found himself in a sticky situation as he signed a contract with the Flyers that upset his KHL team's owner – who is very close friends with Vladimir Putin. He was detained for trying to evade military service, so for at least this season, he will be stationed in Russia serving his time. Meaning the Flyers will either be going with Felix Sandstrom or Troy Grosenick as their backup option to Carter Hart.
Meanwhile on the RFA front, Wade Allison, Hayden Hodgson, and Linus Hogberg are among a few who have yet to sign new contracts yet with Morgan Frost, Isaac Ratcliffe, Tanner Laczynski, and Owen Tippett all getting deals done in the last few weeks. Zack MacEwen has filed for arbitration, most likely after seeing the type of deal that Deslauriers signed for – 4 years, $1.75 million annually, and 2 years with a modified no trade clause. Their bottom-six is currently up in the air but will most likely comprise some sort of combination of Frost, Tippett, Allison, Deslauriers, Laczynski, Noah Cates, Patrick Brown, and maybe even MacEwen if he ends up sticking around. With Farabee set to miss the start of the season, barring any injuries, the top 6 is going to be comprised of Sean Couturier, Kevin Hayes, James van Riemsdyk, Cam Atkinson, Travis Konecny, and Scott Laughton.
Not all of it is a loss in terms of their offseason, I think hiring John Tortorella was the best of what was available to them. Barry Trotz rejected an offer from the Flyers that would've made him the highest paid coach in NHL history, but it wasn't entirely a shot towards the Flyers as he also rebuffed the Winnipeg Jets. Trotz seemingly doesn't want to coach anymore and wants a front office position after over 20 years as a bench boss. Bruce Cassidy was available as well after the Boston Bruins shockingly parted ways with their head coach, but he was always destined for the big lights in Las Vegas. Tortorella was a heavy favourite from even before the summer and many of the Flyers' top executives were enamoured with the fiery head coach so it made sense in that regard. This is a head coach who wants no part in a rebuild, he had nothing but great words to describe Philadelphia and the position, and even said he always had them in his plans at some point in the future. He is probably also the only coach that was available that could light a fire under this team and jump start a better season than most are expecting.
So, the aggressive-retool turned into an aggressive-rebuild which then culminated into a stabilizing offseason. Depth was the name of the game after the Flyers realized they had no cap space and no way to alleviate cap space either, and it's just a little shocking that it took them months upon months to make that realization. They ended up keeping their 5th overall selection instead of including it in a deal for Alex DeBrincat but then decided to trade three future picks for Tony DeAngelo, which was almost the same price of acquisition – a first, a second, and a third compared to a second, a third, and a fourth. Then they bought out Lindblom to open up cap space to sign depth pieces but the way they announced the move, it made it seem like they did it to open up space for a bigger fish. Lindblom was a fan favourite and was finally on the right track after a few tough years on and off the ice, so they decided to buy him out for depth instead of choosing to buy out James van Riemsdyk, who is more expensive, older, and figures to be off the team in a calendar year.
The hirings of John Tortorella and Brad Shaw, coupled with the returns of a healthy Sean Couturier and Kevin Hayes and drafting Cutter Gauthier are essentially the high points of the offseason. As we all expected, the front office found a way to liken the return of their top two centres as offseason acquisitions and they truly believe that DeAngelo is a top pair defenseman after his showing last year with the much better and more superior Carolina Hurricanes. Let's also not forget that his partner was the criminally underrated Jaccob Slavin and the Hurricanes are a well oiled machine from top to bottom. Only time will tell on how the acquisition will turn out but we've seen defensemen get sheltered before by a teammate, a team, or a system before – i.e. Keith Yandle.
With everything that was said in January, this was definitely not the offseason we expected, primarily because they made several promises that they never even came close to keeping up with. At least the Flyers didn't bite on the 2023 first round pick that rival general managers were asking for as a sweetener for van Riemsdyk's $7 million AAV, but at the same time the Flyers shouldn't have found themselves in such a desperate situation where a 20 goal scorer on an expiring contract would cost an arm, a leg, a torso, and a head.