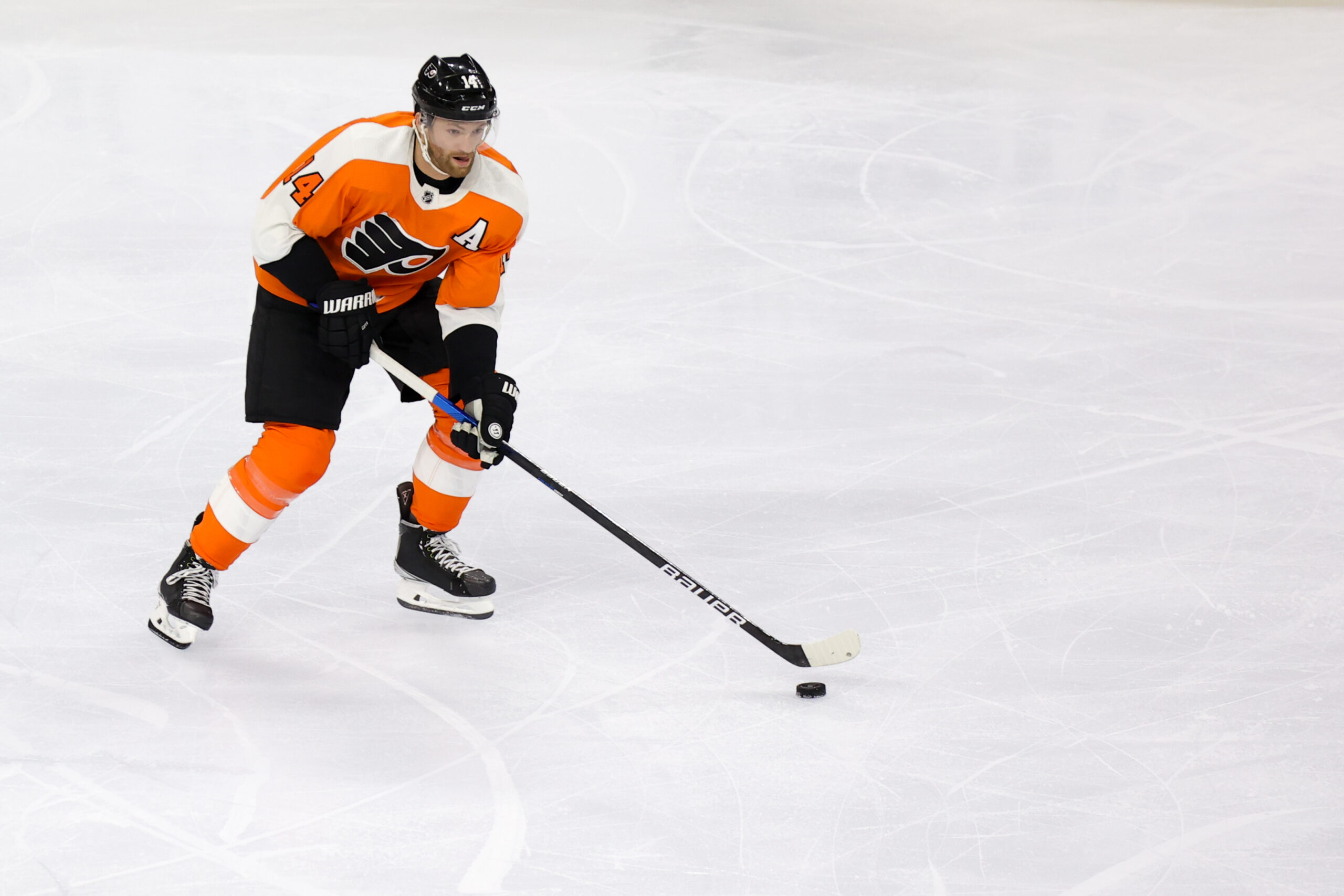 A healthy Sean Couturier is an exciting wrinkle for a potentially tough season ahead
He hasn't suited up for the Philadelphia Flyers since December the 18th, which was a 4-3 victory over the Ottawa Senators. He only suited up for 29 games in the 2021-22 season, he missed the final 53 games with a back injury, and he finished his season on a pretty bad slump as he was clearly playing through an ailment – 1 goal in his final 19 games. The "he" that I'm referring to is Sean Couturier, who is arguably and clearly the best forward heading into the 2022-23 season.
Flyers general manager Chuck Fletcher wants you to know that his return is likened to a big free agent acquisition as his newly minted 8-year contract extension is about to begin. If all ends out the way it's supposed to, Couturier should be a Flyer until 2030.
Former captain Claude Giroux got the brunt of the hate, vitriol, and backlash in his final years with the Flyers and in doing so, the opposite was being said about Couturier. He was being tabbed as the future, the best player on the team, and the most impactful player on and off the ice. Part of that is very true, Couturier is definitely the best two-way forward the Flyers have and have had in years, maybe even as far back as Mike Richards. His defensive game has finally been matched by his offensive output and he has really turned it on over the last 5 seasons.
Once tabbed as the consensus number one pick heading into the 2011 NHL Entry Draft – The Hockey News had a draft special of the past, present, and future with Wayne Gretzky, Sidney Crosby, and Couturier representing the timelines respectively – Couturier's stock dropped after going through a bout with mononucleosis. Because of it, the Flyers were able to scoop him up with the 8th overall selection and thrusted him right into the opening night roster for the 2011-12 season. He showed bursts of his offensive capabilities during his rookie season but was relegated to a bottom 6 role to start. He finished with 13 goals and 27 points in 77 games, while adding 3 goals and 4 points in 11 playoff games. He scored a hat-trick in Game 2 of their first round matchup with the Pittsburgh Penguins and was up to the task in matching up and frustrating Evgeni Malkin.
If you were looking at it from an offensive output, his first 6 years were rather disappointing. The former 8th overall selection only scored 70 goals and 191 points in his first 416 games, started averaging a lot more ice time in years 3 to 6 compared to his first two years, and was always on the cusp of breaking out but had his seasons cut short due to injury. For instance, he suited up in all 82 games in 2013-14 and 2014-15 but only managed to tally 39 and 37 points, respectively. In the following two years, he suited up in 63 and 66 games, respectively, but scored 39 and 34 points. In a full 82 game campaign that would be 51 points and 42 points, which would've been career highs.
Following the end of the 2016-17 season, Couturier went up to his coaching staff and demanded a larger role and Dave Hakstol and company obliged. Put on a line with Claude Giroux and Travis Konecny, but also sometimes with Jakub Voracek, the Flyers pivot broke all his career highs by a mile and a half as he scored 31 goals and 76 points in 82 games. He scored at a 13.7% clip, averaged a then-career high 21:36 TOI, won 53% of his faceoffs, and finished second in Selke Trophy voting for top defensive forward in the NHL.
From 2017-18 to 2020-21, Couturier scored 104 goals and 252 points in 276 games, his shooting percentage went all the way up to 13.8%, he was winning faceoffs at a 56.6% clip, finished 2nd, 6th, and 1st in Selke voting, and truly became a dominating two-way force. His 2021-22 season was a tale of two halves as he started off the year with 12 points in his first 10 games and then as he played through an injury he visibly slumped to the tune of 1 goal and 5 points in his last 19 before finally opting out for surgery.
He was signed through what turned out to be a very team friendly 6-year contract extension that was negotiated by Ron Hextall in the summer of 2015. At the time, many didn't agree with the extension because Couturier hadn't exploded onto the scene yet, but his defensive game didn't go unnoticed and the Flyers signed him to a 6-year deal that counted towards the cap at a $4.33 million hit. He soon made it a very cost effective and steal-worthy deal and it seemed that he was destined for a large AAV for his next deal at the end of the 2021-22 season.
Chuck Fletcher signed Couturier a year before his contract was set to expire to an 8-year deal with a $7.75 million AAV. There was always the possibility of him receiving more, definitely in the $8.5-$9 million range, but he decided to get the deal done in short order and tried to help alleviate some of the cap hell by signing to a "friendlier" deal. Of course with the 8 year maximum term and Couturier turning 30 in December, the back half might not look so pretty, but that's generally the case with most long-term deals in the NHL. The latter years of Johnny Gaudreau's $9.5 million cap hit won't be the prettiest but you're signing the player for the front-loaded years that are to come and hope for a graceful finish.
The Flyers have far worse contracts currently on their books than Couturier's 8x$7.5M and if they were smarter and if they were able to better manage the salary cap, Couturier's return wouldn't have to be seen as a godsend from the organization.
The way the 2021-22 season unfolded, it seemed very long and arduous. Essentially, the Flyers were out of it somewhere in December-January and the final 4-5 months were just torturous. Add in the fact that 3-4 key players were always out of the lineup, the Flyers semi-sold at the deadline, and rookie after rookie made their season debut, it's easy to forget how good and how much we missed Sean Couturier. It's unfortunate that the Flyers have now imploded terribly after he signed his extension as the last 2 years have shown the true underbelly of Flyers hockey.
There is hope and optimism within the organization that with a healthy Couturier and Kevin Hayes ready for the season opener, mixed in with the new coaching staff headed by John Tortorella, that the Flyers can shake off the hate and somehow become a playoff team. The goal is no longer to ice a Cup-winning team because that is long gone and will take years upon years. The Flyers want to ice a team that can at least clinch a Wild Card spot but the way they're currently built, even that looks like a foolhardy plan.
I think a realistic outlook is that a healthy Flyers team will be middling – not bad enough to finish bottom 3-4 but not good enough to sniff the Wild Card. The Eastern Conference is a gauntlet, let alone the Metropolitan Division. The Pittsburgh Penguins always seem to defy the hate thrown towards them as they look to clinch a 17th consecutive playoff appearance, the Washington Capitals always find a way to contend as well, the Carolina Hurricanes and New York Rangers are on the rise and very well could be the top 2 teams in the division, the Columbus Blue Jackets made a few splashes this summer, the New Jersey Devils are a team on the up-and-up, and then that leaves the New York Islanders – a team the Flyers always find the worst ways to lose to. Add in the Atlantic Division's top 4 in Tampa Bay, Toronto, Florida, and Boston, mixed in with the potentially resurgent Ottawa Senators and Detroit Red Wings and once again, the Flyers look very outmatched.
John Tortorella might be one of the few coaches in the NHL that could light a spark under this team and surprise us all. Even if that can't happen in 2022-23, I think it's safe to say that we are at least excited about the return of a healthy Sean Couturier, who could also be named the next team captain.
He is a two-way force, he's going to have to be the face of the franchise for the time being, and he will have every opportunity to shine moving forward. Penalty kill, power play, even strength, overtime, shootouts – he will be everywhere and that's something to be excited about, which is a tough emotion to feel about the current state of the Philadelphia Flyers.