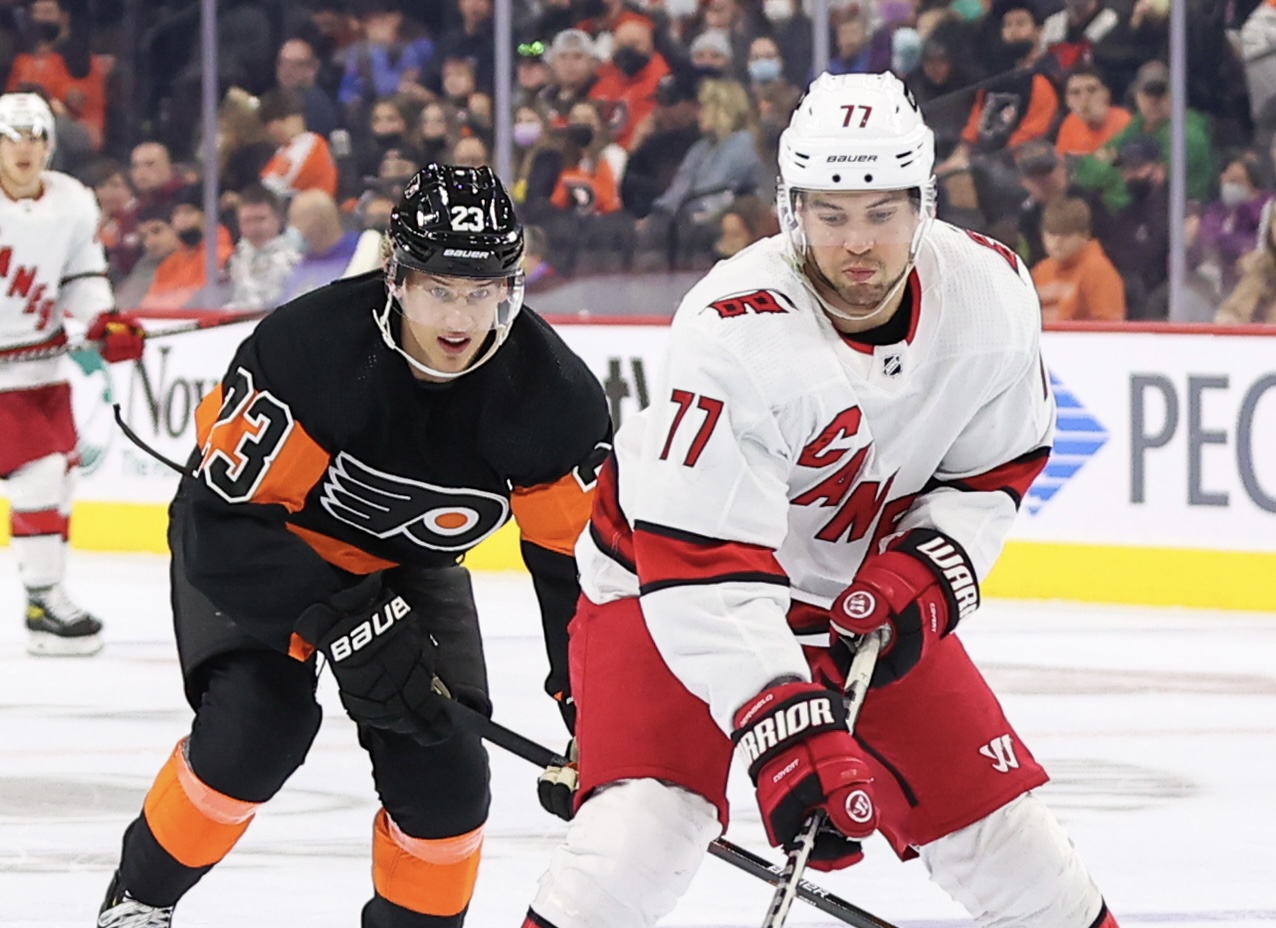 Well, the Philadelphia Flyers certainly made a trade today, and made a choice at the same time.
The Flyers acquired restricted free agent Tony DeAngelo and a 2022 seventh round pick (220th overall) from the Carolina Hurricanes in exchange for a 2022 fourth round pick (101st overall), a third round pick in 2023 (the lowest of the 3 thirds that Philadelphia owns), and a 2024 second round pick, per Flyers general manager Chuck Fletcher. After the trade, the Flyers signed DeAngelo to a two-year, $10 million contract extension that runs through 2024.
Fletcher was excited about his new defenseman, as he said, "We're very happy to add Tony to our team and I know he is very excited to join the Flyers. We did our due diligence and we strongly believe in Tony and his ability to help our team. He is a right-handed shot who moves the puck extremely well and will drive offense from the back end for us."
DeAngelo also seemed excited to join the team he grew up cheering for.
A new defenseman is patrolling the blue line in Philly. https://t.co/5HAhJYdPOl pic.twitter.com/ksSw4Oa2Ui

— Philadelphia Flyers (@NHLFlyers) July 8, 2022
DeAngelo is a former first round pick, selected by the Tampa Bay Lightning in 2014 with the 19th pick, a draft that was held in Philadelphia. DeAngelo of course is a South Jersey native, hailing from Sewell, and grew up rooting for the Flyers.
DeAngelo played with the Arizona Coyotes, the New York Rangers, and most recently the Carolina Hurricanes. His 2021-22 season saw him post 10 goals and 41 assists for 51 points in 64 games for the Hurricanes, with his assist total being set as a new career-high. He also racked up a goal and 9 assists for 10 points in 14 playoff games before the Hurricanes fell to the Rangers in the Eastern Conference Semifinals.
DeAngelo's acquisition comes with some much deserved criticism and controversy. Before he even got to the NHL, he was suspended not once, but twice, for violating the Ontario Hockey League's policy on using homophobic, racist, or sexist language. Twice, he showed his true colors, and still made it to the NHL.
When he got to the Lightning organization, he was a great offensive product when he joined their AHL affiliate in Syracuse, but he was healthy scratched 8 times and wore out his welcome with the Crunch after just 69 games. DeAngelo was rumored to have attitude problems and lacked discipline as well, which has been a frequent, rightful cause for concern his entire career.
After being traded to the Coyotes, he played in 39 games for Arizona and another 25 games for AHL Tucson. He was suspended three games in the NHL for physical abuse of officials that season, and the Coyotes decided to rid themselves of DeAngelo after just one season and dump his problems on the Rangers in the Antti Raanta-Derek Stepan trade.
DeAngelo found his groove in New York and started to grow into the player he was destined to be when he was drafted, but his issues still followed, especially off-ice. DeAngelo's Twitter account, which has long since been deleted, was constantly filled with rhetoric about former president Donald Trump and completely unfounded QAnon theories. He even claimed that COVID-19 was nothing to be worried about and was nothing more than a scare tactic pushed by the media. Yeah, that scare tactic that's killed more than 6 million people across the globe.
DeAngelo on the ice was still up to no good either, notably displayed by his physical altercation with former teammate Alexandar Georgiev while both were playing for the Rangers following an overtime loss to the Pittsburgh Penguins. After he and the goaltender scrapped as they left the ice, then-Rangers general manager Jeff Gorton announced that DeAngelo had played his last game as a Ranger.
He was subsequently bought out after the season, and the Hurricanes signed him to a one-year deal, much to the dismay of the Carolina fanbase and the hockey world; and now that dismay lies with the fans of the Flyers. Chuck Fletcher claimed to have done his due diligence on this trade. He said he was happy to have Tony DeAngelo on his roster. From an on-ice perspective, sure, it could work out, even though depending on who you ask, the Flyers already had a DeAngelo-esque player that cost less against the cap and was actually an upstanding citizen in Shayne Gostisbehere and traded him away last year.
But this trade is a black eye on the Flyers from top to bottom. They've lost any goodwill they may have even had left from the fanbase, and they've definitely lost any respect either. Being a good hockey team, or even being a semi-good hockey team in the Flyers' best-case scenario this year, should come second to employing decent human beings.
But the Flyers made that unfortunate choice, and I guess trying to win will always be the larger priority for a team that probably won't sniff the playoffs again this season.