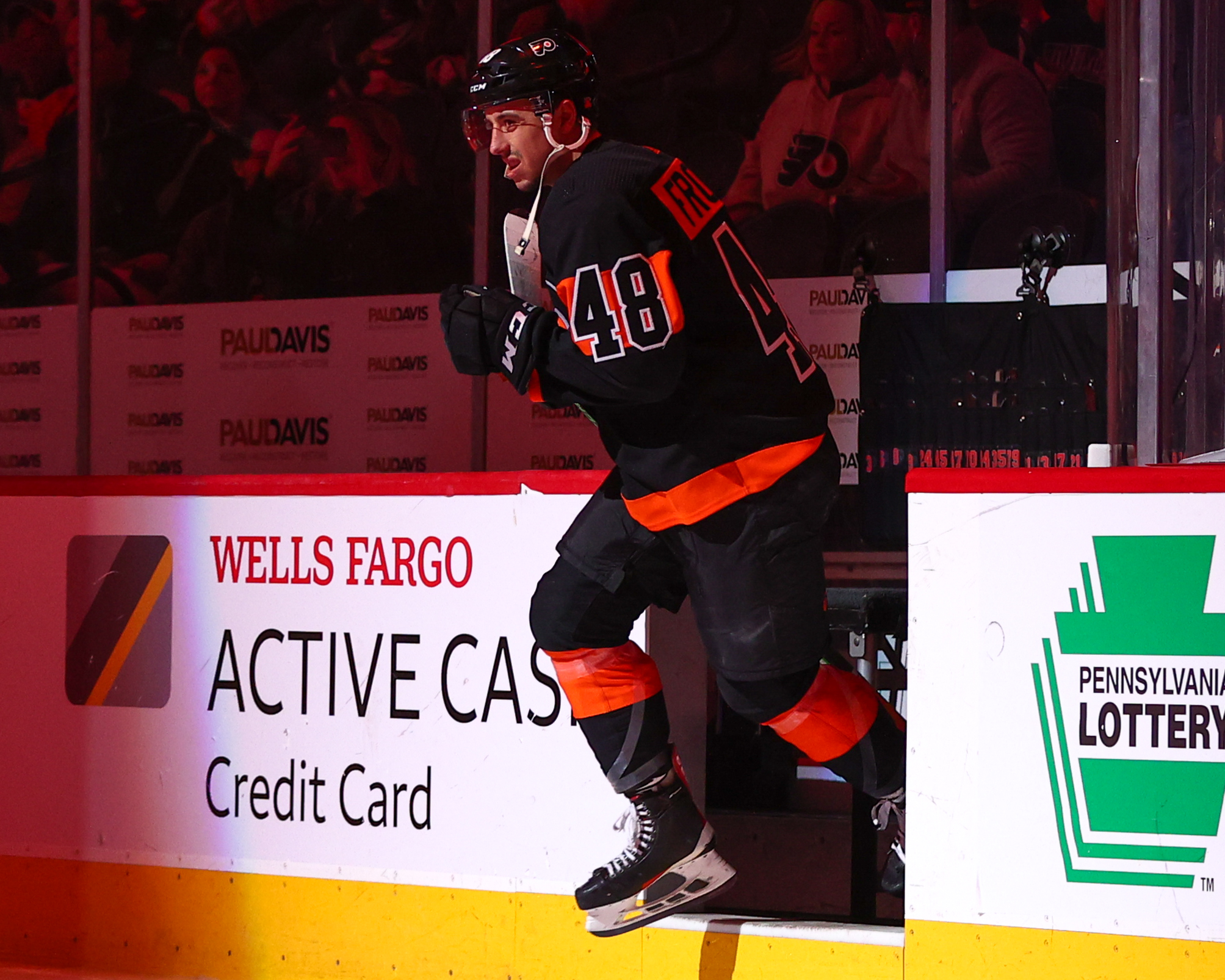 Flyers Sign Their First RFA in Morgan Frost to a One-Year Deal
After qualifying a slew of RFAs before the commencement of the free agent frenzy, the Philadelphia Flyers have finally signed one of them as today they have announced that Morgan Frost has agreed to a one year deal worth $800,000, according to President of Hockey Operations and General Manager Chuck Fletcher.
DONE DEAL: We have signed center @_morganfrost_10 to a one-year, one-way, contract with an average annual value (AAV) of $800,000. https://t.co/XiyTqH1mnB

— Philadelphia Flyers (@NHLFlyers) July 15, 2022
Frost was drafted 27th overall in the 2017 NHL Entry Draft with the Flyers' second selection of the first round, after taking Nolan Patrick with the second overall pick. Ron Hextall swung for the fences in his own way as he traded Brayden Schenn to the St. Louis Blues for their first round pick in 2017 and a conditional pick that turned into a first round pick in 2018 – with which they drafted Joel Farabee.
Frost was coming off a junior season where he scored 20 goals and 62 points in 67 games, which was a 35 points increase from the year before with the Sault Ste. Marie Greyhounds of the OHL. In his draft + 1 year, Frost scored 42 goals and 112 points in 67 games and then scored 37 goals and 109 points in only 58 games the following year, really proving Hextall's point in why he made the trade, or so we thought.
In 2019-20 he split time between the AHL's Lehigh Valley Phantoms and the Philadelphia Flyers, where he scored 13 goals and 29 points in 41 games for the former and 2 goals and 7 points in 20 games for the latter. Frost was named to the AHL All-Star Game that year and accompanied the Flyers in the COVID bubble playoffs, but didn't appear in any playoff games.
The year as a whole was promising and the Flyers were excited for what he had to bring in 2020-21. Frost appeared in only 2 games for the Flyers, after he was promoted up into the lineup after an injury to Sean Couturier, after the 2020 Selke Trophy  winner took a hit from Jake McCabe of then the Buffalo Sabres. He was diagnosed with a dislocated shoulder and was forced to miss the rest of the season.
Last year, Frost split his season with the Phantoms and the Flyers again but this time around it was so Frost could get his feet wet, gain some confidence in his game, and get some actual playing time after missing almost 2 years of hockey with injuries and COVID interruptions. In 24 games with the Phantoms, Frost scored 6 goals and 19 points. For the Flyers he scored 5 goals and 16 points in 55 games, but in the back-end of the season, the Flyers saw a different and much more confident Frost.
It seemed like former head coach Alain Vigneault was getting in the way of his development, the same way he stunted Nicolas Aube-Kubel, Oskar Lindblom, Travis Konecny, and Travis Sanheim. Mike Yeo unleashed Frost at the end of the season, he was playing upwards of 16 minutes most games, looked a lot more confident offensively alongside Owen Tippett and heading into the summer, that is exactly what was needed.
Now, as promising as it was, the Flyers need actual production from their former first round pick from 5 drafts ago. This is a big year for him as he has a chance to prove his worth in a season that can go either way for the Flyers. They made no splashes in free agency, didn't have much cap space to work with, and have a few more RFAs to deal with after Frost in Wade Allison, Owen Tippett, and Zack MacEwan among a few others.
With Sean Couturier and Kevin Hayes returning to health, there will be a lot less pressure on Frost and his one-year, one-way deal is definitely a prove-it deal with such a low cap hit as well.