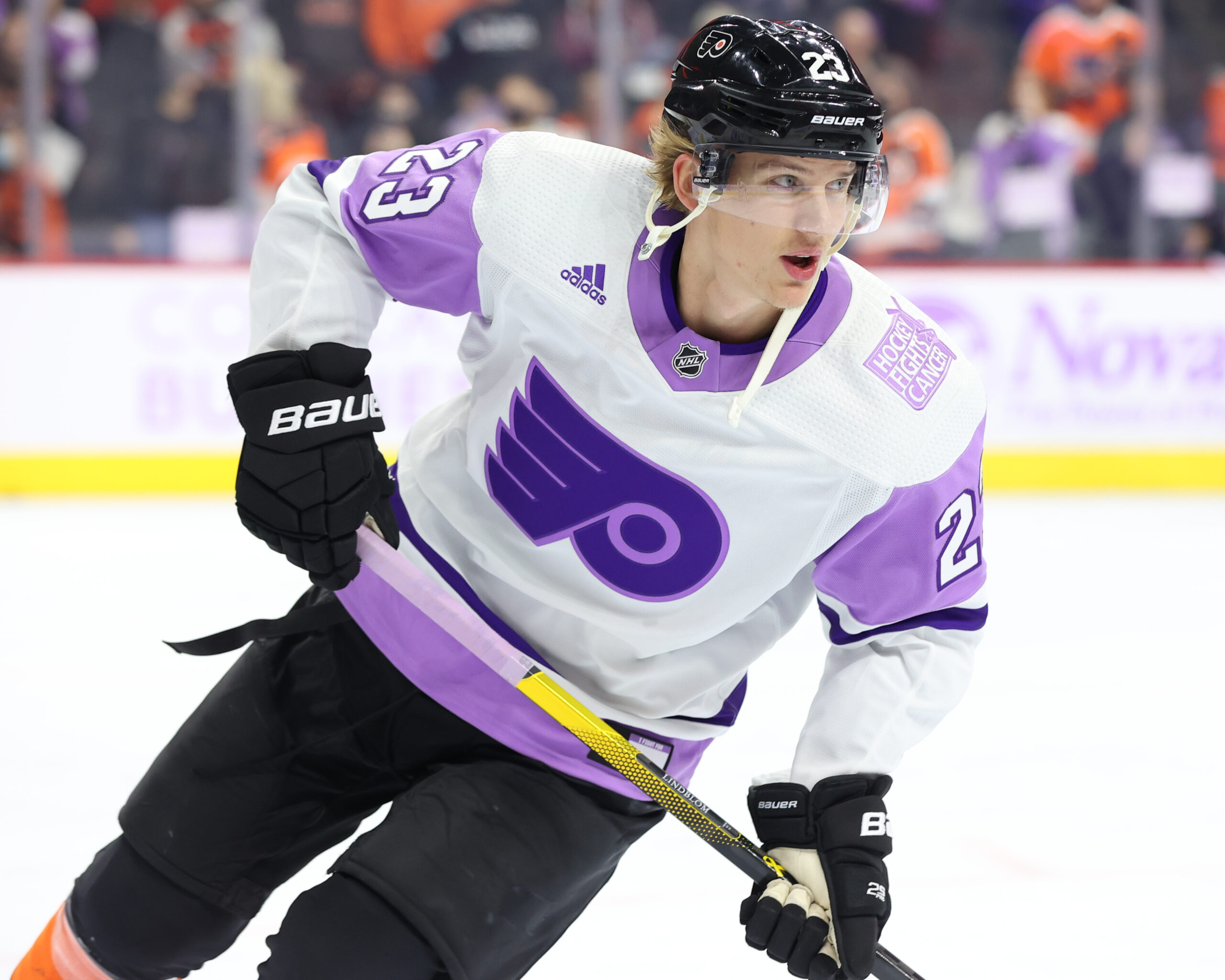 Flyers Buy Out the Final Year of Oskar Lindblom's Contract
On the eve of free agency and the Philadelphia Flyers desperately trying to alleviate as much cap space as possible, they have bought out left winger Oskar Lindblom in a move that gives them an additional $3.33 million dollars in cap. The corresponding move was an inevitability due to their cap crunch, their aggressive nature this offseason, and not having many other options to turn to.
The Philadelphia Flyers have placed forward Oskar Lindblom on waivers for the purposes of a buyout of the final year of his contract, which has an average annual value (AAV) of $3M. https://t.co/KBNhJDZpJ2

— Philadelphia Flyers (@NHLFlyers) July 12, 2022
The Flyers signed Lindblom to a 3-year deal that paid him $3 million annually in the summer of 2020 after he made a miraculous return in the COVID bubble playoffs from his cancer diagnosis. With Johnny Gaudreau rumours being white hot, the Flyers need every penny imaginable if they want to bring him home, and in doing so Lindblom became a casualty due to his unique contract that actually allowed the Flyers to save money this summer. With Lindblom being bought out, the Flyers go from a shade over $100,000 in projected cap to a little under $3.5 million and that number should increase at some point when they place Ryan Ellis on LTIR, which alleviates an additional $6.275 million.
The Flyers need new contracts for players like Morgan Frost, Owen Tippett, Wade Allison, and Zack MacEwen – who all got qualifying offers yesterday – while also perusing the free agent waters for marquee free agents that fit their aggressive re-tool. How do you do that with little to no cap space? Sean Couturier, Joel Farabee, and Rasmus Ristolainen all just signed extensions that are about to kick in, so they won't be moved; let alone the fact that one is injured, one is coming off an injury, and the other has a seemingly bad contract. Kevin Hayes and Cam Atkinson both have modified no-trade clauses, carry a lot of cap and term with them, but also seem like focal points in the offense now more than ever with John Tortorella behind the bench, so they can't and won't move them. Travis Sanheim was arguably your best defenseman last year and you're already razor thin on the backend so you can't move him either. Ryan Ellis is on the mend for the foreseeable future, Scott Laughton is too valuable and carries a low cap hit, and Tony DeAngelo was just acquired so that rules out all 3.
You're then left with Oskar Lindblom, James van Riemsdyk, Travis Konecny, and Ivan Provorov. The latter two are doomsday options if the Flyers get very desperate in an attempt to free up cap space in the 11th hour. With how thin they are on defense, trading Provorov would be a foolhardy plan but rumours have been swirling for a few weeks now and it has more to do with cap space than his actual play. The same can be said about Konecny, but he's been on the trading block for a few years now and Fletcher almost executed a trade last summer involving the young winger. The former first round picks from the 2015 NHL Entry Draft hold the most trade value on the team and would be able to bring back picks, prospects, roster players, and/or cap space compared to anyone else on the roster. Provorov carries a cap hit of $6.75 million for the next 3 years and Konecny is at $5.5 million over the same time frame. Their names are popping up more and more because trading James van Riemsdyk is getting tougher and tougher. NHL teams with ample amount of cap space are at a premium right now, they know the Flyers are desperate to move the veteran winger, so the asking price is a lot higher than it should be. However, the Flyers don't carry a second round pick until 2025 – and second rounders seem to be the going rate for moves like this – so it's only likely that they will be asking for a future first.
Due to the cap crunch, Lindblom was bought out but the writing was on the wall near the end of the season. The winger has struggled – for obvious reasons – since making his return and last year was no different.  He started off the season with 0 goals and 1 assist in 21 games under Alain Vigneault and when he got fired before their December 6th tilt against the Colorado Avalanche, Lindblom scored his first goal of the season. He then scored 10 goals and 20 points in his next 34 games with Mike Yeo at the helm.  However, things got tougher again as he ended the season on a 24-game run where he scored 2 goals and 5 points, was a -10, and ended up having a lot more maintenance days. Lindblom was even a healthy scratch a few times due to a lot "bumps and bruises", according to Yeo. His season could've been broken down into two parts: In the 45 games of tough breaks, bruises, and fourth line appearances, he scored 3 goals and 4 assists, was a -19, and only fired 50 shots on goal, compared to the 34 games he scored 10 goals and 20 points, was +9, and fired 72 shots on goal.
Lindblom was a fan favourite, will be remembered for his courage on and off the ice, and when he was on his game he was a true force on both ends of the ice. Unfortunately consistency became an issue as he was trying to get back to hockey form and with the Flyers always being aggressive and impatient, he became a casualty of their mess. With his $3.33 million cap savings, Ryan Ellis' LTIR move likely happening sometime in the summer, and being able to go over the cap by 10% until the season starts, it becomes even more important to find a way to get out of van Riemsdyk's final year.
The Flyers have dipped their toes into the aggressive re-tool and there's no turning around now. They traded future assets for Tony DeAngelo, they bought out Oskar Lindblom, they're diligently working the phones for a trade involving van Riemsdyk, and they most likely have doomsday options in Konecny and Provorov if all else fails. The chaotic summer has only just begun, so it's time to buckle up as free agency officially commences in less than 24 hours.