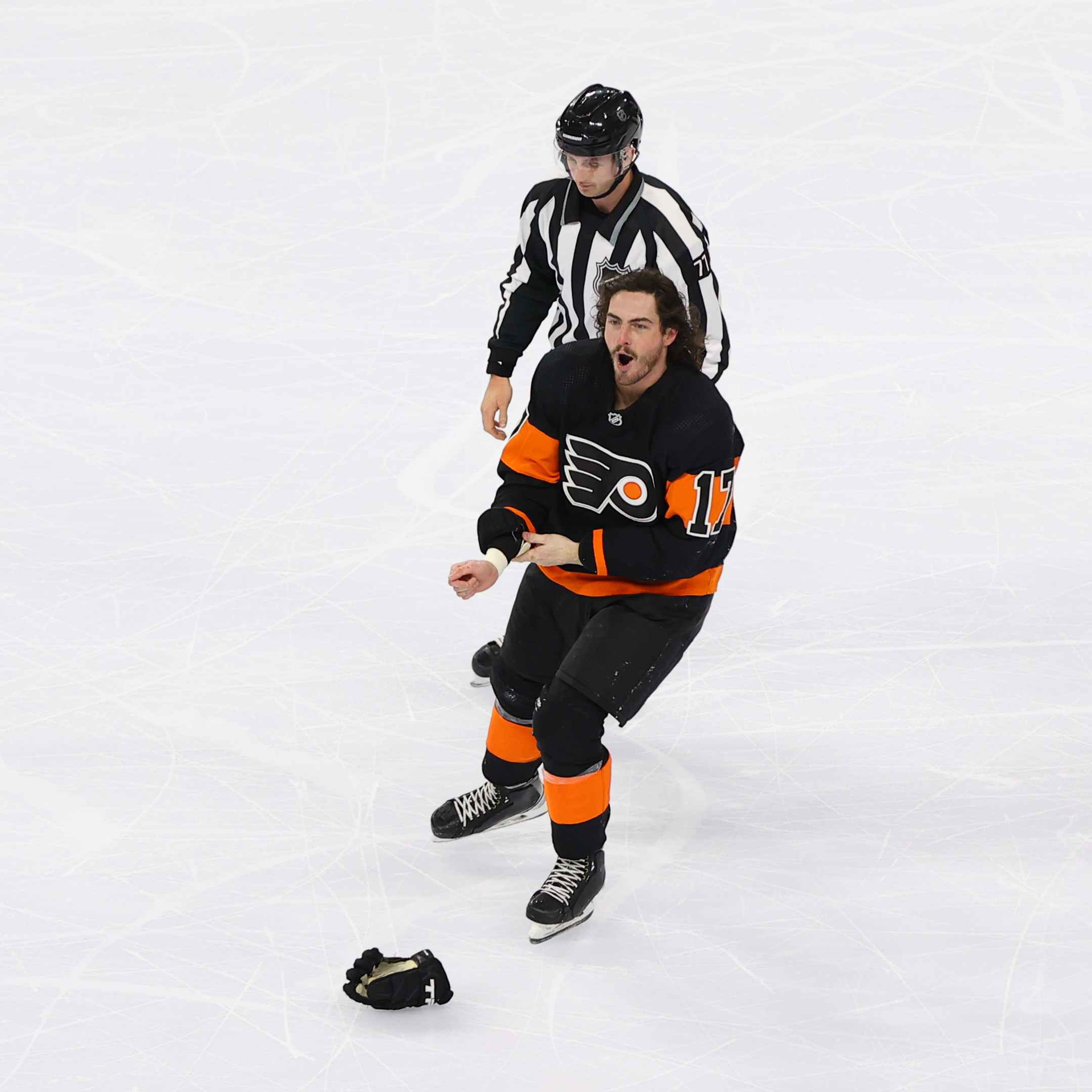 Pending RFA Zack MacEwen Files For Salary Arbitration
After taking care of their first qualified restricted free agent a few days ago in Morgan Frost, the Philadelphia Flyers found out that one of their RFAs in Zack MacEwen elected for salary arbitration earlier today.
The Flyers qualified 9 players on the 11th of July in MacEwen, Frost, Hayden Hodgson, Wade Allison, Tanner Laczynski, Jackson Cates, Owen Tippett, Isaac Ratcliffe, and Linus Hogberg. The Flyers chose not to tender offers to Matthew Strome, Maksim Sushko, and Kirill Ustimenko. Of the 9 who were qualified, Allison, Hodgson, Laczynski, MacEwen, and Hogberg were arbitration eligible.
The NHLPA announced a list of 24 players who elected for arbitration, which for the longest time was seen as one of those unwritten rules in the NHL, but it's becoming more and more prevalent in the modern game. Flyers fans will remember that before Brayden Schenn signed his 4 year deal that was worth $20.5 million, he filed for arbitration and it truly went down to wire before Ron Hextall hammered down a deal a few hours before the hearing.
MacEwen was an undrafted prospect that was signed by the Vancouver Canucks in March of 2017 to a 3-year entry level contract. He played in parts of three seasons with the Canucks from 2018-19 to 2020-21 but only appeared in 55 games, scoring 6 goals and 3 assists, while racking up 69 PIMs. MacEwen was placed on waivers before the start of the 2021-22 season after the Canucks signed Alex Chiasson and had no room on their NHL roster. With injuries piling up and needing depth pieces after Kevin Hayes was initially sidelined, the Flyers claimed him off waivers on the 12th of October.
He didn't make his NHL debut until the 20th of October because he needed to acquire a U.S. work visa first. MacEwen played in 75 games for the Flyers this past season, scored 3 goals and added 6 assists, while racking up 110 PIMs for this disoriented Flyers squad. He was the energy guy, he dropped the gloves when necessary – proven by his 12 fighting majors – and he provided an element that the Flyers haven't had in their bottom 6 for several years.
The Flyers walked into the July 13th free agency frenzy with $3.5 million in cap space after buying out Oskar Lindblom, but were primarily hampered because they acquired and then signed Tony DeAngelo to a 2-year deal that pays him $5 million annually. Most of that cap space was gone and utilized on the first day on depth pieces but in regards to MacEwen, the Flyers signed another tough guy in Nicolas Deslauriers. It's tough to imagine the Flyers going with two players who don't provide much else other than dropping the gloves on a game by game basis but they do talk about physicality and being tough to play against a lot.
MacEwen is coming off a contract that paid him $825,000, so after being qualified his new AAV would've been $990,000. With Deslauriers in the mix for 4 years at $1.75 million per season, the Flyers not having much cap space to begin with, and needing to sign other RFAs like Allison and Tippett, it's tough to imagine what the outcome of this arbitration is going to be. The Flyers really liked MacEwen last year, they were happy with how he played in a lost season, and couldn't stop talking about the intangibles that he brought to the ice.
Usually players don't make it to their arbitration hearings, but this can play it out in a few ways depending on if the Flyers want him anymore, and if they can fit him on the books.