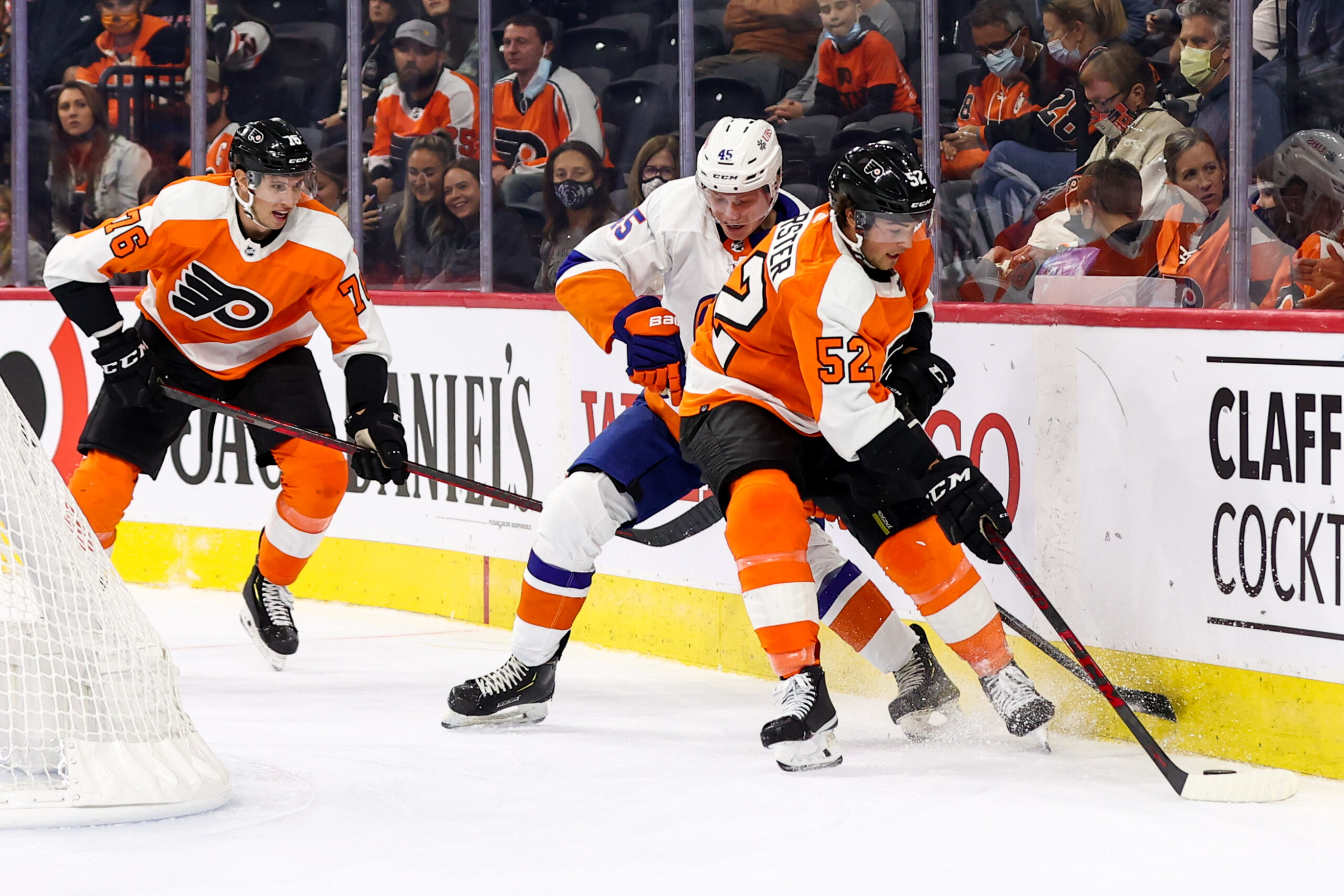 Roster Battles Ahead of Training Camp: Forwards
With the NHL roster all but set up, with the exception of a few unsigned RFAs, the Philadelphia Flyers will have some compelling roster battles and moves to make before the start of the regular season.
With no major offseason moves outside of the trade for Tony DeAngelo, the Flyers added Nicolas Deslauriers and Justin Braun through free agency, but have several holes in their lineup with the injured Joel Farabee on the mend for at least the first month of the season and the departure of Oskar Lindblom.
The top 6 is all but set with the only caveat being trying to find what combinations work, but the real test will be figuring out the best compliment of bottom 6 forwards to ice on game by game basis. Head coach John Tortorella and general manager Chuck Fletcher will have to decide the best course of action on how they want to build their opening night roster and whether or not they want to go with young forwards who showed some promise at the end of the season or if they want to go with some more veterans.
In terms of the RFAs, Morgan Frost, Owen Tippett, Isaac Ratcliffe, Tanner Laczynski, and Zack MacEwen have all recently re-signed, with contracts needed for Linus Hogberg, Hayden Hodgson, Jackson Cates, and Wade Allison. Of the remaining RFAs, Wade Allison figures to be the only one with a real shot at cracking the opening night roster but with his injury history and his lack of consistent playing time, he might start the season in the AHL ala Morgan Frost from last season.
Jackson Cates appeared in 11 NHL games last year and has 15 total appearances over the last 2 seasons, Hayden Hodgson appeared in 6 games last season and tallied 3 points, and Linus Hogberg appeared in 5 games at the end of the season.
Zack MacEwen seemed like a lock to return before the season ended, the Flyers were enamoured by his play, he was the recipient of the Gene Hart Memorial Trophy, and was the only sparkplug on the bottom 6 that had the capabilities of creating momentum for his teammates. After the long-term signing of Nicolas Deslauriers – of which includes a modified no-trade clause – MacEwen's future with the Flyers took a spiral because it doesn't seem entirely fruitful to have two straight-up enforcers in an NHL lineup anymore. His prospects took an even bigger nose dive when he filed for arbitration, though he re-signed before his hearing, but who could blame him?
Morgan Frost is entering his 4th season with the Flyers but has only appeared in 77 games in parts of the last 3 due to injuries and COVID interruptions. The former first round pick in the 2017 NHL Entry Draft has entered a very critical juncture in his young career as he signed a "prove it" deal this summer with his one-year, $800,000 contract. In 77 NHL games he has scored 7 goals and 23 points, with 16 of them coming last year. He ended the season with a lot more jump in his step, he looked more confident, and he looked to have regained the momentum required to stick around the lineup as well as being given high quality minutes. With Sean Couturier and Kevin Hayes sheltering him above the lineup, Frost will have all the opportunities needed to succeed and in the right capacity – barring injuries again.
Isaac Ratcliffe also signed a one-year deal this summer but surprisingly for a little more money than Morgan Frost at $813,000. Ratcliffe, a second round pick also from the 2017 NHL Entry Draft, made his NHL debut last year and appeared in 10 games, while scoring a goal and adding 3 assists. His spot in the lineup is not as certain as the likes of Frost or Owen Tippett, but if he impresses enough at training camp and is possibly aided by an injury to someone, he would be considered for a spot on the opening night roster.
Tanner Laczynski falls in the same category as Allison because of the injuries he has had to deal with over the last 2 seasons as well as falling in the same category as Ratcliffe, where he needs to wow at training camp to really win a spot. He has been touted as one of the better two-way forwards in the pipeline and has been for some time, but he just needs to overcome his recent hip injuries to staple a roster spot. More importantly, he needs consistent game minutes and quality opportunities, so the AHL might not be the worst place to start the season.
As for Owen Tippett, the jewel of the Claude Giroux trade, he will be given every opportunity to succeed next year as well. He has had a rocky start to his career, similar to Morgan Frost, and the two will most likely compliment each other very well next year as they did before the season came to an end. The Flyers seemingly have more faith in Tippett as he was given a two-year contract and an annual cap hit of $1.5 million. Just like Frost, Tippett showed a lot of promise and prospects at the end of the season but once again, especially with the modern day Flyers, promise and potential can only take you so far.
At some point you're going to have to convert, at some point you're going to have to take those much needed strides, and at some point you're going to have to become the focal point that the organization has tabbed you to be. With Frost and Tippett, the Flyers are hoping for and expecting big things and if they can produce secondary or even tertiary scoring in the top-9 with some special teams help, the Flyers will be in a much better place.
As for their top-6, it is a lot more fluid especially with the returns of Sean Couturier and Kevin Hayes. The Flyers' 1-2 centre duo missed a majority of the season last year with Couturier only playing in 29 games and Hayes missing most of the games from October to March before finishing off the season with 24 points in his final 30 games. Couturier is arguably the best forward on the team now that Claude Giroux is no longer a Flyer and his return is being likened as a top-free agent acquisition by general manager Chuck Fletcher.
On the wings, the Flyers will have the quartet of Travis Konecny, Cam Atkinson, and then most likely Scott Laughton and James van Riemsdyk. With Joel Farabee dealing with a mid-summer injury and the Flyers not adding to their top-6 over the summer, the Flyers will have to make do with what they have and Laughton has seen top-6 minutes before. van Riemsdyk, who was at the epicentre of trade rumours before the free agent window opened, will have a great opportunity to prove his worth with a shot as the team's top left-winger.
Atkinson is coming off a year where he won the Bobby Clarke Award as team MVP as well as well as the Yanick Dupré Class Guy Memorial Award. He led the team in goals and points all the way until the final few games when Travis Konecny edged him out in points and van Riemsdyk in goals. Through 73 games he scored 23 goals and 50 points, had a shoot-first mentality, and was a threat while shorthanded – all things the Flyers have severely lacked over the last few years. He will most likely play on Couturier's right wing with van Riemsdyk on the left as the Flyers love having familiarity and chemistry. Couturier and van Riemsdyk have played together quite a bit at 5-on-5 and before the 2020-21 season spiralled out of control, the duo led the team in points alongside Farabee for most of the season.
Konecny has been seen as a trade piece for Chuck Fletcher over the last few seasons but it seemed like the trigger-happy general manager was a little shy this offseason with his young forward. Trade offers were underwhelming when placed on the trade block so the Flyers balked at any opportunity for a trade. Konecny is entering his 7th season with the Flyers, posted a team-high 52 points last year, and without Farabee starting the season, the Flyers are going to need the now-seasoned veteran to return to his 2019-20 form and take charge. Laughton on the other hand is seen as a very valuable piece on the Flyers and is definitely a utility knife of a player. He has played all throughout the lineup from the first line to the fourth, has seen time on the power play, is a focal point on the penalty kill, as well as an overtime option.
Laughton, Hayes, and Konecny have had some success before, primarily in the 2019-20 season and in the COVID bubble playoffs. The Flyers thrive on familiarity so it will be interesting to see if new head coach John Tortorella follow suit with the Flyers' mantra. All in all, there's a good chance that the Flyers' first line will feature van Riemsdyk, Couturier, and Atkinson with the second line featuring Konecny, Hayes, and Laughton.
With Frost, Tippett, and Deslauriers all but stapling their names to the opening night roster, the final three spots are going to be a battled out by the likes of Patrick Brown, Noah Cates, Wade Allison, Zack MacEwen, and most likely Isaac Ratcliffe, and Tanner Laczynski. Bobby Brink would have had a great opportunity to feature in the every day lineup but he will be sidelined for the next 5 months with a hip injury.
Two of the final three spots seem like locks for Brown and Cates as both featured plentiful amounts last season and the Flyers, as they always do, were enamoured by the hard work displayed by Brown on the fourth line. Cates has been touted as having a very high hockey IQ, and featured in 16 games last year while scoring 5 goals and adding 4 assists. He impressed all throughout his 16 game "try-out" and it would be a shock not to see him penciled in the lineup in any capacity on the 13th of October.
Things get a little complicated for that final spot and it truly then becomes a dog fight between 3-4 options. MacEwen will battle things out with the likes of Allison, Laczynski, and Ratcliffe, but the latter duo seemed more destined for the AHL unless they perform admirably during training camp. Had MacEwen not been brought back, then the Flyers definitely had to have seen from the aforementioned trio that they don't need seasoning in the AHL.
Allison has been a tantalizing prospect because he was touted for years, didn't sign his deal until the very end, and then had a 14 game stint where he scored 7 points but impressed with his hard-nosed style of play. He scored 10 goals and 17 points in 28 games for the Lehigh Valley Phantoms last year, so he is definitely more ready than the other two but his injury woes are tough to overcome.
As things stand today, your 2022-23 Philadelphia Flyers forward group could consist of:
James van Riemsdyk – Sean Couturier – Cam Atkinson
Scott Laughton – Kevin Hayes – Travis Konecny
Owen Tippett – Morgan Frost – Wade Allison/Noah Cates
Nicolas Deslauriers – Patrick Brown – Noah Cates/Wade Allison/Zack MacEwen