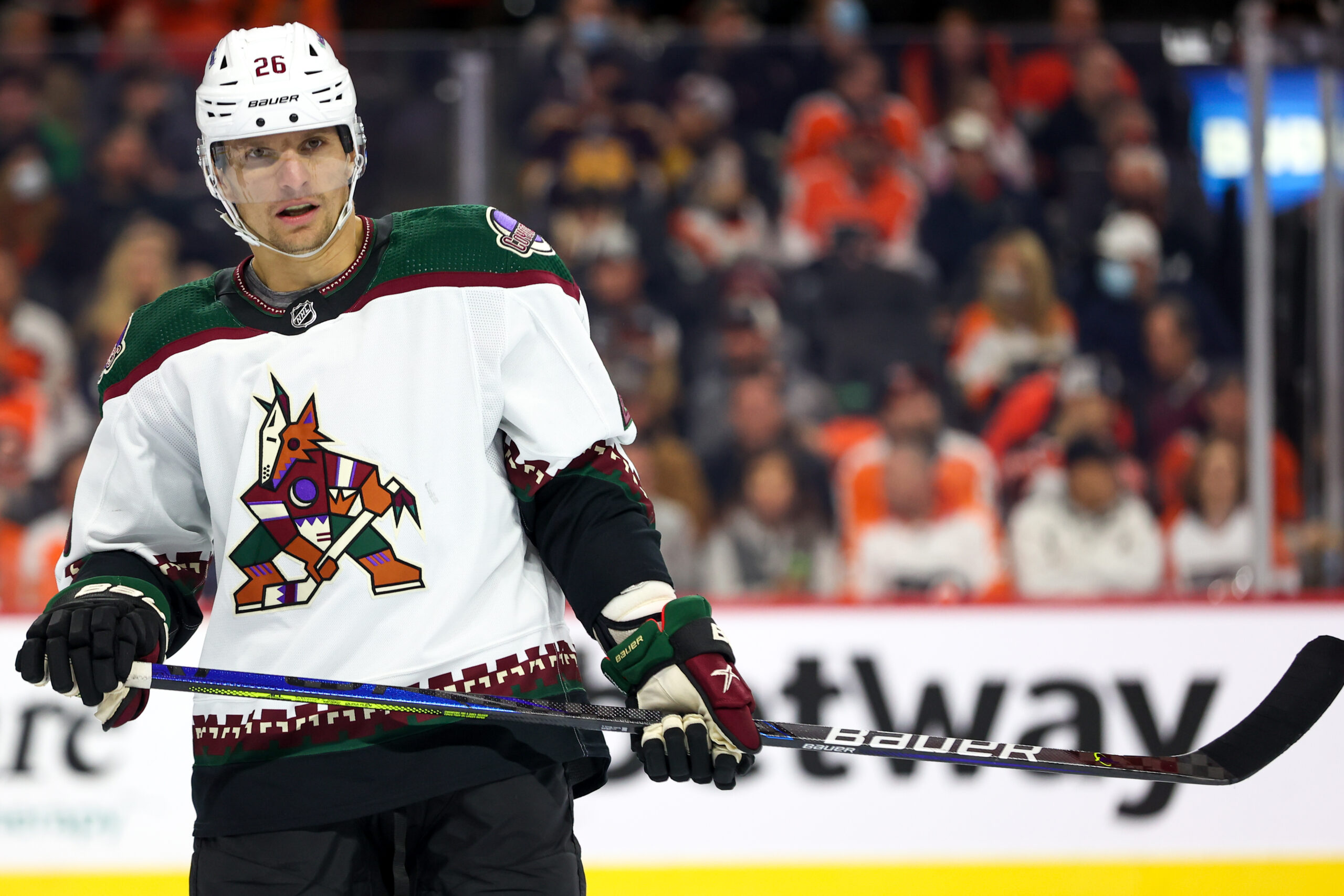 Flyers prioritizing strength, aggressiveness, and PIMs as they sign Antoine Roussel to a PTO
In terms of player personnel, the Philadelphia Flyers have been relatively silent on that front since the first day of free agency.
General manager Chuck Fletcher bellowed to the media that the Flyers had a plan in mind on the first day and once they signed Nicolas Deslauriers, Justin Braun, Cooper Marody, and Troy Grosenick, not only were they done but they were extremely satisfied.
Over the course of the last few months the Flyers signed their remaining RFAs including Morgan Frost, Owen Tippett, Isaac Ratcliffe, Linus Hogberg, Hayden Hodgson, Zack MacEwen, Wade Allison, Jackson Cates, and Tanner Laczynski. With training camp set to kick off next and the regular season less than a month away, it's PTO season and the Flyers have dipped their toes in the water by giving Antoine Roussel a shot.
Roussel will now have a chance to earn a roster spot with a good training camp and it seems like the Flyers are seriously prioritizing strength, aggressiveness, and brute force with a few of the moves they have executed this off-season.
With the season that Zack MacEwen just had with the Orange and Black, it seemed like a foregone conclusion that he would get re-signed as he provided energy and a different element that the Flyers have severely lacked over the last few seasons. Then in a surprising twist of fate, the Flyers signed Nicolas Deslauriers to a 4-year deal on the first day of free agency, while also giving him a modified no-trade clause in the first 2 seasons. MacEwen then filed for arbitration and it seemed like the Flyers would let him walk unless they really had the idea of two enforcers playing side by side on the fourth line.
MacEwen ended up signing a contract, the Flyers were very happy to keep him in the fold alongside Deslauriers, and it seemed like training camp would involve several battles for some elusive bottom-six roles. Fast forward to the 20th of September and the Flyers surprisingly sign yet another enforcer-type player in Antoine Roussel to a PTO. Now, it's not a lock that he makes the team as several PTOs fail to get a contract but is there a chance that the Flyers want to run out with 3 players whose primary game is to bang bodies, drop the gloves, and energize their team?
Roussel, one of the few players native to France in the NHL, is attempting to break into his 11th season in the league as he previously spent six years in Dallas between 2012-13 to 2017-18, three years in Vancouver from 2018-19 to 2020-21, and just recently played out his lone season in the desert with the Coyotes. He was a part of the big 2021 draft-day trade where the Canucks traded their undesirable expiring contracts in Roussel, Loui Eriksson, and Jay Beagle alongside a first and second round pick for Oliver Ekman-Larsson and Conor Garland.
The soon-to-be 33-year-old has played in 607 career games, tallied 85 goals and 197 points, while accumulating 1063 penalty minutes along the way. He had four consecutive seasons in Dallas between 2013-14 and 2016-17 where he scored at least 12+ goals and 25+ points, and then posted a career-high 31 points in 65 games for the Canucks in 2018-19. Known more for his physicality and aggressiveness, Roussel had six straight seasons of at least 115+ PIMs (209 being his career high in 2013-14) and has had four seasons of over 100 hits (including a career-high 146 in 2013-14).
Interestingly enough, the Flyers also had a fighting clinic at their last day of Rookie Camp led by Chris Stewart and Ian Laperriere. They have mentioned time and time again how they don't want to be pushed around anymore, they don't want to be easy to play against, and that they are going to play a hard-nosed game to intimidate their opponents. Adding Deslauriers to the mix was a good start as he was tied for second in the NHL last year with 13 fighting majors, only one behind Nashville's Tanner Jeannot at 14. Trailing Deslauriers by one is his new teammate MacEwen, who finished the year with 12.
Roussel only had one fighting major last year and just four with the Canucks but his role and style of game changed and evolved a little from his Dallas days. With the Stars, Roussel had 51 fighting majors, including 11 in consecutive seasons from 2013-14 to 2014-15. Deslauriers comes to Philadelphia having dropped the gloves a combined 57 times over his career with MacEwen having dropped the gloves 21 times in his 130 career games.
Nothing is set in stone and Roussel has to really impress to earn a roster spot, but it's fun to just think about the possibility of Roussel, Deslauriers, MacEwen on the same time, in the same lineup, and maybe even on the same line with Roussel having played the centre position sparingly over his career. It's probably not a strategy that is going to succeed long-term, but depth is the name of the game this summer for Chuck Fletcher and company and they certainly like some of the elements Roussel could add to the mix.
It may be 2022, and the NHL has slowly evolved into a game more about skill than brute force, but the Flyers believe this is the missing element in their game and it should be enough to propel them back into contention alongside John Tortorella's new system.
Music City Hockey Trip
Take a three day vacation to Nashville with Philly Sports Trips this October! The package includes direct flights, a three night stay at the Cambria Hotel Nashville Downtown, an all-inclusive tailgate, and tickets to the Flyers Predators game. $100 cash for anyone who shows proof they went to the Flyers game on the trip.