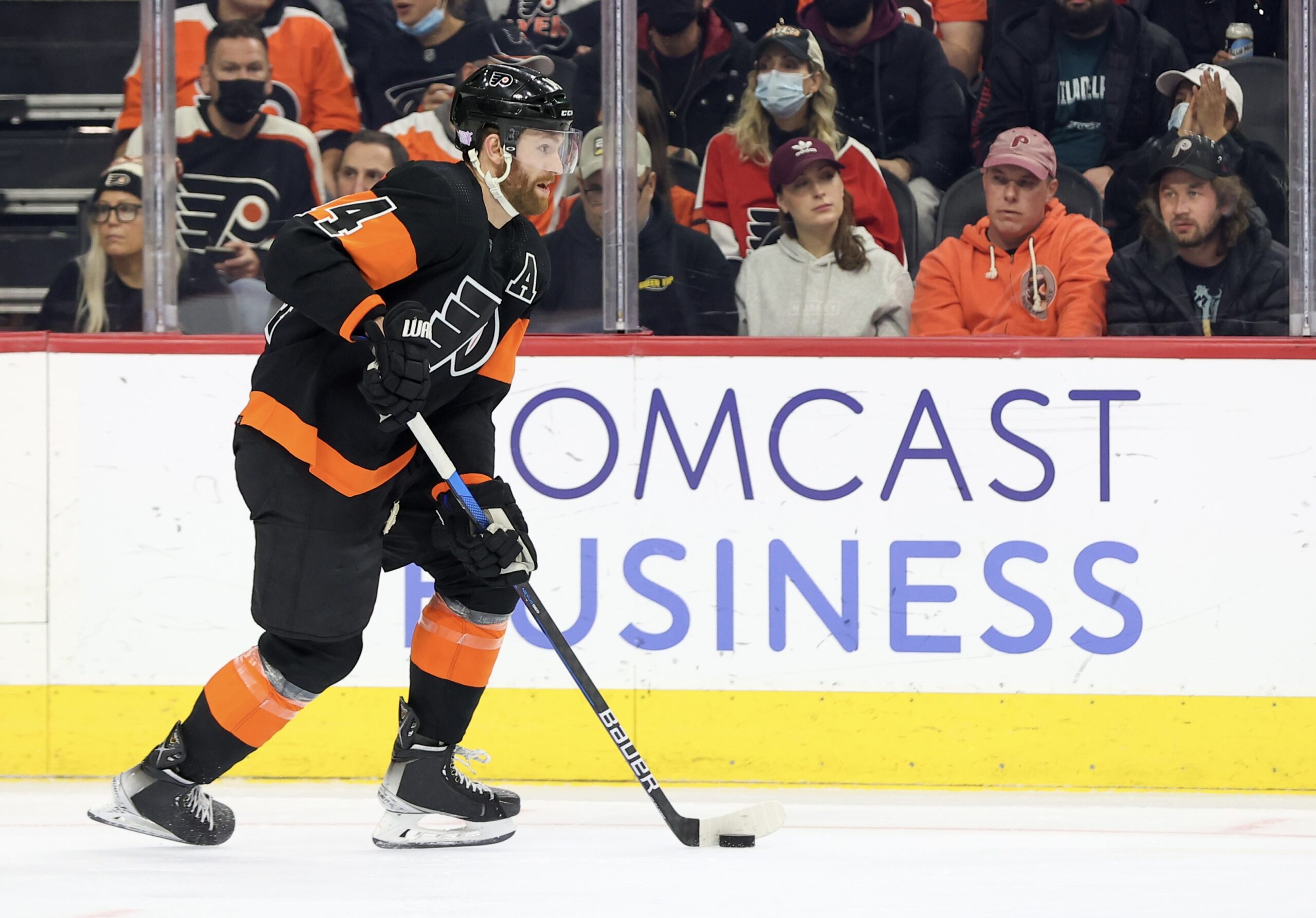 As reported by Anthony SanFilippo of Crossing Broad, Philadelphia Flyers number-one centreman Sean Couturier is set to miss a significant amount of time with another back injury.
I've been told that @NHLFlyers center Sean Couturier has a herniated disc in his back that could cost him several months, if not the whole season. I have a story coming very shortly. @NHL.

— Anthony SanFilippo (@AntSanPhilly) September 19, 2022
SanFilippo tweeted out the news after hearing back from several team sources that Couturier is now suffering from a herniated disc in his back that he suffered last week during strength and conditioning drills. It never seems to stop with the Flyers as they were proud to announce last week that Couturier and Kevin Hayes were both cleared to return after dealing with a myriad of injuries last season.
Couturier is coming off a 2021-22 season that was cut short due to a back injury that limited him to only 29 games. He underwent successful surgery sometime in February and supposedly rehabbed successfully as well all throughout the summer.
After the season that unfolded the Flyers announced to the world that they would be aggressively re-tooling from January onwards and looking towards the free agent window to make big splashes and big moves to better prepare for a very important campaign. When June and July came rolling by, the Flyers were relatively quiet which didn't look good for the supposed aggressive re-tool. They balked at the opportunity to acquire Alex DeBrincat, kept their 5th overall pick and selected Cutter Gauthier, traded for and then signed Tony DeAngelo, and then walked into free agency with no money, no room, and no cap space. The idea shifted from aggressive re-tooling to stabilizing because they were really hoping that the returns of Couturier and Hayes could re-energize the team alongside the hiring of John Tortorella and of course not having any salary cap hinders your ability to make moves.
Last week things seemed on the up and up in terms of health and wellness amongst the Flyers' key players, outside of Ryan Ellis. Now, according to sources, the Flyers and Couturier are going to be looking for a second opinion and re-evaluation of the injury, the nature of the injury, and how it came to be. It is being reported that will miss at least 12 weeks with the back injury, with the possibility of him missing the entire season.
Sportsnet's Elliotte Friedman added to SanFilippo's story that "Couturier and the Flyers are seeking a second opinion to determine the exact nature of injury. Pain occurred within the last few days during a skate. While it is in the same area as previous injury, there is not yet certainty it is the same injury."
More detail on @AntSanPhilly story here: Couturier and Flyers are seeking a second opinion to determine exact nature of injury. Pain occurred within the last few days during a skate. While it is in same area as previous injury, there is not yet certainty it is the same injury. https://t.co/H0yNQAPWCB

— Elliotte Friedman (@FriedgeHNIC) September 19, 2022
Back injuries are hard to come back from and Couturier has also dealt with his fair share of injuries in the past. He started off this past season with 12 points in 10 games but then was seemingly labouring for the next 17 games as he only scored 1 goal and added 4 assists and just looked completely off. The fact that it is in the same area as well is not a good sign and herniated discs are a painful injury to deal with, let alone come back from. It also doesn't help that Couturier was entering the first year of his new 8-year deal.
With the Flyers set to start training camp soon and the regular season only a few weeks away, they were banking on the health and wellness of their top players. With Ryan Ellis sidelined long term, Joel Farabee out to start the season, and now Couturier added to the list – and possibly for the entire season – things don't look too good in Philadelphia at the moment, not that it did to begin with.
The Flyers came out and said that Couturier is considered week-to-week, but based on the reports things seem really bleak at the moment.
Statement from Chuck Fletcher:

"Philadelphia #Flyers forward Sean Couturier has an upper-body injury and will be re-evaluated during training camp. He is considered week-to-week."

— Flyers Nation (@FlyersNation) September 19, 2022
At least they will be able to place both Ellis and Couturier on the LTIR to alleviate cap space. They both don't seem to be returning anytime soon so it's something to keep an eye on if Chuck Fletcher and company revisit the so-called aggressive re-tool from January.
Music City Hockey Trip
Take a three day vacation to Nashville with Philly Sports Trips this October! The package includes direct flights, a three night stay at the Cambria Hotel Nashville Downtown, an all-inclusive tailgate, and tickets to the Flyers Predators game. $100 cash for anyone who shows proof they went to the Flyers game on the trip.