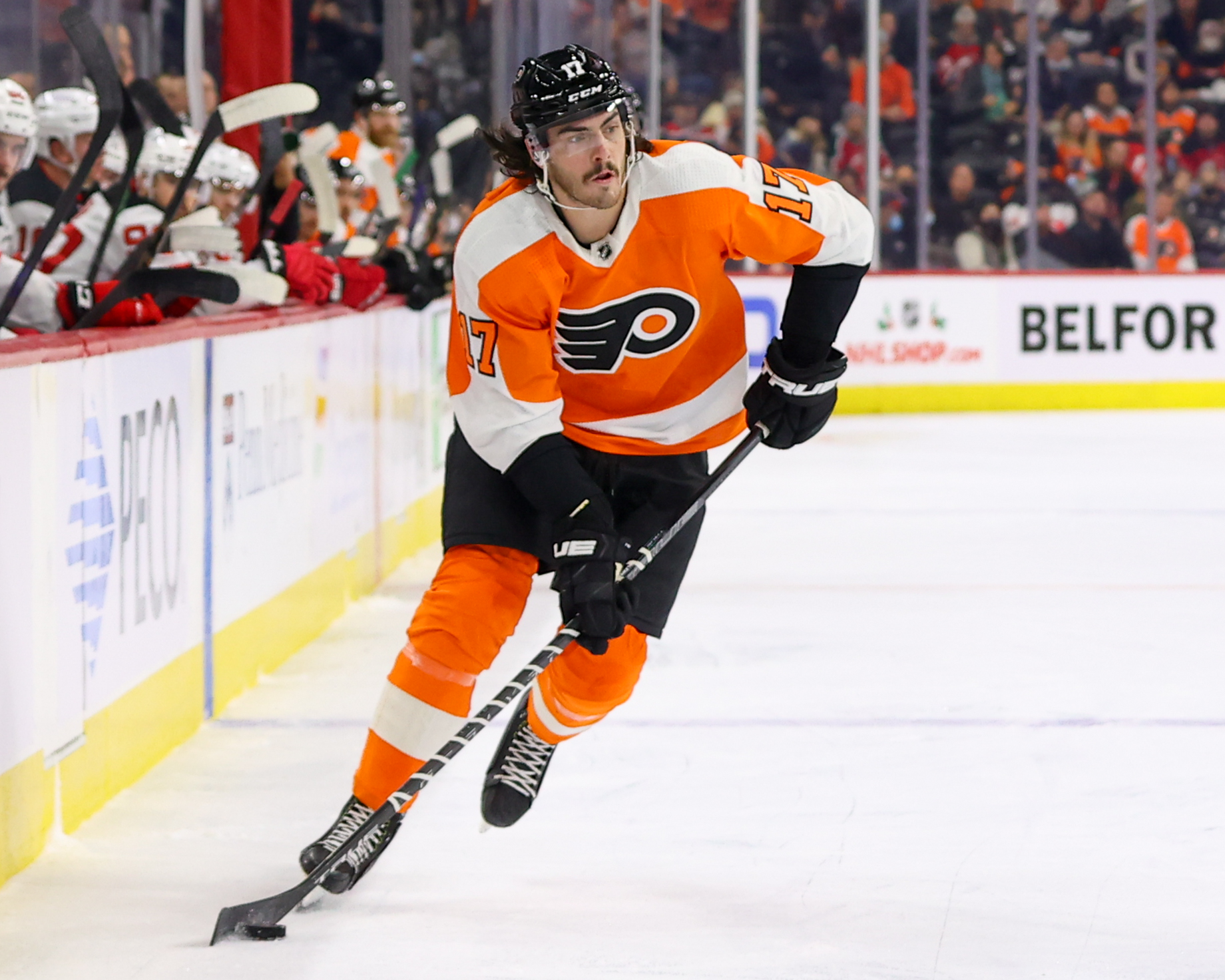 Flyers, Zack MacEwen avoid arbitration with one-year deal
The Philadelphia Flyers and Zack MacEwen have agreed to a one-year, $925,000 contract for the 2022-23 season, avoiding arbitration. The news was first reported by Sportsnet's Elliotte Friedman.
Zack MacEwen and PHI settle their arbitration at one-year, $925K

— Elliotte Friedman (@FriedgeHNIC) August 2, 2022
MacEwen filed for arbitration against the team and his hearing was set for August 8th, just less than a week away.
The 26-year-old Charlottetown, Prince Edward Island native originally began his NHL career with the Vancouver Canucks, appearing in four games during the 2018-19 season and proceeded to appear in 55 total games with the Canucks from 2019 to 2021. He posted 6 goals, 3 assists, and 69 penalty minutes in that time with Vancouver.
Ahead of the 2021-22 season, MacEwen was placed on waivers by the Canucks and the Flyers subsequently claimed the bruising forward. MacEwen made his Flyers debut on October 20th, 2021 at Wells Fargo Center against the Boston Bruins.
He notched his first goal with Philadelphia on November 12th, 2021 on the road against the Carolina Hurricanes, his tenth game as a Flyer. He redirected a Justin Braun point shot into the Carolina cage with 9:40 remaining in the third period, and it would stand as the game-deciding tally.
MacEwen's first season on Broad Street topped out at 75 games played, with 3 goals, 6 assists, and a whopping 110 penalty minutes. His penalty minute total led all Flyers easily and also topped out at 9th in the entire league.
MacEwen is now the fifth restricted free agent to sign with the club, joining Morgan Frost, Isaac Ratcliffe, Owen Tippett, and Tanner Laczynski.
MacEwen enters his second season with the Flyers and will have a bit of competition for a roster spot. Not only will the Flyers have youngsters such as Noah Cates, Max Willman, Isaac Ratcliffe, and Wade Allison fighting for full-time roster spots, but he'll be going to head-to-head with a very similar player in Nicolas Deslauriers.
Deslauriers signed a four-year, $7 million contract with Philadelphia on July 13th during the first day of free agency. He brings many of the same elements to the team as MacEwen does, as he is known to be a scrappy, physical, and energetic presence on any roster he's played on.
Perhaps those two could play together on a line and just bruise the competition, or maybe John Tortorella will spread out his two of his most physical players through the lineup. Time will tell on what will happen, but Zack MacEwen is back and #17 will receive a warm welcome back on Opening Night.