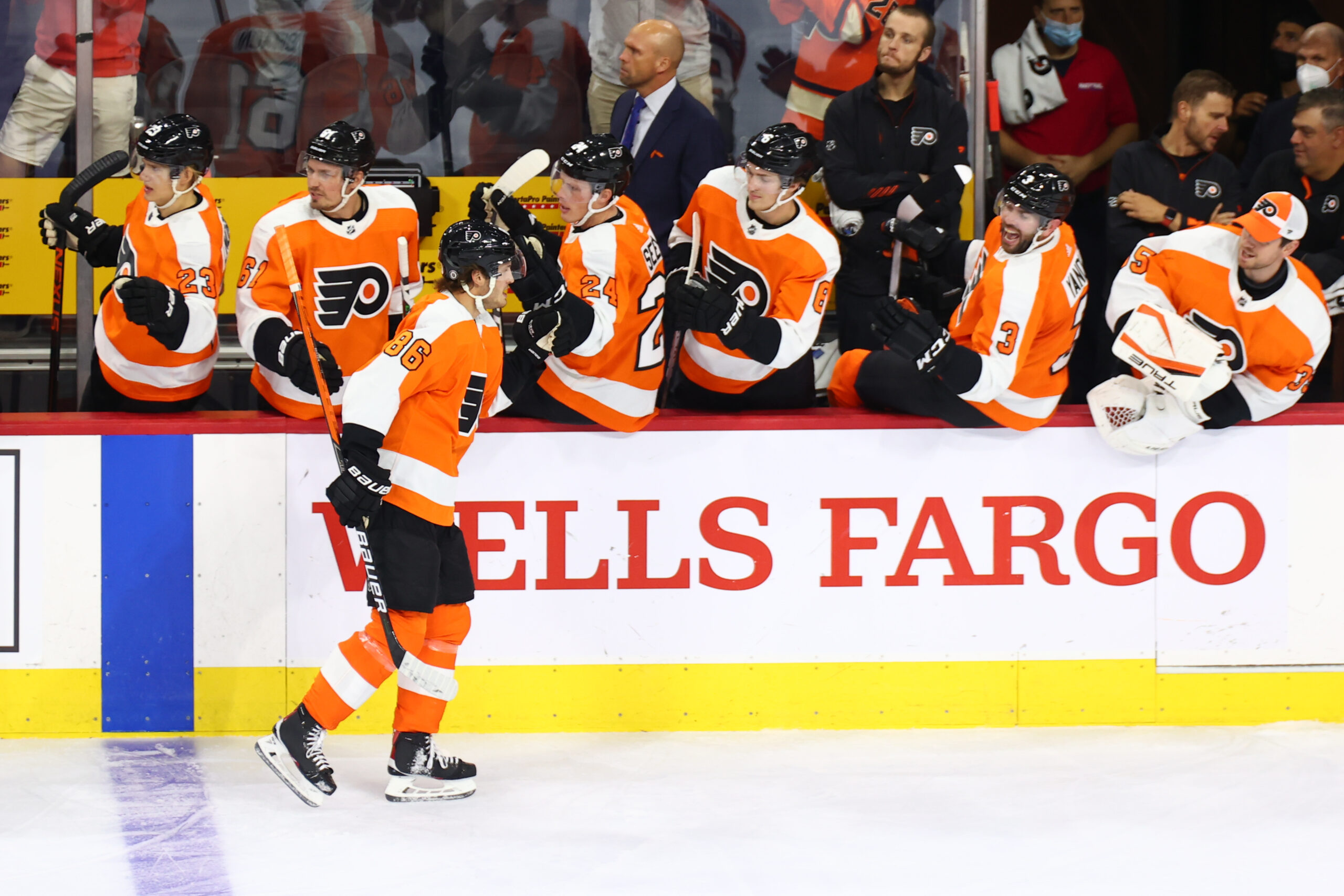 Joel Farabee's Injury Should Put a Hold on the "Re-Tool", But it Probably Won't
Lady luck does not seem to favour the Philadelphia Flyers this year, didn't help much last year, or even the year before. Last year, the injury bug took down the Flyers' perceived number one defenseman in Ryan Ellis for all but 4 games, the Flyers' number one centerman in Sean Couturier for 53 games, and the Flyers' second best centerman in Kevin Hayes for 34 games, on top of a slew of injuries to players like Rasmus Ristolainen (missed 16 games), Joel Farabee (missed 19 games), Scott Laughton (missed 15 games), and Nate Thompson (missed 49 games). There were moments in the season, where most – if not all – of these players missed games at the same time, so the Flyers resembled an AHL team more so than one with NHL calibre. There was some good news as Hayes returned from his second injury in March and finished off the season very well with 22 points in 28 games to end the year, Couturier successfully underwent back surgery and should be ready for training camp and opening night, and even though no surgery was operated on the mysterious Ellis, there was some closure in that he's trying to rehab his injury and be ready for training camp.
Even though the news was promising in the sense that Hayes made his return and that Couturier successfully went under the knife, it doesn't take away from the fact that Hayes underwent multiple surgeries and Couturier is coming off a serious back operation, on top of the fact that we still aren't even sure if Ellis will be ready. Mums the word as usual around Philadelphia but everything was generally focused on their re-tooling and revamping of their roster until today when the news broke out that Joel Farabee underwent successful surgery for a disc replacement in his cervical region. He dealt with a few injuries last season and just like many of his teammates, he seemingly rushed back to return to the lineup in March and he looked to be battling through something at the end of the year as his final 15 games were rather mundane and unlike the Farabee we were used to. He scored 2 goals, recorded no assists, was a minus 16, and for a goal-scorer who should have a shot first mentality – he only fired 33 on net.
Farabee is expected to make a full recovery in 3-4 months, which – with that timetable – places his return somewhere in October with the NHL season commencing on the 11th. It's a tricky injury to divulge into, it's a serious one at that too, and any kind of disc herniations or replacements are always tough to return from. Missing the entire summer to train and ready himself for training camp is going to be a tough hurdle to overcome as well, so that 3-4 month timetable will definitely be pushed a little more as he will try to get himself into game shape. Like Kevin Hayes last year, late summer injuries and surgeries are tough to come by with only a few months from puck drop, but if there is to be a silver lining it's that they caught in mid-to-late June rather than August or September. Farabee will be back in the early part of the season but it's a tough pill to swallow for the Flyers management who were looking to build a new lineup around their perceived goal scorer.
The universe is throwing the front office sign after sign about foregoing their inane re-tool for a rebuild but the Flyers will probably carry on with $5.1 million in hand and trades in the works for players like James van Riemsdyk and maybe even Oskar Lindblom. The free agent waters are going to be full of talent this summer with a lot of marquee and breakout players like Johnny Gaudreau, Filip Forsberg, and Nazem Kadri potentially at their disposal. Even if the Flyers manage to free up the necessary cap space to nab one of the big fish, there are so many question marks that remain, primarily in regards to the health of their top players. Couturier, Ellis, and Hayes have to be ready and healthy by October for the Flyers to have any chance of a successful start to their 2022-23 campaign. That's a tall task considering the severity of their injuries from last season and it's even more important when you consider how important they are to the depth chart of this organization. That's a question mark on your top 2 centres, your number one defenseman, and now arguably their most talented winger. Not having their recently extended 22 year-old top-6 forward is going to be tough to overcome, but let's see how the summer unfolds with their massive plans and a 5th overall selection in the horizon. Chuck Fletcher and company have a lot of work ahead of them and only time will tell if we're in store for another slow season.