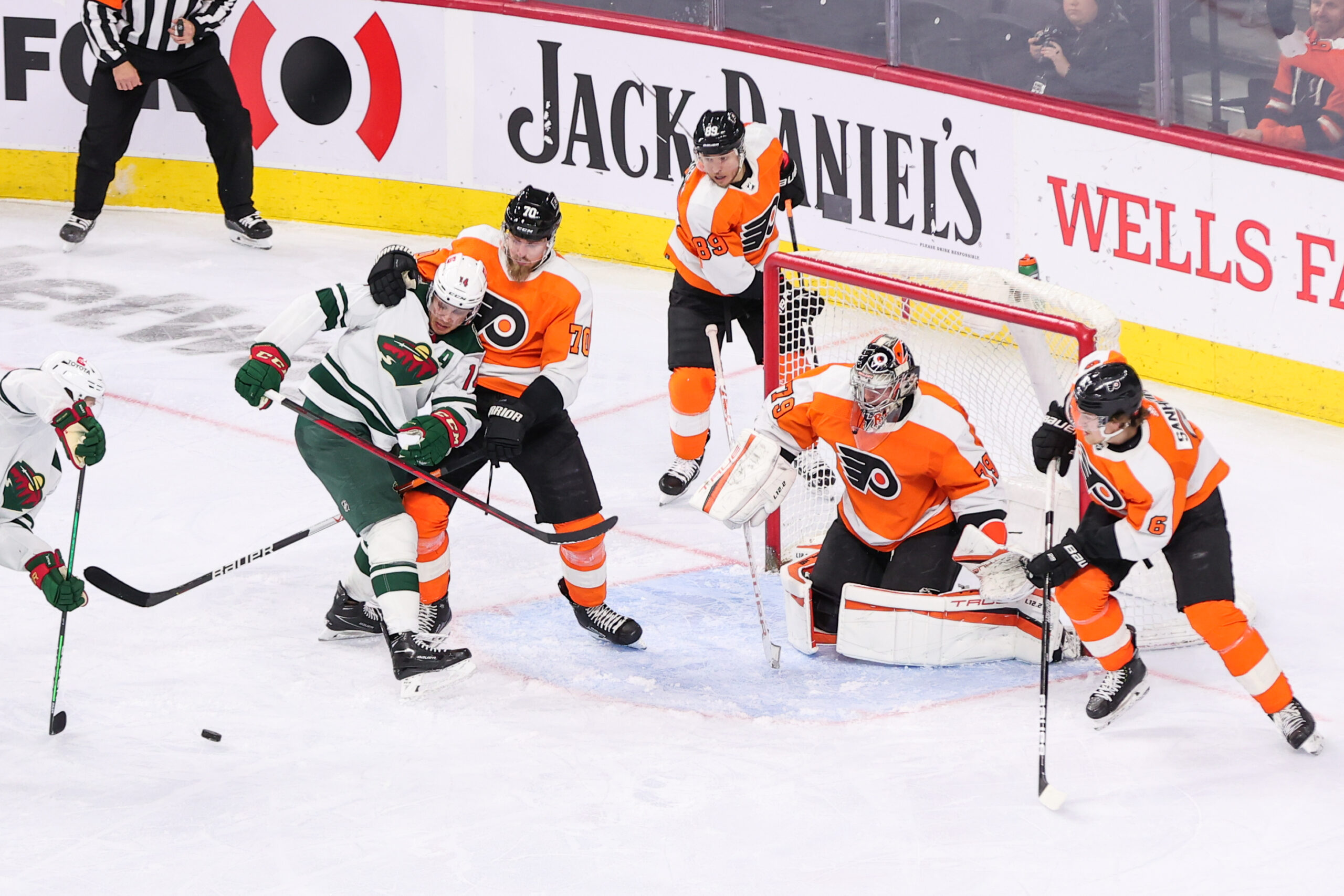 How the Flyers' Defense and Goaltending Line Up Ahead of Training Camp
Compared to the forward group, the Philadelphia Flyers' defense and goaltending is pretty straightforward heading into the 2022-23 season with the tiniest wrinkle of controversy, primarily at the backup goaltending position. With the forwards, Joel Farabee's injury is going to cause a ripple effect for the first month of the season as certain players are going to be one line ahead of where they should be when the Flyers host a healthy roster. The bottom 6 has a few spots left open, depending on how the coaching staff plays it out, but it's safe to assume that Morgan Frost, Owen Tippett, Nicolas Deslauriers, and Patrick Brown have their spots locked in – leaving the final 2 spots to a combination of Wade Allison, Noah Cates, Isaac Ratcliffe, Tanner Laczynski, Max Willman, and Zack MacEwen. On defense, especially with Ryan Ellis still sidelined without a concrete timetable, the top 6 is set after the depth signing of Justin Braun on the first day of free agency. Whereas the crease is a little questionable after the detainment of Ivan Fedotov and then the subsequent signing of Troy Grosenick, who will join Felix Sandstrom in a battle for the backup spot during training camp.
Defense
According to multiple reports, after the Johnny Gaudreau sweepstakes came to a crashing halt, the Flyers were more focused on shoring up their defense instead of going after the 115-point-producing left winger. They believed that he wouldn't have been able to push the Flyers over the limit after finishing with an abysmal 61 points and a 4th to last finish in the standings. They realized that their defense was porous and they wanted to shift most of their focus on finding a replacement for Ryan Ellis. Instead of drafting the sure-footed David Jiricek in the NHL Entry Draft with their 5th overall selection, the Flyers decided to go with a higher-risk-higher-reward pick in Cutter Gauthier. They then traded 3 picks the following the day to acquire Tony DeAngelo from the Carolina Hurricanes, who they then signed to a 2-year deal with an annual cap hit of $5 million.
Before making the move, the Flyers had around $5.18 million in projected cap space and everyone was wondering how they would be able to shed salary in their attempt to nab a big fish during the free agent window. Many were left in the dark with how the Flyers were going to orchestrate their summer moves because it was our understanding that aggressive moves were going to take place since that was all that was being uttered from January to July. DeAngelo's new contract took up most the remaining salary cap, so the Flyers were forced to buy out the final year of Oskar Lindblom's contract to alleviate cap space to sign depth pieces in Deslauriers and Braun. James van Riemsdyk could not be dealt because the asking price from rival GMs was the Flyers 2023 first round pick. Chuck Fletcher and the Flyers waved the white flag after the first day of free agency and announced that they were done making moves and were very satisfied with the moves they made and believed they were in store for a stabilizing season.
DeAngelo and Braun will be joining the quartet of Ivan Provorov, Travis Sanheim, Rasmus Ristolainen, and Cam York to start the season. Chuck Fletcher didn't and doesn't want to put Ryan Ellis on LTIR at the moment because he is still holding out hope that the defenseman can make a return for the regular season opener, but he is confident that if that is not the case then DeAngelo can fill in admirably in his stead. During his presser, Fletcher, who looked annoyed and flustered by the barrage of questions being thrown his way, said that DeAngelo is a top pairing defenseman and he pointed to his season with the Carolina Hurricanes, where he was paired with Jaccob Slavin and scored 10 goals and 51 points in only 64 games with a +30 rating. Forgetting to mention and not alluding to the fact that the Carolina Hurricanes were one of the best defensive teams in the NHL, Slavin is a criminally underrated 1D, and from top to bottom the Hurricanes are an elite team where players can get sheltered a little.
Not to take away from his 51 points in 64 games, DeAngelo is a fantastic offensive option on the back end and will most definitely help the NHL's worst power play that converted at a 12.55% clip last season. The Flyers scored 30 power play goals all season and if that doesn't sound bad, Chris Kreider of the New York Rangers scored 26 on his own, further illuminating how bad the man advantage was. If that doesn't sound bad enough either, then take into account how the Flyers allowed 11 shorthanded goals, giving them a terrible ratio of power play goals scored versus shorthanded goals allowed. The Carolina Hurricanes scored 51 power play goals versus their 4 shorthanded goals against – just another reason as to how DeAngelo will help. He chipped in with 2 power play goals and 18 power play assists, figuring into 20 of their 51 man advantage tallies.
Defensively, he's not as good Ryan Ellis and it's an interesting stance from the general manager to liken the move as a replacement for Ellis. Ellis is a minute munching, all situations, defensively stout player and capable of handling the bulk of a top pair. Ivan Provorov is now going to have another defensive partner as DeAngelo will most likely be placed on his flank. After spending a few years with Andrew MacDonald, he was then given a chance with Matt Niskanen where he thrived, but after his sudden retirement he was thrusted with a slew of options like Justin Braun, Shayne Gostisbehere, and Robert Hagg – all of whom didn't necessarily pan out. The acquisition of Ellis was supposed to have the same effect that Niskanen had on the former first round selection but he only suited up for 4 games last season. With his return still very murky, the hope is that John Tortorella and Brad Shaw can get him back to his 2019-20 self and that pairing him with a puck moving defense-man like DeAngelo will take a lot of pressure off of him.
The Flyers' agenda last season was to make Rasmus Ristolainen look as good as possible especially after all the backlash they received – rightfully so however. The Flyers not only traded a first round pick, a second round pick, and a roster player for the soon-to-be-expiring contract of Ristolainen, they overbid because they were apart of a bidding war, then they extended him even after how bad they played up until that point in the season, and it was a contract with 5 years of term alongside $5.1 million dollars, which is more than anyone not named Kris Letang or John Klingberg received on the open market. He was branded as the safety net for Ryan Ellis' extended period on LTIR because he's a right-handed shooting defenseman and they were extremely pleased with how he paired up with Travis Sanheim. That was the only defensive pairing that really didn't change all season and they soon took the bulk of the minutes and responsibilities by season's end. The Flyers love his hard nosed style of play and pairing that up with the free-moving, smooth skating, and often-aggressive Sanheim seemed to work very well.
Sanheim excelled quickly after the departure of Alain Vigneault, ended up winning the Barry Ashbee Trophy given to the Flyers' best defenseman, and was a force to be reckoned with even-strength. The Flyers, for whatever reason, didn't put Sanheim on the power play until the very end of the season and even then he barely stepped foot on the ice while a man up. He was by far the more gifted offensive rearguard, better suited on the power play than Provorov and Ristolainen, and that should have been evidenced by his 28 points in a 52 game stretch, which would put him on pace for 44 points in an 82 game season. The Flyers instead used Cam York, Ronnie Attard, and Provorov on the power play more so than Sanheim, however it's good to know that someone is able to generate offense and points at 5-on-5.
With the top-4 all but set, the Flyers will seemingly go with a Cam York and Justin Braun pairing to solidify the top-6. Last year, Braun was playing alongside Keith Yandle until Ryan Ellis went down and was then promoted to the top pair to play alongside Provorov again. Braun has the capabilities of playing all over – like a lesser Scott Laughton – but it would be foolish to let him play top pair minutes for more than 10-15 games, which was his breaking point last year. He is a dependable defensive option, the Flyers love the familiarity since he's been with them since 2019-20, and he should be a steadying force for Cam York, who will play a similar role to what the Flyers expected out of Keith Yandle last year. He will have the free rein to play his offensive game, he can be aggressive if need be because Braun will be back there covering for him, but also York is a lot more defensively dependable than Yandle ever was. York should feature on the power play again, as he provides a good amount of pressure, opportunities, and chances. He scored a power play goal and added 3 helpers, which was just 3 helpers shy of Provorov who played in 49 more games.
The Flyers are playing with fire again, however, as they don't necessarily have the depth if a player gets injured. Last year the Flyers had the same issue and when Ellis went down, the shuffling of defensemen led them to ice a third pair of Keith Yandle and either one of Nick Seeler or Kevin Connauton. Seeler and Connauton were both re-signed to two-year deals that pay them a little more than $760K each and they represent what could be their 7th and 8th defensemen, which is a scary thought considering how they didn't perform all that well last year. Luckily, the Flyers do have some young prospects who got their feet wet last year that could make a jump this year if needed in Ronnie Attard and Yegor Zamula. If the Flyers want to go with more youth than the "veterans" then they could definitely give either option an opportunity over Seeler or Connauton.
Obviously the biggest god-send would be a healthy Ryan Ellis because then all of a sudden your game-by-game 6 are Ellis, Provorov, Sanheim, Ristolainen, DeAngelo, and York with Braun waiting in the wings as a good depth option. However, with his return not even being talked about anymore, this will be their top 6, barring a miraculous comeback, for their season opener on the 13th of October against the New Jersey Devils.
Goaltending
In terms of goaltending, the Flyers were definitely hoping for Ivan Fedotov to battle for the backup position this year but with his sticky situation back in Russia, they were dealt an unfortunate blow as he will be stationed in the Arctic for at least one year. Felix Sandstrom was supposed to battle alongside Fedotov, so it seemed like the Flyers were going to pave the way for him starting the season as the backup after a good, albeit small, sample size to start his NHL career last year. Instead of trading Martin Jones at the deadline and giving Sandstrom a bigger bulk of the share in goal, the Flyers felt it was necessary to keep the former instead of trading him for a 4th round pick. In doing so, Sandstrom only appeared in five games last year but stopped 161 of 177 shots fired his way, which is a Flyers record for a rookie goaltender for saves made in their first five games..
Alongside their glorious depth signings of Deslauriers and Braun, the Flyers also signed Troy Grosenick, who has appeared in four NHL games since 2014-15. He appeared in two games for the San Jose Sharks in 2014-15 and then in two more games with the Los Angeles Kings in 2020-21, going 2-2-0 with a .933 SV% and a 2.27 GAA. In that time, he has appeared in 288 games in the AHL for the Worchester Sharks/San Jose Barracuda, Milwaukee Admirals, Ontario Reign, and the Providence Bruins where he posted a record of 149-91-30. He has done a very good job in the minors and would represent a step-up for the Lehigh Valley Phantoms if that is where he starts the year, as he is coming off a season where he went 16-6-4 with a 2.00 GAA and .933 SV% with Providence.
The backup position has given the Flyers fits for years, starting with the oft-injured and inconsistent Michal Neuvirth and Brian Elliott, then they went through the 8-goalie carousel in 2018-19 that saw goaltenders like Calvin Pickard, Anthony Stolarz, Mike McKenna, Alex Lyon, and Cam Talbot suit up. Martin Jones was brought in to be a step up from Elliott and because of his familiarity with goalie coach Kim DIllabaugh. That experiment didn't work out at all, they lost him for nothing, especially when they knew they wouldn't bring him back next year, and now they're going into another season with dysfunction and confusion in the crease. Carter Hart has dealt with injuries and inconsistencies since 2019-20, so there's a chance they're going to need the backup goaltender to play more than 20-25 games. In 2020-21, Hart appeared in 27 of the Flyers' 56 games and last year he played in 45 of their 82 games. His health is of utmost importance as he not only needs a renaissance season since stumbling from his impressive 2019-20 showing, but he needs to be in goal for at least 55-60 games at minimum with the options the Flyers have behind him.
With the Flyers signalling that they won't be making any moves, this is how the team will be lining up ahead of their training camp and subsequent season opener. There are a few battles to look for but in it's entirety, the team looks pretty much set as they open the season on the 13th of October against their division rivals, the New Jersey Devils.