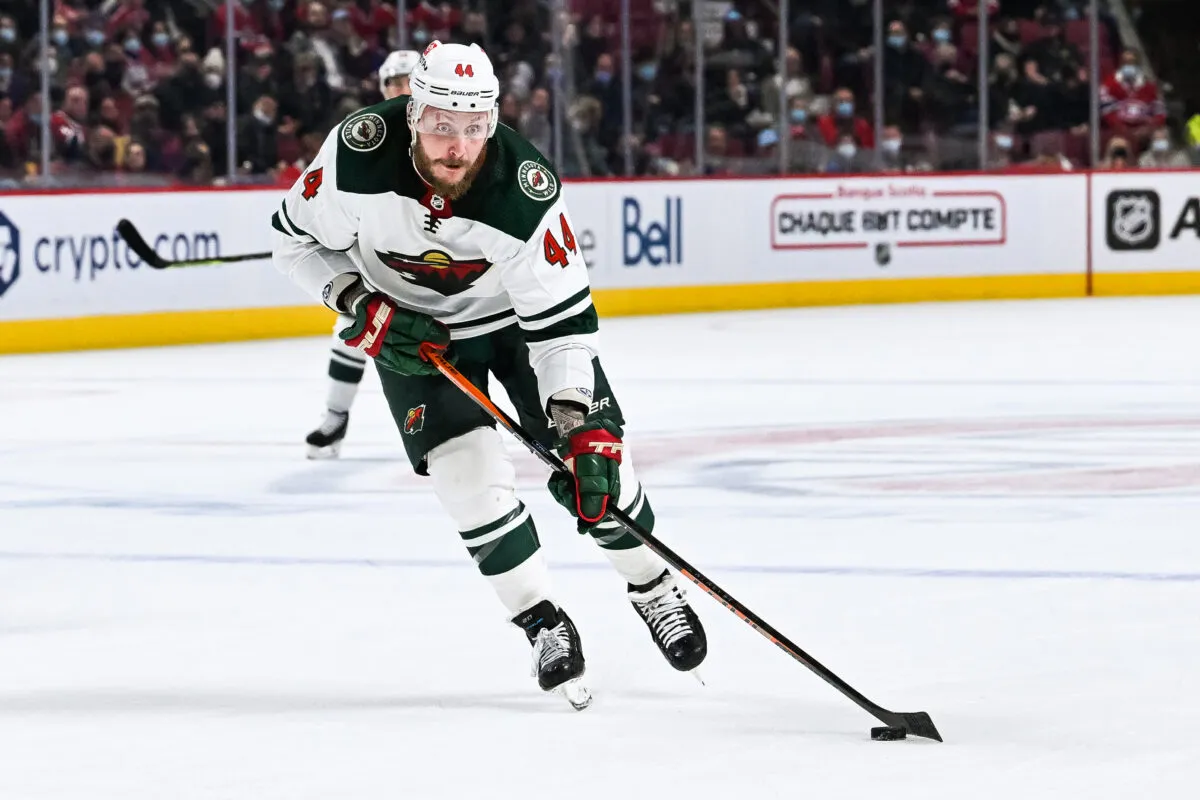 Coming into the offseason, it was believed that the Flyers were going to be active players but as the dust settled on the first day of the free agent frenzy, the Flyers signalled the white flag and that they were done – in terms of the UFA market.
Before signalling the white flag, general manager Chuck Fletcher signed a slew of "depth pieces" in Nicolas Deslauriers, Justin Braun, Troy Grosenick, and Cooper Marody, among others. He started using new buzz words like stabilizing and depth in contrast to his aggressive re-tool that was all the buzz between January and July.
After trading for and then subsequently signing Tony DeAngelo on the second day of the draft, the Flyers had almost no money left and it forced them to buy out the final year of Oskar Lindblom's deal. We thought that might've been because they were trying to snag a bigger fish but in fact it was to alleviate cap space and a roster spot for his depth signings, especially Nicolas Deslauriers.
Deslauriers is a prototypical fourth liner, who will drop the gloves, will rack up the PIMs, will accumulate hits, and should make the opposition players think twice when he's on the ice. He is a 9 year veteran and entering his 10th NHL season, after being drafted in the third round by the Los Angeles Kings in 2009, he has been shuffled around finding new homes in Buffalo, Montreal, Anaheim, and briefly in Minnesota. In 506 NHL games, he has scored 44 goals and 85 points, while racking up 521 PIMs and 1,536 hits along the way. He has career highs of 15 points in 2014-15 with the Buffalo Sabres and a career high of 10 goals in 58 games with the Montreal Canadiens in 2017-18. The Flyers want to be tough to play against, that has been the mantra for the last 2-3 years, and they believe that Deslauriers fits the bill.
The oddity about his signing was the fact that the Flyers gave him a four-year deal that pays him $1.75 million annually and a modified no trade clause in the first 2 years. For someone who has been moved around a lot over the last few years – 4 teams in the last 5 seasons – it seems like a real odd decision. It's the lengthiest contract of his career, it's also the most expensive contract of his career, and the only contract he's ever signed with any type of no-trade clauses. It resembles the 4 year deal that the Flyers gave to Dale Weise in the summer of 2016 – a good depth piece but the term made no sense.
The Flyers however want to make it known that they are very happy with the signing and that they are very excited to see what he brings to the team next season under John Tortorella. Chuck Fletcher made mention at his press conference after the first day of free agency that there was a hot market for Deslauriers and that they were very willing to get a deal done. By the sounds of it and based on his contract, it seems like the general manager of the Flyers won yet another bidding war for an overpriced and overvalued piece of the puzzle. He won a bidding war for Rasmus Ristolainen before the 2021 NHL Draft, he won a bidding war of sorts for Tony DeAngelo which is why he was signed right away, and now it seems like he over-bid for Deslauriers.
He's a nice piece to have in the bottom 6 because you do need a sandpaper element to your team but at that price, while also having qualified pending RFA Zack MacEwen, it made less and less sense. $1.75 million annually over the course of 2 years would've made a lot more sense but by the sounds of how things unfolded, if the Flyers wanted his services, and we know very well that Chuck doesn't give up his aspirations for players he covets, they had to give him more term and security. You can't blame MacEwen for filing for arbitration after seeing that deal go down. You can make the argument that they're essentially the same player, MacEwen being younger and maybe better, and now wanting more than his $990K qualifying offer.
Knowing how much the Flyers love rugged, tough-to-play against players, it wouldn't be a surprise to see them field a lineup with both MacEwen and Deslauriers, especially considering that between the 2 of them they dropped the gloves a combined 25 times last year. Will it happen? It wouldn't make much sense especially with the salary cap restraints the Flyers currently possess.
James van Riemsdyk is seemingly just as excited as Chuck Fletcher about the prospect of Deslauriers donning the Orange and Black. He likened the acquisition to Wayne Simmonds – not in the scoring sense but in the idea that things will open up with him on the ice. "It was funny, I hadn't played on the same line of someone that tough since I played with Arron Asham my first. It's really interesting how much more space you have when someone like him is out there. He's a big presence on the ice and people are aware of that."
In relation to his comparison to Simmonds, van Riemsdyk added, "That's something I always got a chuckle out of being out there with him. He definitely gave you that extra little bit of feeling more confident in yourself out there, just because you knew he was out there, too. That was always fun to play with him."
If Deslauriers does end up on the same line as James van Riemsdyk, that would be very troubling, odd, and a terrible fit. van Riemsdyk should line up in the top 6 with the absence of Joel Farabee, while Deslauriers will find himself on a rugged fourth line with some combination of MacEwen, Patrick Brown, or maybe a young prospect like Noah Cates.
That's part of the reason why Fletcher brought him in as well. "He's an opposing physical presence, one of the tougher players in the league. With the number of young players that we expect to be on our roster next year, and in a division where there's a lot of big, physical players, we thought Nic Deslauriers would help our group and bring an element that we feel we need to allow the rest of our group to play to their capabilities."
At the very least, Deslauriers is excited to be a Flyer, he's excited for the new opportunity, and he can't wait to play under head coach John Tortorella. "Just the fitting, I think every time I played there, it was kind of that rough and tough game. The way that the structure of not just the team, but how the city is, as well, it's a blue collar city. It wasn't an easy decision, but at the same time, it made it easier after talking to Chuck and Torts. I'm excited, that's for sure."
One way to get the fans on board is to talk up the city, the fan base, and how exciting you are to wear the Orange and Black – something we haven't seen much of in the last few years. There will be a few things to cheer about in the 2022-23 season and you can bet on one of them being Deslauriers and his fighting majors.