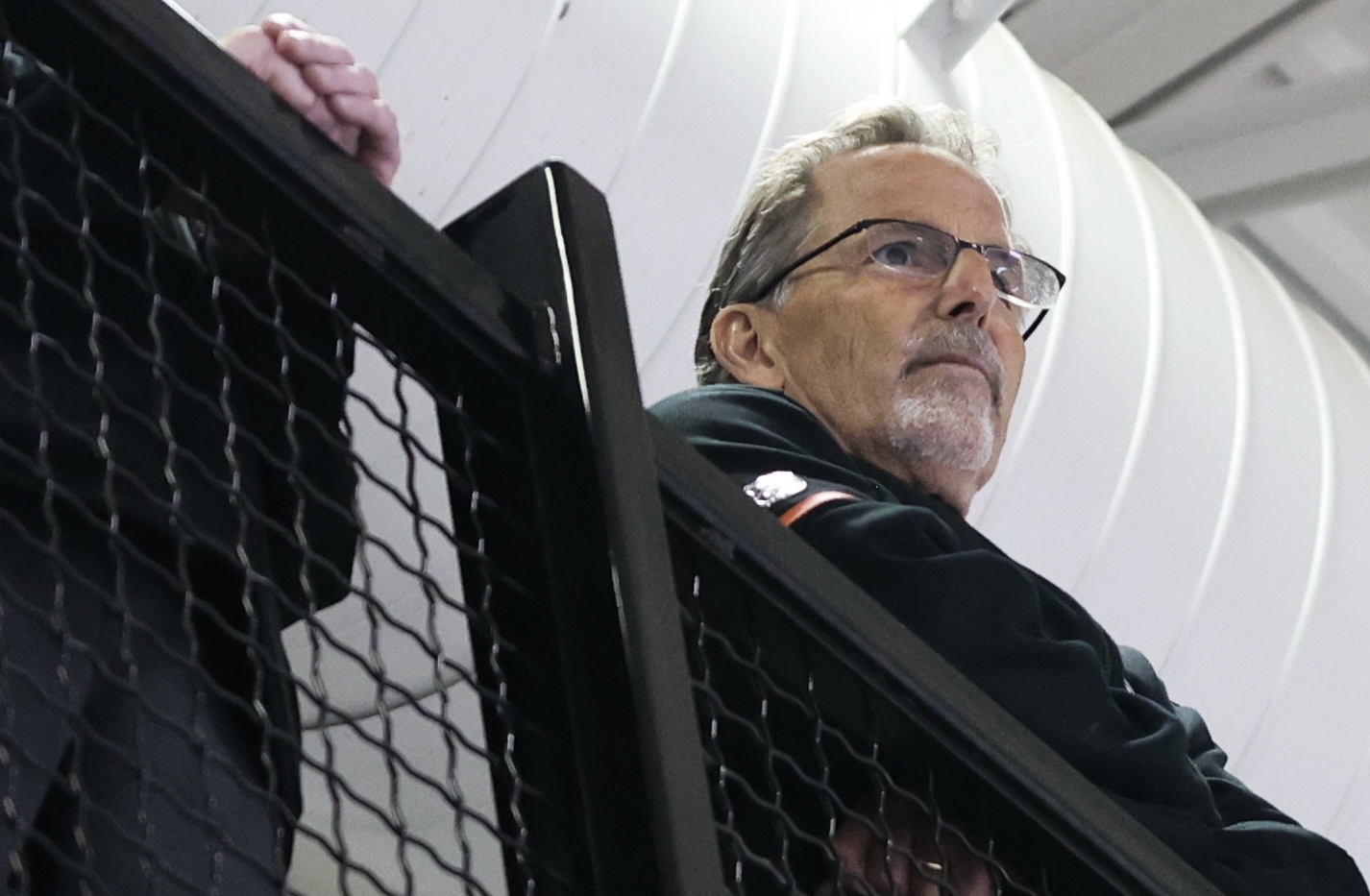 John Tortorella Has a Few Things on His Mind in Relation to the 2022-23 Flyers
The Philadelphia faithful are upset and they have a right to be. The Flyers, for lack of a better word, have stunk over the last 10 years and they have played a mediocre brand of hockey that has given rise to very bitter feelings in the hearts of almost every fan. The brown paper bags were one thing, the empty seats at the Wells Fargo Center were another, and now Twitter and any other social media platform has a flurry of petitions and posts about their distaste in current general manager Chuck Fletcher. As evidenced by a poll from Flyers Nation last week, 96% of people voted for the general manager to be replaced. It's tough to find that many people agreeing on any one topic, it's even crazier to find that many people agreeing about a topic pertaining to the Flyers.
They went from being two games away from lifting the Stanley Cup in 2010, to egregiously overpaying for free agents, to tearing it all down and trying to build from within, to egregiously overpaying for trade assets now. For a franchise that only missed the playoffs 8 times from 1967-68 to 2011-12, five of which came in consecutive years in the early late 80s and early 90s, enough is enough. However, as things currently stand, the Flyers could very well be anywhere from 4-8 years away from becoming contenders again, if they do it the right way; which seems far-fetched for this organization. There is one member of the Flyers that wants you to believe in their chances this year and that man is the current bench boss, John Tortorella. He has heard and read about the criticism being thrown the Flyers way, in particular Chuck Fletcher and his free agency, and in John Tortorella fashion he is sticking by his team and his general manager, which is somewhat refreshing even if you're still disappointed like most of us are.
He spoke with NBC Sports Philadelphia's Jordan Hall about a myriad of questions surrounding the team's offseason, and in reference to missing out on Johnny Gaudreau and only signing depth players, Tortorella believes in the group he has in front of him but he has also has to see them on the ice first before making any assumptions. "I've got to see the players play. I know you're talking about free agency, I know that Chuck has been criticized through the free agent time here. I'm a little pissed off about some of the things said about a couple of the players and Tony DeAngelo, at some some of the things I've read. I haven't read them all, I don't spend my day trying to listen to everybody, what they're talking about."
He continued with: "But everybody's upset about Johnny G, that Johnny G wasn't signed. Any general manager would be interested in a guy like that and I'm sure Chuck was. But there's sometimes the lay of the land, where your contracts are at, where your cap's at and where your team's at, quite honestly. Is it time to sign a free agent like that? I think we have a little bit of building to do here and a little bit of growing."
This is all in reference to the Flyers' perceived salary cap mismanagement before the free agency window opened. We were led to believe that the Flyers were interested in Johnny Gaudreau, or at least a high marquee player of his ilk. However, things took a turn when the Flyers traded for and then subsequently signed Tony DeAngelo – which was met with a lot of distaste for his prior off-ice misconducts. Then with just over $110K in projected cap space on the eve of free agency, the Flyers bought out Oskar Lindblom, which gave them about $3.5 million. All that was left in the way of Johnny Gaudreau was the James van Riemsdyk contract. Fletcher kicked the tires on a deal for a few weeks but the rival general managers weren't biting on the Florida first round pick in 2024; they wanted the 2023 Flyers first rounder, which could very well lead them into the Connor Bedard sweepstakes. They decided to balk at the offers and instead used up the remaining cap space on depth pieces, which Fletcher said was his one and only goal on the first day of free agency.
Contracts were difficult to move according to the general manager, he tested the market on several players but they received underwhelming offers, so they decided they had no chance in acquiring Gaudreau. They believe that the returns of Sean Couturier and Kevin Hayes are enough to propel the Flyers into contention for a playoff spot and by adding the depth pieces that they did, they believe they're in for stabilization rather than being aggressive, re-tooling, or anything else they uttered from January to the beginning of July.
In regards to Tony DeAngelo, Tortorella isn't a fan of all the hate and vitriol that he keeps receiving and he clearly has the backs of his players, which once again is rather refreshing because we never really saw much of that from the previous coaching staffs. A lot of hush-hush things were said in the background and with Alain Vigneault, he said a lot more things against the players than for his players. Of course, DeAngelo comes with his checkered past of off-ice misconduct in his junior years and some at the NHL level. He is also remembered for his altercation with teammate and goaltender Alexandar Georgiev, which led to the termination of his contract with the New York Rangers. The player himself has addressed his past on multiple occasions since being traded for and then signed by the Flyers and it seems like the organization as a whole would like people to move on and embrace the offensive stylings on the ice rather than off.
Tortorella added that "The thing that bothers me and some of the things I've read is people are upset about Tony DeAngelo. Tony DeAngelo's a hell of a player, Tony DeAngelo has personality. Is he going to say and do some stupid stuff? You're damn right he is. But I'd rather have a guy doing stupid stuff than having a choir boy here just going about your business. You don't win that way, you don't win championships, you don't build a team without any personality. Tony's going to bring that and, plus, he's a hell of a player." With all the criticism flying around – warranted or not – Tortorella is willing to tackle it head on, take it on the chin, be the one to speak on the matter, and try to deflect the blame from his players and onto his plate. He's a tough-nosed, hard head coach but there are a lot of people that back him and that's definitely one of the reasons.
Another move that has been heavily criticized is the signing of Nicolas Deslauriers. The tough-guy and 10-year veteran was signed to a 4-year deal that pays him $1.75 million annually and carries a modified no-trade clause in the first 2 years. He was essentially the "big splash" of the free agency window for Philadelphia and most fans were left distraught and dumbfounded for a few reasons, that included the fact that the Flyers were supposedly going to be ultra-aggressive and the fact that the Flyers already qualified another tough guy in Zack MacEwen. Tortorella has a message for those who have heavily criticized the signing as well, "It pisses me off, some the things that have been said about those guys because I think everybody wanted the big splash. Well, we have to wait our turn for that big splash. We still have some things to do with our foundation of the team and maybe when our cap releases and contracts are moved or things are sorted out that way maybe that's when you look for that."
Based on these quotes, one of two things must've happened at some point between April and July. There was a lot of things said about Tortorella not wanting to come to a team that was rebuilding or a project, which is why we all assumed that the aggressive re-tool was still in order. He didn't want to really deal with it in the back-end of his tenure in Columbus, so it was just assumed the same would apply in Philadelphia. With the Flyers having focused and putting all their eggs in the defensive basket, the primary goal was to add a right-handed shooting defenseman to replace Ryan Ellis and then to add some more depth behind the rest. That right-handed shot was Tony DeAngelo, who outpriced himself from the Carolina Hurricanes and was seeking a move to Philadelphia.
That depth piece was the return of Justin Braun, who the Flyers absolutely love. They never wanted to trade him at the trade deadline but they understood that he was capable of bringing back a draft pick and they had plenty of young prospects waiting in the wings to get their turn at a season debut. He was an essential cog to both coaching staffs that he was a part of and he played some heavy minutes due to injury. Bringing him back as a bottom pair option for one year is a good move, he is familiar with the team, he wants to be apart of the organization, and if kept on the third pair that is a pretty good piece to have.
In other words, the Flyers realized their aggressive plan was not going to work so they shifted towards a more reasonable option, which was not to spend haphazardly and not to waste future assets on moves that would take on such aggression. However, it doesn't really flow that well when you wasted so many assets and cap space on Rasmus Ristolainen and Tony DeAngelo but didn't consider the Alex DeBrincat offers or even tried to go after Johnny Gaudreau. Regardless of what we thought or what we wanted, the Flyers went one way and we went the other. This is the team that they're supposedly excited to ice in 2022-23 and everyone within the organization wants you to know that it's not as bad as you perceive it to be.
Tortorella had another piece of information that he would like the fan base to hear, "I don't spend a lot of time worrying about the noise, I don't. But I've been privy to a number of different articles and conversations since I've been hired, because I was involved in all of that, and I listen to some of the stuff and you're God damn right it fuels me as far as how negative it has gotten." He added: "Listen, I'll say, we make our own bed, too. I think we were third from the last, I'm not sure where we were, 61-point team? You've got to take some shit, too. But I really look forward to the challenge of this. I appreciate, but it also fuels me, some of the media and how it's all perceived, how they're talking about the team. They have a perfect right to talk about the way it is now because of where we're at. But it also gives me, and more importantly, I hope it gives our players, a little bit of fire as far as getting it straightened out, let's get it back on the rails."
And of course, how could we forget the biggest elephant in the room when discussing Flyers hockey over the last few seasons in Ryan Ellis. It is extremely disappointing how everything has unfolded with the minute munching defenseman, especially with how everything was supposed to play out. He was going to stabilize the top pair with Ivan Provorov, which would then make things easier for the other two pairings. He was supposed to help on the power play and penalty kill as well but when he went down, everything had to re-shuffle and the lack of depth on defense reared its ugly head. His injury went from day-to-day to week-to-week to 4-6 months to no timetable. He is an important part of the puzzle and without a concise timetable for return, the Flyers are looking for help on the ice and deflection off the ice.
Tortorella was asked about the Ellis situation and he said, "I've talked to Ryan twice – once at the practice facility a few weeks ago, we had a conversation. It's funny, I just called him today, left a message just to check on his rehab. I'm not sure. I'm not going to sit here and lie to you and say he's going to be ready to go. I'm not sure. I don't think he's sure. So that's something we're going to have to monitor and see where we go. If he's healthy and he's ready to go mentally to play, it's a huge plus for our back end both defensively and offensively. But we're going to have to wait and see, we'll see what happens."
As it stands right now, the Flyers' new head coach is aware of all the vitriol and negativity that has been all over social media, he has read some articles, he has seen the tweets most likely, but he wants everyone to be patient and wait for the regular season to kick off before criticizing his team. We were told about aggressive moves were going to take place, we believed those moves were going to happen, we even let go of the rebuilding idea for another re-tool, and then at the last second the Flyers realized how bad they truly were and didn't want to dip their toes in the waters just yet. They wanted to extend and keep Ristolainen around no matter what, they wanted to extend and trade for DeAngelo no matter what, and they felt that those moves were the right choices when it came to improving the team, not going after the playmaking Gaudreau or the goal-scoring DeBrincat. Tortorella is fired up and we love to hear that, he has his work cut out for him with how the team is set to lineup in October but if there's anyone that can light a spark in the dressing room and lead it onto the ice, it's John "God damn" Tortorella.