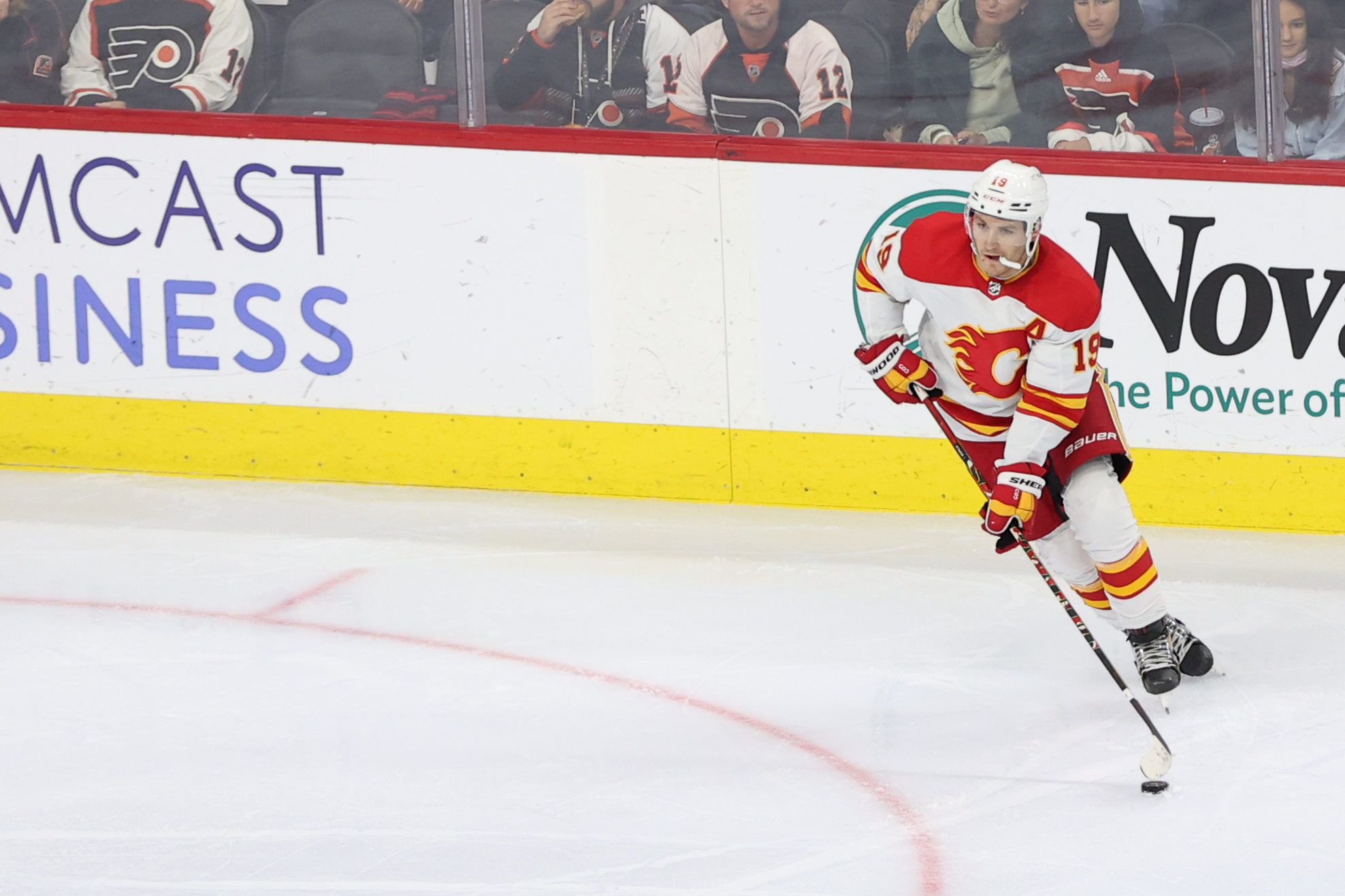 Chuck Fletcher Should Call About the Availability of Matthew Tkachuk
The Calgary Flames are truly flaming out with the exit of Johnny Gaudreau and now Matthew Tkachuk signalling that he will not sign long term with the Flames and would like a trade out.
The Flames won the Pacific Division crown this past year posting a record of 50-21-11, finished third in the Western Conference behind the Colorado Avalanche and Minnesota Wild, and finished 6th best in the NHL with 111 points. The top line of Elias Lindholm, Johnny Gaudreau, and Matthew Tkachuk combined for 124 goals, 177 assists, and 301 points – by far one of the most potent lines in the NHL. They had grand aspirations heading into the playoffs but they struggled against Jake Oettinger and the Dallas Stars before putting them away in overtime in game 7. They then faced off against their provincial rivals in the Edmonton Oilers before flaming out in 5 games after winning game 1.
They entered the summer with close to $30 million in cap space but they had to sign Gaudreau, Tkachuk, Andrew Mangiapane, and Oliver Kylington of utmost importance. One of the worst kept secrets for a few years was how Gaudreau would most likely jet away once he became a free agent and there were murmurs with Tkachuk as well, even before he signed his $21 million deal in 2019.
The Flames filed for club-elected arbitration, something similar to what the Flyers did with Travis Sanheim a few years ago. It looked like a step in the right direction because a club-elected arbitration case usually means that both parties are into signing a new deal but just need a little longer to iron out the details, while also making the player ineligible for offer sheets. It didn't take long for things to sour and now the Flames are in an unenviable position to trade their best player and most promising talent.
Tkachuk was drafted 6th overall in the 2016 NHL Entry Draft, behind Auston Matthews, Patrik Laine, Pierre-Luc Dubois, Jesse Puljujarvi, and Olli Juolevi. It was widely rumoured that the Edmonton Oilers were going to select the young forward because Jesse Puljujarvi was the consensus number three option. With the Columbus Blue Jackets taking Dubois instead, the Oilers felt they had no other choice but to take the promising Finnish forward who was coming off a World Junior Championship where he scored 5 goals and 17 points in 7 games while capturing the gold medal. The Flames then wasted no time in selecting the American winger in Tkachuk as all he ended up doing was scoring 152 goals and 382 points in 431 games – including a 42 goal and 104 point campaign in 2021-22.
How does all this relate to the Flyers? Well, when a 24-year-old talent like Tkachuk becomes available through trade, I feel like it's an absolute must to do everything you can to try and acquire his services, or at the very least give them a call and see what they want in return. Tkachuk is everything the Flyers want and everything they've been clamouring about for years – he's a rugged, tough-to-play-against, goal scoring, pest-like, and impactful player who fits the under-25 core that Chuck Fletcher keeps alluding to. There are a myriad of reasons as to why they should and shouldn't make a deal like this, however, but it's something to think about.
It seems that if Tkachuk had said something during the season – when the Flyers were all about being aggressive and re-tooling – then the Flyers would've been all over his services. However, as the dust has settled on a very uneventful offseason so far, the Flyers have made it known, without saying it, that they aren't as aggressive as they stated back in January. Signing depth pieces and belly aching about not having any cap space are good signs that they aren't trying to make a big move. In saying that, going after a soon-to-be 29-year-old free agent is a lot different than trying to sign-and-trade for a 24-year-old.
Johnny Gaudreau wanted the Flyers and only the Flyers, but as he alluded to on his appearance with Spittin' Chiclets, he knew it was a pipe dream because of how badly the Flyers mismanaged the salary cap. They tried endlessly trying to dump James van Riemsdyk's final year on a rebuilding team with a ton of salary cap but they could sniff the desperation from a mile away and asked for the Flyers' 2023 first round pick as a sweetener. Fletcher was more interested in giving away the 2024 Florida first rounder but most teams understood that the Flyers' 2023 pick could possibly land them in the Connor Bedard sweepstakes, whereas the Florida pick would be a late first round selection 2 years from now.
A trade would be easier to facilitate because you can trade salaries to offset what Tkachuk would want in a new contract. However, the Flames know his value and his worth, there are going to be a ton of teams interested, and it's been reported that the St. Louis Blues offered Torey Krug, Jordan Kyrou, and a first round pick to no avail. It is not known whether or not the Flames are re-tooling, rebuilding, or staying stagnant, it is also not known if they prefer roster players to prospects and picks either. They still currently have upwards of $18 million in projected cap space, they've been linked to Nazem Kadri – who at one point vetoed a trade to the Flames before the Toronto Maple Leafs traded him to Colorado – and they are in a hot hockey market that just saw them win a division crown.
Calgary general manager Brad Treliving has his work cut out for him but he's not someone who is willing to throw in the towel either as he he tried everything in his power to keep Gaudreau as his final offer to the now-Columbus Blue Jacket was believed to be in the neighbourhood of 8 years and $10.5 million per year.
If the Flyers even had a shot in the dark to acquire him and then sign him to a long term deal, I think any deal starts with either Travis Konecny or Ivan Provorov, or maybe even both. The rest of the NHL is well aware that the Flyers are at a sticking point with the former first round defenseman and it's been no shock or surprise that they've put his name out on trading block over the last few years. Even at the trade deadline, the rumours were never-ending with both players and it was confirmed that they were brought back on the trading block before the start of free agency in a way to alleviate cap space. However, they are dealing from a point of weakness in a lot of trade talks and the offers were severely underwhelming at which point they balked and walked away – citing that they want to see how Provorov does under John Tortorella.
Defensemen come at a premium and when a top-pairing defenseman, or in this case at least a top-4 rearguard becomes available, many teams are willing to take the risk. He's had a rough go over the last few years, but he has played with the likes of Justin Braun, Robert Hagg, a downtrodden Shayne Gostisbehere, and Ronnie Attard, however he also hasn't looked anything similar to his 2019-20 form.
From there, the Flames would definitely want the Flyers' first round pick in 2023 and if not then at least the 2024 pick, but in a phone call between Chuck Fletcher and Brad Treliving, who has to the most leverage? Fletcher has done himself no favours in making bold and overpriced trades like when he gave up a first round pick, a second round pick, and Hagg for Rasmus Ristolainen, or giving up a second round pick and Gostisbehere for cap space, or trading 3 future assets for Tony DeAngelo but balking at the offer of 3 future assets for Alex DeBrincat. He also bought out Oskar Lindblom for no real rhyme or reason; he stated it was for cap space but they didn't bring in anyone other than depth pieces, and then on top of that, everyone knows he is trying to trade van Riemsdyk which puts him at a deficit right off the bat. Add in a prospect and the trade is getting rather expensive but again, this is Matthew Tkachuk.
Being over the cap by $98K right now, as Ryan Ellis has not been put on LTIR yet, the Flyers also need to sign a few more RFAs in Wade Allison and Owen Tippett, while Zack MacEwen has filed for arbitration. Once Ellis is placed on LTIR and the Flyers sign their remaining RFAs, they should have somewhere between $3-$4 million in projected cap space, and from there if you're trading Konecny and Provorov, which might have to be the case for a talent like Tkachuk, you can easily fit his new contract in the books.
This is an aggressive move for a team that stated for months that they wanted to find impactful players and Tkachuk is someone who will help them in the present and the future, no doubts. The price of acquisition is going to be hefty, and the Flyers also have to woo him into signing long term as he has reportedly stated his preference is either St. Louis, Dallas, Nashville, Florida, and Vegas, though Sportnet's Eric Francis said that report was inaccurate. The Flyers are not in the neighbourhood to make big bold moves but they are in a weird purgatory where they aren't necessarily re-tooling, but they aren't rebuilding either. Their salary cap is a mess when Kevin Hayes, James van Riemsdyk, Tony DeAngelo, and Rasmus Ristolainen take up almost 30% of the books.
Is it worth it to make the trade? If the Flyers signalled a rebuild, a lot of our problems would be better acquiesced but because they refuse to utter the "R" word, they believe they're in a position to succeed and contend, and their front office is currently a mess, this would be a move that fits the re-tooling mindset.
With Tkachuk having his preferred destinations potentially known, it makes things that much more difficult, so it might be better off for the Flyers to keep Konecny and Provorov, their picks, and prospects, instead of going after Tkachuk. But boy oh boy, would it be fun to see Tkachuk in the Orange and Black.