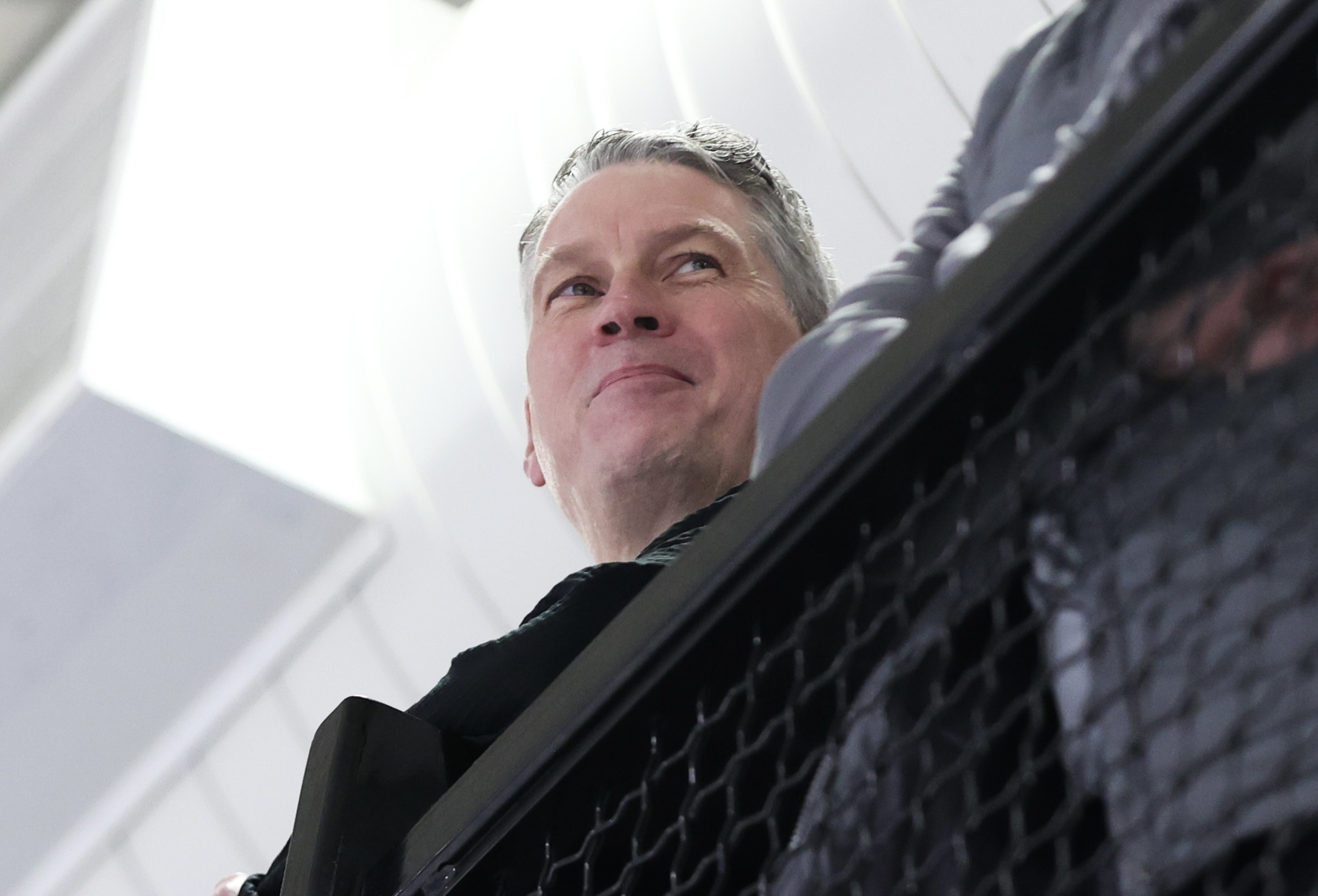 The Grand Misconception of the Philadelphia Flyers
People still don't seem to understand the reason behind the current meltdown in Philadelphia that has made this once loyal fanbase ready to jump ship.
Whether it's the team itself, media members, or people tuned into the hockey world, there seems to be a misunderstanding that Flyers fans are impatient and restless because of the losses and losing seasons that have piled up. Technically, there's some truth behind that, but in reality the gripe that we have with this team and the front office in particular is that there is no direction; in other words, we can handle the losses and the losing seasons if they had merit and if they were leading into something. Instead we're hopping from one season to the next, one offseason to the other, with the Flyers essentially just saying whatever they feel will satiate the fan base to the best of their knowledge – unfortunately they're so out of the tune with what the fan base wants, they're going to keep pushing the envelope.
Everything culminated into the trade deadline that passed last week when the self-proclaimed "selling" Flyers were unable to move what seemed to be a marquee trade target in James van Riemsdyk. Everybody's trade board had van Riemsdyk in the top-15 at one point and as the names kept falling off the list, he kept moving up and eventually found himself at the number one spot on Friday.
General manager, Chuck Fletcher, addressed the media shortly after the deadline had passed and said that he tried his best to trade the veteran forward. For weeks, he attempted to sway his counterparts that van Riemsdyk was a worthy addition, that he would be willing to retain half his salary to make it more palatable, and that the asking price was a 4th round pick at best – to which he never received a concrete offer. The only offer he did receive was from the Detroit Red Wings but it was always conditional on a separate trade that had to follow through, which never materialized so the Flyers had to stand pat.
Head coach, John Tortorella, came to the rescue of his general manager and said that he doesn't understand the vitriol and the hate that is coming from the fanbase and being directed to the general manager. He said that he tried his hardest and it's crazy to think otherwise, and I'm sure Chuck Fletcher did try his hardest but that in it of itself is the problem at hand. He had to convince other general managers that James van Riemsdyk, a veteran of over 900 games, seven 20-goal seasons, and two 30-goal seasons with playoff experience under his belt, was a notable acquisition for their respective teams. The Flyers didn't receive an offer until 1:40 PM ET – with only 80 minutes left – and it was only conditional on something else having to happen.
Meanwhile, players with lesser numbers, lesser impact, and lesser names were moved without a hitch. The Winnipeg Jets traded for Vladislav Namestnikov – a player who was traded twice – the New Jersey Devils traded for Curtis Lazar, the Pittsburgh Penguins traded for Nick Bonino, the Anaheim Ducks traded Dmitry Kulikov, the Red Wings were able to find a suitor for the outcasted Jakub Vrana, the Chicago Blackhawks traded Sam Lafferty, the Minnesota Wild traded for Oskar Sundqvist, the New York Rangers traded for Tyler Motte, and the New York Islanders traded for Pierre Engvall. All these players with the exception of Vrana (prospect and 7th round pick) and Motte (former first round pick and a 7th round pick) came at the cost of a 3rd or 4th round pick – something Fletcher wasn't even able to get for van Riemsdyk.
Vladislav Namestnikov has 252 career points in 612 games in parts of 10 seasons with 7 different teams (was not a part of either Tampa Bay Stanley Cup), Curtis Lazar has 95 career points in 449 NHL games in parts of 9 seasons with 5 different teams, Sam Lafferty has 54 points through 195 games in parts of 4 seasons with 3 different teams, Oskar Sundqvist has 116 points in 341 games in parts of 8 seasons with 3 different teams, and Pierre Engvall had 83 points in 226 games in parts of 4 seasons with the Toronto Maple Leafs.
James van Riemsdyk, on the other hand, is 3 goals shy of 300, and has 585 points in 922 games in parts of 14 seasons with 2 different teams. If we extract his first stint with the Flyers and the last 2 seasons where everything has been rotten in Philadelphia, from 2012-13 to 2020-21 van Riemsdyk scored 217 times and added 208 assists in 601 games.
You can make the argument of age for some, you can make the argument of salary cap hit and contract for others, you could also make the argument of role players and depth pieces sometimes being more valuable like Lafferty, but the bottom line is that van Riemsdyk – if on a different rebuilding/selling team – would have been one of the first forwards off the market, especially after the Timo Meier domino fell.
Unfortunately, Fletcher and the Flyers overcooked the market because they were looking for a second and a third round pick for the veteran, according to TSN's/The Athletic's Pierre LeBrun and Daily Faceoff's Frank Seravalli. Fletcher realized his mistake on Friday – the day of the deadline – and then tried to steer into the clear but it was too late because most teams had already acquired their targets.
There is something severely wrong with the front office, their perception around the league is at rock bottom, and any time the Flyers have been or are engaged in trade talks, they always have to back out because they're being lowballed or the offers are laughable. That can't help the cause for players like Travis Konecny and Ivan Provorov to have their names dragged in trade talks for 3+ years, yet somehow have remained in Philadelphia this entire time; not because the Flyers actually value them as game-breaking, core-building players, but mostly because the offers aren't close to what they want in return.
Let's also not forget that the Flyers tried trading van Riemsdyk in the summer while even attaching a draft pick to his name, but no one bit as most teams could smell the desperation from a mile away and were interested in their 2023 first round pick instead of the 2024 first round pick from Florida. Then they turned around and said they were never in on Johnny Gaudreau, they never intended on trading van Riemsdyk, and the plan was to buy out Oskar Lindblom to make room for Tony DeAngelo and depth pieces like Nicolas Deslauriers and Justin Braun. They then stapled it as a stabilizing off-season. What exactly are you stabilizing? You just came off the heels of 2 dastardly disappointing seasons with a combined record of 50-69-19. Which brings us back to the main point that Flyers fans just want a concrete plan in motion. You have nothing to show after 2 down seasons, you're still stuck in salary cap hell, you're still adding term and salary to mid-tier players, and your draft cupboard is slowly leaking away.
Within a year and a bit, the Flyers went from an aggressive retool midseason, to an aggressive rebuild by the draft, to a rebuild after the draft, to a stabilizing season after free agency, to a weird mix of a retool and rebuild before the season started, to a rebuild by the trade deadline, and now apparently an aggressive retool again for the upcoming draft.
The framework for trades regarding their players with term will be easily facilitated ahead of the draft and into the summer, with Columbus reportedly having interest in Kevin Hayes due to his relationships with Johnny Gaudreau and Rick Nash – who is a part of their player development department.
Sportsnet's Elliotte Friedman and Jeff Marek spoke about it on Saturday night during the intermission of Hockey Night in Canada and then they talked about it again on their most recent episode of 32 Thoughts, but apparently the Flyers are going to be aggressive again ahead of the draft and this coincides with trading players like Hayes or a Provorov or a Sanheim, where it's much easier to do it in the summer with more time on hand and looser cap restrictions. Several teams were interested heading into the trade deadline but nothing materialized, primarily because of term and cap hit. Kevin Hayes carries a $7.142 million cap hit for an additional 3 years, Ivan Provorov is a $6.75 million for another 2 seasons, and Travis Sanheim's 8-year extension kicks in next season at $6.25 million AAV.
As often as the Provorov rumours gain traction, it always seems that the Flyers become extremely hesitant and get cold feet. Understandably so considering he's been the anchor of the back-end since his rookie season, has been as durable as one can be – especially at his position – has shown flashes of offensive capabilities, and is a minute-muncher on a team that has a steep drop off in talent after him. He's only 26 years old and he already has 514 games under his belt. He has played so many minutes and so many games that it makes sense that so many teams are interested, knowing or having the perception that they can swindle Fletcher and company.
However, the Flyers want to get the best return possible and trading him when he's at his lowest makes absolutely no sense – which in part is why a trade has never followed through. There was one instance where Patrik Laine was discussed as the return but the Flyers were so fearful in losing their number one defenseman that they backed out at the last second. Trading Provorov only really makes sense if you're going through a full rebuild, not if you're trying to play musical chairs.
Friedman and Marek are 2 very venerable sources when it comes to NHL news, they have been covering the Flyers intensely for years, they said on the podcast that they always get their DM's blown up by Flyers fans, and have insisted that they're going to be aggressive again at the draft. Which brings us back to the gripe that we hold towards the front office and the team as a whole that others don't seem to fully understand.
The Red Wings' broadcast on Sunday were also puzzled as to why Flyers fans were so upset and angry, claiming that we're restless and don't want to undergo a rebuild. No one wants to undergo a lengthy rebuild, but whatever path the Flyers are currently on and have been on for the last 4-5 years has rendered them useless, with little draft capital, no cap space, and no game-breaking prospects. You're in the same realm as the Blackhawks, Coyotes, and Ducks, but the biggest difference is they have actual plans in motion and are currently executing them rather well.
Will their rebuilds pan out? Maybe not, but for the time being they have plenty of cap space, barely any long-term contracts, multiple draft picks per round every year, and some have a core of young players already making their mark while also being in the race for Connor Bedard this year – and even if they lose out they're going to be in the running for Adam Fantilli (25 goals and 56 points in 31 games for University of Michigan) or Leo Carlsson (25 points in 43 games in the SHL). That's something that this fanbase would want, that is something that this fanbase has been clamouring for, and that is something that should have happened by now considering the technicalities of being in the basement of the NHL for the last 3 seasons.
If you were unable to trade Zack MacEwen or Patrick Brown, that's one thing, but not only were you able to execute those trades – in fact MacEwen landed them a 5th-round pick alongside Brendan Lemieux – but somehow you weren't able to move your marquee name that, according to sources all season long, was gaining interest and traction left, right, and centre.
You allowed the interested teams to make comparable moves before you seriously engaged in trade talks. You allowed Winnipeg to trade for Nino Niederreiter and then Vladislav Namestnikov, you allowed Dallas to trade for Evgenii Dadonov and then Max Domi, you allowed Vegas to trade for Ivan Barbashev and then Teddy Blueger, you allowed Minnesota to trade for Marcus Johansson and Gustav Nyquist and then Oskar Sundqvist and John Klingberg with time running out, and you allowed Carolina to trade for Jesse Puljujarvi and Shayne Gostisbehere.
Fletcher sat back and watched as move after move was completed and expected us not to have a reaction? Sarcastically saying we're going to have a field day with your press conference? All we want is the betterment of this organization without lost seasons, without wasting the primes of your top players, and employing a plan and sticking by it.
It's a simple equation for most of the NHL, if not the entire league, unfortunately with the exception of the Philadelphia Flyers.