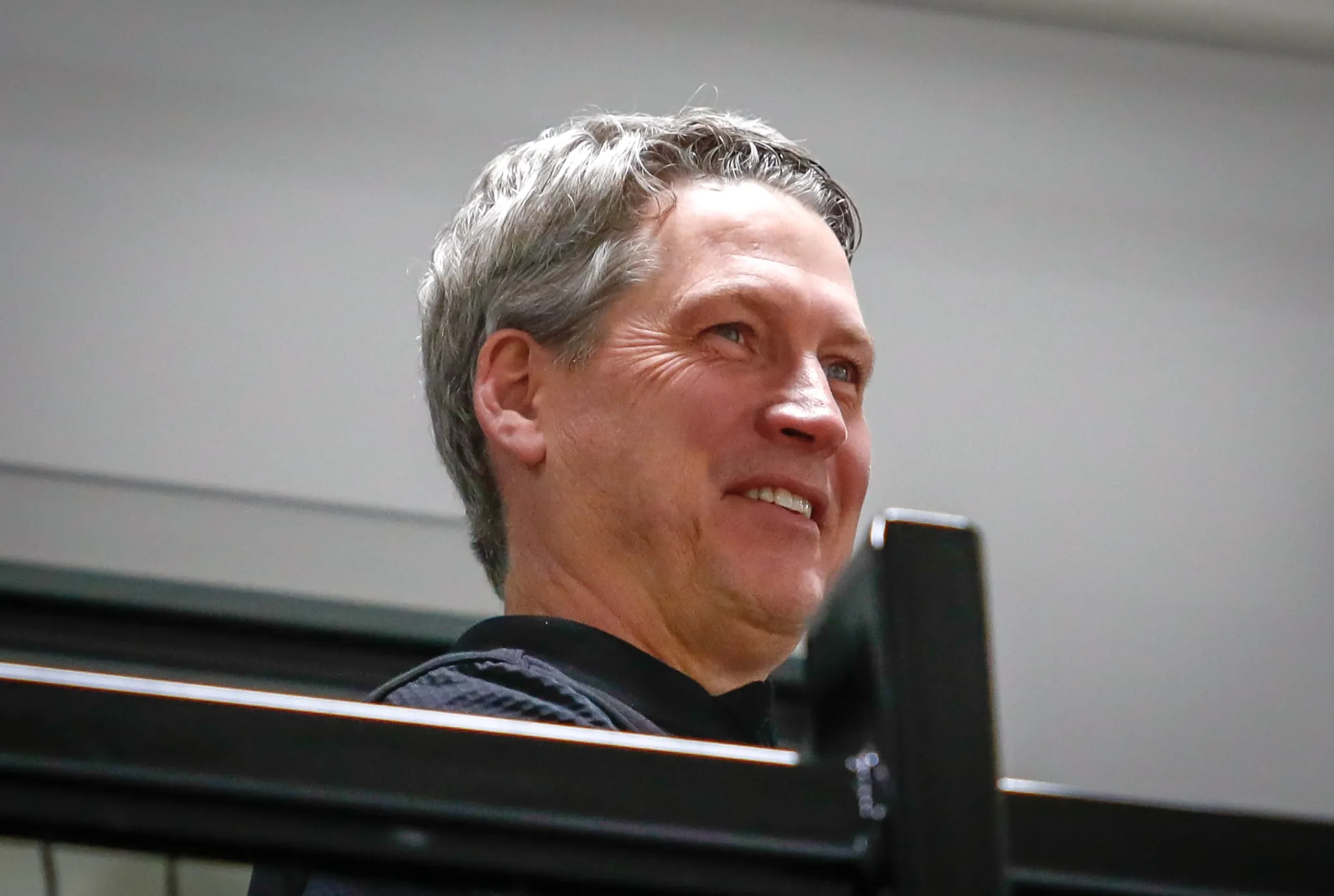 Chuck Fletcher Addresses the Media After Botched Trade Deadline, Talk is Cheap At This Point
Remember when Paul Holmgren was the general manager of the Philadelphia Flyers and he had dug himself such a large hole that he couldn't get himself out…they had to replace him with Ron Hextall, and he had to mend nearly every single relationship around the league because Holmgren messed things up so badly – primarily because he sent the taboo offer sheet for Shea Weber. Well somehow, even at rock bottom, the Flyers managed to get themselves out but have returned to said hole and have dug even deeper as Chuck Fletcher has taken the Flyers and essentially put their reputation down the tube.
This trade deadline had everything, big names were being moved, teams were trying to out-do each other, the playoff race is wide open, and essentially every player that was available was moved with the exception of James van Riemsdyk, Justin Braun, Nick Seeler, and a few others. The Anaheim Ducks acquired a roster player and a third round pick for defenseman, Dmitry Kulikov. The Minnesota Wild traded a fourth round pick for Oskar Sundqvist, the Winnipeg Jets acquired Vladislav Namestnikov for a fourth round pick, the New Jersey Devils acquired Curtis Lazar for a fourth round pick, even Jakub Vrana got dumped for a 7th round pick while having his salary retained.
The list goes on and on and on but the bottom line is that Chuck Fletcher, not only botched the easiest task at hand for this 2022-23 season, but he also didn't receive much interest, he didn't receive many offers, and he was barely able to negotiate for more than a fourth round pick. He had to tell the other teams that James van Riemsdyk was still a good player and that he would be very willing to retain 50% of his salary cap hit.
"I didn't get a firm offer of even a 4th round pick for JVR" is just one of a myriad of haunting quotes that were uttered during his post-deadline press conference.
When asked about how close Chuck was to trading van Riemsdyk, he said:
"I didn't have any offers at all until 1:40."
He continued by saying that the team that was interested – for whatever reason he wasn't saying Detroit specifically – kept telling him the deal was conditional on a different trade going through. The Red Wings either wanted to flip van Riemsdyk to someone else or they were trying to trade one more player from their current roster but neither deal materialized.
Fletcher said "it was interesting… an interesting market" and thought there would've been more interest for van Riemsdyk than he received. Apparently he was speaking to teams for three weeks and was hoping to get a pick in return while giving the player an opportunity to win a Stanley Cup.
"This guy's a good player, and will give him to you for 3.5 million, I've been telling teams for 3 weeks."
When asked on whether or not the asking price was too high, he sternly said:
"No. No. If a team has interest they typically counter or they accept your offer…We Certainly made everyone aware that he was available. We made them aware we'd retain 50 percent. We even said we'd take back a contract."
"Yesterday I received 2 calls – one on JvR, and one on another player. I made 17."
In regards to his job and job security:
"'I'm not worried about my job. Whatever happens with me, will happen with me. That's up to Dave Scott. But everything I do is about doing what's right for the Philadelphia Flyers and not taking shortcuts. And that's in part why we didn't make any more deals today."
That is a quote that has way too many layers to dissect. First of all, it sounds like he knows his future in regards to the end of the season. Dave Scott was close to firing him back in December before the Flyers started winning games – and a lot of them at that. I think the writing is finally on the wall within the confines of Comcast and everyone involved has an idea of what's coming next – unfortunately that could literally mean he sticks around as well.
Then he says that he wants to do what's right for the team and that means not taking shortcuts. Rasmus Ristolainen for a first round pick, second round pick, and roster player was a shortcut. He could've recouped a first round pick at the deadline last year but he extended him for 5 years instead. Tony DeAngelo for a second round pick, third round pick, and fourth round pick was a shortcut and he then signed him to a 2 year deal. Carolina was interested this year in a reunion but backed out.
"And that's in part why we didn't make any more deals today." That part of the quote makes almost zero sense because trading van Riemsdyk is a shortcut? Are you planning on extending him beyond this season? Because if you're not, then trading him at the deadline was a must. Was trading Justin Braun a shortcut as well? He's used as a 12th forward more than anything else and the Flyers have several better options in the AHL.
All of this has nothing to do with the player himself. James van Riemsdyk can be a polarizing figure in Philadelphia circles because of his $7 million cap hit, 5 year contract when initially signed, constant injuries, and his hot and cold stretches. However it is a fact that his underlying numbers this season were really good, he has a good track record over his career, he is 7-time 20 goal scorer, 2-time 30 goal scorer, is a big body net-front presence for anyone's power play, and would've completed any team's top-9.
Teams were trading assets for lesser players – in terms of impact and numbers – but the Flyers have already lost the respect they had to regain around the NHL circles. They tried attaching a first round pick to van Riemsdyk in the summer to no avail, teams knew they could lowball the desperate Flyers when talking about Travis Konecny, Ivan Provorov, and Travis Sanheim, and any time the Flyers wanted someone, they had to cough up more assets than the team that actually acquired said player. All of this led to the trade deadline where nobody apparently waned van Riemsdyk.
If Jakub Vrana who became an outcast in Detroit, or Nick Bonino, or Curtis Lazar, or even Patrick Brown can get moved, the Flyers holding onto van Riemsdyk out of fear of '"taking shortcuts" is just another path they're taking to the bottom of the barrel.
He ended the press conference by addressing the vitriol that he has seen and heard from the fan base:
"The last 2-3 years, there's no question we've been trying to be a competitive team… clearly, I haven't done that. I haven't done that job."
Sounds like a man who knows his fate or sounds like a man trying to guilt trip the fan base. Either which way, if this was his route to improving the organization, it is absolutely shocking that he was given such a loose leash.
The only positive that has come out of his tenure in terms of player movement and acquisitions via trade or free agency is Owen Tippett. Everything else he has bungled, the salary cap is a mess, and as a team that has no clear path to the playoffs for the upcoming season…we don't have cap space, we don't have draft picks, and we don't have any top burgeoning prospects that we can add.
He was uncomfortable on taking back contracts that still had term remaining, which might've explained the Jordan Greenway trade talks falling through. He also said he was willing and able to take back contracts – hence why he took Brendan Lemieux from the Los Angeles Kings when he first only wanted the pick – but he kept reiterating that he wanted to do what was best for the team moving forward.
If this was the best possible route that the organization could've taken heading into the trade deadline and beyond, then things are only going to get worse, things are only going to get tougher to deal with, and this slide that we've been on since virtually 2012 is going to continue until a plan is firmly in place and the person executing this plan is not the person who is currently in charge.