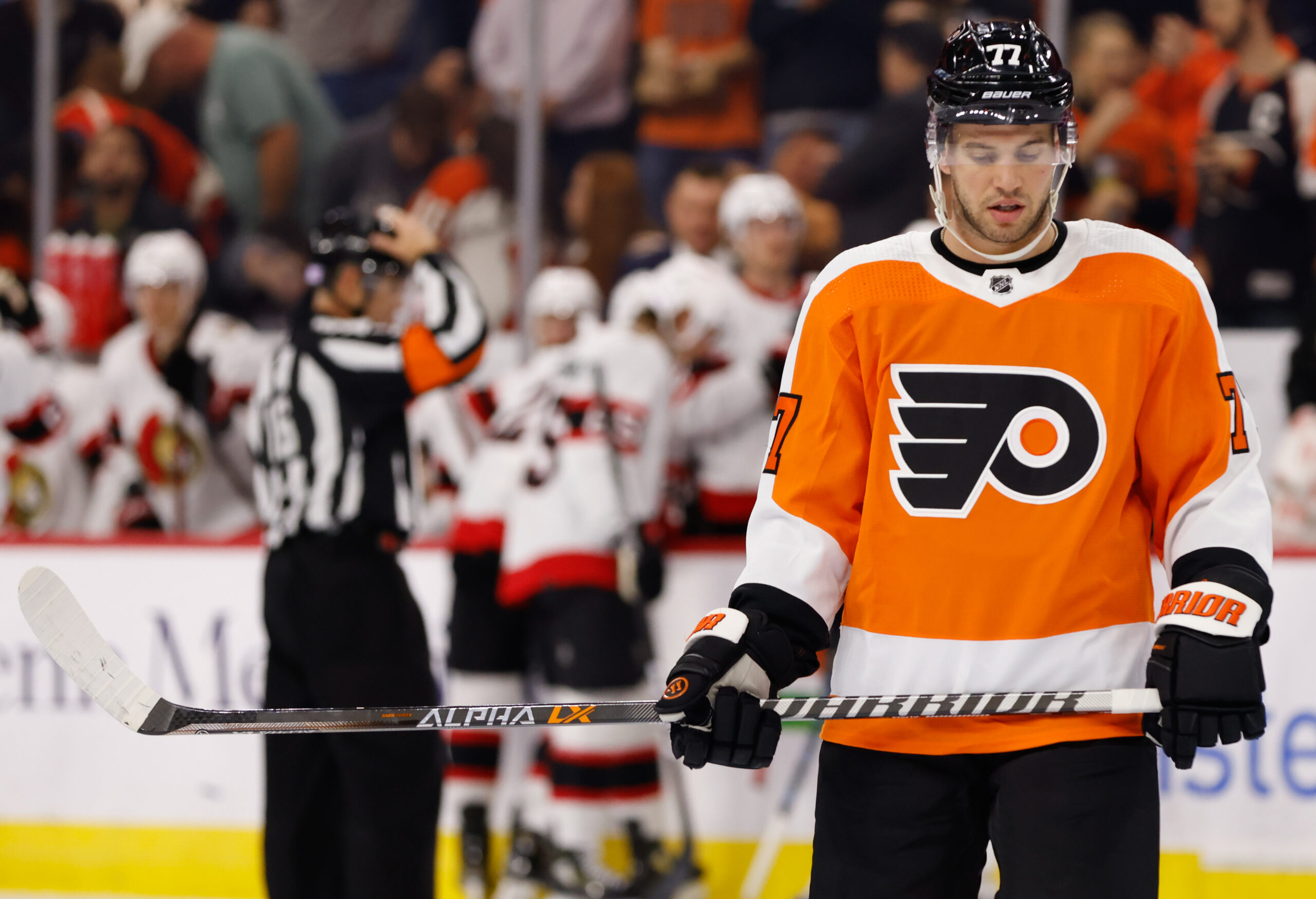 Tony DeAngelo suspended two games for spearing Corey Perry
The NHL has announced that Philadelphia Flyers defenseman Tony DeAngelo has been suspended for two games for spearing Tampa Bay's Corey Perry.
Philadelphia's Tony DeAngelo has been suspended for two games for Spearing Tampa Bay's Corey Perry. https://t.co/oUumwzAIbM

— NHL Player Safety (@NHLPlayerSafety) March 8, 2023
The incident occurred with 2:40 remaining in the third period of Tuesday night's 5-2 Lightning victory. DeAngelo was assessed a five-minute major penalty and a game misconduct on the play.
Tony DeAngelo spears a player in the nuts and gets thrown out of the game.

These are your 2022-2023 Philadelphia Flyers, everyone. pic.twitter.com/z3x77NaNdJ

— Flyers Nation (@FlyersNation) March 8, 2023
DeAngelo skated into the scrum and gave Perry a spear right where you don't want to be hit. The defenseman explained his side of what happened after the game.
"I was trying to give him a little shot. I wasn't looking for it to go there. He tried to slash my stick out of my hands the second beforehand. He talks all game. So, asked him to fight. Doesn't want to fight. He'll tell you that he's asked me to fight for years. I don't say no.
"So there's not much of an argument there. But I didn't look to…I wasn't trying to give him a shot…replay probably looks a bit worse than it was meant to be.
"But it is what it is. I took 30 punches on the ground, and when I get up, they don't let me do what I got to do. So it's whatever."
DeAngelo has been suspended once at the NHL level before and 3 times while in the OHL. The Sewell, New Jersey native was given a three-game suspension in 2017 for physical abuse of officials while with the Arizona Coyotes, and he was given suspensions for breaking the OHL's Harassment and Abuse/Diversity Policy and for abuse of officials while with the Sarnia Sting.
DeAngelo will be eligible to return to the lineup on March 14th against the Vegas Golden Knights at Wells Fargo Center.