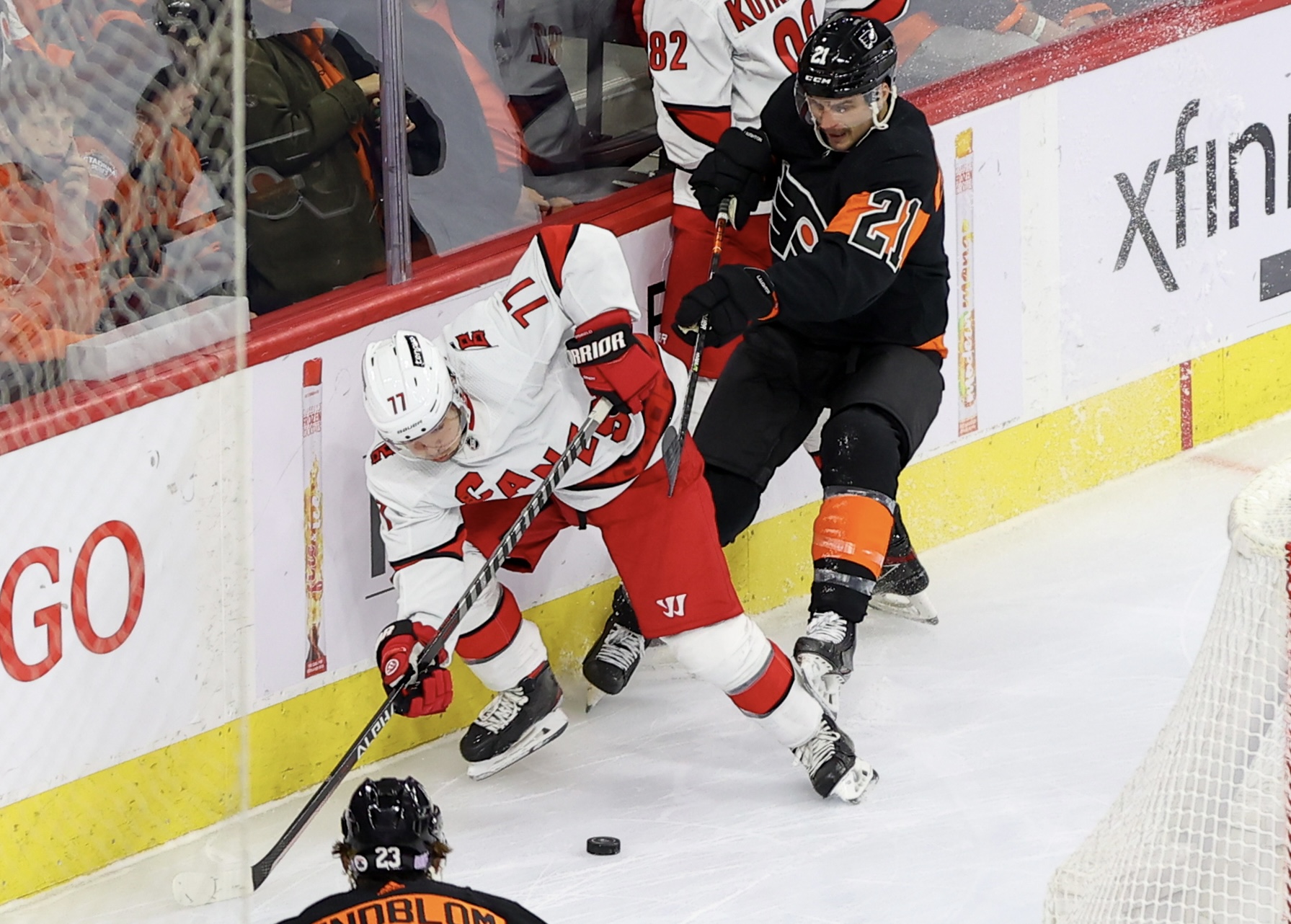 Tony DeAngelo and the Cap Crunch
The first day of the NHL Draft came and went on Thursday with a few surprises in the top 5, with the New Jersey Devils taking defenseman Simon Nemec with the 2nd overall pick, and then Shane Wright dropping to 4th for the Seattle Kraken. There were rumblings that the Arizona Coyotes would throw a curveball at number 3 but they were the ones who remained status quo by selecting the third ranked prospect in Logan Cooley.
The Flyers then had the choice between what seemed like the safe bet in defenseman David Jiricek or taking the high-risk-high-reward player in Cutter Gauthier, and this time around they went with the latter. With what was available and with how they wanted to play, it was a successful first day. 
Chuck Fletcher likes to even things out and after rumours were swirling all of Thursday night about the deepening interest between the Flyers and pending restricted free agent defenseman Tony DeAngelo, it wasn't a surprise that the free-swinging general manager traded for and then signed the offensive defenseman. DeAngelo priced himself out of Carolina, they had no real interest in bringing him back, but because they owned his rights a trade was needed. Fletcher sent a 2022 fourth round pick, a 2023 third round pick, and a 2024 second round pick for DeAngelo and a seventh round pick in 2022. 
During his draft year in 2014, it would've been a widely popular move had then-general manager Ron Hextall drafted the New Jersey native. Instead, Hextall went a little off the board and selected Travis Sanheim, who has been with the team ever since. DeAngelo was drafted 19th overall by the Tampa Bay Lightning – 2 picks after Sanheim was selected by the Flyers – but then traded to the Arizona Coyotes ahead of the 2016 draft for the 37th overall pick. A year later he was traded to the New York Rangers for Derek Stepan and Antti Raanta. DeAngelo spent parts of 4 seasons with the Rangers before being placed on unconditional waivers and then was signed 5 days later by the Carolina Hurricanes. 
He's been moved a lot and for a variety of reasons, but most of them due to his behaviour and off-ice conduct. His time in Tampa Bay was short and bittersweet because he had the talent, but the Lightning had enough of his behavioural problems and his lack of defensive abilities.
He had several dust ups in New York with head coach David Quinn, but for the most part, he seemed to have put the past behind him and showed signs of improvement both on and off the ice. However in 2020-21, on opening night no less, he was called for an unsportsmanlike conduct penalty and was then benched the next game. Then-Rangers general manager Jeff Gorton said that if DeAngelo can't learn from those mistakes soon, he'd find himself on the waiver wire. A few months later he allegedly had a physical altercation with goaltender Alexandar Georgiev and was placed on waivers on the 31st of January, 2021. He ended up clearing waivers and was then placed on the team's taxi squad, but the general manager said that move was only a formality and that he had played his final game as a New York Ranger. 
After being placed on waivers and then signing with the Carolina Hurricanes, the move was met with disgust and disdain but he seemingly moved on from his checkered past, didn't have any altercations or off-ice misconduct throughout the year, and scored 51 points on the 2021-22 season, which was one less than the Flyers' leading scorer in Travis Konecny.
The acquisition of the offensive defenseman is tough to put into words because in a way he's exactly what they need – an offensive minded defenseman who can control the puck and man the power play – but the cost of acquisition was high and their financial situation is even more murky and unclear. 
In terms of asset management and price of acquisition, it's a little mind boggling. Alex DeBrincat, who was a target for the Flyers until they wouldn't budge on the 5th overall selection, was eventually traded to the Ottawa Senators for a first round pick, a second round pick, and a third round pick. Rasmus Ristolainen cost the Flyers a first round pick, a second round pick, and a roster player. Tony DeAngelo cost the Flyers a second round pick, a third round pick, and a fourth round pick. 
The situations are a little different in the sense that DeBrincat will require a qualifying offer of over $9 million in the summer of 2023 and then he'll most likely command upwards of $9.5-$10 million on a long term deal – if he is satisfied with the current situation. However, the Flyers traded all that for Ristolainen on a contract year and then extended him for 5 more years.
Instead of admitting a mistake and picking up futures at the trade deadline, they doubled down and decided to hold onto him. Would you rather a year of Ristolainen at $5.4 million and then 5 more years at $5.1 million annually or DeBrincat at $6.4 million for one year,$ 9 million the next, and then a long term contract, potentially double that of Ristolainen? Young 40 goal scorers are hard to come by but when you essentially trade the same assets for two completely different players – talent and otherwise – critical thinking comes into question. 
Another way of looking at things is that Fletcher traded Shayne Gostisbehere, Robert Hagg, a first round pick, 3 second round picks, a third round pick, a fourth round pick, and a seventh round pick for Rasmus Ristolainen, Tony DeAngelo, and a seventh round pick back. One player who is almost the same as DeAngelo, one player who is a notch below Ristolainen, 7 picks going the other way – 4 of which are very valuable – and $10.1 million dollars being eaten up over the next 2 years. 
With Ryan Ellis, Sean Couturier, and Joel Farabee still counting towards the cap, the Flyers now have $100,000 in projected cap space for their wondrous summer plans. Chuck Fletcher didn't sound positive at all when asked about the possibility of Ellis making a return, which makes it sound like he'll most definitely hit LTIR – alleviating $6.275 million upon his return. Farabee should miss the first month of the season at most, so an LTIR visit right now would only complicate things further down the road when they have to get cap compliant. However, we're back to the same song and dance of trading van Riemsdyk's final year and then probably Oskar Lindblom and maybe even Travis Konecny to open up much needed cap. 
So far, it sounds like the Flyers want to spend, spend, and spend. Whether it's the big fish in Johnny Gaudreau or Nazem Kadri or Filip Forsberg or the "3-4 players" that Elliotte Friedman and Chuck Fletcher both alluded to – it's going to cost you more than $10 million regardless. Ellis' LTIR savings will help you over the summer when you can also go 10% over the cap, but when you have to get back to compliance and then when he does inevitably return, you're going to need that $6.275 million. I'm sure that the Flyers have plans over the next few days after trading and signing for DeAngelo but they're going to need several Hail Maries to convert if they want to spend once the free agency window opens on the 13th. 
The DeAngelo signing isn't all that bad but with no counter moves being made it just looks a little puzzling. They wanted to beef up the right side with Ellis on the mend and the Flyers having traded Justin Braun at the deadline, but asset management is going to haunt them in the future – whether that's near or distant remains to be seen – but with another second round pick biting the dust, one begins to wonder if the first round pick from the Florida Panthers in 2024 is going to be on the move next to alleviate cap space.
You can't get anything past Chuck Fletcher when it comes to making the moves that he wants to make and future draft picks seemingly have no value to him. It's tough sledding in Philadelphia, has been for well over a decade, but we're starting to feel it more and more day by day.