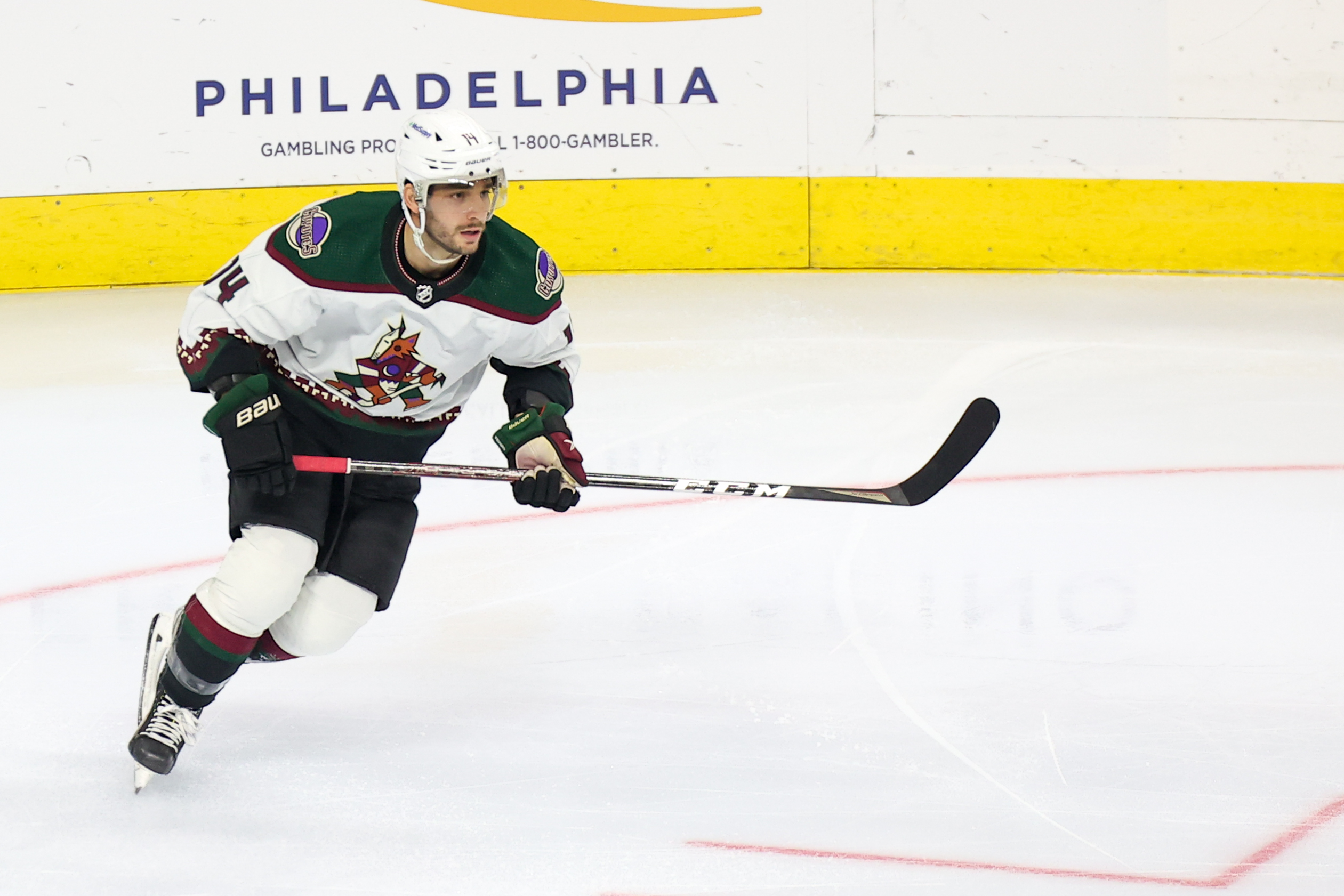 February 4th is when the 67th edition of the NHL All-Star Game will take place in Sunrise, Florida. The game is just three weeks away, and the NHL unveiled the first batch of All-Stars last Thursday. The remaining roster spots will be determined by a fan vote, and in the third installment of this four-part series after examining the Atlantic and Metropolitan Divisions, the Flyers Nation team heads west and takes a closer look at players who we feel are worthy of All-Star status and should be considered for the fan vote in the Central Division.
ARIZONA COYOTES – SHAYNE GOSTISBEHERE
Oh boy, do the Arizona Coyotes stink. Their current representative for the 2023 NHL All-Star game is their only player, Clayton Keller, who is flirting with a point-per-game pace. At the time of writing, he is four points off a per-game pace, but he has gone cold, with one assist in his last five tilts. That is tough by any meaning of the word. Yet, oddly enough, he is also fifth in Evolving-Hockey's expected models for points, wins, and goals added above replacement. While not horrible, he is far from an elite player this year, even though he is obviously talented. Maybe points are why he made the All-Star Game, or perhaps it's name recognition, but for his play, he more likely should have needed the fan vote to let him take a flight to Miami.
Because Ghost Bear is the player that should spend a beautiful weekend in sunny Miami, Florida. By the same expected value above replacement metrics I listed above, Gostisbehere is one of the top 25 defensemen in the NHL this season. Now, is he a top-25 defenseman in the NHL? No. Is he fun and having a great year? Yes. He has decisively deserved a trip south (technically, it's lateral for him, but I'm in Philadelphia, and that used to be the South Division). While he will probably miss because of the number of name-brand defensemen in the Central, the ex-Philadelphia Flyer has earned his first trip to the midseason classic. – Douglas Ramsey
CHICAGO BLACKHAWKS – JAKE MCCABE/MAX DOMI
If I'm going to be totally honest, I really didn't want to put up a second nominee for the Blackhawks. I mean, no one was really deserving of All-Star status this year anyway from them, and somehow Seth Jones made the cut only because the league requires one representative per team.
If it were possible, I would've nominated John Scott and Scott Foster as Chicago's representatives and let them dominate All-Star weekend. Even still, they're probably still more worthy than anyone on the Blackhawks' roster, but if I had to pick, it's a toss-up between Jake McCabe and Max Domi.
Analytically, McCabe is the Blackhawks' leader in xSPAR, xGAR, xWAR, GAR, and WAR. He has silently been Chicago's most effective defenseman on both ends of the ice and in terms of more basic stats, he is tied for second in goals by Chicago defensemen with All-Star Seth Jones (2 each), trailing just Connor Murphy (3). He is also second on the club in assists (9) and points (11) by defensemen, trailing only Jones in each category (11a, 13p). McCabe has also done this while only ranking fourth in average ice time (19:12) by Chicago defensemen behind Jones (24:47), Jack Johnson (20:08), and Murphy (19:28); some interesting deployment by Luke Richardson given how productive McCabe has been for the Blackhawks compared to the other blueliners.
As for Domi, he is Chicago's top producer in goals (12) and points (28) and trails only Patrick Kane for the club lead in assists (Domi – 16, Kane – 20). It's been very much a quiet renaissance for the 27-year-old Winnipeg, Manitoba native, as he has reached the highest goal total he's seen since 2019-20 and is on pace to break the 20-goal mark for the first time since 2018-19 (28). He also leads Chicago in game-winning goals (3) and has put up points in 3 of his last 4 contests, including an overtime-winning goal over Calgary.
Again, does anyone from Chicago really deserve to go the All-Star Game? No, but if somehow Blackhawks fans magically garner enough votes to get a second nominee down to Sunrise, it should be between McCabe and Domi. – Jake Modugno
COLORADO AVALANCHE – MIKKO RANTANEN
On a team overflowing with All-Star level talent, it's difficult to boil it down to just two or three deserving players. With Cale Makar being the first Avs player already chosen to represent the maroon and blue mountains, let's take a look at who should join him in Florida on February 4th. For the defending Stanley Cup champions, the "Cup hangover" has been reality, currently sitting sixth in the Central Division and four points out of the second Wild Card spot. However, for Mikko Rantanen it's been business as usual.
It's pretty difficult to overlook a team's leading goal scorer and point-getter when crafting an All-Star lineup. But when you play on a team full of studs and superstars, you have to stand out. Personally, I think Mikko Rantanen has done more than enough to earn himself a spot in the Sunshine State's All-Star festivities. Rantanen has tallied 51 points in 40 games (27G – 24A) and leads the Avs in more categories than just goals and points totals. At only 26 years old, this will be Rantanen's second All-Star Game appearance since solidifying his spot in the NHL in 2016-17. Rantanen boasts an impressive career track record so far, already owning a Stanley Cup ring, an IIHF World Junior gold medal, three – on his way to four – 30 goal seasons, and now, hopefully, his second All-Star bid.
He's not just leading the Avs in goals either, as Rantanen has 16 more goals than Makar and Nathan MacKinnon who are tied for second on the team. He also leads the team in shots (157), game-winning goals (4) and is part of a four-way tie for power-play goals (5). Mikko Rantanen is my pick as the Colorado Avalanche's potential second All-Star.
Here's Rantanen scoring a hat-trick in his home country of Finland during the NHL's Global Series matchup back on November 4th.
Look at his face, like who is that grumpy after scoring a goal? Vote this guy into the All-Star Game so we can see some form of positive emotions. – Mike Quin
DALLAS STARS – JAKE OETTINGER
Over his first two seasons, Jason Robertson averaged a point per game. Now, heading into his 3rd season in the NHL, he is averaging 1.35 points per game. Robertson should easily break into the 100 points club only at the age of 23. He sits 4th in the league for points and 4th in the league for goals. Robertson was a very obvious pick for Dallas' All-Star selection. The young winger is absolutely tearing it up this year.
While obviously the league could not pass up on Robertson, one of his teammates has quietly been having an All-Star deserving year, Jake Oettinger. I have said it once and I will say it again, a hot goalie can absolutely transform a team. Oettinger had a great season last year, no doubt, but he really upped his numbers this year. He sits third in the league for goals against average (second if you do not count Filip Gustavsson who has played half the amount of games Oettinger has) with a 2.28 GAA. Jake also sits fifth in the NHL for save percentage (.924%). With 19 wins, he is also in 5th and only behind league leader Ullmark by three wins. Along the way, he has also managed to record two shutouts.
You can tell Dallas has a ton of faith in Oettinger. They have him starting for 75% of their games, and he accounts for 76% of their wins. The Stars are on pace to end the season with 108 points, which would be their first time breaking 100 points since 2015-2016. Having an elite goalie and one of the top scorers in the league are to thank for that accomplishment. I don't see any reason why Oettinger should not be packing his suitcase for Florida. – Vashti Faust
MINNESOTA WILD – RYAN REAVES/MARC-ANDRÉ FLEURY
As the NHL continues to grow in terms of personality and showmanship, these two players do not lack in either category. Both of these fellas love to taunt opposing players, play jokes on teammates, and seem to be great for team chemistry. It's hard to say who has more swagger or who would be more deserving of that second All-Star bid for the Wild. Needless to say, I couldn't decide between these two so I guess you'll have to read both cases and decide for yourself!
The Central Division All-Star squad already has plenty of scoring capability with Jason Robertson, Kirill Kaprizov, and Vladimir Tarasenko, but they lack intensity, toughness, and most importantly, personality. Ryan Reaves is no stranger to any of the three traits I just listed. I mean, who else is going to stand up to the mighty Tkachuk brothers from the Atlantic Division or pump up the crowd by rag-dolling someone to the ground and flexing their muscles? Certainly not Clayton Keller!
"Reavo" has been a force to reckon with for the better part of the last decade and has solidified his place at the top of the NHL tough-guys list. With great chirps, tilts, and hits, Reaves will definitely make for must-watch TV, especially if they get him mic'd up during the All-Star showdown. Reaves knows his role on a team and has played it well, spending seven seasons in St. Louis before a brief stop in Pittsburgh and then off to Vegas where his feud with Tom Wilson during the 2018 Stanley Cup Final became infamous. After Vegas, Reaves spent the 2021-22 season in the Big Apple with the Rangers before being traded to Minnesota around Thanksgiving this season. Reaves could bring a different presence to the All-Star Game that we haven't seen since the John Scott show back in 2016 and that's why he is one of my second All-Star picks for the Wild.
Also with only four goalies picked as All-Stars so far, we might as well shore up those extra crease spots! But this guy, this character, this FLOWER is no slouch. Marc-André Fleury has been dazzling us with his acrobatic saves and goofy personality since he was drafted first overall by the Penguins back in 2003.
Fleury is no stranger to the All-Star festivities, being selected to represent his teams four times already (2011, 2015, 2018, 2019), but why not make it five? So far this season Fleury has been steady for the Wild with a 13-8-3 record, 2.93 GAA, and .902 SV%. Now these stats aren't crazy, mind-boggling numbers, but to be 38 years old and in your 19th NHL season, these are pretty respectable stats for the Flower. With nearly 56,000 career minutes, a Vezina Trophy, never finishing a season, aside from his first two, with lower than a .905 SV% and being one of only three goalies in NHL history to have over 500 wins, Fleury has cemented himself as a legend in the sport.
Just think of the TV ratings for Fleury making some Wild (pun intended) outrageous saves or caressing his post, thanking it for making a save he missed. Hell, he might even tickle someone's ear again. You never know with the Flower and that's why he should also possibly be the Wild's second All-Star pick. – Mike Quin
NASHVILLE PREDATORS – ROMAN JOSI
It's killing me to not put Filip Forsberg here. Fil The Thrill leads Nashville in goals (18) and points (38), but I don't think we can pass up the opportunity to see the silky-smooth skating and incredible playmaking of Roman Josi from the back-end in the All-Star Game.
Play-style aside, Josi's stats are marvelous, as he's posted 10 goals and 23 assists for 33 points in 41 games for the Predators. He ranks fifth across the NHL in goals by defensemen and 9th in total defensive scoring across the league.
The Nashville captain, 2021 Norris Trophy winner, and four-time All-Star should easily get the nod to make his fifth appearance at the event and fourth consecutively. Imagine getting to see him skate among a defensive group already that contains Cale Makar and Josh Morrissey. Oh and Seth Jones, I guess. That collective defensive group would be bonkers to watch in a 3-on-3 setting, with a new blueline anchor coming onto the ice for every shift and just either setting up plays for snipers like Jason Robertson or Clayton Keller, or being set up for big one-time blasts or being able to show off their own goal-scoring prowesses.
Given how many defensemen are already on the Central's roster, I can see Forsberg totally getting the nod here should the Predators end up with a second player voted in, but Roman Josi would be my first choice to join fellow Predator Juuse Saros in Sunrise. – Jake Modugno
ST. LOUIS BLUES – JORDAN KYROU
The middling St. Louis Blues will be represented at the All-Star game by veteran forward Vladimir Tarasenko, who is currently 5th on the team in points with 29 but has only played in 34 games. He has been sidelined with an injury since the 31st of December and then subsequently placed on the IR.
There are several options to choose from for either a replacement in case he misses the All-Star Game or if a second representative is voted in. Jordan Kyrou leads the team with 20 goals and 41 points in 40 games, Robert Thomas is behind him with 39 points in 42 games, Pavel Buchnevich has 36 points in only 34 games, and Brayden Schenn rounds out the top 5 with 33 points in 43 games.
Unlike the other divisions, the Central Division went defence-heavy with Seth Jones, Cale Makar and Josh Morrissey already being selected. In other words, this makes things a lot easier for the Blues as Jordan Kyrou would and should get the nod. He is their go-to player on offence, leads the team in goals and points, and has over 30 more shots than anyone else. Buchnevich would be a close second but Kyrou has an outside chance of being selected to his second All-Star Game. – Dean Chaudhry
WINNIPEG JETS – KYLE CONNOR
The Winnipeg Jets have been one of the best teams in the NHL as they currently sit second in their division with a 28-14-1 record. Their initial selection was Josh Morrissey who is second among defensemen around the NHL in points with 47 in just 43 games.
However, a team that is doing that well is going to be have a lot of snubs with the new format only allowing 11 players from 8 combined teams. Kyle Connor leads the team in points with 53, Pierre-Luc Dubois is right behind him with 48, Mark Scheifele leads the team in goals with 24, and Connor Hellebuyck is amongst a handful of goalies in the Vezina Trophy conversation with a 21-10-1 record, .925 SV%, and a 2.41 GAA.
Juuse Saros got the nod for the Central Division as the first goaltender off the board, which would then make it a battle between Jake Oettinger and Connor Hellebuyck for the final slot. They can't go wrong with either selection, which is why if Oettinger is voted in, Kyle Connor should be the slam dunk choice with his 52 points that has him sitting tied for 8th in the NHL.
Connor also leads the team with 141 shots, 17 even strength goals, and 8 game-winning goals. So when it comes down to it, another Winnipeg Jet should get selected and either Hellebuyck or Connor should get the nod, with the latter being a more formidable option just because Oettinger is having an equally good season between the pipes. – Dean Chaudhry