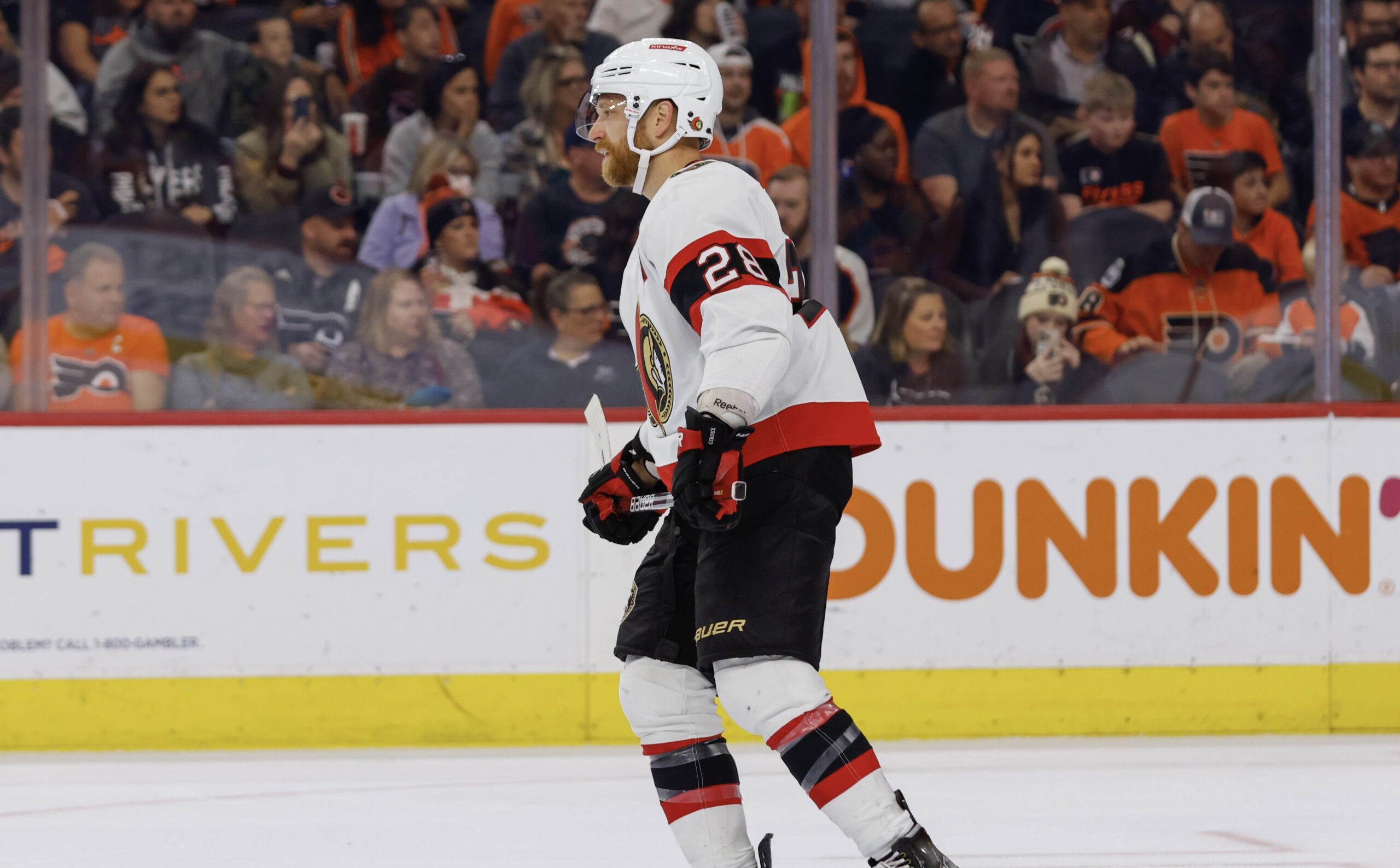 Who should fill out the roster for the 2023 Atlantic Division All-Stars?
With the NHL All-Star Game fast approaching on February 4th, the league announced its first 32 All-Stars last Thursday. Each team was granted one representative and the final three spots on each division's team will be set by a fan vote. Today, the Flyers Nation group takes a look at players from each Atlantic Division team that didn't make the first cut for the squad but should be receiving plenty of votes to become All-Stars this year.
BOSTON BRUINS – DAVID PASTRŇÁK 
Linus Ullmark was the obvious first choice for Boston to be represented when the original rosters were announced for the All-Star Game, as he is currently the league's best goaltender and is a Vezina Trophy frontrunner, but David Pastrňák should be joining him in Sunrise.
The 26-year-old Czech forward leads all Boston players in goals (32), assists (26), and points (58), and has routinely been the Bruins' best player in pretty much every game sans Ullmark. With his 58 points, Pastrňák has factored into 37.66% of Boston's 158 total goals this season, a mind-boggling number and another reason why he should be an All-Star again.
Among the league's leaders, he also sits third in points only behind Edmonton's Connor McDavid (77) Leon Draisaitl (62) and second in goals behind McDavid (34).
Boston simply runs on Pasta, and Bruins fans everywhere should be voting for Pastrňák to make his third All-Star Game appearance. – Jake Modugno
BUFFALO SABRES – RASMUS DAHLIN
When it comes to the Buffalo Sabres, Tage Thompson was a slam dunk selection with his 31 goals – 3rd in the NHL behind only Connor McDavid's 34 and David Pastrnak's 32, and 56 points – 5th in the NHL behind only and McDavid's 77, Leon Draisatl's 62, Pastrnak's 58, and Jason Robertson's 57 in only 37 games this season.
The Sabres on the other hand have improved drastically from last year's 32-39-11 finish as they currently hold a 20-16-2 record, are 4th in the Atlantic Division, and are within striking distance for a Wild Card spot. That has a lot to do with Thompson's ascension but also the supporting cast behind him, most notably, Rasmus Dahlin.
The former first overall pick is 6th on the team with 12 goals, 1st on the team with 32 assists, and 2nd with 44 points, while owning a team-high +16 rating. He has been everything that the Sabres had hoped for when they initially drafted him in 2018 and is finally making his ascent into superstardom amongst his fellow defensemen.
The Atlantic Division's first 8 All-Stars didn't incorporate any defensemen and with at least 2 needed, the division's leading point scorer from the backend – 3rd in the NHL behind only Erik Karlsson and Josh Morrissey – is surely going to get his second All-Star nod. – Dean Chaudhry
DETROIT RED WINGS – FILIP HRONEK
Almost in a similar spot as the Sabres, the Detroit Red Wings have slightly  improved this season and were always seen as a dark horse candidate with some of the moves they made over the off-season. Things haven't panned out exactly as they had hoped and for that reason the All-Star nod was easily going to be their leading scorer in Dylan Larkin.
He owns a team-high 13 goals and 33 points in 37 games as he was honoured for the third time in his career. As for a second nominee, the list is rather small as Filip Hronek is having a career season with 29 points in 38 games and following him from the rear are Dominik Kubalik with 28, David Perron with 27, and Lucas Raymond with 23. Moritz Seider has hit the sophomore slump as he only has 13 points on the season after winning the Calder Trophy with 50 points in a full 82-game season last year.
Hronek's previous highs in assists and points came last year when he notched 33 and 38, respectively. This season he's already at 22 and 29 in 40 less games played. Defensemen are a dime a dozen in the new formatted All-Star Game and there are plenty of options to choose from, but Hronek has an outside chance as he sits 3rd in the division in points by defensemen behind only Brandon Montour (32) and Rasmus Dahlin (44) – he just doesn't hold that much cache with only 3 extra spots available. – Dean Chaudhry
FLORIDA PANTHERS – ALEKSANDER BARKOV
Even though Carter Verhaeghe is also deserving of a spot, Barkov has missed 10 of Florida's 40 games and is still averaging a point per game and has 21 assists, with his 30 points just one shy of Verhaeghe and Brandon Montour for second place in team scoring behind Panthers newcomer and already-named All-Star Matthew Tkachuk.
Also with the All-Star Game being held in Sunrise this year, it seems almost impossible to not feature Barkov in some way. His incredible hockey IQ, smart two-way play, quick skating, and sublime set of hands make him a slam dunk pick to help put on a show in the 3-on-3 tournament in front of his home crowd.
Barkov is the greatest Florida Panthers player of all-time, and he's due to put on a clinic in front of his own fans in what could be his first All-Star Game appearance since 2018. – Jake Modugno
COLE CAUFIELD – MONTREAL CANADIENS
Nick Suzuki got the bid from the NHL as the Montreal Canadiens' All-Star representative. He leads the team in points, assists, powerplay goals, and has even gone 4-for-4 on shootout attempts so far this season. It is no surprise he was chosen, but there is another name on the Canadiens you could argue belongs in Sunrise, Florida next month. As a Flyers fan, this one pains me to write, but Cole Caufield should be an All-Star.
The small winger is currently on pace for 47 goals this season. If he can continue this pace, he would have the most goals scored by a Montreal Canadiens forward since 1990. He has already tied the number of goals he had last season (23) with 42 games left. He is tied for 9th in the league for all goal scorers and accounts for 21.9% of his team's goals. Only two players, Connor McDavid (23.13%) and Mikko Rantanen (23.85%), account for more of their team's goals.
Caufield is thriving under the wing of Martin St-Louis. He is the goal scorer the Canadiens have been looking for. I am sure he will haunt Flyers fans for years to come, constantly reminding us of what could have been. Philly wishes him the best, and I know we will be seeing him at an All-Star weekend sooner or later. – Vashti Faust
OTTAWA SENATORS – CLAUDE GIROUX
Call me biased, but I am bringing the facts. Ex-Flyers captain Claude Giroux should be lacing up for All-Star weekend. The Ottawa Senators' current captain, Brady Tkachuk, will be making the trip to Florida as the NHL chose him as the Senators' representative. He leads his team in points, assists, and even has 108 hits under his belt. Tkachuk is having a great season, but Giroux is right there with him.
At the moment, G is second on the Senators in goals. He has a monstruous 60.97% success rate in the faceoff circle, putting him in fourth across the league. The Senators' coaching staff has mentioned several times how much Giroux helps the younger guys get confident with faceoffs, as it has always been his specialty. He is tied for fourth in points on the Senators with 36 points in 40 games, averaging nearly a point per game on a struggling team. Giroux is still performing extremely well, especially at the age of 35. He finally has been gifted having snipers by his side like Tkachuk and Alex DeBrincat so he can show off more of his playmaking skills.
Last year, Giroux walked away from All-Star weekend with a new car and an MVP under his belt. He proved to a lot of people that he belonged with the best of the best. I hope we get to see him do that once again. – Vashti Faust
TAMPA BAY LIGHTNING – BRAYDEN POINT/ANDREI VASILEVSKIY/MIKHAIL SERGACHEV
Like the Maple Leafs, the Tampa Bay Lightning have four players with serious cases for the All-Star Game. Nikita Kucherov is the lone representative, who is sixth in the league in points. While in that realm alone, he's a deserving candidate; there's an argument for Brayden Point, Mikhail Sergachev, and Andrei Vasilevskiy. These players would all gripe if they missed the All-Star Game in 2023. 
Who should go is almost an impossible decision. By 5v5 impact, Point is clearly the player who should go to the All-Star Game. However, Sergachev has one of the highest scoring rates of a defenseman, and the Atlantic is low on defensemen going to the All-Star Game. Also, he's been one of the top players for the Lightning all season. Vasilevskiy is the other clear choice to join his Russian counterpart in Miami. Vasi is currently 5th in WAR, and he's 6th in goals saved above average and goals saved above expected. However, he has been lights out. In reality, he and Point most likely deserve to go to Sunrise, but it will remain to be seen how the fan vote shakes out. Sergachev, while playing very well, has more of an outside chance than the other two mentioned players. – Douglas Ramsey 
TORONTO MAPLE LEAFS – WILLIAM NYLANDER
The NHL All-Star voting had a tough choice with the Leafs. The league decided that Mitch Marner should fly to Miami to represent the Leafs and the Atlantic Division. By Evolving-Hockey's xGAR (expected goals above replacement), xWAR (expected wins above replacement), and xSPAR (expected standing points above replacement), Marner leads the Leafs. In those terms, the league picked the correct player for the Leafs. For those reasons, Toronto will have the proper representative for the All-Star Game. Mitch has all the right credentials. 
However, there is another. William Nylander is floating around the top sixteen skaters in the Eastern Conference in xWAR, xSPAR, and xGAR. Not only does he fit from an advanced statistical standpoint, but he also fits because he is second on his team in points, first in goals, and 21st overall in point scoring in the league. Nylander is pacing for his best scoring season ever and possibly his first season as a point-per-game player, coming so close last season. The Swedish winger is a fair candidate to join his national teammate, Linus Ullmark, at the All-Star Game in 2023. – Douglas Ramsey