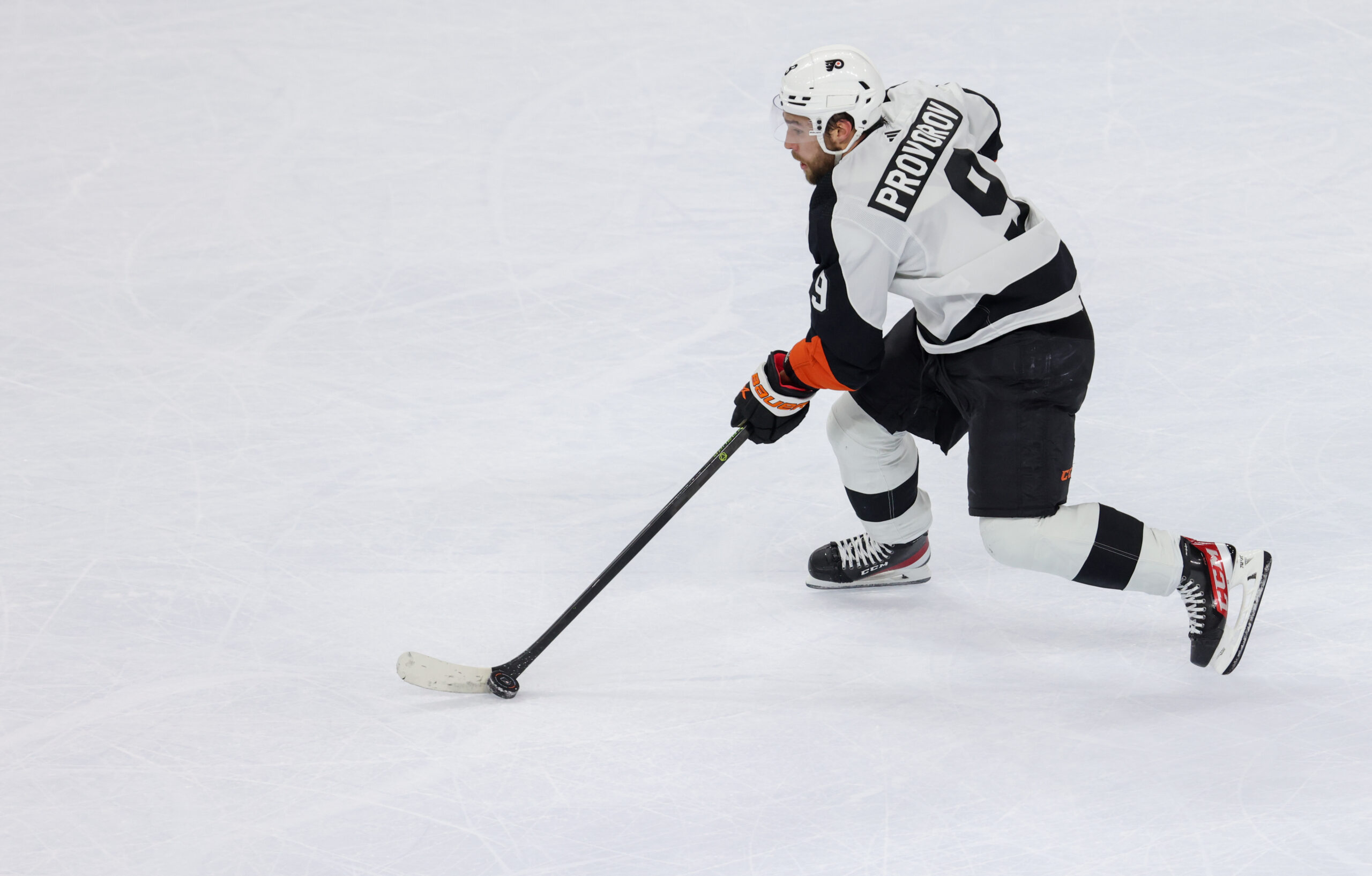 Realistic trade packages for Ivan Provorov
For a while now, many Philadelphia Flyers fans have been calling for the organization to rebuild. After witnessing years of mediocrity and below average performance compared to high expectations, the fanbase seems to be fed up. The first sign that a possible rebuild was coming happened when the Flyers traded longtime captain and franchise cornerstone Claude Giroux to the Florida Panthers last season. Many fans saw this as the beginning of the rebuild that has been begged for for by the fans; however, Chuck Fletcher was very clear this summer that he was making moves to win. He reiterated that his plan was not to rebuild, but to retool.
Fast forward to January of 2023, and the Flyers are caught in limbo again. They are outside of the final Eastern Conference Wild Card spot by a decent margin, but they are winning too much to be a major player in the Connor Bedard/Adam Fantilli sweepstakes. On top of everything, the Flyers are dealing with major injuries to key players again this season, as Sean Couturier and James van Riemsdyk each have had long-term injuries, while Ryan Ellis and Cam Atkinson both have injuries that have knocked them out for the rest of the season.
With all these problems surrounding the team, it should come at no surprise that there are trade rumors flying around the hockey world about the Flyers. Recently, on the 32 Thoughts podcast, Elliotte Friedman brought up Ivan Provorov's name and how there has been a growing sense of frustration between Provorov and the Flyers.
Provorov is 26 years old and is under contract for two more seasons after the 2022-2023 season. At a reasonable $6.75M cap hit for those years, if the Flyers were to trade him, they would likely be getting back a big haul. So what would some reasonable and realistic trades for Ivan Provorov look like?
#1: Flyers try their luck with another center taken 2nd overall
Flyers fans all know how the Nolan Patrick era ended, and how the failure of that pick completely de-railed the Flyers short-term rebuilding plan. Why not try their luck on another 2nd overall pick who has been underperforming for their current team? The Los Angeles Kings need a defenseman, and former 2nd overall pick Quinton Byfield hasn't really found his footing in LA. The Kings are 2nd in the Pacific and will be looking to buy at the deadline, not just for this season, but also the future. Provorov to LA just makes too much sense. To make the money work, the Flyers would be eating the last year of Jonathan Quick's contract, as Quick has become a shell of his former self. Add some other pieces on both sides and we might just have a deal.
Flyers Receive: Quinton Byfield, Helge Grans, Jonathan Quick
Kings Receive: Ivan Provorov, Felix Sandström, Zayde Wisdom
#2: Rivalry Trade
The New York Rangers always seem to be in the mood to shake things up and make a splash, whether that be via trade or free agency. The Rangers also have former draft picks that are under preforming immensely. The Rangers probably aren't going to be so keen on trading former 1st overall pick Alexis Lafrenière, as his underlying numbers haven't been too bad to start his career. There is another struggling prospect on the Rangers that makes more sense for both teams however. Kaapo Kakko has struggled heavily in his time in New York. Once seen as a potential number 1 overall pick, Kakko has not lived up to his pre-draft hype. Maybe a change of scenery will do him good, especially on a team that is young, rebuilding, and has an actual head coach that will try to properly develop him.
Flyers Receive: Kaapo Kakko, Sammy Blais
Rangers Receive: Ivan Provorov, Zach MacEwen
#3: The Krak and Hak Attack
The Seattle Kraken are quietly shocking the hockey world this season. After being absolutely disastrous in their first season as a franchise, Seattle has been sneaky solid this season, as they are currently 3rd in the Pacific with games in hand over almost all the other teams in their division. If there was ever a time for the Kraken to trade for a younger first pairing defenseman with term left on his contract, now is that time.
Flyers Receive: Joonas Donskoi, Carson Soucy, SEA 2023 1st round pick, WPG 2023 2nd round pick, CGY 2024 7th round pick
Kraken Receive: Ivan Provorov, Patrick Brown
#4: Striking Oil
For the entire Connor McDavid era in Edmonton, defense has been a huge problem. How can they fix it? Provorov. Have you ever seen the Phil Swift Flex-Tape meme where he patches that hole with the tape? Provorov is the tape and the hole is the Edmonton defense. The Oilers have also been looking for a new home for Jesse Puljujärvi, and could slot in on the young flyers team nicely team. Seems like the perfect swap for 2 players trying to find a new home.
Flyers Receive: Jesse Puljujärvi, Cody Ceci
Oilers Receieve: Ivan Provorov, Patrick Brown (50% Retained)