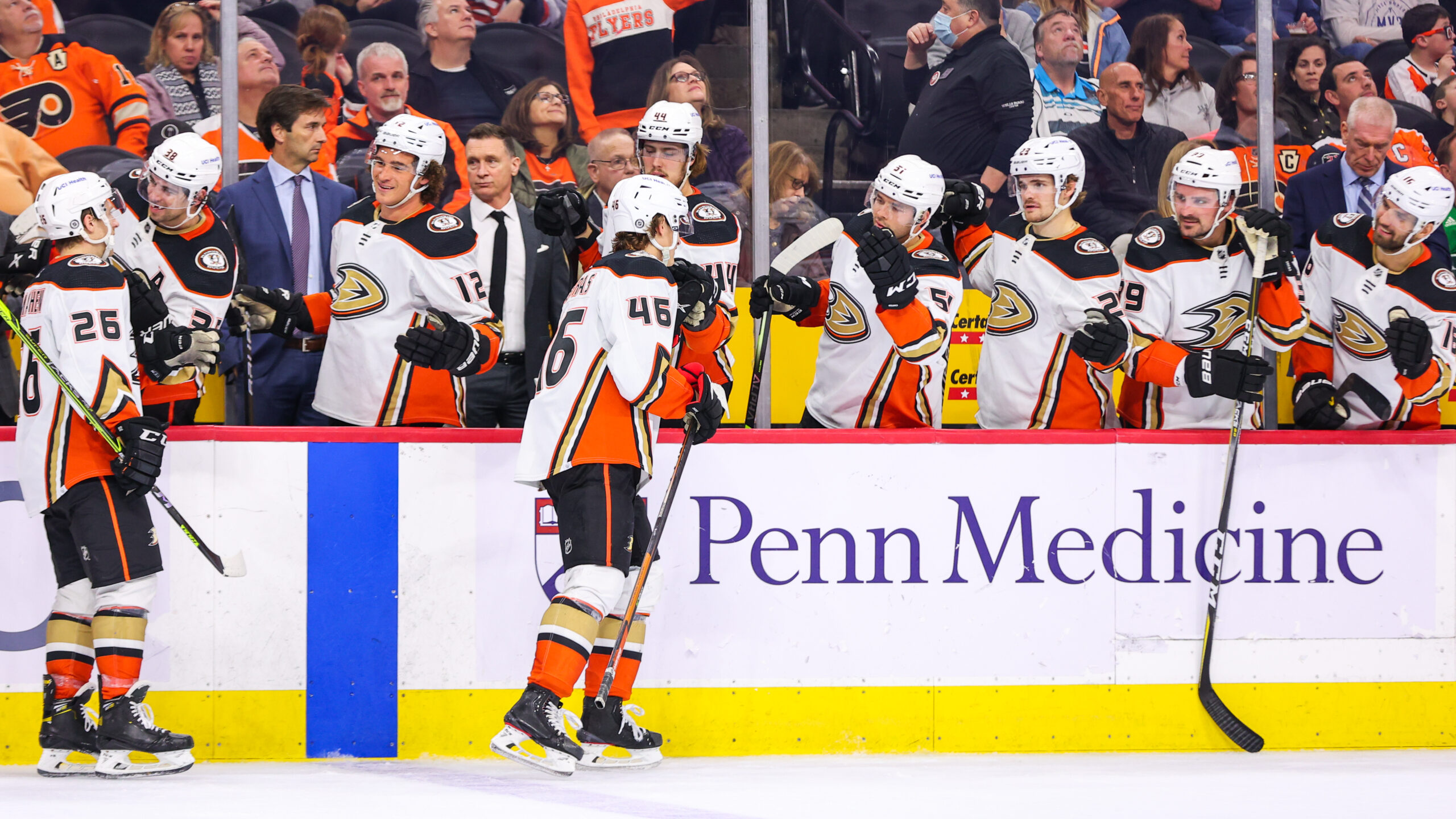 Well, we've reached the end of our series. As the NHL All-Star Game and its fan voting period creep up on us, the Flyers Nation team wraps up our All-Star roster prediction series. After taking hard and detailed looks at the Atlantic Division, Metropolitan Division, and Central Division, we finally close out our picks with the Pacific Division today.
ANAHEIM DUCKS – TREVOR ZEGRAS
Troy Terry is a really cool player to watch. The way he creates and manipulates spaces on the ice is incredible, and he's one of the few who's begun to pave new paths in how the game is played at the highest level. In truth, Troy Terry deserves to go to the Allstar game, but that's not what this practice is. Yes, Trevor Zegras already went to the all-star game, but you're going to tell me you don't want to see some more of this?
Tony loves the movie Dodgeball, and he loved this Trevor Zegras goal. pic.twitter.com/nkcw4SubgE

— PTI (@PTI) February 7, 2022
Trevor Zegras IS creativity at its finest on the ice right now, and no one can deny that whatever he would do in the shootout would be irritable, too entertaining to refuse. The numbers don't lie either. 32 points in 43 games, only two less than Troy Terry's 34 points in 43 games. On the power play, he's collected 3 goals and10 points total, which is more than Terry's as well (4 goals and 8 points). It is hard to look away at the PIM difference between the two; Zegras has racked up 42 PIM, compared to Troy's 16 PIM. That's more than half of his teammate and often linemate. The problem for me is, this is a skills competition, not a Lady Byng competition, re:
This Trevor Zegras shootout goal😍🔥 pic.twitter.com/yZkFwb8Y4w

— Everything Hockey (@EHClothing) December 29, 2022
And I hate to say it, but Trevor Zegras is more marketable for the NHL, and they know they'd likely make more money featuring a name brand like him right now. – Billy O'Brien
CALGARY FLAMES – TYLER TOFFOLI
In the first year with his new team, Nazem Kadri secured his second All-Star appearance. He leads the Flames in goals with 16. Half of those goals happen to be power play goals, putting him at 14th in the league in that stat. Kadri came off a Stanley Cup win and kept the momentum rolling. While he is not on pace to top his points from last season, he should beat his goal count from the 2021-2023 season.
If you find your way to Calgary Flames twitter, you can see their fans are pushing for Tyler Toffoli to get the vote in to join Kadri down in Florida. It is not hard to see why. Toffoli has only one less goal than Kadri, but he does have more assists, giving him more points than his teammate. Toffoli might have been a semi disappointment to Flames fans when he was first traded last year, but it is clear he has found his footing. He is thriving now that his is settling in, creating a dominate duo with teammate, Elias Lindholm.
You can imagine the weight on a guy like Tyler Toffoli's shoulders. The team lost superstars Johnny Gaudreau and Matthew Tkachuk. When guys like Toffoli show up and ease the loss of top players, you know they are something special. Toffoli is just as deserving as Kadri to be soaking up the sun down in Sunrise, Florida this All-Star weekend. – Vashti Faust
EDMONTON OILERS – LEON DRAISAITL
Shocker, I know. Leon Draisaitl, an All-Star? Who could have guessed? Year after year Draisaitl and Connor McDavid tear up the NHL. McDavid got the nod to be the Oilers' All-Star representative. He has an insane 79 points in 43 games played. On pace for 150 points, it is to no surprise he leads the league in points. Not only points, but McDavid leads for goals and assists. He is setting a scorching pace of a 66-goal season, smashing his previous season record of 44 goals. You also have to keep in mind that McDavid has only played two full seasons in his career, 2016-17 season and 2017-18 season. It is hard to imagine an All-Star weekend that does not involve Connor McDavid.
Guess who sits second in the league for points this season. You got it, Leon Draisaitl. With 63 points under his belt, Draisaitl only sits behind his own teammate on the leaderboard. He is on pace for a 120-point season. Assuming he continues at this pace, he would break his own personal record of 110 points in a season, which he accomplished in 2019-2020 and again last season. 15 powerplay goals puts him at the top of the league, second place being McDavid with 14 PPG. Understandably, the Oilers have the best power play in the league because of these two (31%).
It is kind of insane to think that the Oilers have two of the best players in the league on the same line. Unfortunately, they have nothing to show for it with not even a cup appearance. With these two guys getting better and better every year, you would think a true cup run has to be in Edmonton's future. Until then, expect to see McDavid and Draisaitl at the All-Star game together quite a few times. – Vashti Faust
LOS ANGELES KINGS – PHEONIX COPLEY
Yeah, this is a bit of a weird one, I know, but hear me out.
Copley has been a revelation in goal for the Kings and sports a tremendous 12-2-0 record since making his season debut on December 6th. Copley was originally going to spend the season with AHL Ontario, but after the struggles of Cal Petersen landed him on the waiver wire and Jonathan Quick's age showing even harder than last season, Copley was recalled from the Reign and has not looked back.
While his .904 save percentage is okay and his 2.59 goals against average isn't elite but still good, let's consider a few things: 1) the Pacific Division has virtually no goaltenders to pick from after Vegas' Logan Thompson was named to the original roster. Edmonton's Stuart Skinner would probably be the next best option but Leon Draisaitl will likely beat him out for fan votes, 2) Since Copley's first game, the Kings have earned 26 points, in which he's been responsible for 24 of them, and 26 is good for a tie for 4th with the the New York Rangers and Washington Capitals since then. Before Copley showed up, the Kings only had 30 points with 13 wins. He has almost singlehandedly reached LA's point and win outputs before his recall in his 14 appearances.
Copley has been resurgent and has arguably been the biggest reason that the Kings have stayed afloat in a surprisingly tough Pacific Division playoff race this season. The Kings are on the short end of a tiebreaker with the Seattle Kraken and sit third place with the two teams at 56 points, but they're both only two points behind the Pacific-leading Vegas Golden Knights who have 58. The Calgary Flames and Edmonton Oilers are also both at 51 points and hot on LA's trail, but Pheonix Copley has made it this far to help the Kings chug along, and he is more than deserving of joining teammate Kevin Fiala in Sunrise to represent the Kings and fill out the Pacific's second goaltender slot. – Jake Modugno
SAN JOSE SHARKS – TIMO MEIER
The Sharks are in a quandary. Erik Karlsson is an elite defenseman firmly in the hunt for the Norris Trophy this season. In terms of offensive contributions (shot attempts, chances created, quality of chances, and points), he ranks as the 6th-best player in the NHL by Evolving-Hockey's expected offense statistic. The Swedish defenseman shares company with Leon Draisaitl, David Pastrnak, and Tage Thompson. While his defensive contributions are less than stellar, he is one of, if not the best, defensemen in the NHL this season. Karlsson deserves to take a trip to Sunrise in almost all box and advanced metrics. Hopefully, after the All-Star Game pause, he also takes a trip to a different team.
Interestingly, the Sharks, one of the worst teams in the league, have another All-Star Game candidate. In terms of expected and actual contributions, Timo Meier is a top thirty player in the NHL. Meier is now a premier scoring power forward who positively contributes to the Sharks. His current impacts make him one of the most important players for the Sharks. Interestingly, the Sharks' issue is scoring, but the Swiss winger is projected for 45 goals and 80 points at year's end by Elite Prospects. Meier is also a top 10 player for standing points added over replacement. That means he has the skill, points, and success to be the second representative from the Sharks. Unfortunately, it is unlikely that the Sharks will send a second player because they're the Sharks and are the 5th worst team in the NHL. Hopefully, he gets a chance to showcase his talents on a national stage, but it may take an offseason for him to see greener pastures. – Douglas Ramsey
SEATTLE KRAKEN – ANDRÉ BURAKOVSKY/JORDAN EBERLE
After a disappointing inaugural season last year, the Seattle Kraken have surprised and shocked the league with their 26-12-4 start to the season, which has them currently in 2nd place in the Pacific Division – they only had 27 wins all of last season.
Last year their leading scorer was Jared McCann, with 27 goals and 50 points in 74 games. They only had 2 more players crack more than 40 points, and 6 players in total to hit the 30-point plateau. So far in 2022-23, they have 5 players with 30+ points at the midway point of the season and 7 more players between 21 and 29 points. It is a balanced attack and it seems like everyone is humming the same tune.
Rookie Matty Beniers earned the All-Star selection for the Kraken this year with his team leading 36 points through 42 games. He is currently tied with André Burakovsky for the team lead in points and is second to Jared McCann in goals. As for a second possible selection from the Kraken the nod would have to go to either Burakovsky or Jordan Eberle.
Former Flyer Martin Jones sports a 21-5-3 record, but has an .895 SV% and a 2.76 GAA which isn't good enough for an All-Star spot. Eberle is 1 point behind both Burakovsky and Beniers, he leads the team with 25 assists and has a +14 rating. Both players are at the top of their team's leaderboard so you can't go wrong with either option – if one of the 3 selections were to be a Kraken. – Dean Chaudhry
VANCOUVER CANUCKS – BO HORVAT
The Vancouver Canucks are currently toiling near the bottom of the NHL standings (27th) despite their 3.40 goals per game average (8th). They have 12 comeback wins this season but have blown multi-goal leads at a near-historic pace. Their offence is not the problem, it's everything in between.
Elias Pettersson earned his 3rd All-Star Game selection in only his 5th NHL season. He leads the team in points with 52, is tied for first in assists with 34, and is second in goals with 18. He is having a fantastic season and is only 16 points shy of tying his career-best that was hit last season in 80 games. Behind him is Bo Horvat with 48 points, J.T. Miller, Quinn Hughes, and Andrei Kuzmenko with 38 apiece, and Ilya Mikheyev and Brock Boeser with 26 each, respectively, but in less games played (40 and 35).
Captain Bo Horvat deserves 1 of the 3 remaining nods with his 30 goals and 48 points in 43 games. He is tied for 4th in goals with Alexander Ovechkin and only trails Tage Thompson by 1, David Pastrnak by 3, and Connor McDavid by 7. He is doing all this during a tumultuous season up in Vancouver, where the sky is falling every day. A coaching change is coming, the goaltending is being held down by Spencer Martin and Collin Delia, and trade rumours are rampant for the 27-year-old.
Contract negotiations have stalled, the Canucks are looking for future assets with their cap mismanagement, and Horvat has been humming like a canary since opening night, despite all the chaos. It would be a true snub if the NHL's 4th-highest goal scorer doesn't find his way down to Florida for the All-Star festivities. – Dean Chaudhry
VEGAS GOLDEN KNIGHTS – JACK EICHEL
Look, it's a fun story to see Logan Thompson go to the all-star game, in a way he does deserve it after all the heroics of last season. This season though? 20th in GAA and Save%. Sure, scoring is up around the league, but that's across the entire league, not just Logan Thompson. Facing the same talent as the other goalies, Thompson is a middling goaltender this season, nothing out of the ordinary.
This guy? Rockstar.
new wife just dropped, may i present to you ✨ unicorn jack eichel ✨ pic.twitter.com/i8D7uOFMEG

— 𝐚𝐥𝐢𝐜𝐢𝐚 🇨🇦🇯🇵 (@WILL7OCKWOOD) March 12, 2021
No but actually, he is. Eichel is back on pace for 30+ goal season, and likely a point per game player when you factor in the time he spent out on injury. The guy can also score on his own will like this:
That's the Jack Eichel we expected to see when he was drafted. Amazing highlight OT goal.
pic.twitter.com/3XS0aQqsRJ

— Paul Almeida (@AzorcanGlobal) October 31, 2022
And he is just a kid, 26 actually. There's been a lot of speculation of his character, and sometimes it's a bit too much when it comes from media. The kid's neck and his choice of surgery was a public conversation across all of hockey, when it should have been left to the professionals. That was a clown show.
Jack Eichel appears to enjoy scoring in Buffalo against his old team pic.twitter.com/6kRSDOgb6X

— Brady Trettenero (@BradyTrett) November 11, 2022
I believe there is a place and time for everything, and this time, let's allow Jack to have some fun. – Billy O'Brien