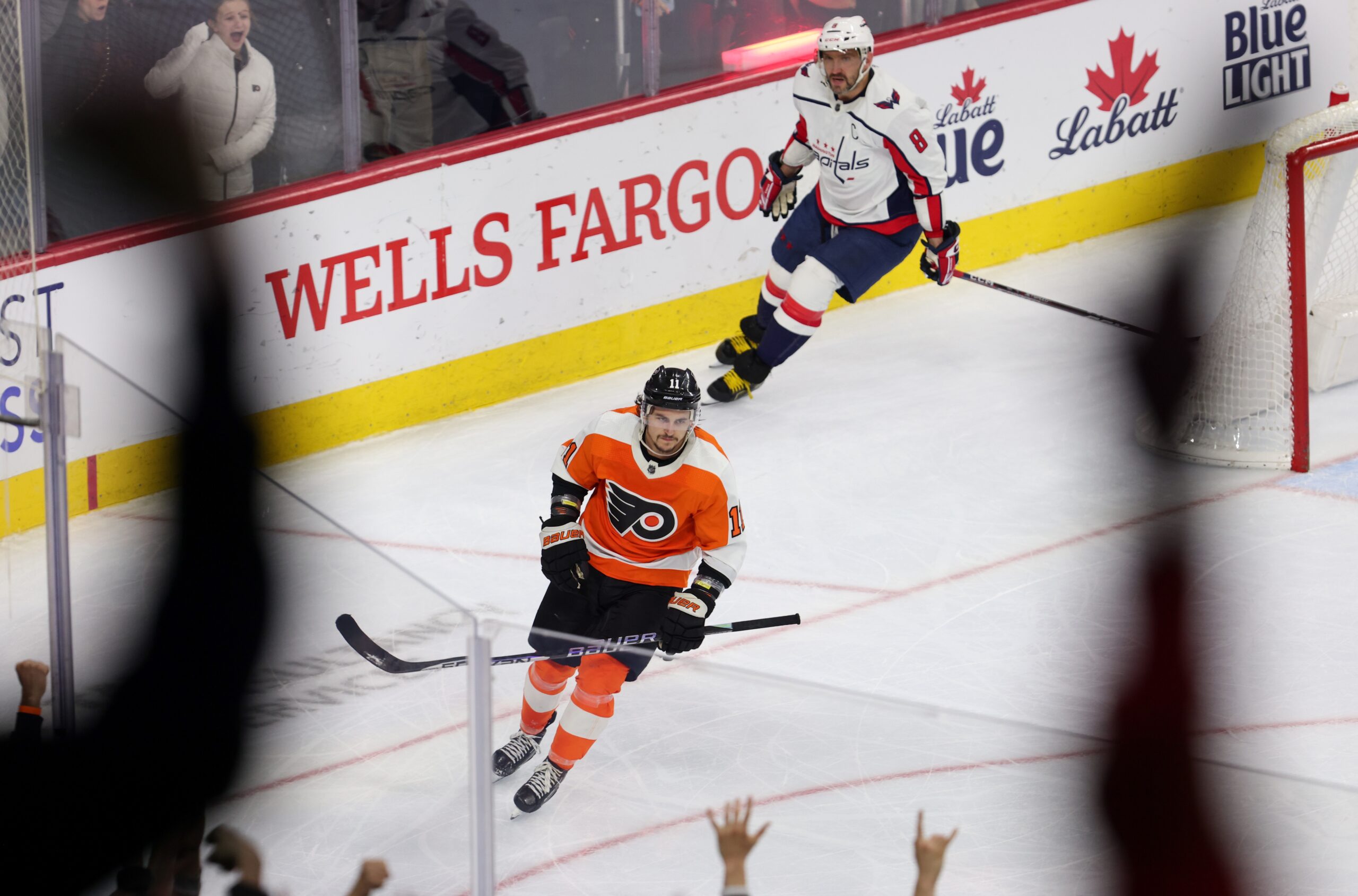 Who should fill out the roster for the 2023 Metropolitan Division All-Stars?
As the All-Star Game draws closer, the Flyers Nation team continues to take a look at players who we deem worthy of the final fan vote. After talking about options for the Atlantic Division on Tuesday, we round out the Eastern Conference today by checking out the Metropolitan Division's clubs and who is worthy of All-Star status.
CAROLINA HURRICANES – PYOTR KOCHETKOV
The Carolina Hurricanes are one of those teams where a couple guys could easily make the All-Star team. They have one of the best defensemen in the league, Jaccob Slavin. Martin Necas is having his breakout season. Brent Burns joined the team and hit the ground running. They are all around a loaded team, but the biggest talk in Carolina right now is rookie goaltender, Pyotr Kochetkov.
Kochetkov, or "Koochie" as Canes fans call him, was brought up to the NHL after Frederik Andersen was put on IR after only playing 8 games this season. He immediately made it clear that he was ready to play with the big kids. Rod Brind'Amour seems to be platooning him with the struggling Antti Raanta, but Kochetkov has the numbers to be their number one guy. He currently sits tied for fifth in the league for goals against average (2.25 GAA) behind already selected All-Star Linus Ullmark (1.87 GAA), Filip Gustavsson (2.25), Jake Oettinger (2.29), and Ilya Samsonov (2.29). Koochie is tied for second in the league in shutouts (3 SO) while having played 9 less games than current leader Darcy Kuemper. He is also top 15 for save percentage, holding a nice .914%. It is hard not to be impressed looking at his stats, but then you remember Pyotr is only 23 and playing his rookie season.
If you have not watched this kid play yet, I highly recommend it. He gives me Ron Hextall vibes. He is not afraid to leave the net, poke check, and even gets physical. It would be a whole lot of fun to watch Kochetkov over All-Star weekend. – Vashti Faust
COLUMBUS BLUE JACKETS – KENT JOHNSON
It's true, the NHL All-Star Game is not what it used to be. Some find it extremely distasteful, including Philadelphia Flyers head coach John Tortorella. Of course, we are not here to discuss him, or the obvious candidate on the Blue Jackets who should or should not have signed with Philadelphia. This piece is about Kent Johnson, and why it could be his turn to be an All-Star.
Johnny Gaudreau went in 2015, and had that iconic shootout moment with Jakub Voracek.
Anyone else remember when Voracek and Gaudreau took a penalty shot together?

This is the 2015 All-Star game in Columbus. Everything has come full circle. #CBJ pic.twitter.com/HjlD5jktq1

— CBJ Artillery (@CBJArtillery) July 25, 2022
Patrik Laine made his debut during his rookie season in 2017 where he went on to score 36 goals that year.
Enter Kent Johnson. The 5th overall pick in the 2021 NHL Draft is in the NHL and producing. He currently has 8 goals and 10 assists for 18 points through 37 games. The centerman has also made a strong impression on defense; 15 blocked shots, placing him 6th among Columbus forwards, which is where you'd like to see him, producing as a top 6 forward on offense and defense. Johnson is riding high on a lofty 16.3 S%, which he will not sustain, but it's nice to see he is racking up some goals and points. He's a tall kid at 6 foot even, and is working on that muscle, weighing 175 pounds soaking wet. Kent is looking poised to breakthrough for 40 points this season, and the one reason that it comes down to for me as to why I think you would want to see him in an All-Star Game is this:
Kent Johnson with a nasty shootout winner #CBJ pic.twitter.com/LBuKe4AXw4

— Brady Trettenero (@BradyTrett) January 7, 2023
And this:
Very fitting that Kent Johnson scores a Michigan goal pic.twitter.com/VmCMctCrHn

— EVERYTHING COLLEGE HOCKEY (@TeamECH) August 13, 2022
While we're at it, how about a golden goal:
Kent Johnson (@BlueJacketsNHL) with the golden goal in OT for Team Canada! #WorldJunior champs 🇨🇦 pic.twitter.com/DYheRQ93ED

— The Ray & Dregs Hockey Podcast (@rayanddregs) August 21, 2022
Kent Johnson should be the Blue Jackets' second All-Star representative. – Billy O'Brien
NEW JERSEY DEVILS – DOUGIE HAMILTON
The suddenly red-hot New Jersey Devils have taken the NHL by storm this season as they currently sit 2nd in the division with 55 points. Jack Hughes got the initial nod with his 26 goals an 49 points in only 41 games.
In a similar situation as the Rangers, Dougie Hamilton's selection is two-fold. 1) They need defensemen with none selected and you have to generally field at least 2, and 2) he is having a great season with 9 goals and 35 points in 41 games. Hamilton trails only Erik Karlsson, Rasmus Dahlin, Josh Morrissey, Adam Fox, and Cale Makar in defensive points and is by far one of the top rearguards in the division.
Jesper Bratt and Nico Hischier are having great seasons as well with both of them reaching the 40-point plateau, but with 7 forwards already in the fold, it would be tough to imagine they pry the Devils for an 8th. Both divisions in the Eastern Conference went forward-heavy in the first round of selections and with only 3 spots left, the talented offensive defenseman will surely get the nod for the 2nd time in his career. – Dean Chaudhry
NEW YORK ISLANDERS – ILYA SOROKIN
While the New York Islanders have their star center Mathew Barzal, there is clearly a better option for the team in Nassau County. Before getting to the rightful representative, it is worthwhile to look at Barzal's statistical case for making the flight to Miami in 2023. There is no denying that Barzal drives the Islanders' offensive push and would be the solely expected-wins-above-replacement leader if not for a poor penalty differential. However, he leads the Islanders in points and is second in primary points. This leaves him as one of the top 65 forwards in terms of impact this year. That's impressive, but on a team with an elite goaltender, it should not send you to the All-Star Game.
The correct player is Ilya Sorokin. By almost all advanced metrics, he is one of the top 3 goalies in the NHL and is firmly in the race for the Vezina. He is the only player on the Islanders who could even be considered for an award, and he is undoubtedly why the Long Island team is in the playoff race. Sorokin deserves his recognition, and because of the somewhat defensible but not correct selection of Igor Shesterking for the New York Rangers, Sorokin will be up against Carter Hart for the other goaltender spot. – Douglas Ramsey
NEW YORK RANGERS – ADAM FOX
Igor Shesterkin got the nod for the New York Rangers and with the lack of top-end goaltending available for the Metropolitan Division, the NHL decided to choose the fellow Russian. The reigning Vezina Trophy winner has posted a 19-6-6 record to date with a 2.49 GAA and a .916 SV%, which is pretty good all things considered but he wouldn't have been my number one choice for the Blue Shirts.
If a goalie had to be selected in the first round of All-Star picks, it should've been Ilya Sorokin who has been one of the best goaltenders in the NHL this season. The Rangers also have a three-headed monster on offence with Artemi Panarin, Mika Zibanejad, and Adam Fox and with 7 forwards already being selected and no defensemen on the board, Adam Fox becomes a no-brainer.
The former Norris Trophy winner has 8 goals and 42 points in 42 games, which puts him 10th in goals for defensemen and 4th in points. He is ahead of the pack for the Metropolitan Division and with very limited spots available it would be a complete shock if he were not voted in. If so many forwards were not already selected a case could be made for either Panarin or Zibanejad, but Fox is the type of player that this event is built for as he is a shoe-in for his second career All-Star Game. – Dean Chaudhry
PHILADELPHIA FLYERS – TRAVIS KONECNY
When we learned that Kevin Hayes was selected to the All-Star Game over Travis Konecny, it brought a lot of pause and wonder as to why the NHL chose Hayes. It was later revealed that Hayes' late brother, Jimmy, told him that the one thing he wanted to watch his brother do is be selected for the NHL All-Star weekend. I personally think it's awesome, and the Flyers have a tradition of sending guys out (or buying them out) on a high note, re:
The Flyers gave Wayne Simmonds the player of the game helmet after potentially his last game in a Flyers uniform.

— Spittin' Chiclets (@spittinchiclets) February 24, 2019
With that being said, I don't think anyone here is really debating why Konecny is the better player. What he's done this season for a player who's never scored more than 24 goals in a season is really impressive. For starters, he has 46 points in 36 games, compared to Kevin Hayes's 36 points in 41 games. Not only does Konecny have 10 more points in 5 less games, but the way he is earning his points this season from previous ones is what makes his case so compelling.
This season, 42 of his 46 points are 24 goals and 18 primary assists. He's no longer cheesing the game off the playmaking of Claude Giroux and the grit and wits of Sean Couturier by his side anymore. He's creating a lot of these chances himself, and appears poised to be the "new" Cam Atkinson for John Tortorella, an offense-first player who bought in and learned how to be a dual threat (Konecny has gotten PK time as well this season). As for Hayes, things have been much different with him and John Tortorella this season. He was challenged to make a new effort in his game, and responded like this after earning a benching for lousy two-way play:
"I don't think I should have been benched, but he's the coach, I'm the player," Kevin Hayes said about John Tortorella scratching him Saturday.

— Giana Han (@giana_jade) December 19, 2022
Now let's not kid ourselves, Travis Konecny is not and will never be a true two way player. He will make decisions that drive you nuts, and does not always have the right read on guys in the defensive zone, but he's making it his best effort to show Torts he's trying to meet him half way, which is all he asks for.
Never forget this goal.
(Insert tweet here) because we're speechless. #BOSvsPHI pic.twitter.com/gtZL0c7sFu

— Philadelphia Flyers (@NHLFlyers) April 1, 2018
Travis Konecny should easily be joining Hayes at the All-Star Game. – Billy O'Brien
PITTSBURGH PENGUINS – EVGENI MALKIN
Future Hall of Famer and all-time great Sidney Crosby has already been named to the All-Star Game. It is just another honor in the illustrious NHL career of #87, and while he's putting on another clinic this season with 21 goals and 48 points in 40 games to lead Pittsburgh, there is another Penguin worthy of heading down to Sunrise with him; enter also-future Hall of Famer Evgeni Malkin.
Malkin is almost scoring at a point-per-game pace, posting 14 goals and 25 assists for 39 in 40 games. He is most recently coming off a four-point performance against Vancouver (2g, 2a), his first since March 27th of last season against Detroit (3g, 1a).
#71 in black and gold currently ranks third on the Penguins in goals (Crosby – 21, Jake Guentzel – 17) and is second in assists and points behind only Crosby as well. This NHL season has seemed like a time travel to 2013 instead of 2023 as plenty of stars are having incredible years. Erik Karlsson, Alex Ovechkin, Sidney Crosby, Joe Pavelski, and Drew Doughty among others have had fantastic years, and another ageless wonder in Malkin is no different.
Malkin will be a pretty popular vote-getter amongst the fans as well, but regardless of vote, his skill and stats speak for themselves and he is a prime candidate to join Crosby as a Penguins All-Star. – Jake Modugno
WASHINGTON CAPITALS – EVGENY KUZNETSOV
The Washington Capitals had to have had one of the easiest All-Star nominations in the league. Alex Ovechkin, at the age of 37, is on pace for 91 points and 55 goals this season. He is reminding us every day that he is the greatest goal scorer to ever play the game. While Evegeny Kuznetsov is no Ovechkin, he definitely could make the argument that he should be joining his teammate in Sunrise, Florida.
Kuznetsov is the ultimate playmaker on the Capitals this season. He is 13th in the league for assists with 30, 18 of those being primaries. With 36 points, he sits only behind Ovechkin for points on the Caps. Kuznetsov also has 105 shots on goal, once again, only trailing the Great 8. He has done a great job stepping up this season as the Capitals face injury after injury.
Ovechkin is lucky to have such a guy pushing him to beat Wayne Gretzky's record. If Kuznetsov can keep up the pace, he will finish with 58 assists. Who knows how many of those will put Gretzky's record at risk. Evgeny should be getting all of Capital's fans votes to tag along down to the Sunshine State. – Vashti Faust