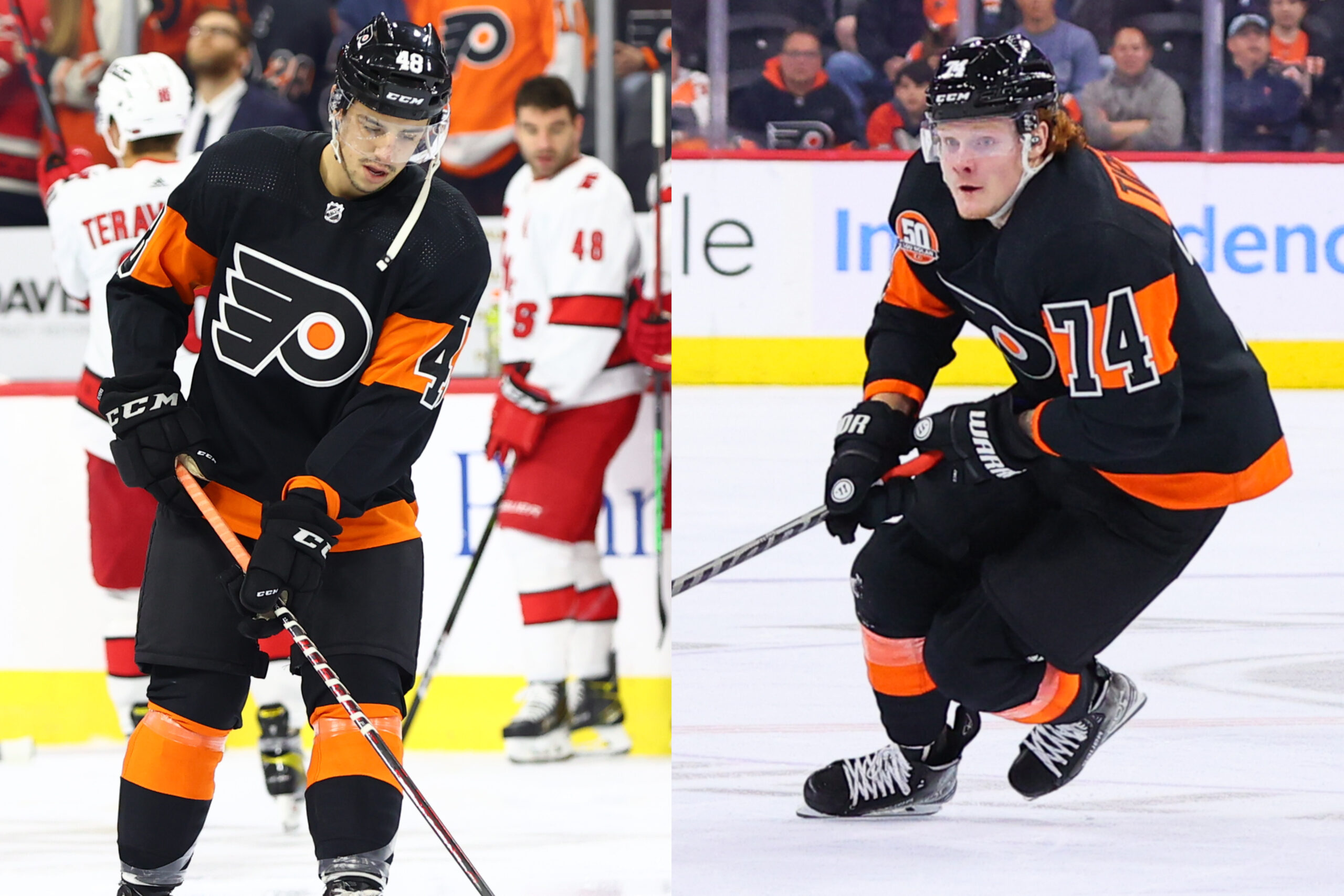 Tippett Proving the Flyers Right, Frost Making the Flyers Wonder
Upon entering the season, there were many subplots to follow regarding the player personnel on the Philadelphia Flyers. There weren't too many changes made in the offseason, the Claude Giroux era had come to an end, and several key players were set to return from injury. Sean Couturier suffered a setback, Ryan Ellis' injury got some further clarification, Cam Atkinson was a mystery, but at least Joel Farabee and Kevin Hayes were on their way back.
So what the Flyers had was a puzzle to assemble with many missing pieces. Hayes and Travis Konecny were going to have to take on the bulk of the offense, Ivan Provorov and Tony DeAngelo were going to have to eat a lot of minutes, James van Riemsdyk, Joel Farabee, and Scott Laughton were going to be tasked to compliment Hayes and Konecny, and young players like Morgan Frost, Wade Allison, and Owen Tippett had a lot to prove and were going to have ample opportunity to do so.
Secondary and complimentary scoring has always been a problem for the Flyers, even dating back to the early 2010s. The team that advanced to the Stanley Cup Final had players all over the lineup from Mike Richards to Simon Gagne to Jeff Carter to Daniel Briere to Ville Leino to Scott Hartnell to Claude Giroux to James van Riemsdyk to Chris Pronger to Kimmo Timonen. Even the 2011-12 team had players all over the lineup, but that's essentially when the secondary blues began.
2019-20 was a golden year of Flyers hockey, if we could've only bottled that up for a later time, but sadly we didn't know what was to follow. So now here we are, three seasons later with several young players in need of big seasons to prove their worth to the front office. Wade Allison needed to overcome his injuries to regain his power forward status, Morgan Frost needed to find a consistent game with his so-called offensive prowess, and Owen TIppett needed to prove his worth as a top-10 pick and being the prize of the Claude Giroux deal.
Allison opened the season with a goal in their 5-2 victory against the New Jersey Devils and then slumped to the tune of 2 goals and 1 assist in the next 13 games before injuring his hip trying to finish a bodycheck against Ottawa. He impressed steadily over the course of the first 4-5 games but then fell to the ire of John Tortorella who benched him in consecutive games – even though he came back firing with a goal and an assist in the second game.
Morgan Frost scored a brace in the first game, added an assist in the third game, and then went 11 straight games without recording a point. On the season he has 4 points in 19 games with his ice time fluctuating based on his effectiveness, or lack thereof. He was a healthy scratch against his hometown team in the Toronto Maple Leafs – in Toronto no less – and has been all over the lineup except as a top line option. As a matter of fact, Noah Cates has taken the mantle as a top-6 option and a dependable two-way player that Tortorella relies on quite a bit.
It's not all bad news however, as Owen Tippett has given us something to look forward to with his 6 goals and 10 points in 14 games. He suffered an injury in the season opener, missed the following 5 games with what was deemed an upper-body injury but could've been a concussion as he returned to practice in a tinted visor. In any regard, he returned to a top-6 role, has played on the top power play unit, and has produced at the rate the Flyers were hoping for.
It's been tough sledding offensively for the anemic Flyers. Travis Konecny leads the team with 7 goals and 19 points in 17 games, and Kevin Hayes is right behind him with 14 assists and 19 points in 2 more games, but then there is a steep drop off to Joel Farabee with 12 points. Tony DeAngelo and Owen Tippett have 10 points each with the latter playing in 5 less games, then you have Ivan Provorov with 8, Zack MacEwen, Scott Laughton, and Noah Cates have 7, Nick Seeler has 5, and Wade Allison and Morgan Frost have 4.
Before their upcoming game tomorrow night against the Washington Capitals, the Flyers are ranked 30th in goals per game (2.53), 29th in shots on goal (29), 29th with the man advantage (15.9%), 27th in shooting percentage (8.7), and 30th in face-offs (45). They performed admirably against the Montreal Canadiens after a listless affair with the Boston Bruins on Thursday but couldn't hold onto their late third period lead, and then they fell in a flat game against the Calgary Flames last night.
Last year as a member of the Flyers after the trade deadline, Tippett scored 4 goals and 7 points in 21 games, adding to his Florida totals of 6 goals and 14 points in 42 games. In his previous 2 seasons he scored 7 goals and 18 points in 45 games in 2020-21 and 1 goal in 7 games in 2017-18. This season he already has 6 goals and 10 points, isn't far off any of his career highs, is shooting 15% – which smashes his previous high of 8.2% – and is averaging over 17 minutes of ice time, which is over 3 minutes more than any of his previous seasons.
As far his analytics go, he's also improved on his previous years 14 games into the new season. His CF% relative is at 13.4 with his previous years going for 5.2, 0.8, and 10.8 (in 7 games). His FF% relative is at 12.3 this season compared to 5.6, 2.0, and 9.5, while his PDO is at 96.2 compared to 100, 97.7, and 92. In essence, he's on the ice for more shot attempts than against and that's good news for the Flyers in the grand scheme of things.
Tippett and Frost came into the new season with pressure mounting for different reasons, but pressure nonetheless. Tippett will always be labelled as the prize of the Giroux trade for however long he's wearing the Orange and Black. He's also a former 10th overall draft pick (picked in the same draft as Frost) and hasn't measured up to that success. Frost hasn't been able to translate his success from the junior and AHL level to the NHL, has dealt with a myriad of injuries and stoppages (COVID-19), but when placed in the lineup has never found the consistent offensive game that the Flyers have been expecting all these years. It's true that he's never been thrusted in a top-6 role on a consistent basis but it also has a lot to do with the fact that he hasn't merited it either.
Being a playmaker and offensive talent over anything else, his play is dictated on his points and without any to show, it's tough to climb the ranks especially under the tutelage of a hard coach like John Tortorella. He's not picking on Frost and he's not singling him out, he runs the team on a reward basis as we've seen with the likes of Noah Cates and Zack MacEwen, but if you don't show something – literally anything – he's not afraid to either bench and/or demote. Frost doesn't have the 200-foot game, he's not entirely responsible defensively, he's not a penalty killer, and running the second unit of the power play is tough when all the big guns are on the top unit or out of the lineup.
He signed a prove-it deal over the summer – the same offseason that Tippett and Allison needed new contracts – and only got $800,000 on a one-year deal compared to Tippett's 2 by $1.5 million and Allison's 2 by $785,000. Tippett got the money and the term, Allison got the term, and Frost somehow got $13,750 less than Isaac Ratcliffe, who is currently in the minors with the Lehigh Valley Phantoms.
General managers also tend to favour players they've drafted and/or traded for. That's not always the case, but we have witnessed a purge of Ron Hextall's prospects and draftees over the years, including several that never received entry-level contracts. Whether it was the right choice or not remains to be seen but it's awfully coincidental as well. Tippett is Fletcher's gamble and the Claude Giroux saga was supposed to end blissfully but they were handcuffed into trading with just one team, and that left Fletcher without much leverage. The Panthers parted with their once-touted prospect and the Flyers were happy and impressed with how he fared upon his arrival.
He's playing with a lot more confidence and poise and you can see his offensive game taking shape. He uses his body, he has the speed to match, and a shot that has some "umph" behind it. Frost has not playing with much confidence, has been shifted around the bottom-6 regularly – most recently playing with Nicolas Deslauriers and Lukas Sedlak – and isn't able to provide much of anything in the offensive zone with or without the puck. There's a lot of ifs, ands, or buts with Frost because we don't know how good he'd be playing with the likes of Konecny, Farabee, Hayes, Atkinson, or Couturier, but he also hasn't given the coaching staff the confidence to put him in such positions either.
Frost's young, as is Tippett, and you don't want to see your team give up on a talent like that. We've already seen a first round talent wasted in Nolan Patrick, we saw the downfall of another once-touted prospect in Shayne Gostisbehere, Jay O'Brien isn't even on the forefront of anyone's mind, and even Joel Farabee has a lot more to prove but he's on the right track and has a 20-goal season to his name.
Frost was losing out to players like Noah Cates, who has different intangibles but intangibles that would make any head coach trustworthy of your abilities. All we've ever heard about Cates was his hockey IQ, his senses, and his 200-foot game. All that has been on full display, he kills penalties, has a spot on the power play, and is averaging 17:41 of ice time a game, which is almost four minutes more than Frost's 13:42. However, now with all the injuries piling up, Tortorella has no choice but to look his way.
With Konecny out of the lineup on Saturday in Montreal, Tortorella wanted to see what he could get out of Tippett and Frost playing on the first line with Farabee and it resulted in a very positive game for all 3 members. Tippett was the only one who got his name on the scoresheet with his two-goal performance and was by and large the most noticeable Flyer, but Frost and Farabee had very strong games and showed instant chemistry.
With Konecny being sidelined further, look for Tortorella to give this trio more opportunities, especially if they can replicate their performance from Saturday night. In terms of the forwards, Frost played a team-high 23:13, recorded 2 shots on goal, was a plus 1, and recorded a hit and a block. Tippett played 21:06, scored 2 goals, fired 6 shots, was a plus 2, and blocked 3 shots. Tippett then played 21:14 on Monday night against the Flames with Frost playing 19:23 and looking a lot better as of late.
The Flyers are going to be experimenting all season, which could work in Frost's favour moving forward. He needs to show off his intangibles, he needs to be consistent, and most importantly he needs to show effort because that's what Tortorella is looking for. There's a reason MacEwen and Cates have usurped certain players in the lineup. There's a reason accountability means everything for the betterment of the Flyers. Tough love is the only approach that can work for this failing organization, in an attempt to weed out the wrong for the right. The season is still young, but his career numbers don't look too good either as he sits with 9 goals and 27 points in 95 games across 4 seasons.
The so-called "prove it" year hasn't been going Frost's way, it's been working wonders for Tippett, and Allison will be dependent on health. In other words, Tippett's stock is on the rise, Allison is middling, and Frost is on a downward spiral. However, with injuries mounting and forwards scarce, the Flyers are going to be relying heavily on Frost and Tippett moving forward. If they can both replicate their games from Saturday and Monday night on a consistent basis, Tortorella is going to have no other choice but to keep playing them upwards of 20 minutes.
Noah Cates seems stapled in as the second line centre, and even more so with Scott Laughton being placed on IR. This now hands the baton to Morgan Frost and Owen Tippett to try and step into their shoes, take over the added minutes and responsibilities, and prove their worth for a very anemic offensive team.