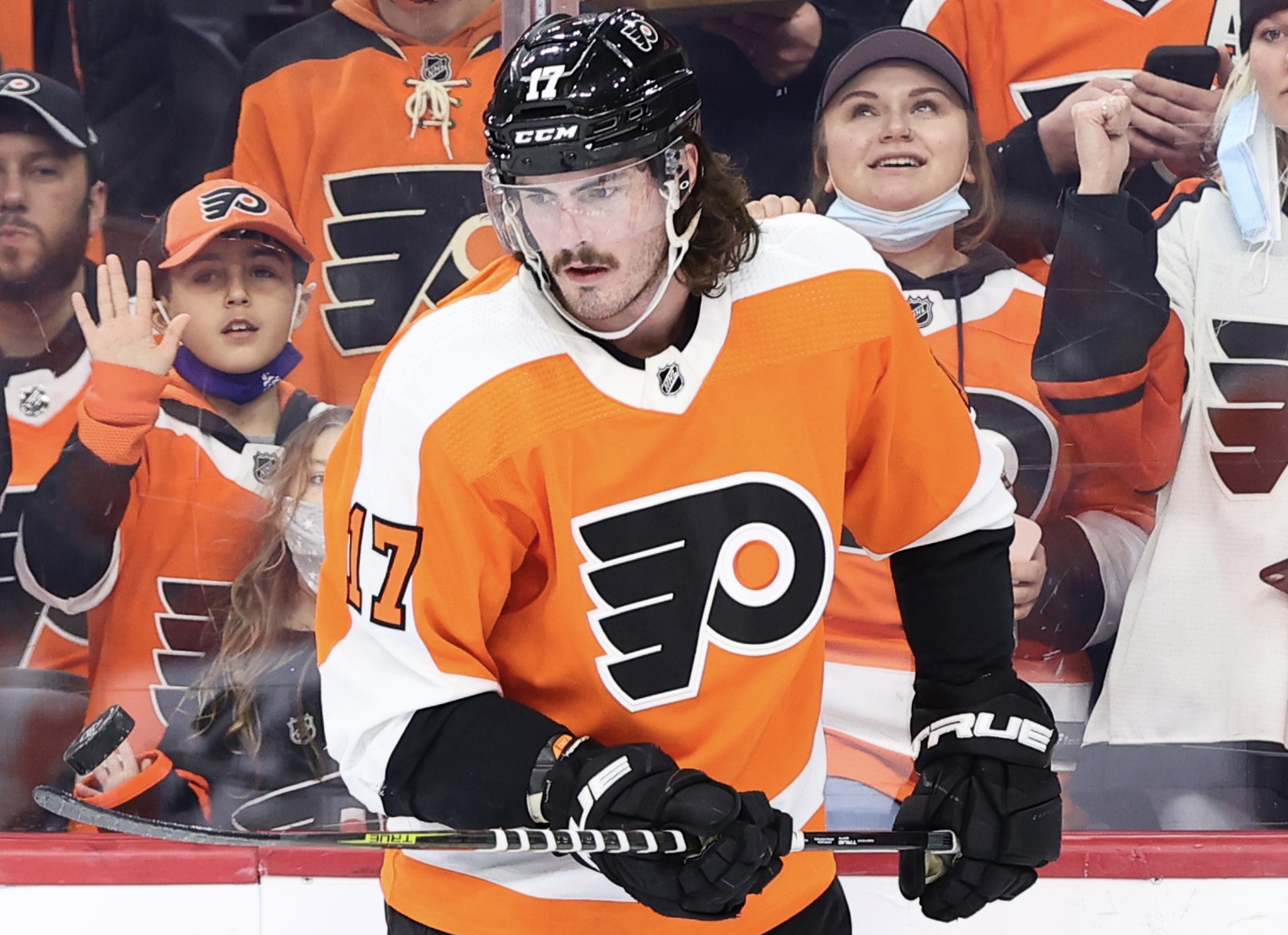 Zack MacEwen Taking Full Advantage of Tortorella's Reward System
The way Chuck Fletcher and company have constructed this roster, plus the myriad of injuries to key players like Sean Couturier and Cam Atkinson among others, has given rise and opportunity for several players – of different roles – to impress the new coaching staff and get more meaningful roles moving forward.
Enter Zack MacEwen.
When the Philadelphia Flyers signed Nicolas Deslauriers to a four-year deal with a modified no-trade clause for the first two seasons, it almost spelled the end for MacEwen. He was one of the few bright spots so to speak during their 2021-22 campaign and he impressed almost everyone, from coaching staff to front office. After being a waiver claim before the season began, it was almost a certainty that the Flyers were going to keep the only bruiser they had on the roster.
Then the Flyers went out and signed a player with almost the exact skillset and role, on top of the fact that MacEwen eventually elected for salary arbitration, which in the hockey world is seen as a big no-no. It made sense though, MacEwen and Deslauriers brought the same intangibles but the latter received a four-year contract with no-trade stipulations, and way more money than some anticipated. The Flyers and MacEwen eventually settled on a one-year deal that had a cap hit of $925,000.
Now that the contract negotiations were done and out of the way, training camp was approaching and rosters needed finalizing. There was no way that the Flyers were going to have both Deslauriers and MacEwen in the same roster, right? Modern NHL has shifted away from the bruising bullying bottom-6 players to more traditionally fast and skilled players who could also play responsible defense. MacEwen did not win a roster spot out of training camp and was sent down to the Lehigh Valley Phantoms of the AHL.
Head coach John Tortorella didn't mince his words regarding the 26-year-old forward, saying that his time would come to being recalled to the NHL team at some point but he had to have the right attitude after being sent down. According to everyone that was present, MacEwen did exactly that and was a model player before being quickly called up after playing 2 games for the Phantoms, where he scored 1 goal and recorded 3 points.
Since making his season debut, MacEwen has been one of the many surprises to start the season and he has taken grasp of the opportunity given to him by the new coaching staff. Tortorella and company run a system where you are rewarded for your good play and incidentally bumped down for inconsistent and erratic play. We've seen this happen all season where players like Kevin Hayes, Travis Konecny, Morgan Frost, and Wade Allison were benched, the aforementioned Frost and Allison were demoted to bottom-6 roles – sometimes 4th line duties – and even in-game we've seen line juggling after a costly turnover or a bad penalty.
MacEwen has seen the good side of Tortorella as he has seen a career-high 13:30 average of ice time, which shatters his previous seasons where the highest average was 9:40 in 2021-22. He has 3 goals and 5 points in 14 games, which is only 2 goals and 4 points away from tying his career highs. Last year was the first time in his career where he saw more than 34 games (75) and now he has become a second line bruiser for the hard-to-play-against Flyers.
MacEwen hasn't seen less than 11:13 of ice time in any game, he played a career-high 16:41 against the San Jose Sharks, a game in which Hayes and Konecny saw the pine, and has only taken 6 minor penalties – 2 of which came in his first game. He is far more disciplined, doesn't have to drop the gloves as much as he did last year because of his teammate and partner-in-crime Deslauriers, he has been tasked with a lot more responsibilities by featuring in the top-9 – sometimes top 6 – and has really brought a lot of energy to a team that once looked dead in the water.
Tuesday's game in Columbus was a prime example of his new found prowess as he was placed on a line with Noah Cates and Owen Tippett after starting the game with Scott Laughton and Cates, got the puck from a defensive zone faceoff win, aggressively took off after receiving a pass from Tippett, and made a very skilled fake-shot-pass to Cates to tie the game at 2. This was not something he was known for in his early days with the Vancouver Canucks.
The new reward system that the Flyers are currently rolling with is something new and fresh for fans and players alike. In previous regimes, mistakes were never immediately held accountable for. Alain Vigneault and Dave Hakstol had their scapegoats – as does every coach – but they never did much about the mistakes and in doing so they kept happening. Right away Tortorella has tried to remedy that situation, no matter who you are (Konecny and Hayes among others), and you have to play the system and not an individual game.
Some players respond well to that kind of tough love, others not so much. On the flip side of things that opens up more spots and opportunities for players that play the Tortorella way like a Noah Cates or a Zack MacEwen.
Obviously in a perfect world, the Flyers would have Sean Couturier, Cam Atkinson, and James van Riemsdyk back in the lineup and completing a top-6 alongside Kevin Hayes, Travis Konecny, and Joel Farabee. Making them a lot more dangerous than they currently are and being able to spread around more talent in the bottom-6. That's not how things have fared in Philadelphia recently and in doing so they've had to play things by ear – partially because they never seem to have contingency plans in place for injuries.
MacEwen won't break the door down with 25 goals or 50 points but you know exactly what you're going to get from him on a nightly basis. He is going to give you 100% effort, he will take the body, he will drop the gloves if need be, he will spark his linemates and subsequently his team, and he has the capabilities of adding his name to the boxscore and scoresheet.
He's been a happy surprise in an otherwise frustrating offensive season.