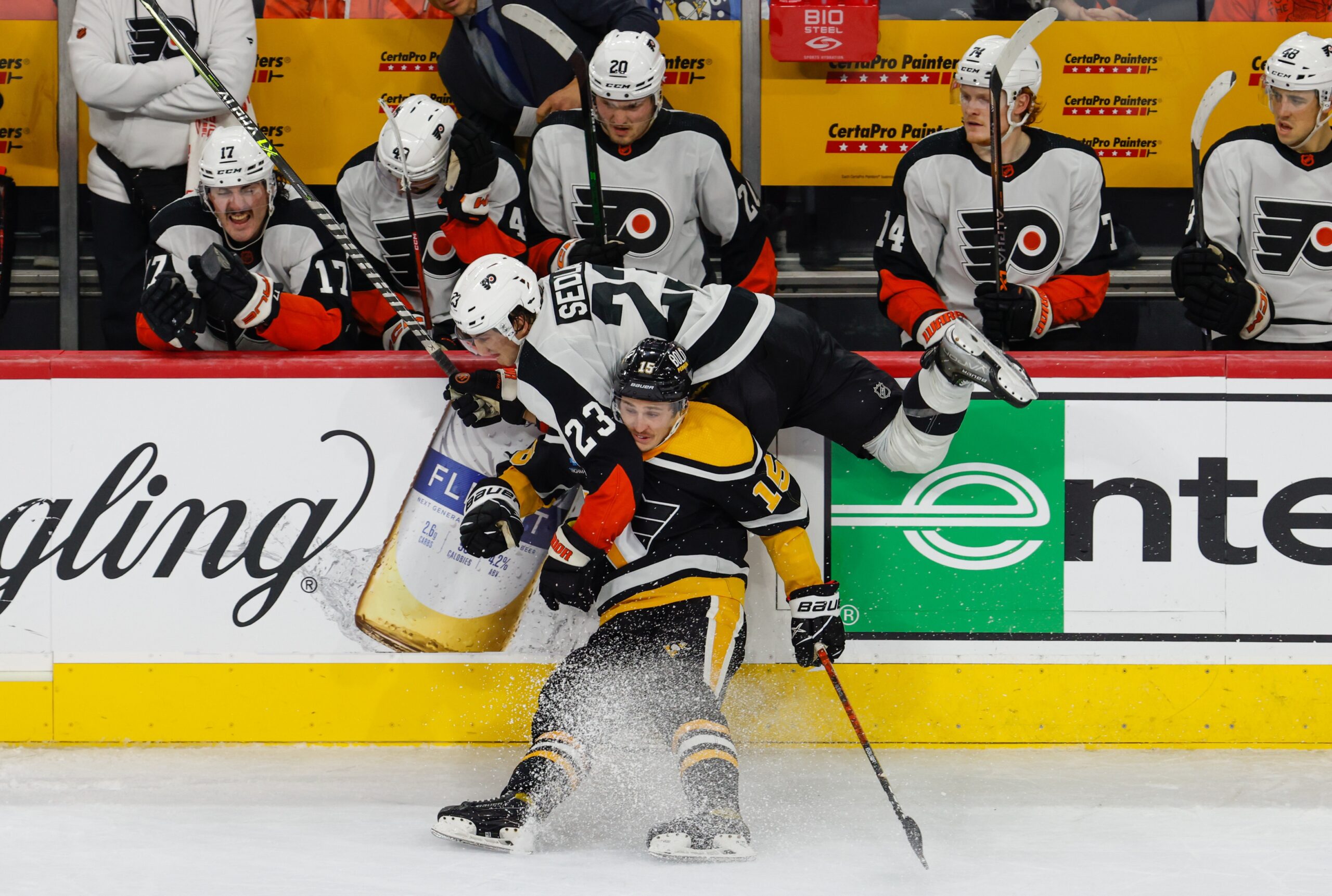 Bereft of Talent and Game Breakers, Struggling Flyers Need to Right the Ship ASAP
Taking an ode from Skip Bayless, how about dem Flyers?!
The unfortunate circumstances are that when he screams that into the camera or types that out on Twitter, it's generally because the Dallas Cowboys won a game, made a great play, or both. In this instance, I am doing it for no reason other than the fact that we witnessed another dismal performance from an NHL team that barely has the talent to keep up. The Calgary Flames have too much firepower up front, the struggling Washington Capitals can still find ways to win with injuries, the Pittsburgh Penguins have generational talent and a healthy lineup, and the list goes on. 
Last night's game against Pittsburgh as well as the previous eight before have showed us the pitiful truth that this season is all but over before it has even begun. The cracks were there from the start but we were kept alive by stalwart goaltending and comebacks that came from having a somewhat healthy lineup. Take out Scott Laughton and most importantly Travis Konecny, and the anemic offense gets even worse. The worst part of it all is that you have to feel for the player personnel on the ice as well as the coaching staff because there is literally nothing that can be done about their situation.
The coaching staff that is headed by John Tortorella has done a pretty good job with what they've been given. He walked into a situation without Claude Giroux, Ryan Ellis never had a timetable, Sean Couturier was coming off back surgery, Kevin Hayes was coming off two different surgeries, and the rest of the team had the stink of negativity attached to them from the previous regime. Without Couturier, Ellis, Cam Atkinson, and then quickly James van Riemsdyk, the Flyers were able to defy the odds for a month as they started the season 7-3-2. The cracks were always there but they found ways to win more times than not. Everyone close to the team knew it wasn't sustainable, but the main point to take out of that start was that Tortorella was able to get the best out of a bunch that was bereft of talent.
You look around the NHL and almost every team has a superstar, if not a generational talent, and the Flyers are part of a small group that contains good players – at the very best. Montreal has Nick Suzuki and Cole Caufield, Buffalo has an emerging talent in Tage Thompson alongside Rasmus Dahlin and Owen Power, and the Anaheim Ducks have Trevor Zegras and Mason McTavish to look forward to. That's not including the superstars of our league that include Connor McDavid, Leon Draisaitl, Auston Matthews, Nathan MacKinnon, Sidney Crosby, Steven Stamkos, and the list is nearly endless. The last superstar talent the Flyers have had was Claude Giroux and many never qualified him as one, so that speaks to the decade and a half of purgatory-like hockey that Philadelphia has undergone.
2020-21 was a tough season and we were promised that 2021-22 would be different. Chuck Fletcher made all these big moves to change the culture but it ended up backfiring so badly that they had an even longer tortuous season and arguably worse than the previous. We were promised again – this time midseason – that this poor performance was unacceptable and that changes were afoot, grand and aggressive changes. Nothing of the sort took place and in the meantime they paraded a rebuild took place between December and April just because several youngsters played due to injury. They needed to cloud our eyes and judgement and to buy time during the offseason to make the right changes.
Unfortunately, every team in the NHL caught wind of the changes that Fletcher and the Flyers were trying to make and in doing so they were not able to trade the final year of van Riemsdyk's contract, had to buy out Oskar Lindblom, and then signed depth pieces as a way to tell us that we're now stabilizing with the return of injured players.
Ellis' future is bleak at best, Couturier suffered a setback, Atkinson has no further clarification, van Riemsdyk broke his finger, Wade Allison hurt his hip, Konecny hurt his arm, and Laughton hurt his shoulder. The Flyers don't operate with contingency plans and a lot of that has to do with the fact that they don't have the cap space to do so. Fletcher should've known that Ellis was not making a return any time soon but instead chose to remain overly optimistic and didn't place him on the LTIR to alleviate his $6.25 million that could've helped during free agency.
We know that Johnny Gaudreau wouldn't have changed that much overnight but it was the first time in a very long time that the biggest name on the free agent market wanted to come to Philadelphia, and for a front office that is hellbent on making big moves to satiate the fanbase, they fumbled the bag as hard as you ever could. They had months upon months to find ways to alleviate the necessary cap space but instead decided to double down on Rasmus Ristolainen, trade for and then re-sign Tony DeAngelo, and they reeked of so much desperation that every team asked for a 2023 first-round pick in exchange for James van Riemsdyk's contract.
The players can't be held accountable for the blame to start this season and that's the first time that can actually be said without trying to make excuses for them. Bottom-six players like Zack MacEwen, Tanner Laczynski, Jackson Cates, Lukas Sedlak, Patrick Brown, Nicolas Deslauriers, and Kieffer Bellows have played roles larger than expected and larger than they have in their careers prior to this point. Kevin Hayes and Travis Konecny have been the pulse on the offense, scoring at either a point per game pace or just slightly under. Owen Tippett has been a breath of fresh air but that's where it ends. Joel Farabee has been quiet, Morgan Frost has been underwhelming, Scott Laughton was noticeable but didn't have the finish, and James van Riemsdyk did well in his short stint before being injured. The rest of the offense is tailored to grinders, bottom-six players, or young prospects. When they constitute a large portion of your roster, not much is going to go your way offensively.
The losing streaks from last year were tough and if we tried to forget about them, we're being quickly reminded with their current nine-game skid. The schedule only gets worse and more daunting as they have a home and home with the New York Islanders, then have games against the New Jersey Devils who are coming off the heels of a 13-game win streak, the Tampa Bay Lightning, Colorado Avalanche, Washington Capitals, and Vegas Golden Knights and unfortunately there's a legitimate chance of having a franchise record 16-game losing streak on the docket.
The effort is there on a nightly basis but the lack of talent is far too evident to overlook anymore. They have already lost 12 of their last 14, the next seven games are daunting, then they have a game against another basement dwelling team in Arizona before playing another three games against Colorado, New Jersey, and the New York Rangers. Pick a winner, pick two games, maybe even pick three if you want, but if you do the math that's a lot of losses in quick order.
Last night's game was indicative of what the Flyers lack, who the Flyers currently are, and it all points back up to the front office and how badly they've mismanaged the team since they took over Ron Hextall. It's on record that I was never the biggest Hextall fan, but it does make you wonder what he would've done in the summer of 2019 with $35-$36 million in cap space to work with. Clearly Fletcher bungled it because we have gone backwards and whatever the core of this team is, they are locked in for years to come. Tortorella has shown that he is capable of making a lineup bereft of talent work hard and commit – for the most part – and it makes you wonder what could've been if the Flyers weren't so hampered with injuries.
Cam Atkinson, Travis Konecny, James van Riemsdyk, and Sean Couturier returning to the top-six would change everything dramatically. Not that the Flyers are all of a sudden playoff contenders, let alone Cup contenders, but the shuffle from top-to-bottom would be grand. The third and fourth lines would be much better, many players would be sent to the Lehigh Valley Phantoms and playing meaningful minutes, and the offense would not be sitting 32nd in the league.
However, that is not how things have fared and the Flyers have to make do for the next 2-3 weeks with their current 12 forwards.