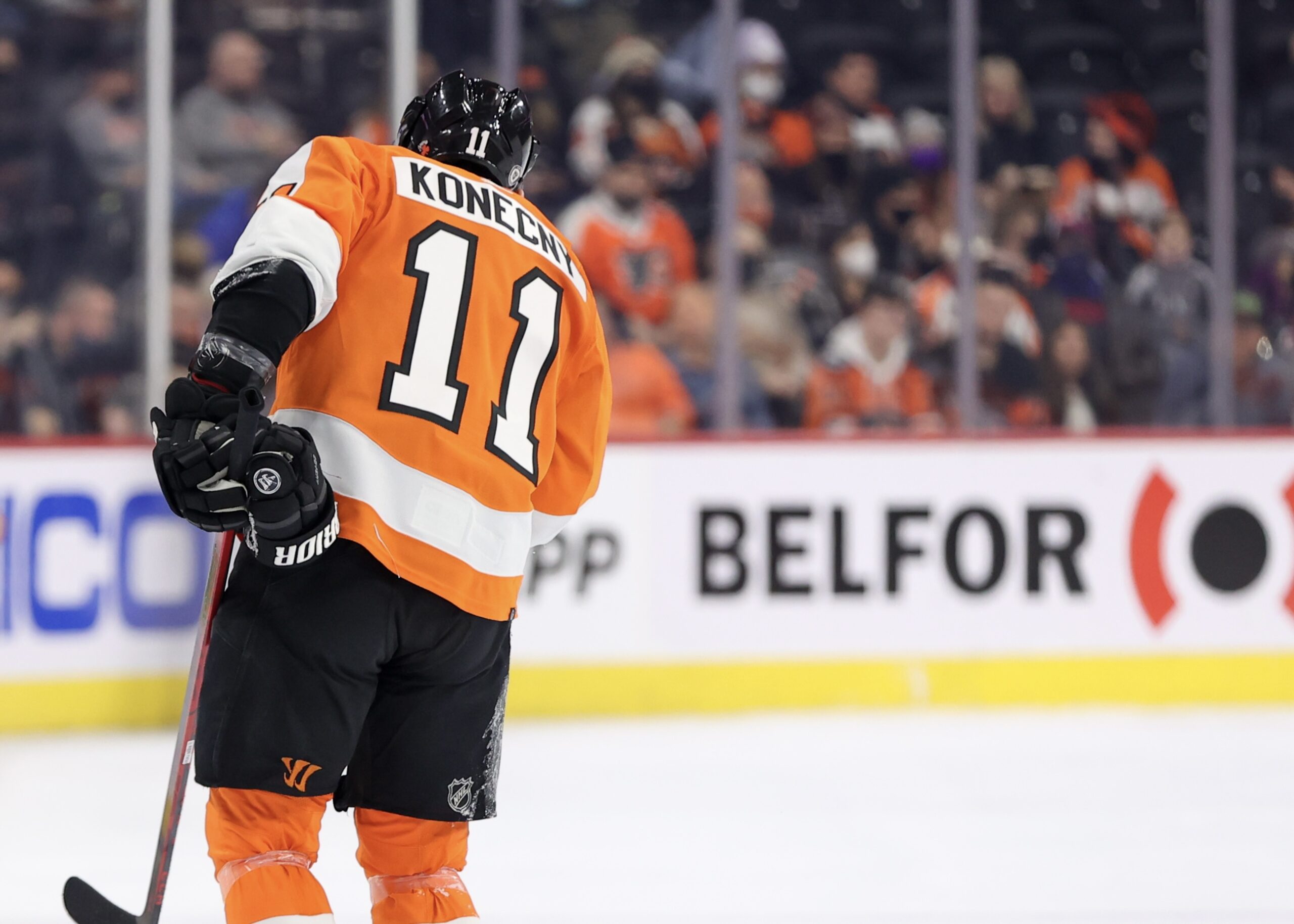 The Flyers' Schedule Only Gets Tougher as Losing Streak Continues and Injuries Mount
As the saying goes, if the Philadelphia Flyers didn't have bad luck, they would have no luck at all and I'm thinking that's what they might want instead.
The 7-7-4 Flyers have lost 6 consecutive games, 9 of their last 11, and – don't look now – but their next 10 games are all against very vaunted, tough, and dangerous hockey teams. We already know they're missing Sean Couturier, Cam Atkinson, James van Riemsdyk, and Ryan Ellis, but to make matters worse, Travis Konecny was sent back to Philadelphia for further evaluation and Scott Laughton left the game on Saturday after a big collision with Kaiden Guhle of the Montreal Canadiens.
On the Sportsnet broadcast's intermission report, Jeff Marek said that Konecny's injury should have him sidelined for 2 weeks and maybe more, which is gutting because he's their top goal scorer and point getter this season with 7 and 19, respectively.
There are no easy games or easy wins in the NHL – as the streaking Flyers showed us at the beginning of the year – but there are patches of the schedule that are easier than others. The Flyers' losing skid started with games against the Carolina Hurricanes, New York Rangers, and the Toronto Maple Leafs. They blew a late 3rd period lead against Carolina before losing with less than a minute left in overtime, they were tied 0-0 all the way until the 65th minute of the game against New York, and they were down just a goal in the third against Toronto; all within reach, however all ended up as a loss.
There were positives to bring out of those games and fortunately the Flyers were about to play some games against some struggling clubs.
They had Ottawa, St. Louis, Columbus, Ottawa again, Dallas, and Columbus again as their next six games. Ottawa had a good start to the season but were on a losing streak of their own and the Flyers added to that with a 2-1 victory on the road. Then they faced off against the struggling Blues and beat them convincingly by a score of 5-1 and as things looked, the Flyers were 7-3-2 on the year. Columbus were 4-9-0, Ottawa had yet to win a road game and had lost 8 straight at the time, and Dallas was the best of the bunch so a loss was somewhat expected on the second half of a back-to-back.
Columbus beat the Flyers twice and in both games they suffered 3 injuries to some very important players. The Ottawa game was a homecoming for Claude Giroux and the special teams absolutely blew it up with 2 power play goals against and going 0-for-3 on the power play in a 4-1 loss.
They then continued their losing streak against the Boston Bruins who took them down 4-1 and improved their record to 15-2-0, in a game they were severely outplayed and out-manned and out-everything'd. Then came Montreal and in a game against 2 of the worst teams from last season, the Flyers were less than 2 seconds away from stealing a game from the Canadiens but Cole Caufield and Nick Suzuki had other ideas as they teamed up for the game-tying goal and then the latter scored the lone shootout tally to extend the Flyers' losing streak to six.
Now on deck is a ten-game docket against the Calgary Flames, Washington Capitals, Pittsburgh Penguins, New York Islanders x2, Tampa Bay Lightning, New Jersey Devils, Colorado Avalanche, Washington Capitals, and Vegas Golden Knights. You can go a step further and add the next seven games against the Arizona Coyotes, Colorado Avalanche, New Jersey Devils, New York Rangers, Columbus Blue Jackets, Toronto Maple Leafs, and Carolina Hurricanes.
That represents their next 17 games and of that lengthy list, the only possibly comforting games come against the Capitals and Coyotes when you look at their records, but we all know how Washington has fared against Philadelphia in the past.
We witnessed two 10+ game losing streaks last year and there's a chance we go through another one this year – if not a straight 10-game losing streak than a skid of almost 20+ games where they might win 4. This could be the stretch that ends their season in late December as it did last year. Now, of course a team without Couturier, Atkinson, van Riemsdyk, Ellis, and now Konecny and possibly Laughton are not expected to do well. You also have to give credit where credit is due and the Flyers have been a lot tougher to play against and they have shown resiliency and mental toughness that hasn't been seen in ages. The likes of Owen Tippett, Noah Cates, and Zack MacEwen have risen to the occasion and have been rewarded by head coach John Tortorella for their play.
The lineup was already distorted to begin with as Tippett was lined up with Morgan Frost and Joel Farabee, Noah Cates was with Scott Laughton and Zack MacEwen as usual, Kevin Hayes was on the third line with Max Willman and Patrick Brown, and then Lukas Sedlak, Nicolas Deslauriers, and Kieffer Bellows represented the fourth line. If Laughton is to miss time then someone has to be called up from the Lehigh Valley Phantoms and it could possibly be either Tanner Laczynski or Jackson Cates – both have already played with the Flyers this season.
Goals have been hard to come by and you can see why, they are in the bottom-five of nearly every offensive statistic, and have relied heavily on Konecny and Hayes with grinders in their top-6 or top-9.
Their upcoming schedule is a daunting one and even if you want to break it apart into weeks, it still doesn't help the cause. You either have teams that are doing very well, doing well, or have done well against the Flyers this season or historically. The Flames have struggled a bit but are finding their rhythm lately, the Capitals have struggled to a 7-10-3 record but have always fared well against the Flyers, and same can be said about Sidney Crosby and the Penguins. They also face Mathew Barzal and the Islanders, the currently red-hot Devils and their 12-game winning streak, the defending Stanley Cup champion Avalanche, the three-time reigning Eastern Conference champion Lightning, the reborn Golden Knights, and the list goes on.
This is not just another drubbing of an article against the Flyers. We had low expectations coming into the season based on the offseason they had, we pinned our hopes on John Tortorella, Carter Hart, and players like Travis Konecny and Kevin Hayes to step up, and the Flyers shocked the world to the tune of a 7-3-2 record to start. The cracks were always there, the lack of sustainability was always going to be an issue, but they found ways to win games, thanks in part to the aforementioned bright spots. The goaltending has returned back to normal, the defense is still porous after the top pairing, the offense is missing several important pieces, so what are we to expect?
It's always been an unfortunate situation, but Tortorella has found a way to get this team to stick to his system and his brand of hockey. They do look different, they are playing better, but they sadly lack the offensive talent to make anything of their strong forechecking game.