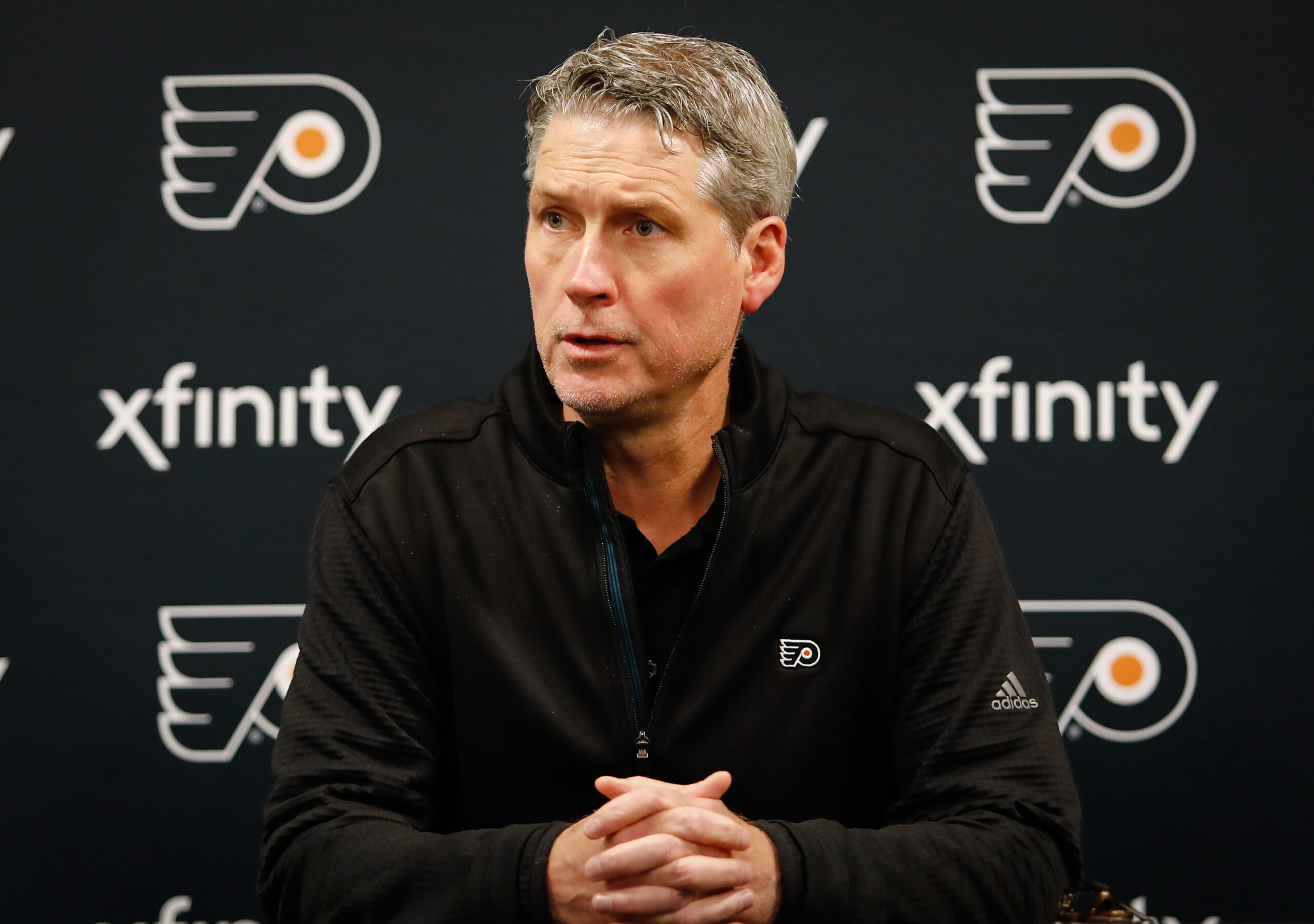 The Unintentional Intentional Rebuild
We understand that losing right now might be best for the Philadelphia Flyers in the long run, we understand that their future is bleak, they need all the help they can get, and presently are not fun to watch with all the injuries that have mounted.
However, the Flyers' front office is trying to play it off as if this was their plan from the beginning when in fact they have steered and swerved around for years now. When the going gets tough, they want to knock it off as a rebuild and then the offseason comes and they change the course to a re-tool or stabilization before the wheels fall off again and it's branded as a rebuild.
With no plan in motion, the Flyers will remain in purgatory until something happens up top because the voices in charge of this team have done nothing but push this franchise further and further into oblivion.
For those that want a new general manager, a new front office, and change from the top down – and that might be the entire fanbase – the Philadelphia Flyers need a losing streak that tops all previous losing streaks. A 10-game bender won't be enough, multiple 5-6 game benders won't be enough, they need a mammoth-like losing streak that tops 14 or 15 or 16 games for any forced changes to occur.
Fortunately for those in favour of a new leader up top, the Flyers are currently on a 10-game losing streak that could very well turn into 11 tonight, and based on the upcoming schedule, I defy you to pick a game where they actually win against the New York Islanders, New Jersey Devils, Tampa Bay Lightning, Colorado Avalanche, Washington Capitals, and Vegas Golden Knights. If they manage to steal a few games, that hot seat will return to lukewarm.
It's an interesting dynamic because the Flyers essentially went out and replaced Ron Hextall with one of their own. Chuck Fletcher is another Paul Holmgren and Bobby Clarke, they all believe in large and grandiose moves, and they love being aggressive with no inclination of what the future holds – it's all about the now. Hextall was no saint, he messed up the Flyers almost as bad as Fletcher, but his plan was about to come full circle with his 5-year plan heading into the summer of 2019. We'll never know what that summer was going to hold for the Flyers but Hextall was better with the salary cap than his successor ever will be.
That brings us to the present day and how the Flyers are currently constructed. They want you to believe that they're rebuilding but they made no such corresponding moves at the trade deadline in 2022 or during the free agent window and subsequently the offseason. A rebuilding team would not sign Rasmus Ristolainen to a 5-year deal when there were trade offers for a first round pick and then some. A rebuilding team would not keep Martin Jones for 2 months of hockey, knowing they wouldn't keep him beyond the season when they had offers on the table. A rebuilding team wouldn't trade for and then sign Tony DeAngelo to a 2-year deal worth $10 million. A rebuilding team wouldn't buy out the much younger Oskar Lindblom for the much older Nicolas Deslauriers for 4 years to boot. A rebuilding team wouldn't extend Travis Sanheim to an 8-year deal even if that was at market value. Most importantly, a rebuilding team would not hire a coach like John Tortorella, who outwardly didn't want to deal with rebuilds.
After this season, Sean Couturier has 7 more years left at $7.75 million, Kevin Hayes has 3 more years left at $7.14 million, Ivan Provorov has 2 more years left at $6.75 million, Ryan Ellis has 4 more years left at $6.25 million, Travis Sanheim has 8 more years left at $6.25 million, Cam Atkinson has 2 more years left at $5.875 million, Travis Konecny has 2 more years left at $5.5 million, Rasmus Ristolainen has 4 more years left at $5.1 million, Tony DeAngelo has 1 year left at $5 million, and Joel Farabee has 5 more years left at $5 million. This team never intended on rebuilding, they just chose to brand it as a rebuild this year specifically because of the injuries.
The Flyers were very confident in their injured players returning to tip-top health that they made no corresponding moves and then shifted plans to a "stabilizing summer". For whatever reason they decided not to put Ryan Ellis on LTIR at the beginning of the summer when they could've used some of that $6.25 million to sign better options than what they currently have. Couturier's backbreaking injury – no pun intended – has kept their best forward off the ice for another 3-4 months. Atkinson is a mystery that no one seemingly saw coming, van Riemsdyk then broke his finger at the beginning of the season, Wade Allison hurt his hip, and the injuries just keep mounting.
Remember the 2021-22 season? How that was a rebuild because of all the youngsters that took the ice? Morgan Frost played 55 games, Max Willman played 41 games, Cam York played 30 games, Owen Tippett played 21 games, Noah Cates played 16 games, Ronnie Attard played 15 games, Connor Bunnaman played 15 games, Jackson Cates played 11 games, Isaac Ratcliffe played 10 games, Bobby Brink played 10 games, Egor Zamula played 10 games, Hayden Hodgson played 6 games, Linus Hogberg played 5 games, and Wade Allison, Tanner Laczynski, and Linus Sandin each played 1 game. Wow, right?! The Flyers really committed to the youth movement, right?
Not necessarily, they were forced to do so because of injuries. Ryan Ellis missed all but 4 games, Sean Couturier missed all but 29 games, Kevin Hayes only played 48 games, Claude Giroux was traded after 57 games, Nate Thompson played 33 games, Derick Brassard played 31 games, and then players like Scott Laughton, Joel Farabee, Rasmus Ristolainen, and Patrick Brown missed a lump sum of games as well. James van Riemsdyk (82), Travis Sanheim (80), Travis Konecny (79), Ivan Provorov (79), Oskar Lindblom (79), Keith Yandle (77), Zack MacEwen (75), and Cam Atkinson (73) played the majority of the season and didn't miss more than 10 games – not really an encouraging list of players.
The Flyers did well in playing the young kids but as the calendar turned to 2022-23 their motivations shifted. Rebuild to aggressive retool to aggressive rebuild to stabilization to rebuild again. You can't be all those. You can't even be half of those. Committing to one is essential for any organization and the Flyers decided to try all of them to see what works best.
It was a rebuild when the sky was falling, allowing the losses to mean something. It was then shifted to an aggressive retool to satiate the part of the fan base that wanted quick changes and better results and that went hand in hand with the rebuild because it was leading up to the summer of exotic adventures. Then when they realized they couldn't trade van Riemsdyk, open up cap space, and had to forego Johnny Gaudreau they decided that it would be best to call it an aggressive rebuild. Then finally upon signing Tony DeAngelo, Nicolas Deslauriers, and Justin Braun the Flyers were content with filling the perceived gaps with veterans in what was deemed a stabilizing summer.
Did the Flyers finally commit to something? No, the injuries piled up at the worst possible time – after the free agent frenzy had come to a close – and without contingency plans in place the Flyers looked doomed from the get-go. They won 7 of their first 12 games, were atop of the division, and even though the cracks were visible, they were playing a lot better. Then the rebuild talk resurfaced with all the grinders and AHLers making way into the lineup. Now we are witnessing a full-on tank job, unintentionally yet intentionally. They have no choice but to go out there with this lineup, win or lose, this is who they are until players like Konecny, Allison, and van Riemsdyk who are set to remain out of the lineup for the next 2-3 weeks.
However, the bright side is that they are losing games while trying their hardest, so you can't fault them for intentionally tanking or intentionally trying to lose. The effort is there on a nightly basis but when your second line features Kieffer Bellows, Morgan Frost, and Zack MacEwen – what is to be expected? The upcoming draft is headlined by big name talent so the way the Flyers are going, this should work out splendidly. However, nothing will change with the front office remaining the same.
I am not overly optimistic about the return of Cam Atkinson, it is looking eerily similar to the Ryan Ellis situation from last year. Sean Couturier won't be back until February at the earliest, and while Laughton is returning, the remaining 3 forwards won't be back for at least 2-3 weeks – maybe even longer with their luck. The meat and potatoes of their upcoming schedule is daunting and a lengthier losing streak is upon us.
Next summer the Flyers won't really have much money to spend or play with either because the entire team is essentially tied up with the exception of van Riemsdyk and Frost. If this is actually a rebuild – as they want us to believe – then we should see some major changes ahead of the trade deadline and into the summer. However, we know the Flyers' tendencies better than anyone, and what we've witnessed over the last decade and a half is their inability to accept the truth and do what is best for the betterment of the future. It's all about the present, it's all about today, yet nothing has changed for the better in well over 10 years and it doesn't seem like anything will get better for another 10 years if they continue down this path.
The fan base is irate and they very well should be. The Flyers are well aware of it and they've tried everything in their power to satiate the anger but all they've done is make things worse. No general manager in the NHL would survive this mess and yet Fletcher has survived the debacle that was 2020-21, 2021-22, and might even somehow survive 2022-23 if the Flyers squeak out a few victories and remain competitive. The players are trying, the coaches are trying, but they are bereft of talent until the troops return from the injured list. Connor Bedard would look great in the Orange and Black, so would Adam Fantilli, Leo Carlsson, Matvei Michkov, and Brayden Yager.
The losses hurt but at this point, we've been hurting for a long time, so what's another 61 games of pain?