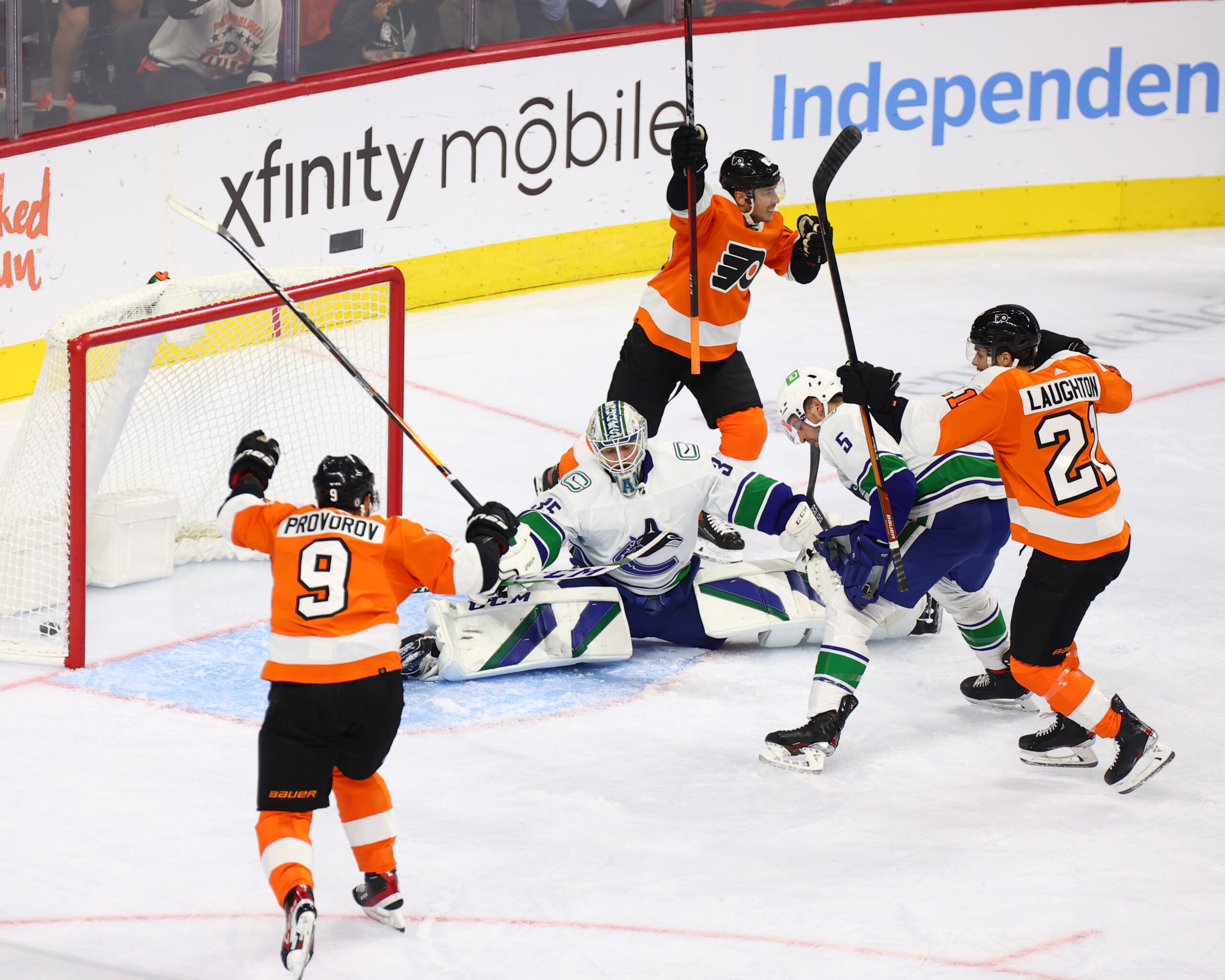 On a scale of 0-10, where is your excitement level at for the 2022-23 season?
On a scale from 0-10, how excited are you for the upcoming NHL regular season as a fan of the Philadelphia Flyers? Where was your excitement level last year? Has it changed at all or are we still feeling the same way heading into the 2022-23 campaign? It seems that the current regime that is heading the Flyers right now has done something that seemed a little improbable, uniting the fanbase to a feeling of indifference and detachment.
The Flyers were a once venerable and proud organization that was always in the mix for the playoffs and were usually seen as contenders. Something happened between 2012 to the present that has completely changed everything and has flipped the script on their ventures, their goals, their aspirations, and their on-ice product. There seems to be no plan in motion, which sounds absolutely insane, but when you look at how they've conducted business over the last few years, it's very hard to see any consistency or even a strategy in place.
With the general managers of the past, as bad as they were, they at least had a plan in motion. Paul Holmgren was a free-swinging general manager who made an abundance of bad moves at the end of his tenure, however you always knew he was going to be in the mix for the big players and he was always going to try everything in his power to do so. Ron Hextall had a five-year plan to rebuild the Flyers from the ground up like the Los Angeles Kings did under his watch as assistant general manager. It was a torturous 4-5 years because the Flyers were never bad enough to draft high-end prospects, they were never good enough to make a deep playoff run, and the majority of the draft picks that he stockpiled didn't pan out – and boy, did he have a lot of picks in his five years as general manager.
Nevertheless, the Flyers had a plan and it kept the fan base in check, it kept the organization beating to the same drum, and we knew what to expect on a yearly basis. The grass was always supposed to be greener and the future was always looking bright they said.
The current regime that is being headed by Chuck Fletcher just seems to be improvising on a wing and a prayer. They were patient in 2018-19 when they initially took over mid-season and then made bold moves in the summer of 2019, stood pat in the summer of 2020, gutted the team and re-tooled again in the summer of 2021, and then after announcing to the world that they were going to be aggressive and massive players in the summer of 2022, they did the opposite and decided to be more of a stabilizing team than anything else.
They neither rebuilt nor did they go guns blazing, but they ended up finding a middling purgatory that has made both sides of the spectrum upset and unexcited for the upcoming season. Training camp starts next month, the regular season starts in October, and it seems that for the first time in a very long time the excitement level in Philadelphia is really low, maybe the lowest it has ever been.
2020-21 was a disastrous season where the wheels fell off in March and the Flyers trudged their way through the back half of the season looking absolutely lost, misguided, and rudderless. 2021-22 was supposed to be different with all the changes that took place, like gutting out the negativity and instilling a lot of leadership, accountability, and experience. The wheels fell off even earlier with injuries taking away key pieces like Ryan Ellis, Sean Couturier, and Kevin Hayes, and this time around with a full 82-game season, it felt like everything was going in slow motion as the season was truly out of reach by December and January.
The front office decided to apologize, they urged everyone that changes were afoot, and this season was to not be repeated. They made one major move in trading for and then signing Tony DeAngelo, while waving the white flag on the first day of free agency after signing depth pieces. The hiring of John Tortorella and the return of Sean Couturier might be the saving graces for the upcoming season in terms of looking for something to cheer for or be excited about. Tortorella might be the only man who is able to light a fire under this team and get them playing a system that makes them hard to play against – let's not forget how annoying it was to play against his Columbus Blue Jackets from a few years ago.
In saying all that, on a scale from 0 to 10, where do you stand for the upcoming season in terms of excitement?
0-1: Not at all and really only looking forward towards the off-season and the draft
2-3: A little bit, mostly because it's been a while since you've seen them hit the ice and it's more nostalgic than anything else
4-5: Even-keel, John Tortorella and Brad Shaw might be able to make this team watchable
6-7: Very much so, hiring of Tortorella + returns of Couturier and Hayes + a new system in place could surprise people
8-9: They're going to be tough to play against, they're going to be a lot better than everyone is suggesting, and playoffs are definitely not out of the picture
10: On board completely, the Flyers are going to shock and surprise, they will be a dark horse candidate to start, and the return of key players is going to jump start their season from start to finish