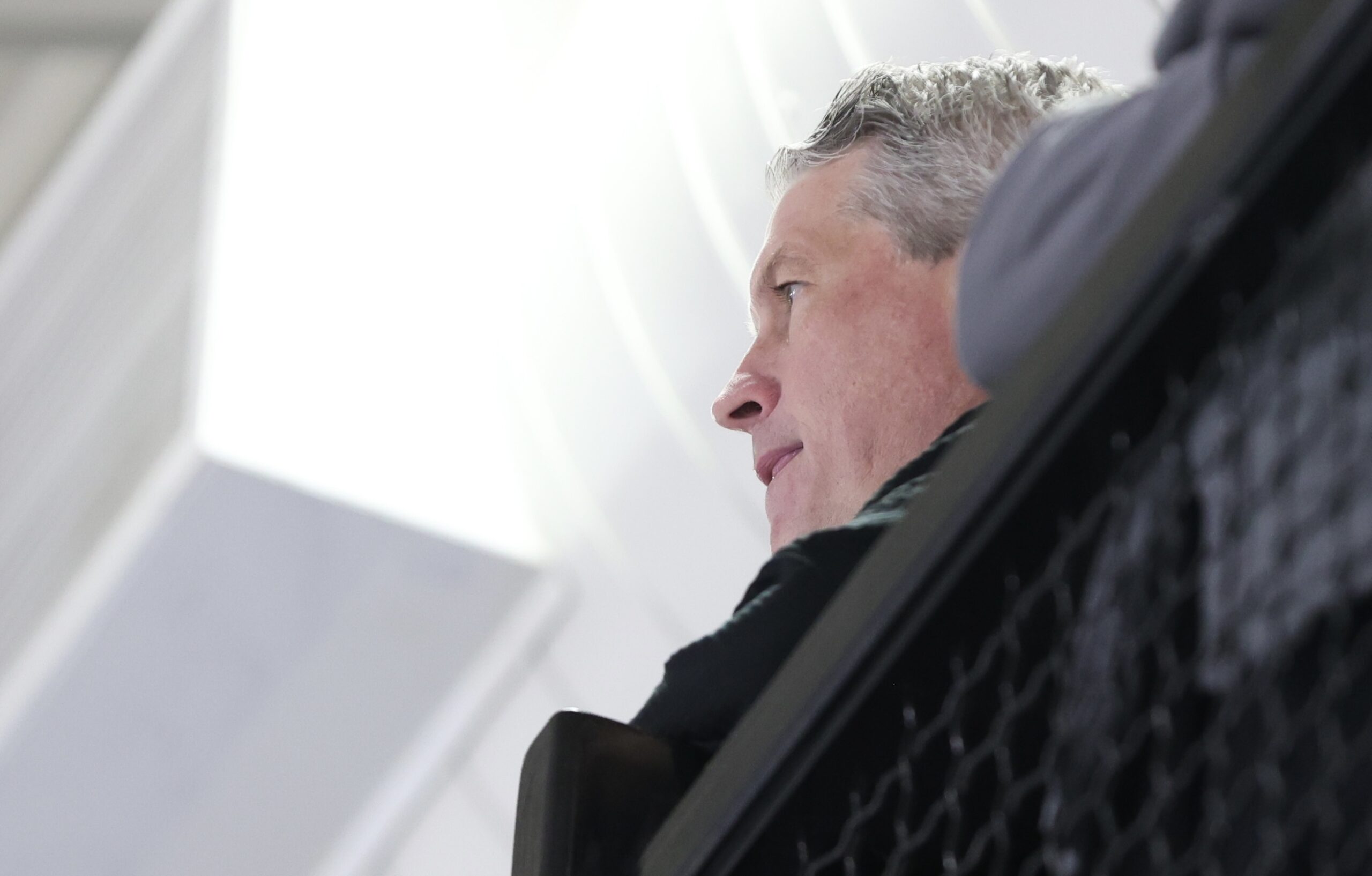 Salary Cap Hell and How the Flyers Returned to This Position
If there was one thing that Ron Hextall was good at during his time with the Philadelphia Flyers, it was his slow but effective plan of alleviating the Flyers from their salary cap mess that was orchestrated by Paul Holmgren.
Going into the summer of 2019, newly-minted general manager Chuck Fletcher had close to $34 million in cap space to play with and by the end of the summer, he almost used it all up. Now of course, some moves were absolutely necessary like extending Ivan Provorov and Travis Konecny, who were both coming off their rookie contracts. Provorov ended up signing a 6 year deal that would count towards the cap at $6.75 million, while Konecny signed for 6 years as well but counted towards the cap at $5.5 million.
Fletcher then traded for the signing rights of Kevin Hayes and then extended him to a 7 year deal that would count against the cap at $7.142 million per season. He also traded Radko Gudas, while also retaining some salary, for Matt Niskanen who had 2 years remaining with a cap hit of $5.75 million. He then finished off the festivities by trading a second round pick and a third round pick for Justin Braun who counted towards the cap at $3.8 million, who was entering his final year of a 5 year deal previously signed with the San Jose Sharks.
The Flyers that season won the 2020 round robin tournament and claimed the first seed in the Eastern Conference and there was a lot to be excited about heading into 2020-21 after coming 1 game away from making it to the Eastern Conference Finals – or so we thought.
Matt Niskanen suddenly retired, but however, it was reported that Niskanen had informed Chuck Fletcher about his decision a month before the free agent window opened so he had ample amount of time to find a replacement or at least think of a replacement. Instead the Flyers stood pat, were happy with how they played that year, and didn't think one player could cause an avalanche effect. They re-signed Oskar Lindblom to a 3 year deal that counted towards the cap at $3 million, they re-signed Justin Braun to a 2 year deal that counted towards the cap at $1.8 million, and they re-signed Phil Myers to a 3 year deal that counted towards the cap at $2.55 million. Their only free agent signing was Erik Gustafsson, who signed a one year deal worth $3 million. It was basically the same team as the 2019-20 rendition that advanced to the second round of the playoffs for the first time since 2011-12 , minus Matt Niskanen. What could go wrong?
Well, seemingly everything did, because the Flyers crashed and burned to a 6th place finish in the newly created East Division in 2021 with a record of 25-23-8. The Flyers started the season going 8-3-2 and even went as far as going 12-5-3 in the early parts of March. That's when the wheels totally fell off and the Flyers slumped to the tune of 13-18-5 and looked absolutely terrible with losses of 9-0 and 8-3 to the New York Rangers, 6-1 to the New York Islanders, 7-3 to the Boston Bruins, 6-1 to the Buffalo Sabres, 6-1 and 6-3 to the Washington Capitals, and 7-3 to the Pittsburgh Penguins.
It was no surprise that the Flyers finished 31st out of 31 teams in the NHL in goals allowed as they surrendered 201 goals to their 163 scored. There was a three way tie for the team lead in points between James van Riemsdyk, Claude Giroux, and Jakub Voracek at 43 in 56, 54, and 53 games, respectively. Sean Couturier held the best point-per-game average on the team after scoring 41 points in only 45 games. Joel Farabee was the only 20 goal scorer, and Carter Hart finished the season with an .877 SV% and a 3.67 GAA.
Several players regressed, like Nolan Patrick who only scored 4 goals and 9 points in 52 games, Travis Konecny only had 11 goals and 34 points, Shayne Gostisbehere and Ivan Provorov combined for 46 points, Phil Myers only scored 1 goal and 11 points and found himself in the press box a lot as a healthy scratch, and even their trio at the top had slow and low years.
So, enough was enough for the free swinging Chuck Fletcher as he traded Shayne Gostisbehere, a second round pick, and a seventh round pick to the Arizona Coyotes for cap space, and he used that cap space to acquire Rasmus Ristolainen who cost the Flyers a first round pick, a second round pick, and Robert Hagg.
He also traded Nolan Patrick and Phil Myers to the Nashville Predators for Ryan Ellis – Patrick was then flipped to the Vegas Golden Knights for Cody Glass to complete the three-team trade. Finally, Fletcher traded Jakub Voracek for Cam Atkinson on the second day of the draft to finish off his frenzy.
The Flyers then signed Martin Jones to back up Carter Hart for $2 million, signed Keith Yandle to the minimum, brought back Nate Thompson, and announced to the world that leadership and accountability were at the roots of these deals. The players leaving the Flyers had previously clashed with the coaching staff and because Fletcher stuck by his coaches, the players were the ones who had to go.
The root of all their problems had to do with leadership and accountability, according to the front office. They cleaned house so that meant the Flyers were going to be better, right? Wrong, very very wrong. A large part of it had to do with the quick injury to Ryan Ellis – who only appeared in 4 games – because that caused a rippling effect to the defense pairings. Braun was promoted to the top pair with Provorov and Yandle had to play with Nick Seeler or Kevin Connauton. Add in the injuries to Sean Couturier and Kevin Hayes and the Flyers were without three very key components to their roster.
All that aside, they still looked worse for wear, and they had tuned out their coaching staff that finally got the boot in December except for Mike Yeo, who was named interim head coach for the rest of the season. The Flyers had one of their worst seasons in franchise history and were still spending up to the cap, so what was the solution going to be this time?
To get to this point, the Flyers traded picks to acquire Kevin Hayes and Justin Braun in the summer of 2019. They then traded picks to acquire Ristolainen and to dump Gostisbehere in the summer of 2021. Then fast forward to the summer of 2022, holding onto the 5th overall pick and reminding their fan base with every turn they made that this offseason was going to be an aggressive one, they held onto the pick instead of moving it for Alex DeBrincat. That would've been okay had they not decided to trade 3 picks to acquire Tony DeAngelo the following day – which included a 2024 second round pick.
To get out of their salary cap hell, the Flyers were forced to buy out Oskar Lindblom, in a move that was supposed to alleviate cap space as they were going to make a run for Johnny Gaudreau. To do so, they had a few options, which included trading James van Riemsdyk, placing Ryan Ellis on LTIR, and even going above the cap limit by 10% until the start of the season. The Flyers did none of those things, said they were never in on the best free agent on the market who wanted to come to Philadelphia, and only targeted depth pieces for a stabilizing season.
Chuck Fletcher appeared for his press conference and tried pulling the wool over our eyes by going against his blank cheque and aggressive re-tool rhetoric that was being blasted through a megaphone from January onwards. He said it was difficult to move cap space and that the Flyers were in a tough spot – which he put them in as 9 of the top 10 cap hits on the team are all on him. Couturier is counting towards the cap at $7.75 million, Hayes at $7.142 million, van Riemsdyk at $7 million, Ivan Provorov at $6.75 million, Ellis at $6.275 million, Cam Atkinson at $5.875 million, Travis Konecny at $5.5 million, Rasmus Ristolainen at $5.1 million, and both DeAngelo and Joel Farabee at $5 million.
These 10 players combine for almost 75% of the cap and out of the bunch, you can make the argument that they maybe have one elite-level talent in Sean Couturier? His injury last season definitely has us forgetting about how well he's been playing over the last 5 years and is arguably a top-20 centre but after that, it's tough to find any real gems on this roster. When Hayes, van Riemsdyk, Ristolainen, and DeAngelo account for $24.242 million, which is good for almost 30% of the team's salary cap, that should be a huge red flag, but yet here we are with another year of Chuck Fletcher at the helm.
3 years ago, the Flyers had a blank canvas to do whatever they wanted to. With almost $34 million in projected cap space for a team that was constantly in salary cap hell, the Flyers returned right back to square one in a few years. Signing Kevin Hayes to a long-term deal was almost a necessity because the Flyers needed a second line centre and he was the best of those available. Bidding wars were to ensue between interested teams like the Chicago Blackhawks, Colorado Avalanche, and Boston Bruins for his services and we all know how much Chuck Fletcher likes to win those – Ristolainen and DeAngelo come to mind. Extending Provorov and Konecny was necessary as well and their cap hits are reasonable. It was everything that happened after the 2019-20 season that brought about this problem.
Ryan Ellis' $6.275 million can be placed on LTIR but that's still an expensive contract for no production. Rasmus Ristolainen counted towards $5.4 million of the cap last year, cost a first round pick and a second round pick to initially acquire, and then they extended him for 5 more years at $5.1 million, which was unneeded. Tony DeAngelo cost the Flyers precious cap space a few days before the free agent frenzy commenced, cost them 3 draft picks, and is now on the books for 2 years at $5 million annually. When it came to clearing cap space – James van Riemsdyk's contract in particular – Fletcher said he didn't want to part with assets anymore and that because he didn't want to cough up future assets, it made everything that much more difficult. Maybe don't make foolhardy decisions a few days before free agency.
So now, the Flyers potentially enter the 2022-23 season without Joel Farabee to start, they added nobody for their top 6, let alone their top 9, as they only added depth pieces and aren't that much better than the team that finished 4th-last in the league just a few months ago. With the Morgan Frost extension in place and Ryan Ellis still not on LTIR, the Flyers also don't have any cap space at the moment as they are $98K over. They are likening the returns of Couturier and Hayes as free agent acquisitions because they missed a large chunk of last season, but everything around those two centres isn't that much more promising.
CapFriendly has the Flyers with a little over $18 million in projected cap space in 2023-24, so maybe that will be enough for the Flyers to fix their problems in the future. However, if things don't change with the front office executives, then that $18 million is going to spent recklessly.