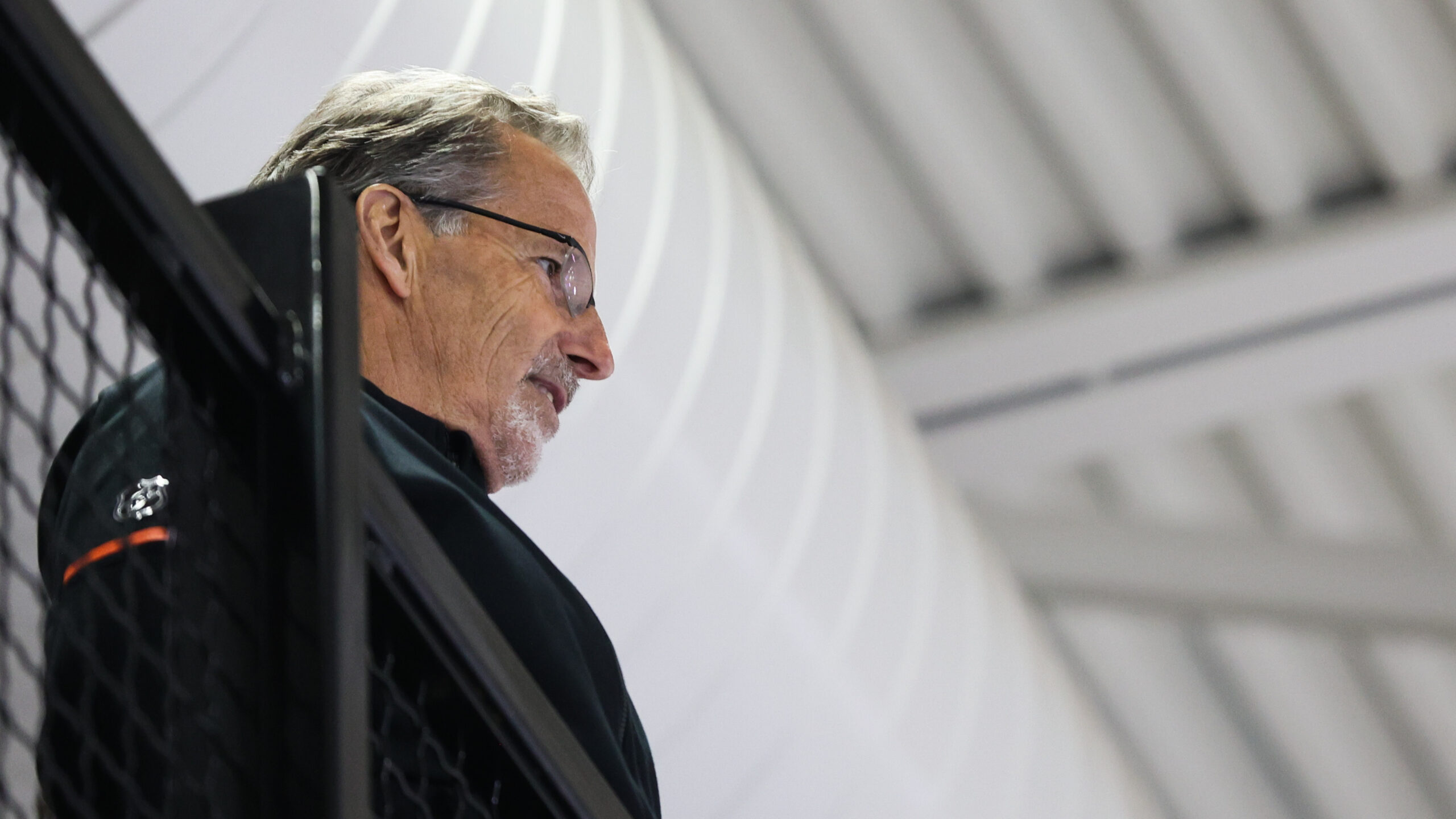 With the Metropolitan Division Beefing Up This Summer, John Tortorella Has His Work Cut Out For Him
The Metropolitan Division has never been easy to navigate through when you've had teams like the Pittsburgh Penguins and Washington Capitals to deal with on top of the New York Islanders, Carolina Hurricanes, and New York Rangers who have made massive strides at some point in time over the last half-decade. The Pittsburgh Penguins have qualified for the playoffs in 16 consecutive seasons, the Washington Capitals won the division 5 straight years from 2015-16 to 2019-20, the New York Islanders made it to the Eastern Conference Finals in consecutive years in 2019-20 and 2020-21, the New York Rangers made it to the final four this past season, and the Carolina Hurricanes have won the division in back to back seasons. There's been a wealth of talent that includes Sidney Crosby, Evgeni Malkin, and Alex Ovechkin, goaltending has been stout with the likes of Henrik Lundqvist, Marc-Andre Fleury and Braden Holtby, the new era of goaltending is pretty good with Igor Shesterkin and Ilya Sorokin, and the Flyers haven't done much to match that, let alone really propel themselves out of the bottom half of the division.
Free agency came and went and the Flyers were definitely the biggest losers of the Metropolitan alongside the New York Islanders – however the Islanders didn't announce big changes, aggressive re-tools, and blank cheques beforehand. The Penguins kept their core together and signed Jan Rutta and traded for Jeff Petry, the Capitals signed Dylan Strome and Darcy Kuemper while trading for Connor Brown, the New York Rangers added Vincent Trocheck, the Carolina Hurricanes traded for Max Pacioretty and Brent Burns, the Columbus Blue Jackets signed Johnny Gaudreau, the New Jersey Devils signed Ondrej Palat and acquired John Marino, while the Islanders surprisingly stood pat. The Flyers? Well, they signed Nicolas Deslauriers and Justin Braun. Heading into the 2022-23 season with most of the division beefing up, it looks like the Flyers and John Tortorella are going to be in grave peril.
I'm not sure what the Flyers told John Tortorella during his interviews before he was given the job, but I have to think there were promises being made of aggressive moves because we already know from the past that he's not into rebuilds or projects. There was a mutual parting of the ways in Columbus when he found out they were rebuilding and it was known before he was given the job in Philadelphia that he wanted no part in that. He mentioned that this would be his final coaching gig of his career and one has to imagine that this was not what he was expecting to play out.
Tortorella is a good coach, he's done a lot with lesser talented teams, but the 2022-23 Flyers, the way they're constructed, are going to be one of his tougher tasks in recent years. The Flyers didn't have too much money to play with to begin with and then trading for and signing Tony DeAngelo at the draft only took the wind out of their sails before the free agent window opened. They were "forced" to buyout Oskar Lindblom in a move that opened up some much needed cap space but the biggest caveat remained in James van Riemsdyk. Since he wasn't moved, he figures to be a part of the team moving forward because a trade now would make absolutely no sense for a team that is still "trying to contend". The Flyers announced that they are out of the UFA market after the first day, they aren't interested in Nazem Kadri, and even though there are some interesting names still out there in Nino Niederreiter, Evan Rodrigues, and even Phil Kessel, the Flyers are seemingly going to roll into the season with the team they currently have.
That team includes the return of Sean Couturier and Kevin Hayes, the additions of Tony DeAngelo, Nicolas Deslauriers, and Justin Braun, will be without Joel Farabee for the first month or so, and of course still without Ryan Ellis. If it is to be believed that the Flyers are done making moves, at least with the free agent market, then the team could be rolling like so in October of 2022:
James van Riemsdyk – Sean Couturier – Cam Atkinson
Scott Laughton – Kevin Hayes – Travis Konecny
Owen Tippett – Morgan Frost – Wade Allison
Nicolas Deslauriers – Patrick Brown – Zack MacEwen/Noah Cates/Tanner Laczynski
Ivan Provorov – Tony DeAngelo
Travis Sanheim – Rasmus Ristolainen
Cam York – Justin Braun
Carter Hart
Felix Sandstrom/Troy Grosenick
It's an improvement from how they finished last year, but that's not saying much considering their lineup was barren, filled with prospects and rookies, and was a team that finished 4th-last in the league. Couturier's return is of the utmost importance for a team that still believes they can be competitive and tough to play against. He is essentially the best player on the team now and is going to have to carry the burden of this lineup on both ends of the ice. Kevin Hayes' return is just as important as he completes the top-six as the second-line centre. Without both centres in the lineup last year, the Flyers relied on their lack of depth to fill in and looked absolutely out-muscled, out-manned, and out-skilled down the middle.
Their return is important but they need to have career years if the Flyers are even going to come close to sniffing success, let alone the playoffs. The Atlantic Division is just as tough as the Metropolitan or maybe even worse. They have the big 4 in Tampa Bay, Florida, Toronto, and Boston, and then you add in the big spending Detroit Red Wings and Ottawa Senators, and then finish off with the Buffalo Sabres who were tough to play against at the end of the season and swept the Flyers with relative ease. The Montreal Canadiens round out the 8 but they are continuing their rebuild/tank so they shouldn't be a threat, but then again, the Flyers didn't really play well against them last year either.
John Tortorella is going to have to pull a rabbit out of several hats and it starts with the Flyers' "top guns". Sean Couturier has scored 110 goals and 269 points in his last 305 games, including back to back seasons of 76 points in 2017-18 and 2018-19. He also scored 31 and 33 goals, respectively, and then scored 100 total points in 114 games during the shortened seasons that followed. His injured 2021-22 season was a tale of two halves as he started the year with 12 points in 10 games and then slumped to the tune of 1 goal and 5 points in his final 19 games. The Flyers need him to set career highs in goals and points this year and he's the only one truly capable of scoring at a point per game pace.
Chuck Fletcher has mentioned Couturier and Hayes over and over again as key players to return next year to "stabilize the team". Kevin Hayes has a modest 332 points in 553 games over this career, 103 points in 172 games as a Flyer, and finished off the season with 24 points in his final 30 games. His previous career highs were 25 goals in 2017-18 with the New York Rangers, and 55 points in 2018-19 that was split between his time with the Rangers and the Winnipeg Jets. The Flyers are acting like they can be competitive next year and contend for a playoff spot so if that is to happen, they're going to need a fully healthy Kevin Hayes as well as a Kevin Hayes with upwards of 60 points.
After the two pillars down the middle, the Flyers are going to need their wingers to step up and step up early. With Joel Farabee on the mend for at least the first few weeks of the season – maybe more depending on how quickly he can rehab, train, and get some on-ice work in – Travis Konecny and Cam Atkinson are going to be relied upon to score plenty of goals. With Tortorella behind the bench in Columbus, Cam Atkinson scored 154 goals and 290 points in 408 games. He had 4 consecutive 25+ goal seasons, including a 35 goal season in 2016-17 and a 41 goal season in 2018-19, and scored upwards of 60 points twice. Tortorella and Atkinson get along very well, Atkinson was pushing for the hire from the end of the season onwards, and the Flyers saw a glimpse of what Atkinson can bring to the table last year when he scored 23 goals in 73 games. Once Claude Giroux departed, he didn't have the best playmakers setting him up, but one can only imagine a healthy Couturier or Hayes can get him back to 25+ goals at the very minimum, and realistically hit upwards of 30.
Travis Konecny had a disappointing season in terms of goal scoring. He finished the season with 16 goals in 79 games, shot a career high 220 shots but converted at a career-worst 7.3%. Dating back to the COVID bubble, Konecny haas scored 27 goals in his last 145 games, while firing 349 shots and converting at a paltry 7.7%. For his career, he's converting at 11.5%, so it's safe to say that last year could've been an anomaly. 2020-21 wasn't a good year either but he also only fired 100 shots on net in 50 games, so the issue wasn't the scoring (11% success rate), it had more to do with his lack of shooting. From 2017-18 to 2019-20, Konecny scored 24 goals in all 3 years, increased his points totals from 47 to 49 to 61, and led the team in scoring in 2019-20 when he had 61 in 66 games. His shooting percentage was wildly better as he converted on 13.6%, 13.2%, and 17% respectively. Under Alain Vigneault, he scored 5 goals and 10 points in 22 games but then finished the season with 11 goals and 42 points in 57 games with Mike Yeo. Under the right coaching staff – and hopefully that's John Tortorella and co. – Konecny can thrive and be the player who's led the team in scoring twice in the last 4 seasons. Tortorella is also going to need him to shatter his career highs for any successful runs during the season.
James van Riemsdyk and Joel Farabee are also going to have to chip in with 25+ goals but for Farabee, he needs to get healthy and make a return to the ice first. James van Riemsdyk, for all intents and purposes, is a Flyer and will remain a Flyer for the foreseeable future and because of that, they're going to need him to step up big time. Without Farabee for the first few weeks of the season, van Riemsdyk will be promoted into the top-six and will have to score at the same pace of his career year in 2017-18 when he scored 36 goals for the Toronto Maple Leafs. Since returning to Philadelphia, he has scored 27, 19, 17, and 24 goals in 66, 66, 56, and 82 games respectively. Last season was a down year for everyone in the Orange and Black and even though he finished with a team-high 24 goals, he went through some heavy slumps, including 2 goals in his first 24 games of the season and a stretch of 4 goals in 23 games between December 30th and March 1st. He finished the year with 10 goals in 20 games, which is something the Flyers are going to desperately need, and more specifically on the power play.
In terms of their defensemen, the Flyers have 4 guys who have scored at least 35 points before and 3 guys who have scored over 40 points. Travis Sanheim hasn't hit the 40-point plateau before but if he can start the season the way he ended last year, then he should be well on his way for a career year. Before ending the season with 6 consecutive zeroes, he went through a stretch of 7 goals and 28 points in 52 games after Mike Yeo took over as interim head coach. Ivan Provorov finished with 31 points, and he hasn't been a threat on the power play in the last few seasons – only scoring 1 power play goal since 2020-21 – but he will be heavily relied upon on both ends of the ice after averaging 24:58 of TOI in the last 4 seasons. Rasmus Ristolainen's point totals took a nosedive this season but that had a lot to do with not being placed on the power play. In 4 years from 2016-17 to 2019-20, he scored 26 goals and 170 points in 312 games with 86 power play points. Last year, he scored 2 goals and 16 points with 1 power play point, which were his lowest totals since his rookie year in 2013-14. From the returning trio, Tortorella and Brad Shaw are going to have to get them to be more aggressive, get out of their zone with possession and speed, and be able to jump on the rush and help the offense.
Tony DeAngelo comes into the team as the new Shayne Gostisbehere to say the least. He is an offensively minded defenseman, power play quarterback, and a swift skater, which are all things the Flyers need. DeAngelo is coming off a season where he scored 10 goals and 51 points in 64 games for the Carolina Hurricanes, which was 5 goals and 3 points off his career highs that he set in 68 games for the New York Rangers in 2019-20. He finished the year at a plus-30, fired 151 shots on goal, and collected 31 power play points – while the Flyers only scored 30 power play goals as a team all season. For any semblance of success on the offensive side of the puck and on the power play, John Tortorella and Rocky Thompson are going to have to let DeAngelo loose and let him unleash his offensive style of play. Take the good with the bad and don't try to change his style of play like they tried with Shayne Gostisbehere, because it didn't end well as he was neither a force with or without the puck after that.
So essentially, when it comes to putting the puck in the back of the net next season, Tortorella and co. are going to have to get almost everyone to commit to his system and essentially set career-highs. The Flyers are going to need Couturier to be the alpha of the team, score at a point per game pace, and stay healthy so he can help and set-up players like Atkinson, Farabee, and van Riemsdyk. Hayes is going to have to be a 60 point player, Konecny is going to have to get over that 24 goal hump, Farabee is going to have to score at a more consistent pace, van Riemsdyk is going to have to play like a $7 million player, and the defense needs to be aggressive, up on the rush, and quarterbacking both power play units.
Sounds easy, right? They're only going up against teams that have players like Sidney Crosby and Evgeni Malkin, Artemi Panarin and Mika Zibanejad, Sebastian Aho, Andrei Svechnikov, and Max Pacioretty, Johnny Gaudreau and Patrik Laine, and last but not least, Alexander Ovechkin. In terms of offensive production, the Flyers are going to have to match up against some lethal offenses and that's not including the teams in the Atlantic Division that they're going to have play against 3 times. Aleksander Barkov and Jonathan Huberdeau, Auston Matthews, Mitch Marner, and John Tavares, Nikita Kucherov, Steven Stamkos, and Brayden Point, David Pastrnak, Patrice Bergeron, and Brad Marchand, and let's not forget Alex DeBrincat, Brady Tkachuk, and Claude Giroux.
The Eastern Conference is no joke and if Chuck Fletcher has any semblance of wanting to keep his job as general manager of the Flyers, he is going to have to pray that John Tortorella can get the best out of his team, his best players, and execute a system that prevents Carter Hart from seeing 35-40 shots a game.