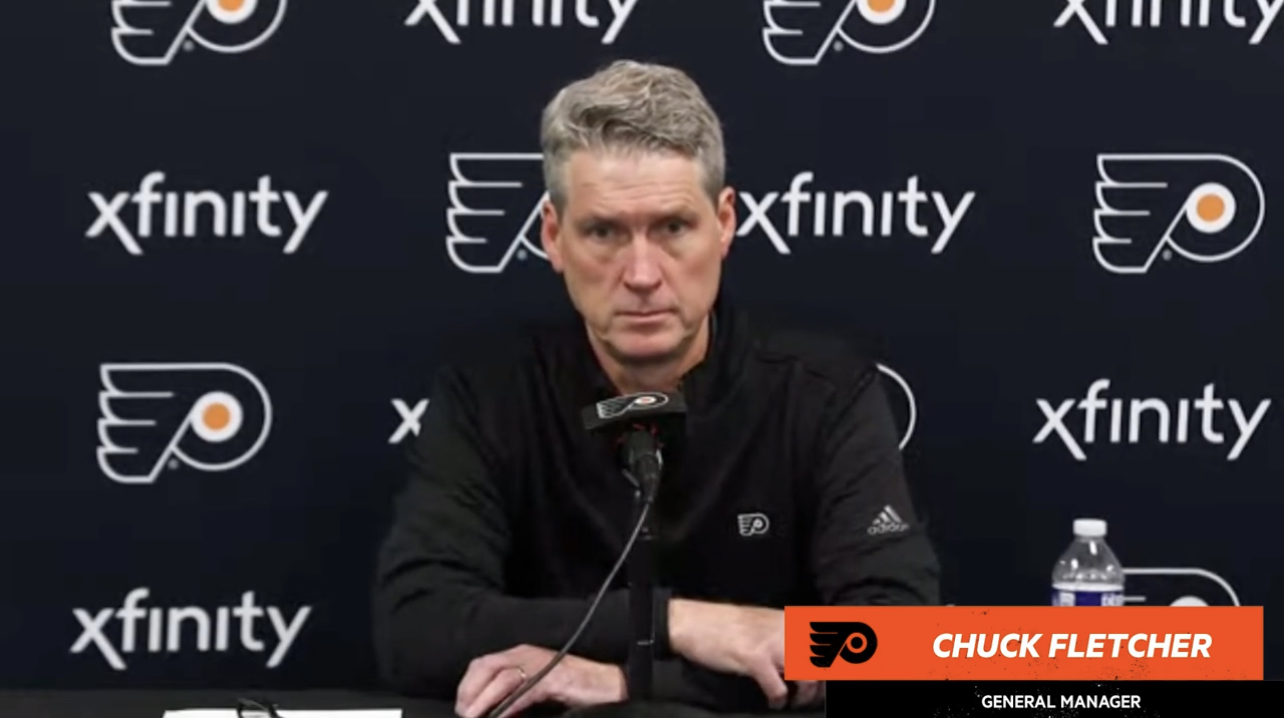 The Press Conference We Were All Waiting For
Oh boy, has the tune changed in Philadelphia all of a sudden. The Philadelphia Flyers urged the fans back in January that a repeat of the 2021-22 season would not happen, things were going to be in motion in terms of an aggressive off-season, and the Flyers would once again re-tool with their handy blank checkbook.
From January on, the debate raged on whether or not the Flyers should even consider another re-tool when they so desperately require a rebuild and youthful injection. However, at every possible turn, the word "re-tool" was uttered and we were ushered into believing that the Flyers were going to be big players in the summer. Leading up to the draft the rumour mill was set abuzz with Alex DeBrincat possibly being a trade candidate, then the Flyers balked and Ottawa scooped him up. Then they made a trade involving three draft picks for Tony DeAngelo, which put their already dreadful salary cap situation into more peril with free agency only a few days away.
Johnny Gaudreau told the Calgary Flames that he would not be returning in any capacity and stated that his decision was purely based on family and wanting to be closer to home; insert the Philadelphia Flyers, right? Wrong apparently, because according to general manager Chuck Fletcher, the now-not-so-aggressive Flyers were never in on the Gaudreau sweepstakes. In fact, they weren't really in on anyone that wasn't named Nicolas Deslauriers, Justin Braun, Cooper Marody, or Troy Grosenick.
It just seems like an odd time to be flipping the script, when every single media member with sources from top to bottom had always mentioned that the Flyers were in on Gaudreau and were trying to make aggressive moves.
The press conference was highly anticipated, but only because the entire fan base was left clueless and angry with how the first 5 hours of free agency went down. It was a short press conference but the right questions were asked throughout and you could tell that Fletcher was getting a little bothered and angry – rightfully so when you tell you entire fanbase big changes are coming for 6 months and then back out at the very last second.
Lack of cap space was the biggest hurdle according to the general manager and because they only had a limited amount, they focused solely on depth signings on the first day of free agency. To add to that, he mentioned that they were essentially done with the UFA market and that the Flyers were rather content with what they had accomplished in the first few hours.
Let's recap exactly what they did, shall we? 1) They signed a former draft pick that was traded a few years ago to a two-year deal in Cooper Marody. Odds are that he probably doesn't play an NHL game unless he either wows at camp or there's a slew of injuries at the NHL level. 2) They brought back Justin Braun to a one-year contract that pays him $1.75 million. He was always beloved by the organization during his first 2-3 seasons in Philadelphia, they always found a way to praise him, he was utilized all throughout the lineup, and they want him back as the third pair partner for Cam York (or Ronnie Attard apparently). 3) They signed Nicolas Deslauriers to a four-year contract that pays him $1.75 million annually. This is the longest contract he's ever received and also the richest contract, but Fletcher made mention that the market was hot and busy for a player of Deslauriers' ilk, therefore giving us the impression that he "won" another bidding war for a prized artifact. 4) Troy Grosenick might actually have a chance at becoming the backup to Carter Hart as Fletcher alluded to the fact that he will battle with Felix Sandstrom for that coveted roster spot.
These signings apparently fill the holes that the Flyers had last year, these signings are the "stabilizing" force to keep the Flyers from falling off their rockers again, these signings are supposed to make the Flyers tougher to play against – like we haven't heard that one before – and these signings are supposed to illuminate the fan base that they will be competitive "again".
Tony DeAngelo's trade and subsequent extension is essentially the biggest move the Flyers have made, and are seemingly going to make this summer. Fletcher was very high on the young defenseman and he likened the trade as sending the 39th overall pick for a 26-27 year old defenseman who can play "top pair minutes". He is of course alluding to the fact that DeAngelo played on the top pair last year with the Carolina Hurricanes but he forgets to mention that it was with Jaccob Slavin, who is widely considered an elite but also under the radar defenseman – one the Flyers don't necessarily have on the roster right now and that it was on a much better and well-oiled machine in the Carolina Hurricanes.
When asked if he would slot on the top pair, Fletcher said that the top 4 is essentially Provorov, DeAngelo, Travis Sanheim, and Rasmus Ristolainen with Cam York and Ronnie Attard battling for spots and then having Justin Braun and Nick Seeler as well helps the depth situation. "The goal is to have pretty good depth", and to be able to roll all 4 lines and all 3 defense pairings is going to be the main goal under John Tortorella.
When broached about the idea if this was a re-tooling year or a rebuilding year, Chuck looked a little flustered and said that this year will in fact be a re-tooling year and the biggest hurdle was the uncertainty with Ryan Ellis. He said that because they don't have a timeline, they don't know when and how they can utilize LTIR and alleviation of cap space, so acquiring Tony DeAngelo was somewhat of a safety net but also an added luxury if Ellis were to make it back.
Chuck Fletcher kept reverberating the notion of depth and how much they needed help on the backend after last season's debacle. He believes all these signings will help with the penalty kill, power play, goals against, and everything else that hampered them last year. Acquiring DeAngelo also helps on several levels because he can play top minutes, he can quarterback the top power play unit, and he's young and raring to make an impact. When asked about his decision on trading picks for some deals like Ristolainen and DeAngelo and not moving picks for deals involving James van Riemsdyk and Alex DeBrincat, Fletcher alluded that "sometimes there's a deal to be made, sometimes there isn't."
They weren't going to move the 5th overall pick under any circumstances and they believe that all their draft picks – Cutter Gauthier included – will make a greater impact down the road. It's an interesting take considering that most of the players drafted have an NHL ETA of at least 2+ years and Gauthier has already committed to collegiate hockey. Meanwhile DeBrincat, who is a 40 goal scorer on multiple occasions and is only 24 years old – which fits Fletcher's "core" of under 25 – could've been had for a prospect that could develop down the road. He also didn't want to move to any future picks to get out of a contract like James van Riemsdyk, he didn't want to comment any further but it seemed like they kicked tires on some deals but the framework involved draft assets that Fletcher deemed too valuable. "We don't have the cap space to pursue that kind of high-priced free agents", while also saying they'd have to move multiple contracts to make it work, and that either the cost of that would have been too expensive or you'd have to give up too many good players.
If that was the case, then that should've been ushered to us from January, not July 13th at 5:00 pm. Not after you extended Ristolainen to a 5 year-deal and not after you decided not to recoup the lost assets from a Ristolainen deal, not after you bungled the Claude Giroux trade, not after you hired a re-tooling head coach, and not after you traded more future assets – including a second round pick in 2024 – for DeAngelo. These are aggressive moves that have flummoxed the fan base that was urging for a rebuild and then when push came to shove for acquiring actual talent, they decided to sit back and actually try to think logically of where they are, how much money they have, and if a move of that calibre was even required. All of that should've happened months ago, way before the draft and free agency.
Now here we are essentially with the same team as last year with the exception of a healthy Sean Couturier, who by the sounds of things, is going to have a lot of pressure and burden placed upon him. Fletcher threw every egg in his basket and believes that a healthy Couturier and Kevin Hayes can really turn things around from their 61-point output. It also wasn't the greatest look when he threw the analytics team under the bus when asked about asset management with some of the trades he's made.
Add that to the Oskar Lindblom buyout from yesterday and it's been a rough 24 hours of PR nightmares for the Flyers. The Lindblom buyout was to alleviate cap space for a big move, no? If not, and it seems like that might be the case, he was essentially bought out for Nicolas Deslauriers, but at this point, who knows?
The Flyers have had a bad start to their summer, and it seems like they're going to double down on fixing their "depth" for 2022-23.