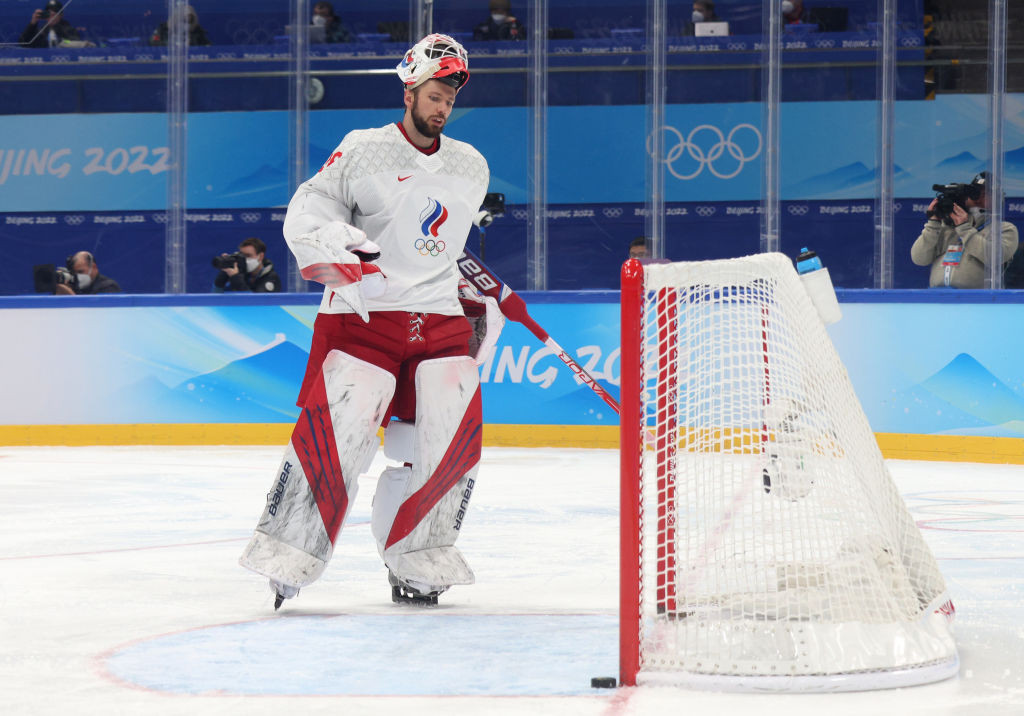 Ivan Fedotov and his lawyer hope for a reversal of fortune
The Ivan Fedotov saga has gone radio silent since the beginning of July when he was first detained, sent to train with the Russian Navy, and set to be deployed in September for military service. It was always going to be a sticky situation with the mandatory conscription in Russia but it seems like Fedotov and his lawyer, Alexei Ponomarev, are going to try and fight this case in court.
Ponomarev has asked a court in the region of Leningrad to revoke the decision that forced the detainment of the Philadelphia Flyers prospect Fedotov. The 25-year-old goaltender had just recently signed an entry-level deal with the Flyers and was a few weeks away from flying out to Philadelphia ahead of training camp in what was to be a very important season for the goaltender.
Instead, Fedotov was detained by Russian officials as they said he was trying to evade military enlistment. He was seized outside a practice facility in St. Petersburg and was then quickly transported in unmarked vehicles to a military registration and enlistment office. It was a difficult few days for everyone involved, there was a trip to the hospital, there were speculations on where he would be sent off to, maybe he would have to fight in the Ukraine, no one knew how long he would be detained for, the questions were running amuck.
In the end, it was reported that he would be stationed in an Arctic Russian Navy training facility until September where he would then be deployed elsewhere for a year of military service, thus ending any hope that he would be let go and allowed to play in the NHL for the Flyers. Russian officials, such as President of the Russian Hockey Federation Vladislav Tretiak, wanted to make sure that everyone knew things were okay and that they were just following protocol, "The law is the same for everyone."
Evidently not, as Russian conscription experts and other observers believe that Fedotov is being wrongfully punished and penalized for his desire to play outside of Russia and for a "western enemy" in the United States. Fedotov is coming off a fantastic season in the KHL for CSKA Moscow, where he finished the regular season going 14-10-2 with a 2.00 GAA and a .919 SV% but then kicked it up a notch in the playoffs as he helped lead his team to the championship with a 16-6 record, a 1.85 GAA, and a .937 SV%. Fedotov also had a sparkling performance at the Winter Olympic Games, where he went 4-2 with a .943 SV% and a 1.61 GAA as he won the silver medal for the Russian Olympic Committee team.
CSKA Moscow was once affiliated with the Soviet Army and seemingly still have ties, they are owned by an oil company in Rosneft, whose CEO is very close friends and allied with President Vladimir Putin, and the Russians take the KHL very seriously and don't take too kindly when any one of their native players leave for the NHL.
Russian conscription experts believe that at the end of the day, it was his ambition to play in the NHL that left Russia with no choice but to detain him and keep him from achieving his lofty goals and dreams in the United States.
Director of the Moscow-based non-governmental organization Citizen. Army. Law, Sergey Krivenko said, "This is illegal. It violates several articles of the law, but sometimes the authorities resort to this when it is necessary to punish someone and send someone to the army." He added that Russian men between the ages of 18 and 27 must complete the one year service if they are conscripted, however not everyone is called into action, and the ones who do get chosen are brought in for arbitrary reasons.
The elite and those with political connections are usually exempt from conscription and briberies are usually offered as well. He said that people within the KHL can call in a request and ask them not to choose someone because they will play, skate, and do well for their respective hockey teams. However, on the other end of the stick, if someone decides that he wants to leave, or if they have fallen out with the team, then they will most likely be called in for military service.
Fedotov's lawyer, Ponomarev, said that the lawsuit filed against Fedotov is illegal because he doesn't live in St. Petersburg, where he was originally detained and drafted. He continued by saying that "If the decision is found to be illegal, then he will be returned, regardless of whether he is already serving or not."