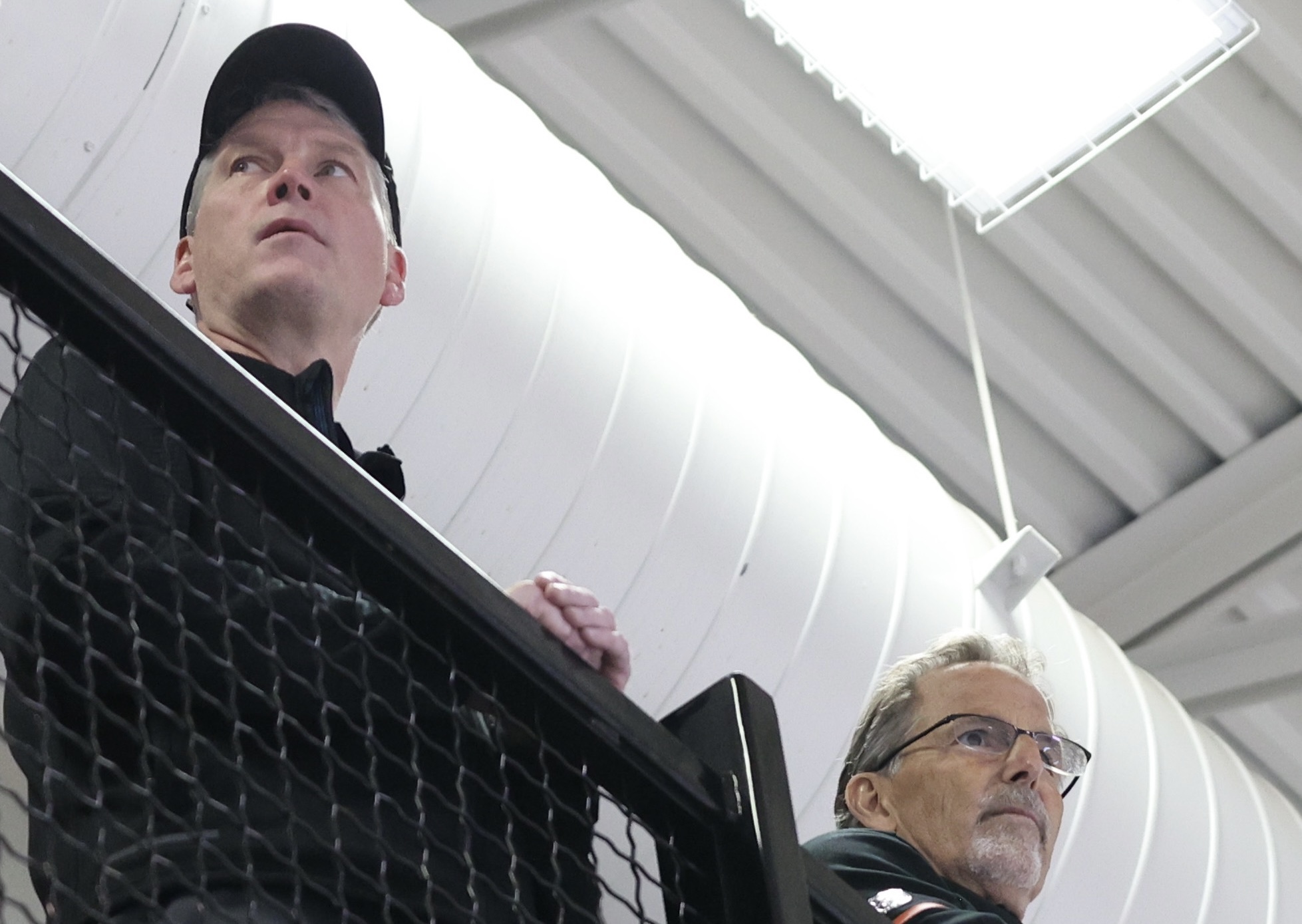 It's Time for a New General Manager with an Actual Plan in Philadelphia
It was tough to envision a general manager being more bashful and free-swinging than Paul Holmgren, and it was also tough to envision a general manager wasting more years than Ron Hextall's half-rebuild. Yet somehow, the Philadelphia Flyers found that general manager in the form of Chuck Fletcher.
Holmgren did very well in his first few years at the helm before going into ballistic mode after losing out in the Stanley Cup Final in 2010. Ron Hextall's plan and patience didn't pay off the way many had hoped but at the very least he had a "plan". 4 years into his tenure with the Flyers, Chuck Fletcher is on his third re-tool and the startling thing about this year's "aggressiveness" is that when push came to shove for marquee NHL talent – talent that he said he was looking for way back in January – he scoffed at the price of acquisition. Yet he was okay and willing to take on bidding wars for Rasmus Ristolainen and Tony DeAngelo.
If you're committing to a plan, you see it through until the end. The worst thing you can do is start with said plan and then back off when the going gets tough and sadly that's what we're seeing play out in Philadelphia.
This needs to be prefaced again and again but yes, the Flyers need a rebuild. The sinking ship that is Philadelphia hockey cannot undergo another re-tool, they should not do anything other than trade players for futures, and in keeping with that rhetoric, they did well with not trading the 5th overall pick.
However, that's not what the Flyers did at the trade deadline, that's not what the Flyers did at the NHL Draft, and that's not what the Flyers are doing with the free agent market as well. They had the opportunity to trade for Alex DeBrincat at the draft but they balked when Chicago asked for the 5th overall pick. Packages were being thrown around that Chicago would ask for the pick as well as roster players like Joel Farabee or Cam York, or even both but as we saw with how things unfolded, it was a trade for 3 picks that included Ottawa's 7th overall selection; a package the Flyers could've afforded.
Instead, Fletcher swung for a deal on the second day of the draft when he acquired pending restricted free agent defenseman Tony DeAngelo from the Carolina Hurricanes for a second round pick – the third consecutive second round pick he has traded away – a third round pick, and a fourth round pick. After making the trade, the Flyers then signed him to a 2-year deal worth $5 million annually. Taking the player's controversies and off-ice conduct aside, it's not entirely the worst deal on the planet – let alone on the team – but when you're paying Ristolainen and DeAngelo $10.1 million over the next 2 seasons when you're already in a cap crunch, it doesn't make sense.
There was a pressing need for defense because of the health and future of Ryan Ellis, but DeAngelo in no way, shape, or form can emulate what Ellis can, could've, or would've done for the Flyers. That $5 million could've been used elsewhere to find a more suitable replacement – that or they shouldn't have extended Ristolainen to a 5-year deal when you could've alleviated that cap space for a bigger fish in the summer and could've gotten at least a first round pick in return, which could've then either been kept for the future or included in a trade package for a marquee player.
Asset management has been abysmal at best with Fletcher at the helm as he traded picks to get rid of Shayne Gostisbehere, traded a trunk load for one year of Ristolainen, traded 3 picks for DeAngelo, and stood pat at the trade deadline when he could've gotten something for Martin Jones and Ristolainen as well. In total he traded a first round pick, 3 second round picks, a third round pick, a fourth round pick, and a seventh round pick to get the 2 defensemen. He willfully entered two bidding wars and seemingly came out on top since it was widely reported that the Flyers first round pick from last year was the highest first round pick offered by any team interested in Ristolainen.
The Athletic's Charlie O'Connor tweeted on Tuesday in response to a follower that DeAngelo had priced himself at $5 million, Carolina was not interested at that price so they let him find a team that he was willing to go to, and the caveat to getting a deal done was subsequently giving him an extension; which the Flyers did right away.
Because of how the trade played out.

Basically, TDA told Carolina he wanted $5 mil AAV. They said, we're not giving you that, but you can go see if anyone else will.

The Flyers (and I suspect a couple other teams) said they would. So the negotiating was mostly pre-trade. https://t.co/XdTZyfa3Q5

— Charlie O'Connor (@charlieo_conn) July 12, 2022
Full well knowing he was in a cap crunch, didn't have the necessary funds to even sign his RFAs, and would be priced out for any marquee talent on the 13th of July, Fletcher took the leap of faith and now here we are.
Alex DeBrincat could've been a Flyer, Johnny Gaudreau wanted to be a Flyer, but Chuck Fletcher decided to draw a line in the sand for them. He wanted Rasmus Ristolainen for years and did everything he could to not only trade for him, but to extend him as well. He wanted Ryan Ellis for years and did everything he could to trade for him, take on that enormous contract, even though there were pressing red flags at the time of the deal. He picked and chose how he wanted to manage the salary cap and it ended up biting him at the end when the Flyers finished 4th-last. Injuries played a big part, there's no doubt to that, but he iced an expensive team with middling talent. Kevin Hayes, James van Riemsdyk, Rasmus Ristolainen, Cam Atkinson, and Ryan Ellis combined for almost $32 million last year – which is way too much tied towards the cap for good-but-not-great talent.
Ellis' $6.275 million can figure into LTIR again since his return is in question, add that to the $3.33 million the Flyers have after the Oskar Lindblom buyout, figured in with the remaining $118,000 they had left to play with after the DeAngelo signing and that gives them just a shade under $10 million. They can go over the cap by 10% until the regular season starts, and the Flyers could've technically still gone after Johnny Gaudreau but it would've further complicated the situation. They have to trade James van Riemsdyk if they want to sign anyone worth having on the top 6. He's counting towards the cap at $7 million but only making $4 million in real money, which is a positive for most teams that would trade for him. However, the desperation that the Flyers have shown has given the rebuilding teams with ample amount of cap space, the wherewithal to ask for a valuable draft asset that the Flyers don't want to part with.
It was widely reported and believed that to unload his final year, they would have to attach a future first round pick and the most likely one would be the 1st round pick that the Flyers got in return for Claude Giroux from the Florida Panthers. Deals of this fashion have been executed time and time again and usually the cost is a second round pick but the Flyers don't have one until 2025 – after trading their 2022 second to Arizona, their 2023 second to Buffalo, and their 2024 second to Carolina. For an aggressive team like the Flyers and one that has traded draft picks for middling players, a first round pick 2 years down the line from a team that figures to be in the bottom of the draft order should be a shoe-in.
However, it has now been reported that teams are asking for the Flyers' pick in 2023 or even 2024. Who can blame them? Fletcher has put the Flyers in such a predicament that their desperation can be seen from a mile away, on top of the fact that the Flyers don't look any better than the team that was iced last year and finished 4th-last. Add in a healthy Sean Couturier and Kevin Hayes and there will be some improvements, but clearly not enough to get out of the draft lottery in a draft that is widely been talked about as being deep and loaded.
After whiffing on his second re-tool last year, with the injuries piling up, the season coming to a screeching halt in January, and Alain Vigneault getting fired; Chuck Fletcher should've followed suit. He attempted to right the ship but failed in back to back years and the Flyers needed a new path, a new leader, a new voice, and an actual plan to follow. Instead, they allowed him to stay on board, they allowed him to make deals at the trade deadline, or lack thereof, and then they allowed him to remain during the draft and free agency. He dipped his toes into the aggressive waters and went for it with guys like Ristolainen and DeAngelo but decided to balk at the chance of unloading van Riemsdyk for an opportunity to sign Gaudreau.
I say opportunity, but it is very public and widely reported that Gaudreau was ready and willing to sign with the Flyers. He was texting family and friends about his wanting to play for Philadelphia and left Calgary solely for the reason that he wanted to return home and be close to his family. The trade deadline should've been the first sign of a changing of the guard, where they should've traded every expiring contract for something. Now here we are and the mess is only getting worse. This is neither a rebuild nor a re-tool, it's something in between and that's somehow even worse.
If you're announcing to the world that you're going to be aggressive and go after the big names and try to make Philadelphia relevant again, you have to put all your chips on the table. You can't say one thing, start with it, and then stop all of a sudden because you got cold feet or don't like that the other teams – who know your plan – want to play hard ball.
Gaudreau wanted Philadelphia, and how many times have we been disappointed in the past when players either scoffed at the idea of playing here, or chose a different team, or wanted decided not to come here and instead play for their hometown team? Being born and raised in Toronto, I heard it all the time from Maple Leafs fans that "so-and-so wants to play for Toronto" or "so-and-so wants to come home, he's an Ontario boy". It's happened more times than you think, especially during the current Auston Matthews era, so it's disappointing to see the Flyers not try to make it work with the biggest free agent on the market. This time around, that hometown kid was Johnny Gaudreau and the Flyers decided that pushing assets for DeAngelo was more worth their time and effort compared to the player coming off a 115-point season.
You can twist it however way you want, but you would essentially be trading van Riemsdyk and a first round pick for Gaudreau, which is a trade you would do 11 times out of 10, but with the Flyers now pivoting away from Gaudreau as he signed in Columbus, the dream is lost, and the Flyers will be looking elsewhere for what seems like middling options that will serve more as secondary or tertiary scoring rather than the pressing need for primary assistance.
Things only got worse after the press conference yesterday when Chuck Fletcher said that the Flyers were never in on the Johnny Gaudreau sweepstakes and that the players they signed were the only players they were interested in. Which then begs the question of, who was fibbing? If you call this a re-tool, which Fletcher made sure to remind people,  then this was a very poor attempt at trying ameliorate a team that finished 4th last. He's putting a lot of onus and pressure on the return of Sean Couturier and Kevin Hayes, Nicolas Deslauriers doesn't add much other than a few fights, and Justin Braun's return doesn't push the needle any further than where it was last year.
After all that was said over the last 6 months, the Flyers in fact did the opposite, which only infuriated the fan base even more. The moves they made on Wednesday look more like that of a rebuilder or a team trying to tank and if that was the case, then why extend Ristolainen and why go out of your way for DeAngelo and then just stop there. As explosive as DeAngelo is offensively, he cannot be the biggest splash of your summer – whether you're a rebuilder or are re-tooling – it just doesn't make sense. Fletcher's banking on Ellis' return but I think someone ought to tell him that his future looks rather bleak if he hasn't even started the bulk of his rehab yet.
It's time to move on from this colossal mess and let someone new try to fix all that has gone wrong in the last 4 years and to whoever that may be, good luck and godspeed.