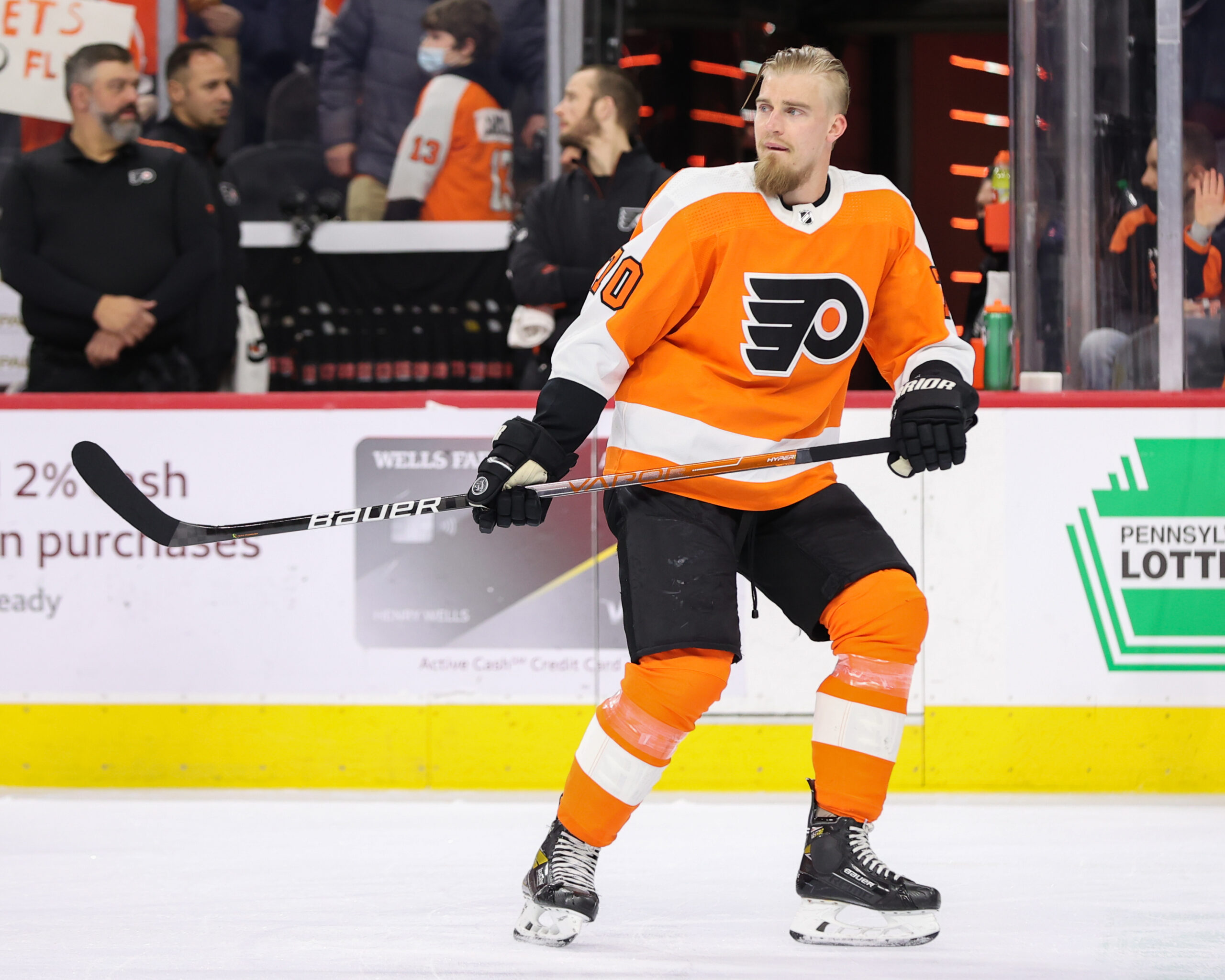 How Does Rasmus Ristolainen's Contract Look Today With the Flyers Pinching for Every Possible Penny?
We're less than two weeks to the date when the Philadelphia Flyers traded the 14th overall selection in the 2021 NHL Draft, a second round pick in 2023, and Robert Hagg to the Buffalo Sabres for Rasmus Ristolainen. The move came off the heels of Chuck Fletcher swinging for Ryan Ellis from the Nashville Predators and a day after trading Shayne Gostisbehere, a 2022 2nd round pick, and a 2022 7th round pick to the Arizona Coyotes as a salary cap dump to eventually alleviate Ristolainen's contract.
The following day, Fletcher completed his re-tool by swapping out Jakub Voracek to the Columbus Blue Jackets for Cam Atkinson. Fletcher was happy, Fletcher was content, and Fletcher got his man. He had wanted the hulking defenseman from the Sabres for a few years and with the opportunity ripe for the picking, he beat out several teams in a bidding war to get his prize.
The trade divided the fan base between people who liked the trade because of the aggressiveness, ferocity, and size that he would bring to a team that lacked all of the above. However, the other side preferred analytics and the numbers suggested that he was not worth the price of acquisition, let alone a second round pick. He was coming to Philadelphia with only a year left on his contract and Fletcher was adamant that he would get an extension completed at some point. His analytics were bad but the silver lining was that he would have a much lesser role in Philadelphia, which should've been beneficial. He won't have to play against the other team's best, he would be relegated to playing his game, his style, and all at his own pace. With Ryan Ellis and Ivan Provorov ahead of him and Travis Sanheim, that plan seemed to make sense on paper.
As we know, Ellis went down almost immediately, Provorov had to play with Justin Braun until the trade deadline, and the Sanheim-Ristolainen pairing needed some time to gel together. Provorov had an up and down season, so the Flyers had to rely on Sanheim and Ristolainen a lot more because the other options were nowhere near venerable. Nick Seeler, Keith Yandle, and Kevin Connauton were barely 7th defensemen, which made every shift tough to watch. Ristolainen and Sanheim actually played very well together – all things considered – but with more onus on the hulking Finn to play tougher minutes, he eventually started to crack as he resembled the Buffalo Sabre that fell out of favour. He was out of position a lot, deflected a lot of goals into his own net, went for the player more so than the puck when it came to finishing a play off, and offensively wasn't much of a threat – but that has a lot to do with the coaches not using him more on the power play.
In 66 games, he scored 2 goals and added 14 assists, was a -9, averaged the third most ice time on the team with 21:26 per game, and arguably had his worst statistical season since his rookie year, where he scored 2 goals and 4 points in 34 games. In a 5-year stretch, Ristolainen scored 32 goals and 203 points in 381 games, including 4-straight 40 point seasons, and was on his way to a 5th consecutive season had it not been for the COVID pause. In that time he fired 880 shots (2.3 per game compared to his 1.4 last year), and most importantly he added 95 power play points. The Flyers didn't use Ristolainen all the much with the man advantage and considering how porous their power play was, it was a little surprising that they didn't try to add his booming shot a little more than they did.
There was a random two week period before the trade deadline where they used him as a net-front presence but that came to an abrupt end right after he signed his extension. He did however almost match his career high in hits with 230 (career high is 235), added 125 blocks, and his minus-9 rating wasn't all that bad when you had players like Cam York at -14, Ivan Provorov at -20, Travis Konecny at -23, James van Riemsdyk at -33, and Keith Yandle at -47.
With the Flyers jumping ship on the expiring contracts of Claude Giroux, Justin Braun, and Derick Brassard at the trade deadline, the Flyers decided to hold onto Martin Jones because they wanted a veteran backup goalie for the end of the season and Rasmus Ristolainen, even though they could've recouped most of what they lost in the summer to acquire him. Rumours were swirling that Ristolainen's camp didn't want to stay in Philadelphia and if the Flyers wanted to keep him then they'd have to pay him $6.5 million-$7 million+ annually. After all was said and done, Fletcher stuck to his word and extended him to a 5-year deal that pays him $5.1 million annually, which is a shade under the $5.4 million he got in Buffalo. The Flyers also signed him because they were afraid they would be without Ryan Ellis for the foreseeable future and had they not given him the extension they would've only had Provorov and Sanheim under contract going into the summer of 2022. The extension was met with more disdain than his original trade and with good merit. The Flyers wanted to keep him at all costs, they didn't necessarily care for the future assets they could've recouped for him at the trade deadline, and he essentially fits the mold to their re-tooling plans.
In fairness, $5.1 million for Ristolainen is probably under his market value because there definitely would've been a team or two going upwards of $6M for Ristolainen on the open market. There was also a lot of interest at the draft when it came to acquiring his expiring contract, so the league was on notice of his capabilities but with the Flyers pinched for cash going into a summer with a very loaded free agent class; it might not have been the best move.
In terms of unrestricted free agent defensemen who fit the mold of Ristolainen but would've been cheaper to acquire, you have players like Nikita Zadorov, Ian Cole, and Jan Rutta. Other defensemen who could've been cheaper to acquire include Anton Stralman, Brett Kulak, and even Justin Braun. Josh Manson, Ben Chiarot, and Nick Leddy could very well command close to what the Flyers paid Ristolainen to stay in Philadelphia, and then of course you have Kris Letang and John Klingberg who should get above that. Ristolainen doesn't bring all that much to the table that would blow you away at $5.1 million and with where the Flyers are currently situated and how badly they want to make big moves, they could have easily used that money or most of it to help them acquire a bigger fish.
On top of the fact that they could've used whatever future assets they got from a trade deadline trade to help them acquire a player like Alex DeBrincat that they so desperately want. Instead of Chicago being fixated on the 5th overall pick, a pick between 15-19 could've been a lot more intriguing if they added more to it, especially considering that Chicago didn't own a first round pick in the 2022 NHL Draft before trading DeBrincat to Ottawa and Kirby Dach to Montreal.
If the Flyers focused and set their sights on an Ian Cole and a Jan Rutta, it seems like they could be had for anywhere between $4-$5 million and that's probably better bang for your buck. Even if the AAV is bang on, the 5-year term is also a little problematic because we've seen the same thing happen to a player like James van Riemsdyk. The idea was promising, the player had good years, but the contract aged very poorly.
So as the NHL Draft has passed with rumours flying all over the place, free agency coming in two days, and the Flyers circling every big name because of their promised "blank cheques"; maybe it would've been wise to hold off on the Ristolainen extension and use that money for a better purpose, especially after trading for and extending Tony DeAngelo on Friday to a similar salary. Trading van Riemsdyk has become the most important way to free up cap space, and they might have to trade Oskar Lindblom and/or Travis Konecny to open up space for a big fish like Johnny Gaudreau, Nazem Kadri, or whoever else they may want.
Ristolainen played okay in his first season with the Flyers and a lot more was asked of him due to the injuries surrounding his teammates. The Flyers are going to need a lot from him this season as well and with Ellis still on the mend and no timetable in sight, will Ristolainen be able to play up to his contract, or will the extension come back to bite them like the plethora of contracts before him? Every penny is meaningful to the Flyers this summer and with their plans being so high and mighty, one has to wonder where they're going to get that cap space from.