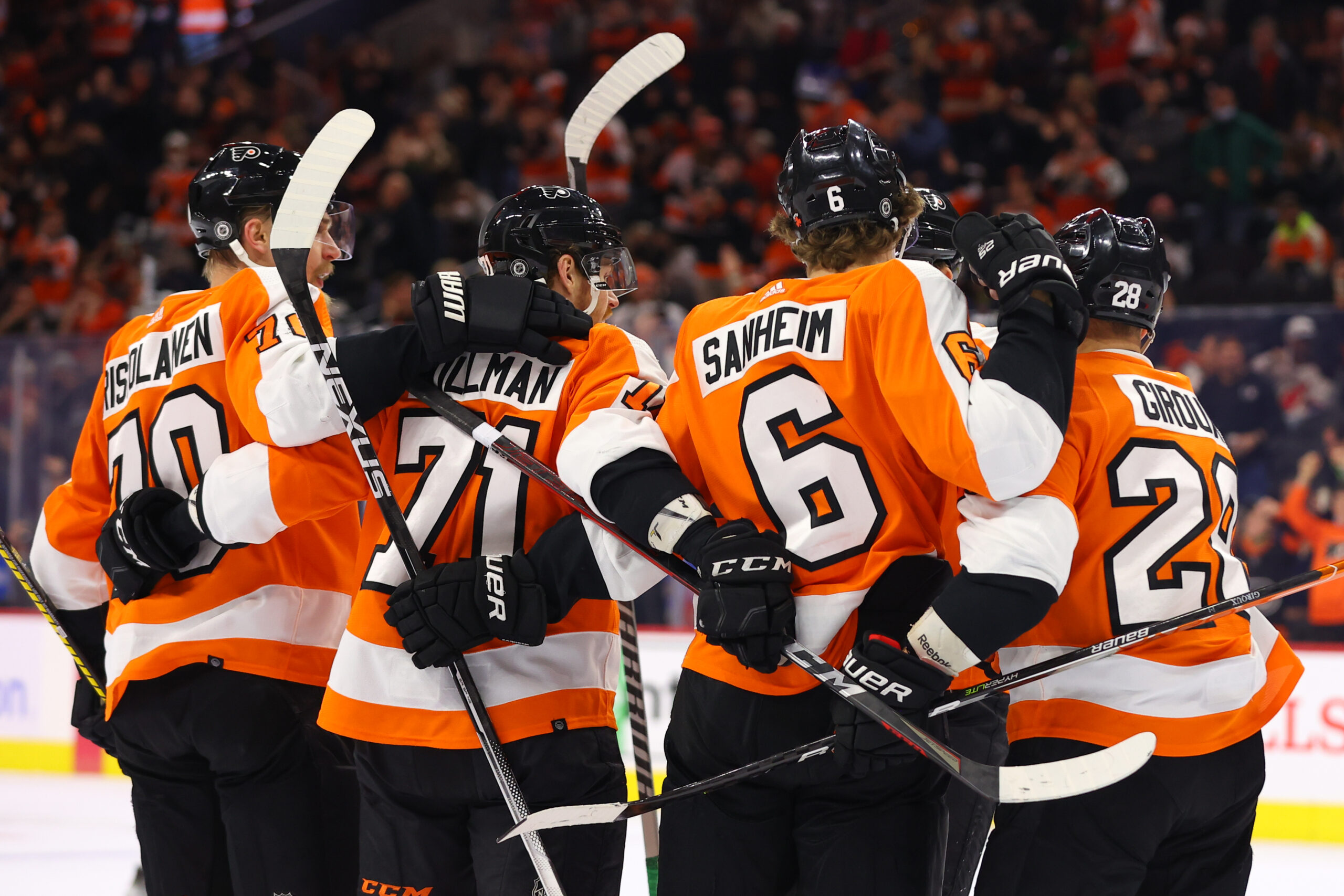 Top 10 Flyers Games to Watch This Hockey Season
As we prepare for this hockey upcoming season, let's look at the top 10 games that Philadelphia Flyers fans should tune into this season if they choose to watch any. 
October 13th vs. New Jersey Devils
The first game of the season is an obvious choice. The preseason each year is a great time to see young faces, fresh talent weaving their way into the team and a great sneak preview of what Phantoms are likely to get called up, but this is the game where it all counts. Our season is not only starting at home, but it's also against a team we can all comfortably root against. 
October 23rd vs. San Jose Sharks
Just 6 games into this season the Flyers will experience what is sure to be an emotional homecoming. Aptly on the 23rd, our favorite #23 in Oskar Lindblom will return to the Wells Fargo Center to what I can only imagine will be a beautiful standing ovation and presentation from the fans. Oskar and his battle meant, and still mean, a lot to the community who love the Orange & the Black, and we wish nothing but success for Oskar. 
November 12th vs. Ottawa Senators
Another emotional return to the Farg will be when Claude Giroux skates into town in mid-November. Playing 1,000 games for the Flyers before being traded to pursue a Cup, fans hoped that as an unrestricted free agent Giroux would re-sign this past offseason. After the way he was treated in the months approaching his trade, it is not shocking that he did not re-sign with the Flyers, as he chose to go close to home and his family, as he and his wife raise two future stars in Palmer & Gavin Giroux.
November 25th vs. Pittsburgh Penguins
The Black Friday game is a favorite tradition among Flyers fans. This game is so much better when not just facing someone within the Metro Division but the worst enemy of fans alike. With many Black Friday deals being online or in the days approaching Thanksgiving, there is no excuse to be tired and worn out before this 1:00pm start. Let's hope for a good game and earning 2 points to be extra thankful for this season. 
November 29th vs. New York Islanders
This game starts a solid five-game homestand. This is the first of two extended homestands for the year. It is early enough in this hockey season to either ramp up on a solid record or change the pace of a not-so-solid start. Included in this grandstand is another must-watch game against Colorado.
December 5th vs. Colorado Avalanche
There's nothing like the game against the most recent Stanley Cup Champs. With many of Colorado's notable names still on their roster, they'll be a great team to watch, and hopefully, our Flyers can help put on a great game. 
December 11th at Arizona Coyotes
This game is the only away game on this list of must-watches for the season. I firmly believe that home games are exponentially more fun, which then begs the question, why include this one? If you are unaware of the hockey happenings in The Grand Canyon State, the long story short is that the Coyotes were unable to renew their lease at Gila River Arena. They now will be sharing an arena with the Arizona State University hockey team. While I will be watching an earlier game for a home Arizona before December, this is a must-watch for anyone wanting to see a dumpster fire of an organization being pushed into a strange situation. The Coyotes are the relocation efforts of the original Winnipeg Jets, and this strengthens the case for them to be moved again.
February 6th vs. New York Islanders
This is the first game after All-Star Break. No matter what has happened, the team could turn around whatever mess they created the first half of the season. Knowing this organization and analyzing the moves made this off-season will likely be a prime recovery effort. That is unless they truly are having a #TrustTheProcess style tanking. Looking at how the Sixers are now after that, this is not an objectionable choice if the team can pull it off.
March 14th vs. Vegas Golden Knights
The second of two long stretches at the Farg, this seven-game homestand comes at end of the season. This could be the deciding factor of a playoff berth, tanking for the best chance of a first overall draft pick, or the cheapest home game tickets. The possibilities of what will come are as unpredictable as figuring out when Danny Briere will take over as GM.
April 13th at Chicago Blackhawks
This is frankly a day I think many of us will be excited for when the time rolls around. With the current roster and moves being made, this team is not at the same level as many in the Metro, let alone the league. While the Flyers, and the fans, are something to want to get behind, the past number of seasons have become unbearable by mid-April, and as much as a playoff run would be great, I cannot wholeheartedly expect it for '22-'23. 
Which games are you most excited for this season, if any? The full upcoming season schedule can be seen here!