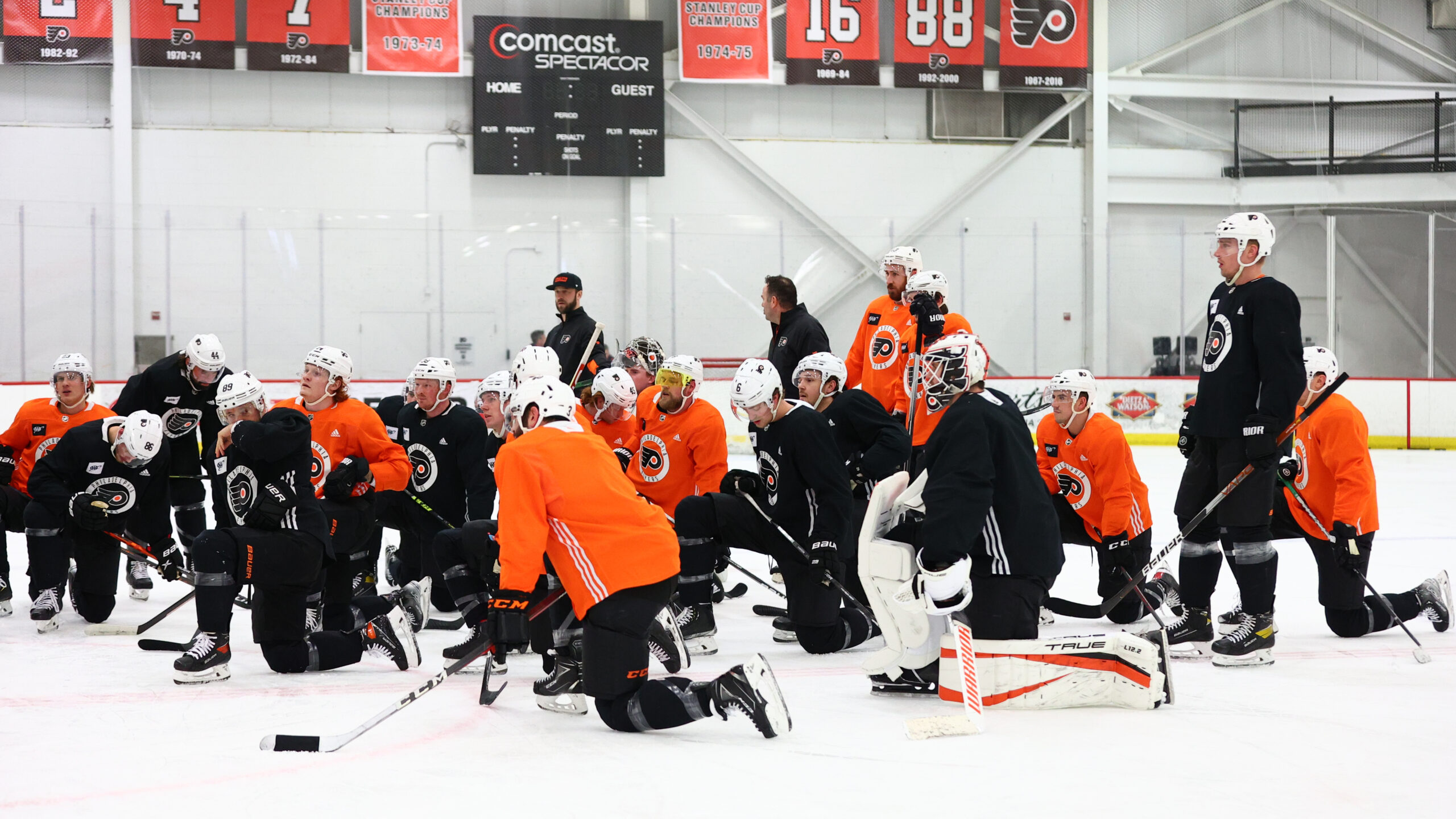 Projecting a Patient Flyers Rebuild: Part Three
We have reached the finale of our patient rebuild that we've mapped out for the Philadelphia Flyers. Part one focused on a coaching search and signing some prospects, and part two was about offseason trades to help create cap space and try to temporarily improve the roster. Today, we'll focus on the NHL Draft and draft day deals that we can make as we try to point the Flyers in the right direction.
DISCLAIMER: This is pure fiction. If this upsets you or your fanbase or the city you live in because my evaluation is incorrect, please accept this heartfelt apology (looking at you Sicko Sens fans). This is not real. This is merely a fun exercise to distract us from the Flyers' lost season and the natural existential pain that hampers us on a daily occurrence.
Remember, here's my self-imposed rules for this exercise.
This will be broken down into three parts, Part 1 is about Signing Prospects and Coaches, Part 2 focuses on Offseason Trades, and Part 3 will focus on the NHL Draft.
All trades will be cap compliant
I am not trading Joel Farabee because he is young enough to still be in his prime when a rebuild of 3 to 5 years is over, and I am not trading Carter Hart because the reigning Vezina trophy winner was literally traded for cap space this past offseason. Goalies are voodoo. Cam York stays and so does Zach MacEwen because he is my son. I do not care what Chucky Two Trades said about the core of the team, the way that this team has performed for the last two years, no one cannot be had.
I will ignore No Trade Movements/No Trade Clauses but I will try to move players with NMC/NTCs to positive teams where they would be most likely to waive their no trade clause to go.
2022 NHL Draft
The Flyers go into our 2022 NHL Draft after securing the 5th overall pick with a total of nine draft picks, with a draft pick in each round, including two in the 1st round and two in the 7th round. There is not a full consensus on the top pick but the closest is center Shane Wright from Kingston of the OHL. I would say that there is a top 6 in this draft in centers Wright, Matthew Savoie, Logan Cooley, winger Juraj Slafkovsky, and right-handed defensemen David Jiricek and Simon Nemec. We also have Anaheim's first round pick, which is 12th overall. While I do not see any of these six players falling out of the top 8, it would be fantastic to grab two of these six players. Note: The comparison is just of the playing style, not an exact comparison.
1st Round
TRADE:
PHI acquires: SEA 1st round pick (4th overall) and NSH 2nd round pick (52nd overall)
SEA acquires: ANA 1st round pick (10th overall) and Philip Broberg
SEA reasoning: Most likely each team is going to have a very different board and Seattle is able to pick up an NHL ready left-handed defenseman in Broberg for the price of moving down to select the same person they would have most likely taken at 5th overall. Seattle has a treasure chest of picks, so the 2nd round pick that they trade with moving down is not the end of the world. Broberg becomes their top defensive prospect and one that can slot into the lineup right away. Seattle still has 11 draft picks in this draft plus 3 in round 2. Seattle selected LHD Denton Mateychuk from the WHL, who is very talented and even though he had 64 points in 65 games, he would have been considered a reach at 5th overall. 
PHI reasoning: I believe the top tier of this draft is 6 people deep and this trade allows us to get back into that top tier. Broberg was a little blocked by Provorov, York, Edvinsson plus the depth of Zamula, Valimaki, and Hogberg. In this scenario, Montreal took Wright, New Jersey took David Jiricek, Arizona took Logan Cooley, This leaves 3 of our players of our top 6 still on the board with LW Juraj Slafkovsky, RHD Simon Nemec, and C Matthew Savoie still on the board.
4th Overall Pick – LW, Juraj Slafkovsky, TPS (Liiga), 6'4", 218lbs
Stats – 31 games, 5 goals, 5 assists, 10 pts (Regular Season), 18 games, 2 goals, 5 assists, 7pts (Playoffs), 18 games, 2 goals, 5 assists, 7 pts (Olympics), 11 games, 6 goals, 12 assists, 18pts (U-20 Finnish)
Reasoning: Slafkovsky could go first overall to Montreal. He has been a heavy riser in the 2nd half of the season that is buoyed by his 7-goal performance in the Olympics against men. New Jersey could also take him at 2nd overall but like the Flyers, they desperately need a right-handed defenseman and have drafted 8 forwards in the top 42 picks in the last 6 drafts that are still with the team. Slafkovsky is a monster of a man. He wins puck battles in the corners and is a puck possession demon. He is the future of power forwards in the NHL. He is strong and mean but also has an above average release and shot. He is a good skater and above average skater for his size. He projects as a top line forward in the NHL and could play in the NHL as soon as next year.  
Comparison: Mikko Rantanen, a big bodied forward with a great release, who had a similar draft year in the same league to Slafkovsky. 
5th Overall Pick – RHD, Simon Nemec, HK Nitra (Slovakia), 6'1", 192 lbs
Stats – 39 games, 1 goal, 25 assists, 26 pts (Regular Season), 19 games, 5 goals, 12 assists, 17 pts (Playoffs)
Eye-Test: Nemec made his debut in the top league in Slovakia when he was 16 years old. He has top pairing upside and could be the first overall pick in certain situations. Nemec had a very good regular season but was on an absolute tear in the playoffs.  Nemec's team lost in the Slovakia Finals to HK Bratislava (insert Euro-Trip joke). Nemec lead defensemen on his team in points in the playoffs. He is a very smooth skater and is another player with elite hockey IQ. He may never lead the league in scoring, but he will be a big-time minute eater and impact the game positively. Nemec will be the Flyers top right-handed defenseman prospect of the last 30 years. After adding Slafkovsky with the 4th pick, we add his countryman Nemec with the 5th pick. Giving the Flyers two studs at wing and defense. 
Comparison: Charlie McAvoy, a rock back on the blueline that gives 22-25 minutes a night
2nd Round
51st Overall Pick – Right Wing, Jagger Firkus, Moose Jaw (WHL), 5'10", 153lbs
Stats – 66 games, 36 goals, 44 assists, 80 pts (Regular Season), 10 games, 6 goals, 6 assists, 12 pts (Playoffs)
Eye-Test: Firkus is a very small player who was first in scoring for one of the top teams in the WHL. Firkus is one of my favorite players on this draft. He has a great compete level and has enough skill to be a difference maker in the NHL. He is the top goal scorer for Moose Jaw. He is another top riser in this draft process and would be cemented as a 1st round pick if he puts on 20 pounds. He projects as a top 6 winger or as a NHL/AHL tweener if he is unable to put on enough muscle to match physically at the NHL level. 
Comparison: Brayden Point/Alex DeBrincat, an undersized player who is overlooked because of his size despite having the production of a 1st round pick
TRADE:
PHI acquires: DET 3rd round pick (73rd overall) and DET 4th round pick (105th overall)
DET acquires: NSH 2nd round pick (52nd overall)
DET reasoning: Detroit has a treasure trove of draft picks and draft picks from previous drafts. They use their surplus to trade up and nab someone they have high up on their board which was left-handed defenseman Mats Lindgren from Kamloops of the WHL. Lindgren has 44 points in 68 games. It is a good possibility that he could sneak into the last few picks of round one. 
PHI reasoning: We did not have a player that we thought was worthy of the value of this pick, so we moved down and picked up additional draft capital. We are all about increasing our chances of adding more NHL talent but adding another selection. 
3rd Round
70th Overall Pick – RHD, Christian Kyrou, Erie (OHL), 5'11", 183lbs
Stats – 68 games, 18 goals, 42 assists, 60 pts
Eye-Test: The younger brother of Jordan Kyrou, Christian was a day away from being eligible for the 2021 NHL Draft. Kyrou did not play during the 2021 OHL season so he must catch up with some of his development. Kyrou is a new age defenseman. He is smallish and offensive minded player. Much like current Flyers player Ronnie Attard, he has a huge shot and some solid puck moving skills. Kyrou was 3rd on his team in scoring and led all defensemen on his team in plus/minus with a minus 3. Erie did not make the playoffs and had a negative 44 goal differential. Despite not being a defense first defenseman, he did not cherry pick offensively. Only 2 of his 18 goals were on the power play so Kyrou can affect the game offensively at 5 on 5. He also had 193 shots which is about 3 shots on goal per game. 
Comparison: former Flyer Shayne Gostisbehere, an undersized offensive defenseman who works on the first power play unit
73rd Overall Pick – Right Wing, Devin Kaplan, US National Team, 6'3", 198lbs
Stats – 75 games, 21 goals, 35 assists, 56 pts
Eye-Test: Kaplan is committed to Boston University in 2022-23. Kaplan is also a native of New Jersey. Kaplan is a big-bodied individual with some serious snarl. Fletcher has drafted a USNT member in two out of three drafts (Cam York, Bobby Brink and Ty Murchison). The Flyers need some size and guys who can come away with the puck in the corners. Kaplan projects as a bottom six forward but one who can be useful without hurting his team. Kaplan hits, provides depth offense, and wears down the opposition with his power forward abilities. The Flyers do not have much of this outside of newly acquired Tyler Boucher and Noah Cates. 
Comparison: Sammy Blais, an above average sized forward who never gives up on a puck. Probably at his peak averages 15 goals and 15 assists. 
4th Round
105th Overall Pick – C, Fraser Minten, Kamloops (WHL), 6'1", 185lbs
Stats – 67 games, 20 goals, 35 assists, 55 pts (Regular Season), 17 games, 6 goals, 10 assists, 16 pts (Playoffs)
Eye-Test: Minten is one of my favorite players in this draft. He has above average size and won't be 18 years old until August. He is one of the youngest players in this draft. Minten is a natural center having taken almost 1,200 faceoffs this year. While he has only won about 46% of them, he is young and still growing. Half of Minten's goals have come on the power play so he is a fantastic net front presence. Minten is also a part of Kamloops' top penalty killing unit. Minten projects as a bottom six center. He is a heart and soul type of player that can be paired with someone like Devin Kaplan in the future. Minten is another player that is hard to play against. 
Comparison: Scott Laughton. Future Center that can play all situations. 
110th Overall Pick – LW, Viktor Neuchev, Avto Yekaterinburg (MHL), 6'2", 165lbs
Stats – 61 games, 40 goals, 27 assists, 67 pts
Eye-Test: More size and more skill. Neuchev could be taken in the first couple rounds but falls due to the Russian Factor, which is more impactful than ever due to the unrest in that part of the world. Neuchev was the top scorer for his Russian Junior team by 27 points. No other player on his team had more than 16 goals while he had 40. Neuchev was a one-man wrecking ball. Neuchev was the top scoring U18 player in the MHL and only had one less goal than the player who led the MHL in goal scoring. Neuchev needs to add some weight to his frame and the Flyers own his rights indefinitely. This is a player who you let develop in the MHL and hopefully the KHL. This is a draft selection that you hope will pay off three to five years down the road. 
Comparison: Nikita Gusev, long-term one-dimensional project that just scores in bunches. 
5th Round
134th Overall Pick – LW, Julian Lutz, EHC Munchen (DEL) 6'2", 185lbs
Stats – 14 games, 1 goal, 2 assists, 3 pts
Eye-Test: Lutz came into the season with high hopes of being a top 64 pick. Injuries have only made him available for 14 games plus a couple games with German U18 team. Lutz is another power forward which has been a motif in the middle rounds. He is playing against men in the top German league. Lutz did not make it into any playoff games for Munchen. This is not ideal, but he just turned 18 years old. He is going to be another long-term project who projects as a middle 6 forward. His best attribute is speed and forecheck abilities. Flyers desperately need speed. Lutz checks that box for them. Lutz has some draft year similarities to Oskar Lindblom. Both came into the season with great promise but fell down the draft board due to injury. 
Comparison: Carl Hagelin, bigger but speedy and great at tracking pucks. 
6th Round
166th Overall Pick – RHD, Vinny Borgesi, Tri-City (USHL), 5'8", 172lbs
Stats – 57 games, 5 goals, 32 assists, 37 pts (Regular Season), 5 games, 2 assists, 2 pts (Playoffs)
Eye-Test: Borgesi is committed to Northeastern University who has been a powerhouse in college hockey the last couple years. He is also from Philadelphia and played for Team Comcast. He is another player that Flyers' scouts should be aware of. Tri-City is one of the top teams in the USHL and Borgesi is one of the team best for plus/minus on the team with a +33. The Flyers are drafting heavily at center and right-handed defensemen. Borgesi is another piece that gives depth to areas of need. Northeastern has been a good development program for defensemen like Josh Manson, Jamie Oleksiak, Jordan Harris, Matt Benning, and Anthony Bitetto. 
Comparison: Jaccob Slavin, who Borgesi has nearly identical production in the same league in his draft year. 
7th Round
198th Overall Pick – RW/C, Michael Callow, St. Sebastian's School (US-PREP), 6'4", 198lbs
Stats – 25 games, 26 goals, 15 assists, 41 pts
Eye-Test: While 26 goals in 25 games might seem to jump off the page, Callow played at a low level versus the other players drafted. Callow has excellent size and he shares an alma mater with current NHL player Brian Boyle. Callow is clearly a smart individual on and off the ice. He is committed to Harvard in 2022-23 and should be able to help them get back to winning Ivy League Championships and the College Hockey Tournament. Callow already has NHL size but must work on the small parts of his game to become a more complete player. Callow will join several other NHL draft picks at Harvard including newly acquired Matthew Coronato from the Flames trade. These are the type of players that I like to use later picks on. You do not have to sign him to a contract for 4 years and can wait to see how he develops. 
Comparison: Alex Killorn. A player you select and then let him develop at his own pace. 
216th Overall Pick – LHD, Lukas Gustafsson, Chicago (USHL), 5'10", 190lbs
Stats – 59 games, 11 goals, 27 assists, 38 pts (Regular Season), 3 games, 1 goal, 1 pt (Playoffs)
Eye-Test: Gustafsson is the only overager in this draft class that we have. Gustafsson is committed to Boston College in 2022-23. He has been playing for the USHL top team Chicago. He won a Clark Cup last year with them and is trying to repeat with them. Gustafsson is a minute eater for Chicago and leads defensemen in goals. His development was stagnated last year by playing for such a stacked team. This year it is his team and he is on the top pairing. Gustafsson projects as a bottom pairing defenseman that can play the penalty kill. We will hold his rights for 4 years. 
Comparison: Danny DeKeyser, a smart defenseman that takes time to develop but has two-way upside
Overview
The Flyers added 11 prospects (7 forwards and 4 defensemen). We ideally would've liked to select a goaltender with that many selections, but this is a bad year for goaltenders, and we have 5 goaltenders under 25 years old plus one who we drafted in the 3rd round Alexei Kolosov who is having an excellent year. We focused on centers and right-handed defensemen that have high upside. Slafkovsky and Nemec become the Flyers' top prospects and if they can be on the roster by the 2023-24 season, then we could have two 19-year players contributing at the NHL level. Every other prospect we probably won't see for 3 to 5 years. Firkus could contribute sooner. That is okay because the Flyers in this scenario have a ton of depth that is ready to play now with the new acquisitions. We also have 18 draft picks in the next two drafts including 6 first round picks. That is enough to turn the tide of this patient rebuild especially if one of those picks falls in the top 3 where we could get a generational talent. We could also use some of these picks to go get young, cost controlled talent.