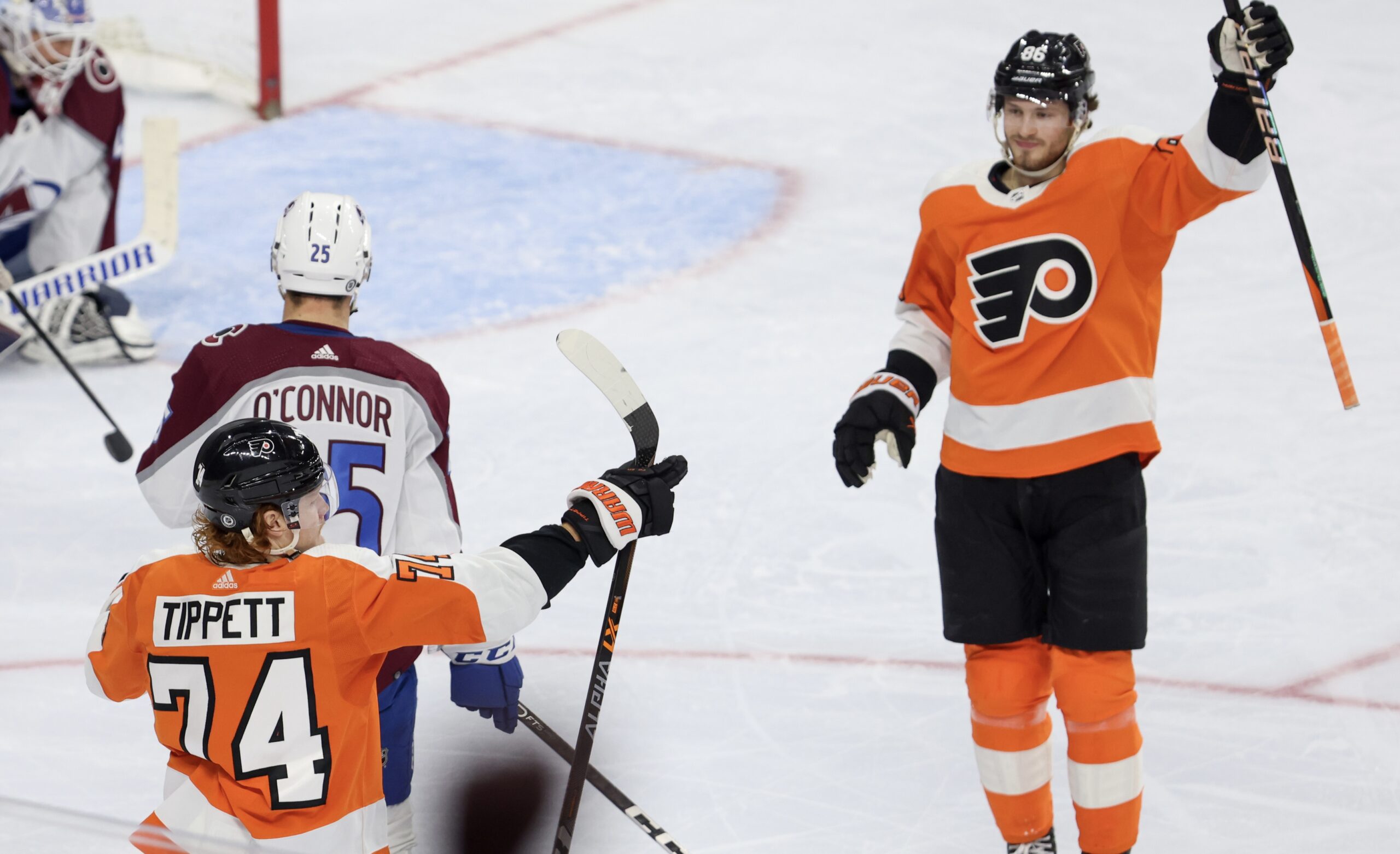 Heading into the 2022-23 regular season, the Philadelphia Flyers had so many question marks up and down their roster. Offensively they were going to be inept without Sean Couturier, Cam Atkinson, and Ryan Ellis. Joel Farabee made a quick and speedy recovery to crack the opening night roster, however with so many young players, Kevin Hayes, Travis Konecny, and James van Riemsdyk had to take the baton and lead.
Wade Allison, Noah Cates, Nicolas Deslauriers, Joel Farabee, Morgan Frost, Kevin Hayes, Hayden Hodgson, Travis Konecny, Tanner Laczynski, Scott Laughton, Owen Tippett, and James van Riemsdyk started the season opener against the New Jersey Devils.
Farabee came back sooner than expected from his offseason surgery, Frost was entering a "prove-it" season after signing a one-year deal in the summer, Tippett had a lot to prove as well after being the jewel of the Claude Giroux trade, Cates had a good 16-game run at the end of the season, Laczynski and Hodgson had to prove they were worthy of sticking around, Allison was expected to have a large role, and the rest were veterans that were going to be heavily relied upon
In other words, it wasn't expected to be a season filled with goals unless everyone clicked at the same time.
Konecny paced the club with 31 goals and 61 points – in just 60 games – Hayes right behind him with 54 points, Tippett notched 27 goals and 49 points, Frost recorded 19 goals and 46 points, and Laughton rounded out the top-5 with 18 goals and 43 points.
Farabee finished with 15 goals and 39 points, Cates completed his rookie season with 13 goals and 38 points, van Riemsdyk recorded 12 goals and 29 points, and Allison had 9 goals and 15 points. So it's no surprise that the Flyers finished the season with just 220 goals, which was good for 4th last in the NHL.
Heading into 2023-24, the story is a little different.
Sean Couturier and Cam Atkinson are expected to return to the lineup after their lengthy absences, Morgan Frost and Owen Tippett look to improve on their career seasons in 2022-23 and continue to handle top-6 duties, Noah Cates will have a slightly different role with Couturier returning but still should feature aplenty, Joel Farabee looks to bounce back after a tough start to the season, and Travis Konecny would like to add to his 30-goal and 60-point campaign.
That doesn't include Scott Laughton's increased role in the offense, Tyson Foerster's rookie season, and tertiary scoring from Nicolas Deslauriers, Ryan Poehling, and Garnet Hathaway.
It's not going to be pretty but the Flyers are well positioned to improve from last season – at least offensively. The main difference is that Couturier and Atkinson are set to replace the departed Hayes and van Riemsdyk. After that there is a lot of hoping and believing that certain players will improve on their 2022-23 season, or at the very least replicate it. With John Tortorella's system taking shape, it's not so much about learning or learning on the fly, it's about executing in year 2.
Couturier, Atkinson, Konecny, and Farabee are going to be the seasoned pillars of this offense and they all have the capabilities of breaking past the 25-goal and 50-point plateau. The health concerns are ever-present, especially with Couturier,  but it's unfair to just assume that he won't ever be the same or come close to what he was doing before he got injured. It might take some time for him to adjust – after missing over a year and a half of hockey – but he has the intangibles, work ethic, and skill to lead this team once more.
Atkinson has a history with Tortorella and they really clicked when they were together in Columbus. Between 2016-17 and 2018-19, Atkinson scored 100 goals and 177 points in 227 games, including a career-high 41 goals and 69 points in 2018-19. In his first season with the Flyers, Atkinson scored 23 goals and 50 points, which included 22 goals and 46 points in 60 games before Claude Giroux was traded. Coming back from injury is always tough, but similarly to Couturier, it's unfair to just assume he's not going to be the same player he was pre-injury.
Konecny is the engine of this team and he proved that last season with is 31 goals and 61 points in just 60 games. He came into the season with just 27 goals in his previous 129 regular season games, while also not scoring a single goal in the COVID bubble which spanned 16 games. He had shot a career-low 7.3% in 2021-22 but finished on a high note that seemingly followed him in 2022-23. He is the Flyers top winger and is expected to assume a similar role, which netted him 20:07 ATOI – 2.5 minutes more on average than his previous high.
Farabee is entering his 5th NHL season with the Flyers hoping that he can take the reins of a top-6 winger. He has 60 goals across 4 seasons – 252 games – and had everyone on their feet when he potted 20 goals in 2020-21. He scored 17 in 2021-22 with just 17 assists in 63 games and this past season he scored 15 goals and 39 points in a full 82-game season. He struggled with his injury recovery and it showed with a 26-game goalless drought where he only added 4 assists along the way. Farabee did finish the year with 6 goals and 12 points in 15 games and he was extremely noticeable as it became apparent that the rust from his injury was wearing off – but a little too late.
Then that brings us to the second tier of forwards, which includes a young cast and crew of Owen Tippett, Morgan Frost, and Noah Cates.
Tippett was a revelation and played to his 1st round draft moniker with 27 goals and 49 points. He finished the season with 231 shots, 17:26 ATOI, and 8 power play goals. Frost did nearly the same, as he not only crushed his previous career-best numbers, but took a massive step forward under Tortorella with 19 goals and 46 points. He finished the season with 40 points in his final 54 games, which paced the club and he finally looked every bit like the first round pick from way back in 2017.
Cates' numbers weren't entirely eye-popping at first, but once given the opportunity with better forwards, he not only produced offensively but he didn't lose a step defensively either. He was Tortorella's reliable two-way centre in the absence of Couturier and he took advantage of every shift, every second, and every minute he was on the ice for.
The Flyers will desperately need Tippett, Frost, and Cates to supplement Couturier, Atkinson, Farabee, and Konecny at the top. Secondary scoring has always been an issue for this club and that has stemmed from a lack of star power, offensive talents, and everything in between. The Flyers have a good cast and crew that will crowd the top-6 but can't afford to have slow starts and inconsistent patches from this particular group – maybe with the slightest of exceptions for Couturier just to start.
Scott Laughton was the Swiss army knife that played all over the lineup, in all situations, and finally found some offensive consistency. He formed a lethal duo while shorthanded with Konecny, he is equipped with a never-ending motor, and was another player that took advantage of the Tortorella system. Laughton is best suited as a top-9 forward and with reinforcements making their way back into the lineup, the Flyers won't need to rely on Laughton for primary scoring – he will be much better suited elsewhere in the lineup.
Tyson Foerster will need to win a roster spot out of training camp but has a leg up on his competition after a scintillating 8-game stint before being sent back down to help the Lehigh Valley Phantoms' playoff push. He scored 3 goals and 7 points and made an impact in nearly every game, while receiving glowing comments from both Tortorella and Ian Laperriere. He led the Phantoms in points and is expected to make the leap over to the Flyers to start the season as their most promising rookie since Nolan Patrick's debut in 2017.
The fourth line will have Nicolas Deslauriers and Garnet Hathaway on the wings with – most likely – Ryan Poehling as the centre. Poehling will need to win a roster spot out of training camp but he provides the Flyers with the best option down the middle for the bottom-6. Hathaway is good for double digit scoring, penalty killing, and responsible two-way play, while also providing an aggressive nature. He will fit in perfectly with Deslauriers who will always finish his checks, block shots if need be, and drop the gloves without a shadow of a doubt. Deslauriers can add some tertiary scoring but provides more value for his energy and spark.
There are a few roster hopefuls in Wade Allison, Elliot Desnoyers, Olle Lycksell, and Tanner Laczynski but will find it hard to crack the lineup without either a standout performance in training camp or injuries in the top-12.
The Flyers won't be a scoring machine but I'd find it very hard to believe that they won't top 2022-23. Couturier and Atkinson are a far more productive duo than Hayes and van Riemsdyk and they provide so much more than just goals and points. Konecny and Farabee will need to provide primary scoring along the wings, Tippett and Frost need to put a stamp on their young careers with back-to-back successful campaigns – this time seasons that include 20+ goals and 50+ points – Cates and Laughton should provide Swiss army knife intangibles in the middle of the lineup that will help Tortorella with matchups, situational hockey, and playing to his strengths, and Foerster's rookie season should provide fireworks.
Gear up Flyers fans because 2023-24 should be a lot more enjoyable than 2022-23. The two biggest caveats and hindrances to this illustrious plan is health permitting and needing their top players to be consistent, which has been a problem for the offensively starved basement-dwelling club over the last several seasons.
They have a system in place, a core intact, and veteran leaders that actually lead by example. That's all you can ask for from a team in the early stages of a rebuild.
2024 Stadium Series Trip
Flyers Nation and Philly Sports Trips have teamed up to bring you on an amazing bus trip to the 2024 NHL Stadium Series between the Flyers and Devils. Place an early deposit to reserve your spot at the ultimate tailgate experience at MetLife Stadium before the game. The package includes a game ticket, round-trip charter bus, an all-inclusive tailgate party with unlimited cold beverages, "Philly Style" catered food, live entertainment, and more.