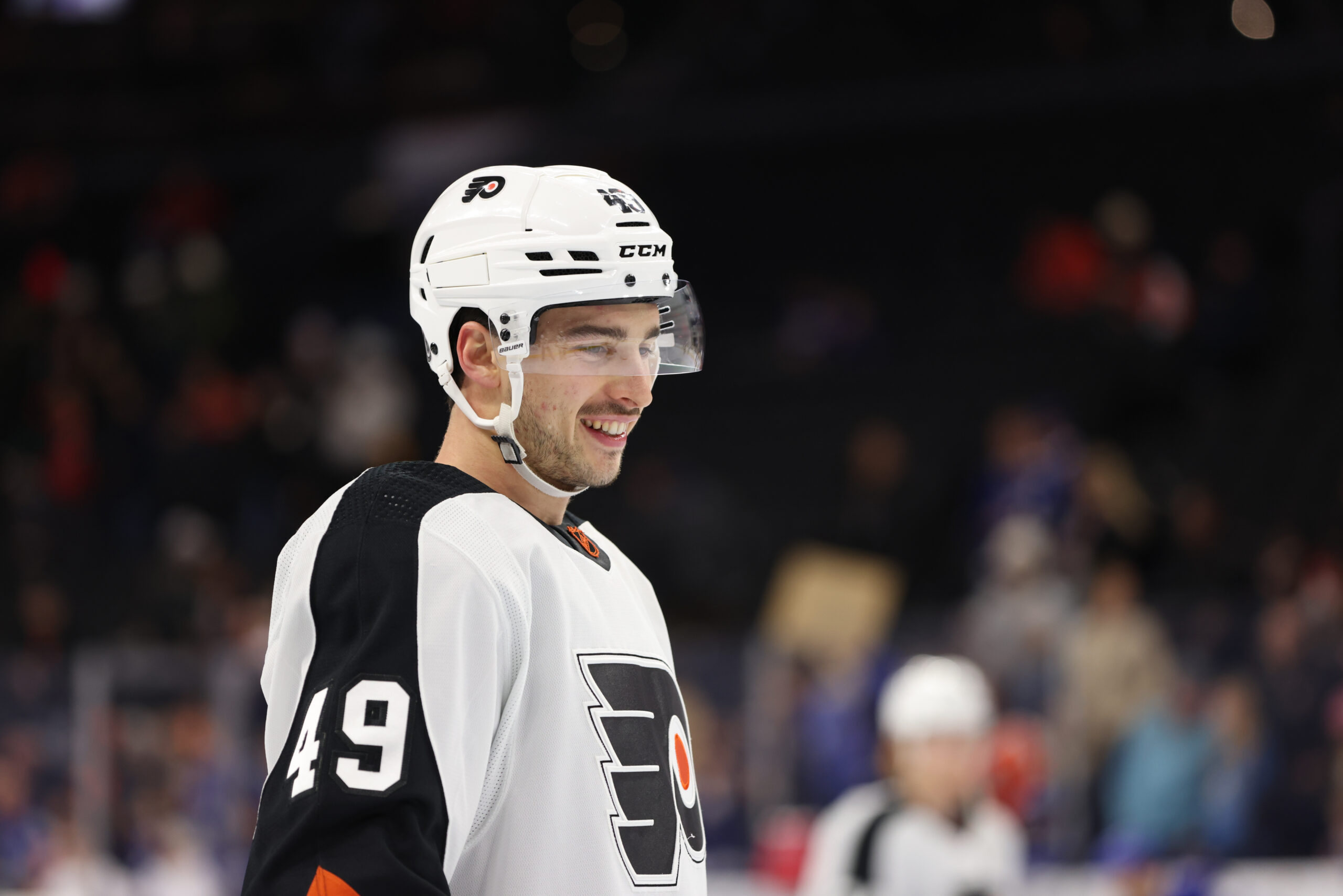 Every head coach has their favourites and – for lack of a better term – their not-so favourites and John Tortorella is no different. Dave Hakstol preferred his veterans like Jori Lehtera, Valterri Filppula, and Andrew MacDonald. Alain Vigneault wasn't a fan of Nicolas Aube-Kubel, Jakub Voracek, and Shayne Gostisbehere. Now with another head coach at the helm we are witnessing another pattern, this time around Tortorella as he is rewarding and preferring his younger players instead of the veterans who were shoved down our throats over the years.
Noah Cates played 16 games last year after signing his ELC near the end of the season and scored 5 goals and 9 points, averaged 13:15 of ice time, and really wowed the front office and the coaching staff with his "advanced" hockey IQ. No one really knew what to expect heading into the offseason but after the injuries kept piling up before and after training camp, Cates was one of the lucky ones to get promoted up the lineup. Unlike some of his teammates, he has stuck around in the top-6 all season long and has been relied upon heavily by Tortorella in high pressure situations.
Cates is only 1 of 5 players who has played in all 36 games alongside Joel Farabee, Travis Sanheim, Ivan Provorov, and Nicolas Deslauriers. He currently sits 10th on the team in goals and points with 3 and 12 respectively and tied for 7th in assists with 9. Cates is also one of 12 skaters who has a plus/minus rating of even or higher and only one of 8 skaters who have played over 15 games with a plus/minus rating of even or higher.
In terms of average time on ice, Cates is 9th in with 17:56, which is also 4th-highest for a forward behind only Travis Konecny (20:30), Scott Laughton (18:43), and Kevin Hayes (18:32). His ATOI is only a few seconds behind a few defensemen like Cam York (18:36) and Rasmus Ristolainen (18:17). In terms of total TOI and actual minutes, Cates is 5th with 646 minutes behind only Ivan Provorov (841), Travis Sanheim (759), Tony DeAngelo (754), and Kevin Hayes (649). While playing all these minutes – high leverage minutes to boot – he has only committed one minor penalty as he currently stands with 2 PIMs all year long.
Another key part of his resume is his 200-foot game. He is technically 7th on the team in defensive zone faceoff starts at 58.3% but in terms of players who have played over 15 games, he is only behind Patrick Brown (74.1%), Rasmus Ristolainen (60.4%), and Zack MacEwen (59.4%). He also leads the team with 25 takeaways to only 10 giveaways, which is 7 more takeaways than Scott Laughton (18) who is second on the team and 8 more takeaways than Owen Tippett and Morgan Frost (17).
He started the season off rather slowly as he only scored 1 goal in the first 11 games – a game winning goal against the Tampa Bay Lightning – and he only fired 5 shots on goal and averaged 17:28 TOI as Tortorella was tinkering with his combinations and trying to figure out what works. Since then, he has accrued 2 goals and 11 points in his last 24 games, while getting a boost in ice time to 18:09 ATOI. He doesn't shoot the puck as much as he only has 41 on the season, but he has also played a role on the second unit of the power play (78.8 minutes) and plays pivotal minutes while shorthanded (74.1 minutes).
The Flyers' top-6 hasn't really changed all that much in the last month or so as Tortorella has found his pair of trios in James van Riemsdyk-Morgan Frost-Owen Tippett and then Joel Farabee-Noah Cates-Travis Konecny. Sometimes he'll juggle around as we saw against the Toronto Maple Leafs where he had Frost with Konecny and Farabee and Cates was with Tippett and van Riemsdyk, but overall it's relatively the same as he isn't looking to keep changing things around – especially if something is working.
Noah Cates is a happy surprise for a team that hasn't had many over the last several seasons. He was a 5th round pick in the 2017 NHL Entry Draft, where the Flyers selected Nolan Patrick, Morgan Frost, and Isaac Ratcliffe within the first 35 selections. They also took Kirill Ustimenko in the third round and Matthew Strome and Maksim Sushko back-to-back in the fourth round, before finally settling on Cates at #137.
He stands at 6'1" but only 165 pounds, which is somewhat undersized for an NHL centre, especially one that is over 6 feet tall, however wherever he's gone he has succeeded and wowed his coaches at every level. In his final year with the Omaha Lancers of the USHL, he scored 21 goals and 55 points in 60 games. That led into his 4 years with the University of Minnesota-Duluth where he scored 39 goals and 99 points in 139 games. He is also one of only a few players who went straight from college to the NHL without having to play in the AHL.
Cates will continue to grow and get better under John Tortorella's system as we have witnessed in the first 36 games to date. Before the season started the Flyers had plans of having Cates learn under the tutelage of Sean Couturier as well, who they are hoping he tries to resemble his game after.
Only 52 games into his NHL career, he has done admirably in all situations, and for how bad the Flyers have been he has been a bright light in another dark, dark season.