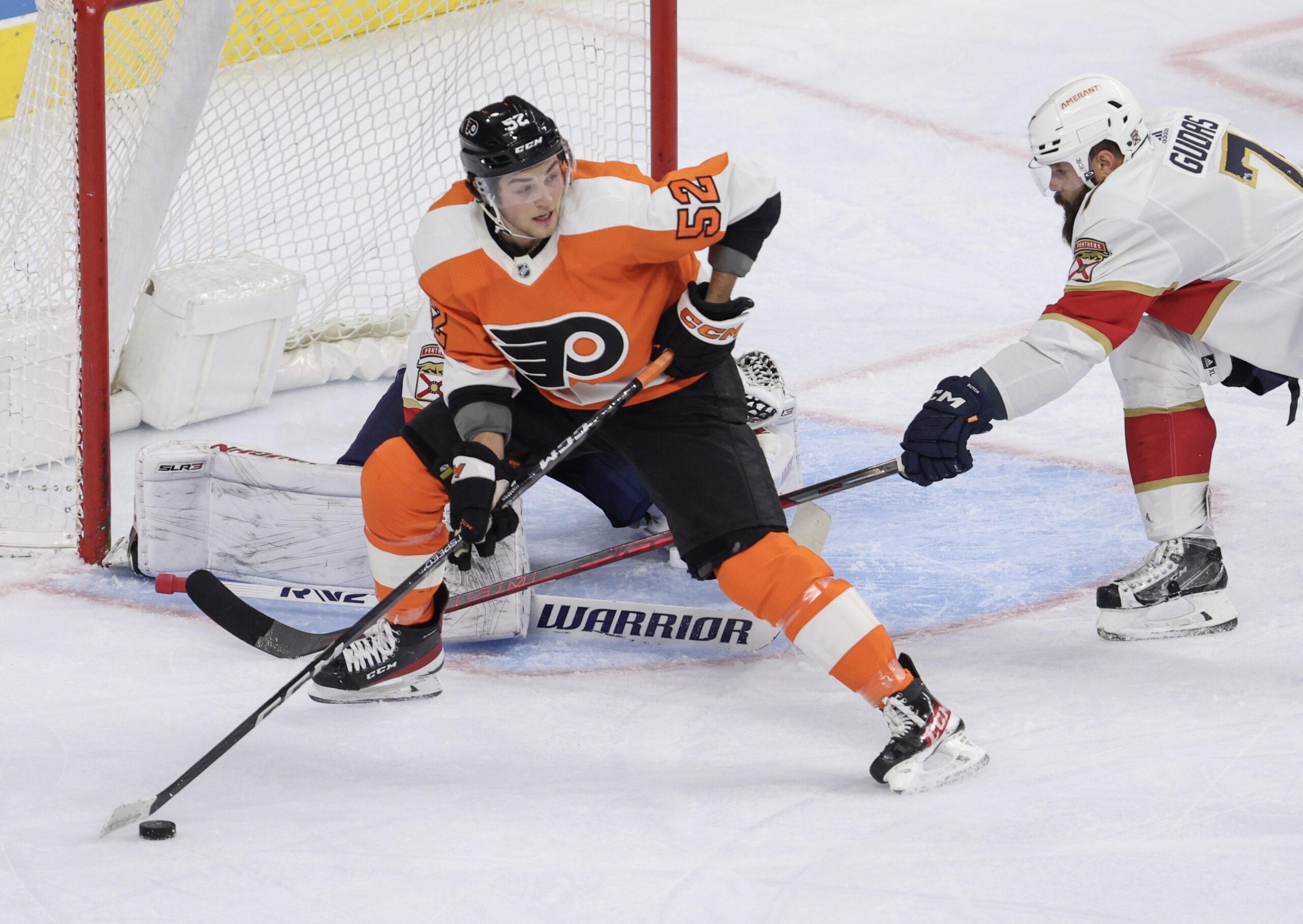 Lehigh Valley Phantoms head coach, Ian Laperrière, made a bold statement at the end of training camp last year when he predicted that Noah Cates would crack the Philadelphia Flyers roster ahead of the 2022-23 season opener.
The shot-caller didn't think that Noah Cates would be coming back with him and the rest of the Phantoms and he was proven right when the rookie made his impact almost immediately, and he thinks the same about Tyson Foerster this year.
"I don't think I'll see him, I'll be honest with you," Laperrière said with a laugh. "He's fun to watch. I watched him on TV last year. But just to see him, the questions he asks, his edges on the ice — they're going to have tough decisions up here and he's going to be one of them because he's a hell of a player."
Cates, who had previously appeared in 16 games the year before after signing his ELC the moment his collegiate season ended, made an immediate impact with 5 goals and 9 points and even flexed his 2-way play in short order. This past season under a new head coach, Cates took a massive leap forward and was given every opportunity to succeed, mostly because he gave John Tortorella no choice but to oblige.
He scored 13 goals and 38 points in a full 82-game season, averaged 17:46 TOI, had a ridiculous 60:13 takeaway to giveaway ratio, and was even a plus-3 on the season. He finished 7th in goals, tied for 5th in assists, 8th in points, led the team in plus/minus and game-winning goals, was 3rd in shooting percentage, 3rd in ATOI amongst forwards and 7th overall, had the 2nd-most blocks for a forward, was almost a 50% faceoff man, and of course led the team with his takeaways.
He played a whopping 1,456.9 minutes in total, with 152.6 coming while shorthanded and 150.8 while on the man advantage. Most of his points came near the end of the season when he was placed on a line with more offensive-minded forwards as he tallied 8 goals and 21 points in his final 36 games, while averaging 18:00 TOI. He was white-hot in his final 14 games with 11 points and ATOI of 18:29.
Whatever was asked from him, he did it with flying colours and Tortorella did not let his success go by unnoticed, constantly raving about the centre-man.
With Laperrière making that "bold" statement ahead of training camp last year, he is trying to go 2-for-2 ahead of the 2023-24 season with his comments regarding Tyson Foerster.
Ian Laperriere smiled and said he doesn't expect Tyson Foerster back with him in Lehigh Valley.

He said same thing about Noah Cates last year and was right. pic.twitter.com/jP2z88RcvU

— Jordan Hall (@JHallNBCS) September 14, 2023
"I know a lot of things can happen, but I'm not expecting him back in the Valley," Laperrière said Thursday at Flyers Training Center. "I'm sure the fans won't be happy with me saying that. You never know, but he's got his mindset, I feel like you walk around him, he's confident, he's got that swagger about him that I love, that everybody loves. He's probably going to be at the next level and be there for a while."
Now, perhaps this declaration isn't as bold as the one he made for Noah Cates because Foerster was always expected to battle for an NHL spot, however, Laperrière is the one guy who has the most knowledge and information about Foerster as he coached him last year in the Valley.
Foerster scored 20 goals and 48 points in his 66 games in his third stint with the Phantoms – but his first full season. He made 24 appearances in 2020-21 with the CHL being cancelled due to COVID-19, where he scored 10 goals and 17 points and then another 9 games in 2021-22 but dealt with a slew of injuries that cut his season short.
In 8 games with the big club, Foerster made his impact known as he scored 3 goals and 7 points before being sent back down to help the Phantoms in their playoff push. He went without a point in his first 3 games – losses to Carolina, Pittsburgh, and Vegas – but then scored 7 points in the following 5 games, including 3 goals in his final 4 games against Carolina, Minnesota, and Detroit.
He averaged 16:34 TOI, fired 15 shots for a 20% conversion rate, recorded 12 hits and blocked 10 shots. Giving everything he had on the ice, that also did not go unnoticed from Tortorella who was beaming from ear to ear about the performance from their first round selection back in 2020.
From Jordan Hall's recent piece on NBC Sports Philadelphia, a quote directly from Tortorella back in March when Foerster was lighting things up in his short stint:
"It's really encouraging to me, and I've said it many times, with this kid Tyson. I'm trying to be careful, but each time I watch him, I say, 'Man, there's a guy, there's another piece that maybe falls into place next year for us.'"
Laperrière, who played a big part in his development last season, is well aware that Foerster has a blistering shot – perhaps the best the organization has to offer – but he knows that he can offer so much more, on and off the puck.
"When the Flyers called him up, he was a different player than he was two years ago and that's great. He was managing the puck like a veteran out there.
"We all know he can shoot the puck, we all know he can make plays, but there's more to it than that in this league. A lot of guys can shoot the puck, they can score, but they can't play in this league because there are other things around that. Tyson improved so much last year in that."
Foerster stayed back in Philadelphia this summer, worked out "like an animal", only went back home a few times, and stayed with fellow Flyer Joel Farabee. He wants this opportunity more than anybody and he will do whatever he can in the rookie camp and training camp to prove his worth.
Tyson Foerster worked out locally almost all summer, went home only a few weekends. He lived with Joel Farabee.

He said his goal in training camp is to make the Flyers' roster and he feels ready for the NHL. pic.twitter.com/dQfvapXoJq

— Jordan Hall (@JHallNBCS) September 14, 2023
One thing in particular that Foerster has worked on and is trying to improve on is his skating. You hear it all the time with prospects that one of their weaknesses – if not the main one – is their skating. Foerster carried that knock with him throughout his draft year and beyond but has worked diligently to get better:
"I think I proved myself a bit last year and I don't think my skating is bad at all. I think I'm a pretty good skater now and I want to show that."
Laperrière also noticed that he has improved mightily over the last few seasons in that facet.
"He works. He's not a bad skater. He's not a smooth skater like other kids you'll see out there. He's not gliding out there. He works.
"I'm not worried about the skating. He'll never be a TK [Travis Konecny]. TK's a helluva skater. But he works. He'll probably get at the same point at the same time because of his work ethic. I'm not worried about that at all."
Foerster will be entering training camp with a leg up on other prospects and perhaps even some veterans. He has all the skills, intangibles, and the wherewithal to crack the opening night roster and make an immediate impact in his rookie season. The Flyers loved what they saw from his last year and if he can produce like that once again, we'll have unearthed another gem with Cutter Gauthier and Matvei Michkov not too far away.
2024 Stadium Series Trip
Flyers Nation and Philly Sports Trips have teamed up to bring you on an amazing bus trip to the 2024 NHL Stadium Series between the Flyers and Devils. Place an early deposit to reserve your spot at the ultimate tailgate experience at MetLife Stadium before the game. The package includes a game ticket, round-trip charter bus, an all-inclusive tailgate party with unlimited cold beverages, "Philly Style" catered food, live entertainment, and more.