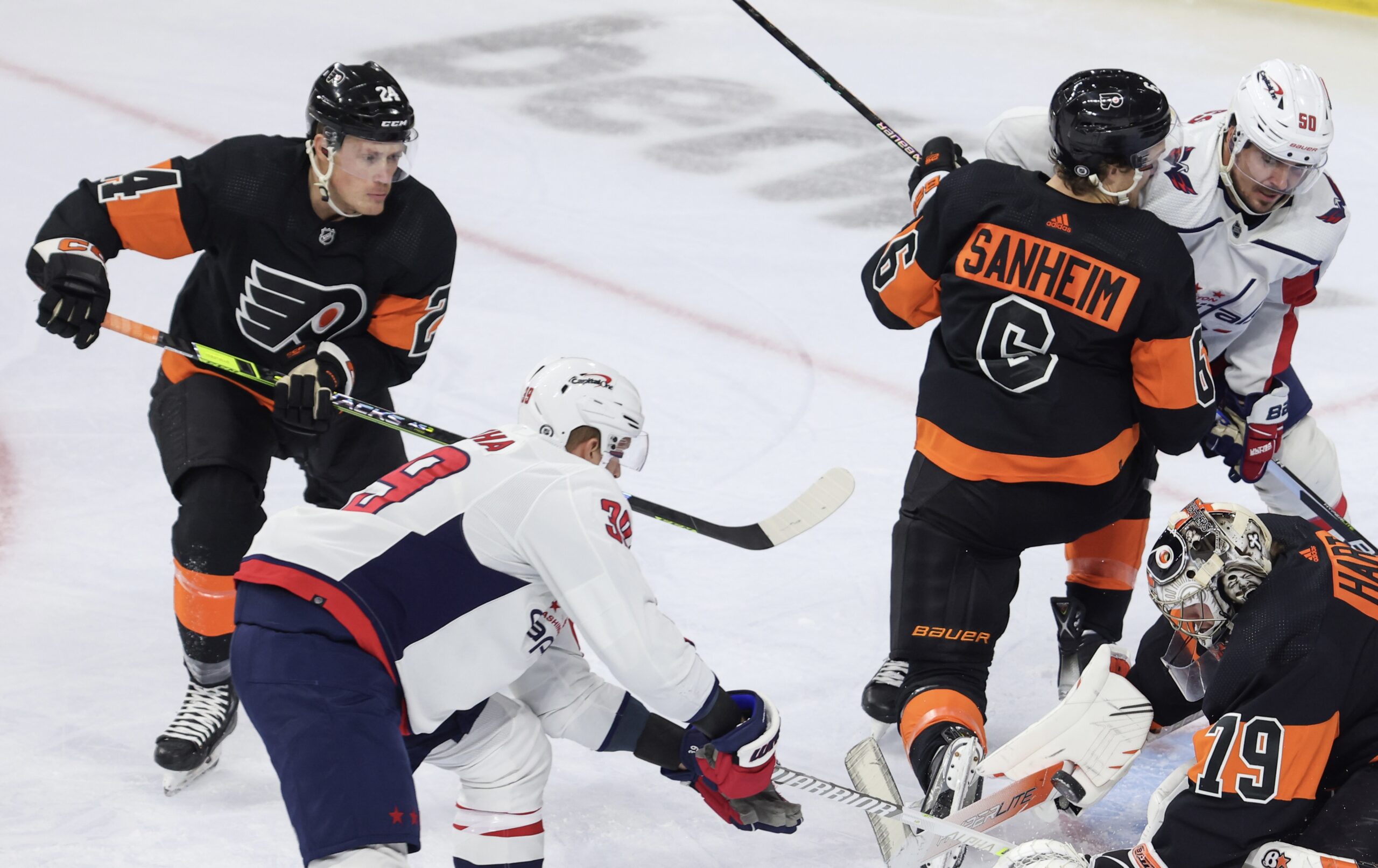 The Philadelphia Flyers sported a relatively healthy back-end in 2022-23 after an injury-riddled 2021-22 saw the team field 12 defensemen throughout the season.
Ivan Provorov, Tony DeAngelo, Travis Sanheim, Nick Seeler, and Rasmus Ristolainen each played over 70 games with Cam York being a staple in the lineup after his recall in the early part of the season. Fast forward to the summer of 2023, and the Flyers have traded Provorov to Columbus, bought out DeAngelo who is now with Carolina, and they added several depth pieces in Marc Staal, Victor Mete, and Sean Walker.
With several prospects waiting in the wings and potentially knocking on the door in Ronnie Attard, Egor Zamula, and Emil Andrae, factoring in all the new veteran pieces, as well as the remaining defensemen from 2022-23, where do the Flyers stand heading into the new season and how will the defense make-out for the season opener?
From last year's team, Cam York, Travis Sanheim and Rasmus Ristolainen are all locks to patrol the defense and play the majority of the minutes and in all situations. After Nick Seeler's resurgent season and how much the Flyers talked him up, it would be surprising if he wasn't on the ice for the season opener against the Columbus Blue Jackets on the 12th of October.
That leaves 2 spots wide open and ripe for the taking for the rest of the cast and crew. The oddity of this off-season for so many fans is that they assumed the Flyers would be throwing their prospects and younger players out there without much hesitation. After signing Staal, Mete, and acquiring the expiring contract of Walker in the Provorov deal, that was thrown out the window as the final 2 spots will have to be duelled out and won during training camp.
For Attard, Zamula, and Andrae, the two spots were never fully given as they still had to show out in training camp but up until July 1st, there seemed to be an easier route to making the Flyers team than not. Daniel Briere and John Tortorella have been staunch on their approach and how they want to tackle this rebuild and the last thing they want to do is to throw their younger players to the wolves if they're not ready or if they don't necessarily deserve the opportunity.
Signing Marc Staal was a surprising move for player, team, and the fan base, considering the fact that Staal was a member of the Eastern Conference champions, Florida Panthers just a few months ago. The veteran played a very important top-4 role for the Panthers who surprised the hockey world by first coming back to defeat the historically-good Boston Bruins, then taking down the Toronto Maple Leafs in the second round via a gentlemen sweep, and then sweeping the mighty Carolina Hurricanes before bowing out the eventual champions in the Vegas Golden Knights. Staal, a veteran of 16 NHL seasons, surprised Briere and company with his interest in the rebuilding Flyers. 
"We never thought that a player like Marc Staal would have any interest in coming here.
"I think it almost makes too much sense to have a guy like that, who's played for Torts, who understands what Torts is all about, is willing to kind of pass that message."
He mentioned the storied history and legacy of the Flyers organization, how it was being a member of the opposition when the team was winning and the building was electrifying, and worst case scenario he will be a trade deadline acquisition with retained salary – so either which way, guaranteeing himself post-season hockey. It would be extremely shocking if Staal didn't make the opening night roster, which would then give us 5 of the 6 settled.
"You know, again, we go back to my belief and our belief about the future of this team — we don't believe in tanking, we want our players to improve," Briere reiterated. "They need some guidance. They need some guys that have been there, that have gone through it. (Staal's) another big voice — especially on the back end — where we wanted to add a little bit of veteran presence."
The roster fit is a bit murkier, which Briere himself acknowledged.
"Where is he going to fit in the lineup? You know, we were very clear with him about what we're doing here and where the process is going, and he wants to help out."
Egor Zamula is no longer waiver-exempt so that could very well give him the leg up for that final spot, Sean Walker has several years of NHL experience under his belt but has had back to back disappointing seasons coming into 2023-24, Emil Andrae's situation is a little different because he if doesn't make the team outright then there's a good chance he goes back to Sweden, Ronnie Attard might be the most NHL-ready out of the young bunch, and Victor Mete is the dark horse of the group but more or less fits the bill for the Lehigh Valley Phantoms unless he impresses the pants of the Flyers' brass in training camp.
Tortorella is not afraid of or against the youthful movement as we witnessed last year, so he's not going to prioritize veteran leadership over players who deserve a roster spot. In saying that, the Flyers can't and won't run with a lineup fielded with more young players than veterans.
This is Zamula's best chance at winning at a roster spot and after spending the past 3 seasons up and down between the Phantoms and the Flyers, he definitely has a leg up on the rest of the competition. He has scored 5 goals and 48 points in 102 games in the past 2 seasons in the minors and has 24 games with the Flyers in that same stretch with 4 assists.
The 6'3″, 176-pound defenseman is only 23 years old, but it feels like he's been around the organization for a very long time. We've heard about Zamula's name almost immediately after Ron Hextall signed him to a PTO in the fall of 2018. He went back to the Calgary Hitmen that season and scored 56 points in just 61 games before adding another 28 points in 28 games before COVID put a halt to proceedings in 2019-20.
He also won silver at the 2020 World Junior Championships and has all the makings of a very solid and dependable 2-way defenseman. He's had a few injuries flare up, including just recently this past season as he had to undergo season-ending shoulder surgery, but he also needs to be a little more aggressive when given the NHL opportunity. He's played a little too passive and smaller than he is, which has prompted short stints in each of the last 3 seasons.
On the heels of Zamula is fellow Phantoms teammate, Ronnie Attard, who has only gotten better on a yearly basis since 2017-18. Attard went undrafted in his first go around before the Flyers took him in the 3rd round of the 2019 NHL Entry Draft. He went from 8 goals and 15 points in 50 games for the Tri-City Storm to 30 goals and 64 points in 48 games the following season.
He then committed to Western Michigan University where he went from 14 points in his first year to 22 the next, and then finished off his collegiate career with 36 points in 39 games. Attard signed his ELC and joined the Flyers right after, where he scored 2 goals and 4 points in the final 15 games of the 2021-22 season.
Attard played started his first season of professional hockey with the Phantoms in 2022-23 and scored 12 goals and 32 points in 68 games, being an instrumental piece on the back-end of a playoff team. He got 2 NHL games at the end of the season but had the Phantoms not been as good as they were and had they not been chasing a post-season spot, Attard would've surely been called up a lot sooner. His 2022-23 season was capped off with an appearance for Team USA at the World Championships where he scored 1 goal in 4 games.
The 6'3″, 207-pound defenseman is a right-handed shot, which is always tantalizing for NHL organizations and plays a responsible and reliable two-way game. He has the offensive capabilities, has the legs and motor to go end-to-end and exit the zone, and plays aggressively on both sides of the puck. Attard was definitely a favourite to land a roster spot when the season came to a close and he should remain a favourite heading into training camp.
Emil Andrae has quickly jumped up the depth chart after a very successful 2022-23 season. Drafted in the 2nd round of the 2020 NHL Entry Draft, Andrae struggled in his draft+1 season before coming into his own in 2021-22 and 2022-23. He went from 14 points in 47 games across 3 different leagues in 2020-21 to 33 points in 41 games in the HockeyAllsvenskan in 2021-22 to 26 points in 51 games in the top-tier Swedish league before getting the call to the Phantoms.
He was brought over on a tryout basis before signing a PTO for the rest of the season. He scored 6 points in 10 games and immediately had an impact for the Phantoms – so much so, that he became a possible candidate for the Flyers heading into 2023-24. For someone who only stands in at 5'9″, Andrae plays a lot bigger than he is, delivers bone crunching body checks, and plays a game similar to Niklas Kronwall.
His original issue had to do with a rule change between the NHL and the Swedish Ice Hockey Association. They amended their agreement back in 2022 where their return policy was discussed at length. The SIF essentially have first dibs on players drafted outside of the first round if they don't make their respective NHL clubs out of training camp. So instead of starting for the Phantoms in 2023-24, Andrae could have been sent back to Sweden.
Luckily, the Flyers were able to find a way to keep Andrae in North America so if he does not make the Flyers' opening night roster, he will be joining the Phantoms. In relation to Zamula and Attard, Andrae is definitely the more offensively skilled and arguably the more complete package, but he has a lot less experience in North America than the aforementioned duo.
From there we go to Sean Walker, who played very well in 2019-20 and 2020-21 but struggled to return to form in 2022-23 after an injury riddled 2021-22. Walker had to undergo surgery to repair a torn ACL and MCL 6 games into the 2021-22 season, which would explain the downturn 2022-23 campaign that forced the Kings to look for a new dance partner this summer.
Walker signed a 4-year deal worth $10 million in the summer of 2020, but the Kings were particularly cap-strapped this summer and needed to shed as much as possible in their attempt to re-sign Vladislav Gavrikov. Between 2019-20 to 2021-22, Walker had 10 goals and 44 points in 123 games, 18:34 ATOI, 133 hits, and 165 blocks. He was a top-4 defenseman before the injury but struggled to return to form after a lengthy absence from the ice.
Now with greener pastures in Philadelphia and in the final year of his contract, Walker is eager to prove himself yet again, which could bode well for the Flyers ahead of the trade deadline – a similar situation to Marc Staal. The right-handed shooting defenseman is still only 28 years old and if he is indeed fully healthy, he could be a surprise addition to a mishmash defensive corps.
Finally with Victor Mete, the Flyers have a true wild card. At one point heralded as one of the Montreal Canadiens most promising prospects – akin to Ryan Poehling – Mete struggled to produce and remain healthy as he has also played for the Ottawa Senators and Toronto Maple Leafs since 2020-21.
In parts of 4 seasons with Montreal, Mete scored 4 goals and 34 points in 185 games and averaged 16:26 TOI. In parts of 2 seasons with Ottawa, he scored 1 goal and 9 points in 51 games while averaging 15:24 TOI, and then spent just 11 games with the Maple Leafs but added 2 assists along the way in 2022-23.
His signing could very well be seen as a true depth acquisition and most likely an appointment with the Lehigh Valley Phantoms, considering the fact that he signed a 2-way deal. If injuries pile up, he could very likely be one of the first players called up with the amount of NHL experience he carries, however it's hard to see him beating out Staal, Walker, Zamula, Attard, and even Andrae for the final spots.
It's going to be interesting to see how things play out in training camp and what pairings the coaching staff comes up with but at least as of today, York, Sanheim, Ristolainen, Seeler, and Staal seem like sure fire bets to make the club with Zamula having the slightest of edges on Attard, Andrae, Walker, and Mete for the final spot.
This is all completely fluid, training camp can change fortunes on a whim – ask Cam York – but if I were a betting man, I'd go with the aforementioned 6.
2024 Stadium Series Trip
Flyers Nation and Philly Sports Trips have teamed up to bring you on an amazing bus trip to the 2024 NHL Stadium Series between the Flyers and Devils. Place an early deposit to reserve your spot at the ultimate tailgate experience at MetLife Stadium before the game. The package includes a game ticket, round-trip charter bus, an all-inclusive tailgate party with unlimited cold beverages, "Philly Style" catered food, live entertainment, and more.