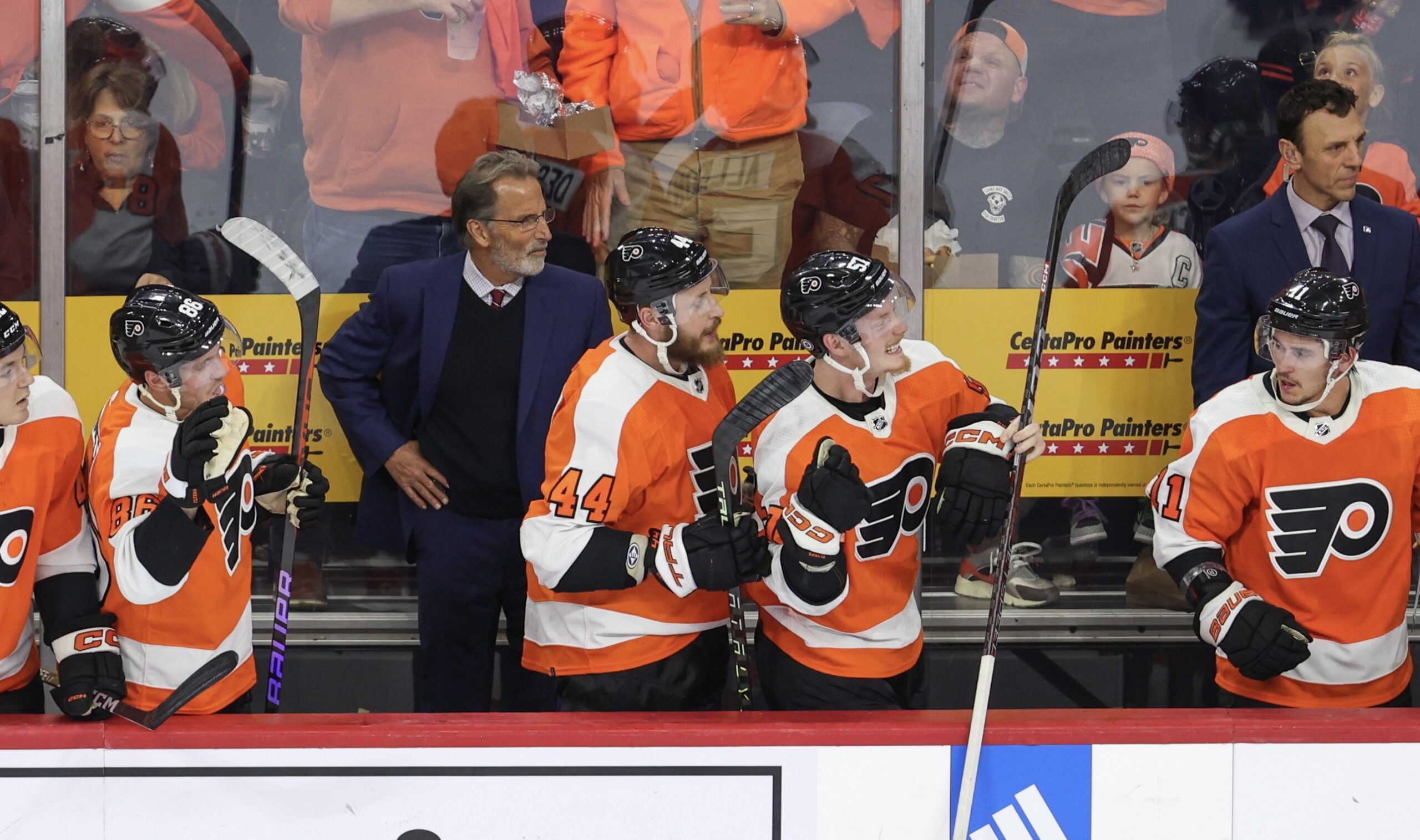 Training camp has officially begun for the Philadelphia Flyers and the rebuilding club looks better than expected, partially because of the returns of Sean Couturier and Cam Atkinson.
The veterans were officially removed from the injured reserve list yesterday – as well as Victor Mete – and their return to the ice should provide an offensive spark for the goal-hungry Flyers club.
Philadelphia #Flyers officially removed the following players off injured reserve today.

F – Cam Atkinson
F – Sean Couturier
D – Victor Metehttps://t.co/nXfmDT1fO4

— CapFriendly (@CapFriendly) September 20, 2023
General Manager, Daniel Brière, is looking to kick things off on a high note in his first full season at the helm. He has reiterated the notion that the Flyers will not be tanking on several different occasions throughout the summer but made sure to remind us all once more:
"I'm sure in the room, the players are not thinking rebuild. And I hope they're not.
"I made that very clear with them that every game we expect them to win and to go out and give their all. Torts was able to get the best out of them last year, which was really impressive.
"We expect the same thing this year. We're not tanking any games. We're not trying to lose on purpose. We're gonna do things obviously for the future but at the same time we expect these guys to go out and win every game. I hope they know that. I've told them that. I'm going to reinforce that before camp starts as well.
"We're not trying to lose. We're trying to develop our guys hopefully in a winning culture, in an environment where they leave everything they have on the ice every single night. And I hope and think our fans will respect that."
Brière is also very aware – as are the players within the locker room – that every fan, pundit, media member, and anyone else in between, have chosen the Flyers to finish within the bottom 3 of the standings, if not dead last:
"I read the predictions and I see where everybody is picking us last or bottom three in the NHL. I hope the players use that as a motivation. I don't know exactly where it's going to go. We hope and we believe that they're better than what the predictions are out there.
"But at the same time, these guys are going to be in control of that. It's their turn, it's their chance to prove everybody wrong."
Of course, the Flyers don't necessarily have a leg up on most of their opponents with a suspect defense – at best – mid-to-decent goaltending, and an average offense comparatively to the rest of the NHL. Nevertheless, they still have exciting players to keep an eye on in Travis Konecny, Owen Tippett, Joel Farabee, and Morgan Frost, among several others.
With John Tortorella, the first day of camp has everything to do with skating and conditioning and nothing to do with puck handling and skill. The bag skate made it's reappearance and for Sean Couturier, he was able to take part in his first ever "Tortorella bag skate".
Sean Couturier said he wants to play as many preseason games as possible. Said he added some pounds of muscle this offseason, feels good and is excited about taking hits, see how his body reacts to it.

He hasn't played since December 2021 because of two back surgeries. pic.twitter.com/4P3MreDAWt

— Jordan Hall (@JHallNBCS) September 21, 2023
It's no secret that Couturier was one of the best centres in the league between 2017-18 and 2020-21. He had taken his game to a whole new level, had broken past the 30-goal plateau on back to back occasions and finished with 76 points in 2017-18 and 2018-19. Unfortunately back injuries and surgeries cost him over a season and a half but he is finally healthy and raring to go.
In fact, there was even a slight chance that both Couturier and Atkinson could have been cleared at the end of the 2022-23 season but Tortorella and the Flyers figured it was best not to risk anything with just a few weeks remaining in an otherwise mundane season.
Tortorella admired the jam that Couturier brought and it will be very interesting to see how the two mesh, considering the fact that he's exactly the type of player that Tortorella is overtly fond of – see Noah Cates and Scott Laughton:
"Coots is aggravated. And I love it. Because I think that's why he's the player that he is. And so he's going to have to eat it for a little bit. And I think it helps him get even more ready for a pretty strenuous camp coming up here when he starts again with us."
Even some of his "new" teammates are looking forward to the idea of playing alongside the veteran centre, including Owen Tippett. The crown jewel of the Claude Giroux trade has been around the club for parts of 2 seasons but has missed out on the opportunity to skate alongside Couturier:
Owen Tippett said it would be "special" to get a chance to play with Sean Couturier.

Couturier expressed excitement about getting a chance to center a line with Tippett on his wing. pic.twitter.com/ov2a2nvZVS

— Jordan Hall (@JHallNBCS) September 21, 2023
Couturier isn't the only one trying to prove people wrong as Atkinson finds himself in the same exact position. There has been a lot of doubt, not just on their return to the lineup, but if they can even make the same impact as they had pre-injury. Atkinson has been proving people wrong his entire career and he's excited about the opportunity to have to do it once again:
Cam Atkinson said he feels like himself again on the ice, which is exciting. He's ready to go, he said. He missed last season with neck injury.

Said he's motivated to prove some people wrong, something he has had to do his entire career. pic.twitter.com/7oKhqws5CO

— Jordan Hall (@JHallNBCS) September 21, 2023
Before his injury, Atkinson essentially paced the 2021-22 club in goals until the final game of the season. He started off strong after being paired up with Claude Giroux, and up until his departure, Atkinson had 22 goals and 46 points in 60 games. He ended the year on a slump, where he scored a goal and added 3 helpers in his final 13 games but his impact was on full display and he brought about several intangibles that the Flyers had lacked for years on end.
His shoot-first mentality was a breath of fresh air after all the pass-pass-passing we had witnessed prior, his penalty killing was great, he was aggressive while shorthanded which was something the Flyers lacked since Mike Richards, and his motor never stopped. If there was one thing that could be said about the veteran is that he gave it his all on every single shift and he never took a day off – something Tortorella has appreciated in the past and will continue to do so moving forward.
From the Flyers media day before the start of training camp:
The return of Sean Couturier and Cam Atkinson, #Flyers youth pushing forward and the New Era of Orange. @NBCSPhilly wrap-up of Flyers Media Day 🔽 pic.twitter.com/KOIYMyvLbU

— Ashlyn Sullivan (@ashlynrsullivan) September 21, 2023
Couturier asked about being back in the locker room and around the team again after such a long hiatus:
"It feel weird, it feels like an 18-year-old coming back to my first camp, everything seems to be new since I've played. New coach, new management, new GM, a lot of new teammates. Not a lot of guys are still around from when I was playing a year and a half ago."
Atkinson on how he dealt with his time away and how he's looking forward to a new chapter in his career:
"In the greater scheme of things, I think this will rejuvenate my career and being away for that long – not that I felt like I was retired – but it made me want to come back and hungrier and my passion for the game."
Veteran Scott Laughton on what the returns of Couturier and Atkinson mean to the club:
"60 goals in your lineup, or about that, it's gonna help you score goals and win you more games and down the stretch, I think it makes a huge difference. It's a long year to have that depth and these guys come in, it's an exciting time and I can't wait to get started."
Travis Konecny on the young talent on the roster and how he knows that they're going to surprise a lot of people – generally the crowd that believes the Flyers are a bottom basement-dwelling club:
"Some of these guys, I know for a fact, are going to surprise the league. We have some real talent in that room and some really good hockey players. I'm just excited to see what people are talking about in a few weeks into the season because I know there's a lot of talent that's being overlooked in there and those guys are going to prove them wrong, I know that."
Perhaps one of the bigger quotes from the day came from Cam York who was first asked about how things feel this year, compared to previous years, in terms of direction:
"We know where we are and I think the past few years there was just some confusion and guys were kind of like chickens with their heads cut off almost."
Then when asked where he thinks that clarity comes from, he had no issues pointing out that the previous regime had no vision – or at least not like Brière:
"I think Danny, right from the start he made it clear to us what we're heading towards and there are players that clearly wanted in and some guys that wanted out, Like I said, the previous few years there was no clarity and it was just a big fog." 
A lot of the Flyers came back to town earlier than expected in anticipation of the new season. Tortorella has brought about a new feeling and excitement in an otherwise dormant last few years.
As York mentioned twice, there was no clarity from the coaching staff or management and the players had no idea what to do. Chuck Fletcher's retooling, aggressive re-tooling, rebuilding, aggressive-rebuilding, and everything in between helped no one – from the team, the coaches, or the players.
The players are well aware of the new changes and what they represent for the city itself.
"It's been a great summer for the Flyers."

– Scott Laughton on the Flyers hiring Keith Jones and Danny Briere

He said those are two guys who know what this city wants.

— Jordan Hall (@JHallNBCS) September 21, 2023
Now with a firm motive, a passionate coaching staff, and a modern-thinking front office, the Flyers are excited to prove their doubters wrong. Will they be world-beaters and make the playoffs? Probably not, but they are currently in a position where they aren't going to be basing this season on wins and losses, but more so on player development – young and old.
"This is the land of opportunity."

– John Tortorella on Flyers, who have admitted they are restarting, which creates competition everywhere pic.twitter.com/LH9s5amKox

— Jordan Hall (@JHallNBCS) September 21, 2023
2024 Stadium Series Trip
Flyers Nation and Philly Sports Trips have teamed up to bring you on an amazing bus trip to the 2024 NHL Stadium Series between the Flyers and Devils. Place an early deposit to reserve your spot at the ultimate tailgate experience at MetLife Stadium before the game. The package includes a game ticket, round-trip charter bus, an all-inclusive tailgate party with unlimited cold beverages, "Philly Style" catered food, live entertainment, and more.