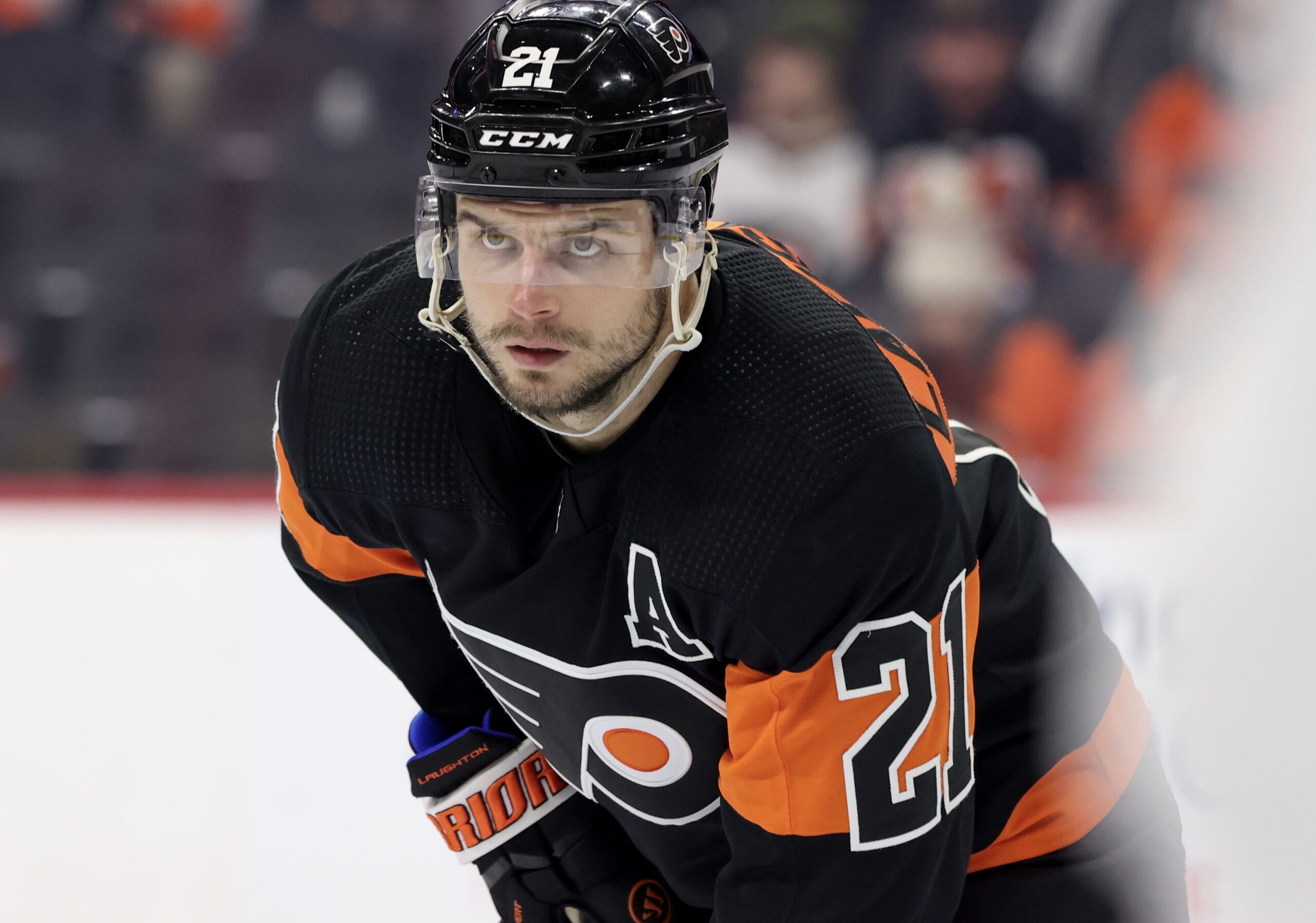 Scott Laughton Proving Ron Hextall's Expansion Hunch
Leading up to the expansion draft in the summer of 2017, the Philadelphia Flyers had several easy selections in terms of who they were going to protect – whether it was because of a no-movement clause or because they were invaluable to the team – it boiled down to the one final forward spot in their 7-3-1 split.
Having already protected Sean Couturier, Valtteri Filppula, Claude Giroux, Brayden Schenn, Wayne Simmonds, and Jakub Voracek, the Flyers had one spot left between Pierre-Edouard Bellemare, Michael Raffl, and Scott Laughton.
It seems like a no-brainer that the Flyers would've kept the first round selection from 2012 in Scott Laughton, but many in the organization liked Bellemare and many people from the outside had labelled Laughton as a bust. Up until that pivotal summer, Laughton had only played in 109 games over the course of 4 seasons, scoring 9 goals and 27 points, and averaging 11:08 of ice time a game. He made the opening night roster three times (2012-13, 2014-15, and 2015-16) but was either re-assigned to the Oshawa Generals (2012-13, 2013-14) or to the Lehigh Valley Phantoms (2014-15, 2016-17). Laughton played 71 games during the 2015-16 campaign, scoring 7 goals and 21 points while primarily being a 4th-line centre. He suffered an injury during the preseason of 2016-17 and when he recovered back to full health, he was assigned to the AHL.
Bellemare on the other hand had enjoyed 3 relatively structured but good seasons for the Flyers from 2014-15 to 2016-17. He was the prototypical bottom-6 forward that Ron Hextall and Dave Hakstol were so enamoured with and they utilized him to the best of his abilities. He played in 237 games, scored 17 goals and 34 points, averaged 13:07 of time on ice a game, and was a fixture on the penalty kill, late game situations, and with the extra attacker on the ice. It was a tough choice to make because we know how much Hextall valued players of his ilk but at the end of the day it boiled down to a 31-year-old free agent signing versus a 22-year-old former first round pick who had yet to stake his claim to the NHL roster.
Bellemare ended up playing a vital role down the stretch for 3 contending teams and made the Stanley Cup Final twice along the way. His Vegas Golden Knights were defeated in their inaugural season against the Washington Capitals and his Tampa Bay Lightning fell victim to his other former club – Colorado Avalanche – in 6 games last year. He has scored 42 goals and 91 points across 396 games since departing Philadelphia and is a well-respected bottom-6 player around the NHL.
To many, protecting Laughton seemed like a slam dunk option but in reality there was a legitimate chance that he was going to be left unprotected. In other words, Hextall's hunch in protecting Laughton paid off. He signed a 2-year extension that same summer for a cap hit of $962,000 and played in 163 out of 164 games, scoring 22 goals and 52 points in a very strict fourth line capacity. At the time many pundits had classified the line of Taylor Leier/Jordan Weal, Michael Raffl, and Scott Laughton as one of the best – if not the best – fourth lines in hockey. His ice-time jumped from 11:07 in 2017-18 to 14:51 in 2018-19 and the boost in ice time bumped his numbers to career-highs across the board – 12 goals, 20 assists, 32 points in a full 82-game season.
Under Alain Vigneault, Laughton's offensive game was looking to finally take form of the late first-rounder tag that had followed him around. He missed a month with a broken finger but scored 13 goals and 27 points in 49 games and then added 5 goals and 9 points in 16 playoff games, including an overtime game winning goal in Game 5 against the New York Islanders to keep the series alive.
2020-21 was an ugly year for the entire team as the leading scorers were James van Riemsdyk, Claude Giroux, and Jakub Voracek with 43 apiece. Laughton finished 10th on the team with 20 points in 53 games. Things somehow took a turn for the worse in 2021-22 but Laughton finished the season 9th in points with 30 in 67 games.
Throughout his career he was a reliable, dependable, bottom-6 role player who had the ability to play in the top-9 or even the top-6 whenever needed or necessary. One of the better lines throughout the COVID playoff bubble for the Flyers was a makeshift trio of Kevin Hayes, Travis Konecny, and Laughton. He became the ultimate Swiss Army knife for the Flyers, could play in all situations but was primarily used in a more defensive role until injuries arose. He was also a factor in the 3-on-3 overtime sessions but had yet to stake his claim to the power play.
This year things have finally clicked for the 28-year-old as he currently sits 4th on the team in points with 29, but his value and his impact goes well beyond the scoresheet. For starters, he is the only player with a letter on his jersey after John Tortorella made mention that a captain would not be named to start the season. Laughton is technically the second longest-tenured Flyer after Sean Couturier. With the latter's absence due to a setback from his initial injury, Laughton has taken on a more vocal leadership role that he carried even during Claude Giroux's captaincy. He's worn a letter of some sort throughout his junior career and nothing was more honourable than donning the "C" for Team Canada at the World Juniors.
He started off the season relatively slow in terms of his offense as he scored 3 goals and 7 points in 21 games. He did however take 55 shots on goal and averaged 19:03 of ice time which was one of the highest on the club. It seems for the majority of players on the team, once the calendar flipped to December, their games, their stats, and the team as a whole improved drastically. In the 26 games that followed, Laughton has scored 9 goals and 22 points, is a plus 4, has only take 4 minor penalties, is averaging 18:35 of ice time, and staked a claim to a balanced top-9 with linemates in Kevin Hayes and Wade Allison.
The Flyers' top-9 was beleaguered for the first two months with injuries gutting out key players to start the season. Once Tortorella found the right balance in his lines, the Flyers have improved vastly in all facets of their game. Laughton is now used in every situation and has become one of his head coach's favourite players to utilize during the game. For instance in his last 4 games he has averaged 22:24 of time on ice, which includes 2 games where he topped 24+ minutes.
He had never scored a power play goal before this season but is 2nd on the team with 5, he has formed a deadly duo with Travis Konecny while shorthanded as he has had his hand on 7 of the 9 shorthanded goals scored this season, and sits 6th on the team and 2nd as a forward in ice-time at 18:48. He is third on the team in hits with 103, 8th in shooting percentage, is 2nd in face-off percentage (minimum 100 draws) behind Patrick Brown, and is 3rd on the team in takeaways with 26.
However which way you look at things, Laughton's  offensive responsibilities this season has made him a true focal point on the team. He was always going to be out there in late game situations and penalty kills for his defensive acumen, but now that he has taken on a larger role and a more aggressive mindset, his 3 million dollar cap hit looks very good. Even when he was initially handed the 5-year contract, there was still some skepticism as to how he earned the $3 million cap hit but more so the 5 years in length. A couple years later and it's starting to make a lot more sense and has become a boon that he is signed through the end of the 2025-26 season at such a low cost.
Laughton is the prototypical John Tortorella player and it's no surprise that he has really risen to the occasion since his hiring. His system benefits a lot of players as we have seen over the last few months and it wouldn't surprise many of us if he was finally given the captain's "C" at some point in the not-so-distant future. With his meteoric rise, Noah Cates' consistent season, and the return of Sean Couturier at some point in the near future, the Flyers are going to have three very responsible two-way centres that can be relied upon to play in all situations for a head coach who gets the best out of his stars.