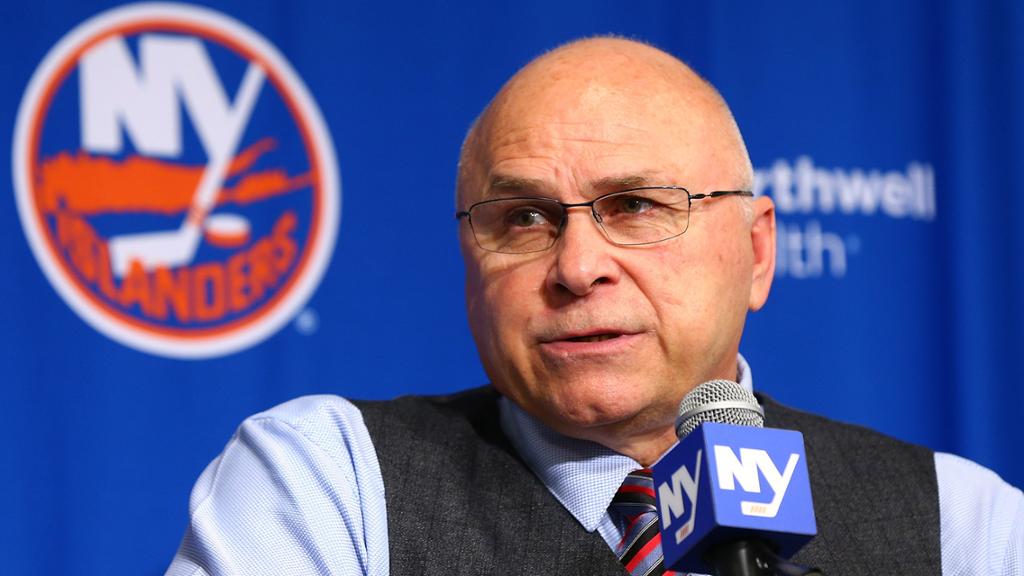 Flyers, Barry Trotz set for coaching interview on Friday
Per Anthony SanFilippo of Crossing Broad, the Philadelphia Flyers will be interviewing Barry Trotz for their vacant head coaching position on Friday.
The former bench boss for the New York Islanders was surprisingly fired a few weeks ago after a disappointing season on the Island but with his pedigree for success, he immediately became the biggest name available. The Philadelphia Flyers will be on the lookout for their seventh head coach since 2013 after dismissing Alain Vigneault mid-season and then informing interim head coach Mike Yeo that he would not be returning as the head coach next season.
Trotz had an interview with his hometown Winnipeg Jets on Tuesday but he has stated that he wants to take some time before making a decision, unlike in the past when he took the Islanders job three days after parting ways with the Washington Capitals in 2018.
Elliotte Friedman has made mention of the Flyers in relation to Barry Trotz twice in the last few weeks on his "32 Thoughts" podcast. He first said that "There's a lot of pressure on Philly to be really good really quick, and if I was the Flyers, I can't imagine how they wouldn't be all over that." He continued with "Flyers, who have seen him firsthand in Washington and New York, have a deep, deep respect for him and his work. He's a top candidate there." Before finishing it off with a bang "Philadelphia is getting closer to starting its interviews. They know how critical this hire is for them, determined to leave no stone unturned in finding the right person. What's been on their minds is a coach with a strong track record, demands accountability from players, gets buy-in right away, and makes teams harder to play against."
Several NHL teams are without a head coach, including the Winnipeg Jets and the Vegas Golden Knights among others. The Jets and Vegas could be more alluring and attractive with their win-now pieces as the Jets have a carousel of forwards with Mark Scheifele, Blake Wheeler, Nikolaj Ehlers, and Kyle Connor on top of having Connor Hellebuyck being their workhorse in net. Their biggest weakness is defense, but that's something Trotz is known for and his systems generally fix those issues in short order.
Meanwhile, the Vegas Golden Knights have found themselves in a position they had yet to encounter; not making the playoffs. With Jack Eichel, Max Pacioretty, Mark Stone, Alex Pietrangelo, Shea Theodore, Jonathan Marchessault, and Robin Lehner, it's crazy to think they didn't qualify, but injuries and cap management were their downfalls. Nevertheless, both teams look significantly better on paper than the Flyers and if Trotz is all about those homecomings, then the Jets should be the front runners.
The Flyers have one thing on their side and that's a management group who is willing to pay a pretty penny for a head coach. The Flyers still owe Alain Vigneault $10 million, but that won't come in their way to paying Trotz the top dollar he wants, deserves, and will need from Philadelphia to push them over the top. Dave Scott and his "blank cheque" will come in handy in negotiations for Trotz and if the head coach is more about money than homecomings or fit, the Flyers will most likely be at the top of his list. Friedman made mention that the Flyers will be backing in the Brinks trucks because they understand how important it is to get the big fish right now. The head coaching carousel has doomed them just as badly as their goaltending carousel and their flip-flopping of general managers over the years. If they can secure Trotz for the long haul, that's a huge step in the right direction for their off-season plans.
The Flyers are a team without an identity, heading into a pivotal off-season, looking to make personnel changes, and forge their way back to relevancy. One way to do that is instilling a sense of urgency and belief behind the bench and that's something that Trotz can give the Flyers. His system can become the identity and we all know he's had success everywhere he has coached. He is currently third place all-time in wins for a head coach, behind only Joel Quenneville and Scotty Bowman, he coached the Nashville Predators for 16 years and posting a record of 557-479-60-100, a .533 winning percentage and led them to the playoffs 7 times.
Trotz then went to Washington and posted a 205-89-34 record for a gaudy .677 winning percentage, while winning a Stanley Cup in his final year before going to Long Island where he stood behind the bench for 288 games, had a 152-102-34 record, and led the Islanders to back to back berths in the Eastern Conference Finals. He is only 55 wins behind Quenneville for 2nd place all-time and one would hope he'll get to that feat behind the bench in Philadelphia.
The Flyers' defense has been pitiful and that's something Trotz will be looking to fix right away, free agents might be more enticed into coming to Philadelphia over the summer if they're fans of Trotz's coaching and style, and with the right man behind the bench we have seen the Flyers soar to great lengths. With Alain Vigneault, whatever buttons he was pushing from January 2020 to March 2020 was working to a tee, then for whatever reason he changed things up in the bubble and everything went downhill after that. Even with Craig Berube, he was pushing the right buttons and the players respected, admired, and loved playing for him, which is something that has been said about Trotz in the past. He did butt heads a little with Matthew Barzal this season, which is why it was reported that the two sides parted ways.
Will the Flyers be able to land the future hall-of-fame coach? Only time will tell but it's a good sign at the very least that the Flyers will be interviewing him on Friday.