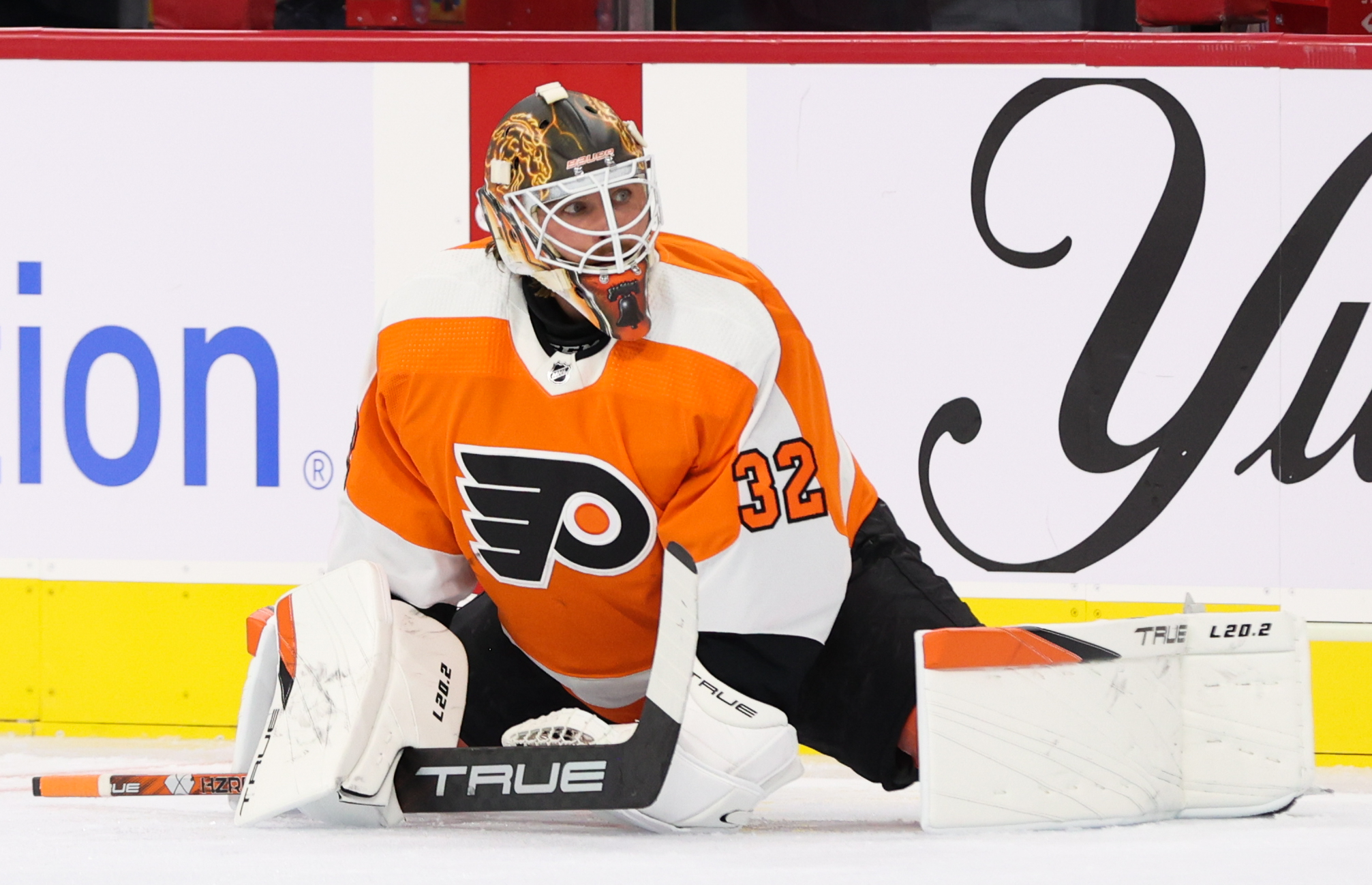 Philadelphia Flyers goaltender, Felix Sandström, has had an up-and-down tenure for the club since being drafted in the third round of the 2015 NHL Entry Draft.
Nearly 7 seasons after being drafted, Sandström got his first taste of NHL hockey in 2021-22 and looked rather sharp, putting aside some of the doubts that had lingered.
2022-23 wasn't pleasant for the young Swede though, as he was roughed up to the tune of a 3-12-3 record, a 3.72 GAA, and an .880 SV%, while also being outplayed by his friend and fellow Swedish netminder, Samuel Ersson.
Perhaps had it not been for Ersson's sudden emergence, there would be a little bit more leeway for Sandström heading into 2023-24. However, that is not likely the case anymore with Ersson being locked up for the next 3 seasons and Cal Petersen entering the conversation.
It is very likely that Carter Hart and Ersson tend the twine for the Flyers while Petersen and Sandström form a rather strong AHL duo for the Lehigh Valley Phantoms. Of course, everything is contingent on Hart's availability and the investigation pending by Hockey Canada, but the clock is certainly ticking on the once-promising goaltending prospect.
In his draft season, Sandström played for Brynas IF in 4 different tiers of Swedish leagues, including the J18 Elit, J18Allsvenskan, J20SuperElit, and the SHL. In 14 games in the J20 SuperElit, he sported a 10-4-0 record with a .907 SV% and a 2.63 GAA, while playing well in 2 games in the SHL with 1.09 GAA and a .963 SV% – a small sample, however for a draft eligible prospect getting his first taste of professional hockey, it was encouraging.
The following season he was given plenty of ice time in the SHL as he played in 25 games, sported a 10-14-0 record, a 2.61 GAA, and a .904 SV%. He struggled at the World Juniors with a 3.88 GAA and a .795 SV% in 3 games and wasn't as sharp in the SHL playoffs either. Nevertheless, he was still only 19-years-old and was finally getting his first real taste of professional hockey.
Sandström bounced back in 2016-17 as he posted a 14-7-0 record for Brynas IF in the SHL with a 2.25 GAA and a .908 SV%, while also winning 6 playoff games with a .901 SV%. He also went 4-2 in the World Juniors with a much improved 2.17 GAA and a .915 SV%. Unfortunately, he wasn't able to make headway on the platform he had previously set and found it difficult to get ice time in 2017-18.
After only appearing in 8 games for Brynas IF, Sandström was transferred to HV71 on loan but once again found it hard to get game time. He only ended up playing 18 games that season, 8 with Brynas IF, 7 with IK Oskarshamn of the HockeyAllsvenskan, and 3 with HV71. Nevertheless, it was a monumental season for the goaltender as he signed his 3-year ELC with the Flyers and joined the Lehigh Valley Phantoms on a PTO for their postseason push – akin to Emil Andrae from this past season.
2018-19 was set to be his final year in Sweden as he posted a 10-8-0 record in 19 games for HV71 with a 2.16 GAA and .911 SV%. He also made his AHL debut for the Phantoms, sporting a .930 SV% in his first career victory. During the COVID-interrupted season, Sandström only appeared in one game for the Phantoms as he spent most of the season with the Reading Royals of the ECHL. It wasn't the most encouraging season as he posted an .885 SV% and a 3.27 GAA but he finally got his first look at North American hockey.
With 2020-21 being shortened due to the previously interrupted season, Sandström appeared in 5 games for Vasterviks IK of the HockeyAllsvenskan on loan where he posted a .921 SV% albeit a 1-4-0 record. He played in 11 games for the Phantoms once the season resumed and sported a 5-3-4 record with a 3.19 G.A.A and a .903 SV% – playing a lot better than his 2019-20 and an encouraging sight.
After starting the 2021-22 season with the Phantoms, going 16-18-6 with a 2.89 GAA and a .902 SV%, Sandström got the call twice to represent the Flyers. In his first career NHL game, he was given the crease on the road against the San Jose Sharks, where the Flyers fell in overtime by a score of 3-2 but the youngster made 43 saves on 46 shots. He was then brought back up at the end of the season where he made 4 starts between the 13th of April and the 27th, lost all 4 games but faced a whopping 131 shots along the way.
In totality, he faced a franchise-record 177 shots in his first 5 games, yet still posted a very respectable .910 SV% in his first taste of NHL hockey. It's also fair to point out that the Flyers only gave him 6 goals of support in the 5 games, including being shutout twice. The lack of goal support became a problem even starting the 2022-23 season and something that was often forgotten.
Sandström won the backup position after training camp but Ersson made his case after a very strong performance. John Tortorella was smitten by his performance but understood that he was still too young and inexperienced for the call. Troy Grosenick disappointed and was immediately sent back down to the Phantoms, making way for Sandström as Hart's backup.
Sandström lost his first three games before finally notching his first career NHL win against the St. Louis Blues. He ended up losing his next 9 games before notching 2 victories in his final 5 games of the season. His season was interrupted by an injury and a rehab stint with the Phantoms but because Ersson was waiver-exempt and Sandström wasn't, the Flyers had no other choice but to keep Sandström with the big club, no matter how well Ersson was playing at the time.
Before he was injured, you could make the argument that he was receiving very little goal support from a devastatingly starved offense. In his first 8 losses, he only received 12 goals of support and if you include his one victory, that number goes up to 17. His .888 SV% and a GAA upwards of 3.00 didn't help his case much – which included 2 stinkers against the Dallas Stars and New York Islanders where he allowed 10 goals on 54 shots – but neither did the Flyers' offense.
Coming back from his rehab stint, the Flyers' offense gave him a lot more support, being shutout only once, and scoring 3+ goals in all of his losses. Not that 3 goals is a lot but it is a lot more than they were previously giving him and sometimes a lot more than what Carter Hart was receiving. In his final 8 defeats, he received 23 goals of support and an additional 8 in his 2 victories. His GAA came close to 4.00 and his save percentage was at .873% to close out the year 2-6-2.
Overall he was 3-12-3 with an .880 SV% and a 3.72 GAA and for his career he currently sits with a 3-16-4 record, 3.62 GAA, and a .887 SV%. In contrast, Carter Hart sported a .907 SV% and a 2.94 GAA, while Ersson had an .899 SV% and a 3.07 GAA – with most of the damage coming in his first loss which incorporated 7 goals against.
Thanks to Money Puck we can see how each goaltender stacked up against one another in terms of their analytical numbers:
Goals Saved Above Expected
Hart: 10.3
Ersson: 1.7
Sandström: -11.8
Goals Saved Above Expected Per 60
Hart: 0.195
Ersson: 0.158
Sandström: -0.636
Save Percentage on Unblocked Shots
Hart: 0.953
Ersson: 0.948
Sandström: 0.938
GAA and xGAA
Hart: 2.94 GAA to his 3.13 expected GAA
Ersson: 3.07 GAA to his 3.23 expected GAA
Sandström: 3.72 GAA to his 3.09 expected GAA
GAA Better Than Expected
Hart: 0.19
Ersson: 0.16
Sandström: -0.64
Wins Above Replacement
Hart: 1.71
Ersson: 0.28
Sandström: -1.96
High Danger Unblocked Shot Attempt Save Percentage
Ersson: 0.885
Hart: 0.759
Sandström: 0.636
High Danger Unblocked Shot Attempt Save Percentage Above Expected
Ersson: 0.180
Hart: 0.069
Sandström: -0.039
For all goaltenders who played 20+ games, Sandström finished 7th-last in goals saved above expected, 4th-last in goals saved above expected per 60, had the 5th-lowest GAA, 4th-lowest GAA better than expected, was 7th-lowest in wins above replacement, and had the 2nd-lowest high danger unblocked shot attempt save percentage and high danger unblocked shot attempt save percentage above expected.
In contrast, albeit in a small sample size, but for all goaltenders who played in 12+ games, Ersson was number one in high danger unblocked shot attempt save percentage and high danger unblocked attempt save percentage above expected, 24th out of 76 goaltenders in GAA better than expected, and 31st out 76 goaltenders in wins above replacement and goals saved above expected.
2023-24 is going to also be a contract season for Sandström, who is set to become an unrestricted free agent. With Ersson's emergence, Alexei Kolosov making strides in the KHL, and the Flyers having Petersen under contract for another season, it's anyone's guess what their plans are for Sandström.
However, the Flyers will no longer own his signing rights once the season comes to a close, making this a very important year for the 26-year-old. Sandström will have to dress to impress to really make an impression, but starting out in the AHL won't be the worst thing as the Phantoms will still be fielding a playoff-contending roster.
2024 Stadium Series Trip
Flyers Nation and Philly Sports Trips have teamed up to bring you on an amazing bus trip to the 2024 NHL Stadium Series between the Flyers and Devils. Place an early deposit to reserve your spot at the ultimate tailgate experience at MetLife Stadium before the game. The package includes a game ticket, round-trip charter bus, an all-inclusive tailgate party with unlimited cold beverages, "Philly Style" catered food, live entertainment, and more.