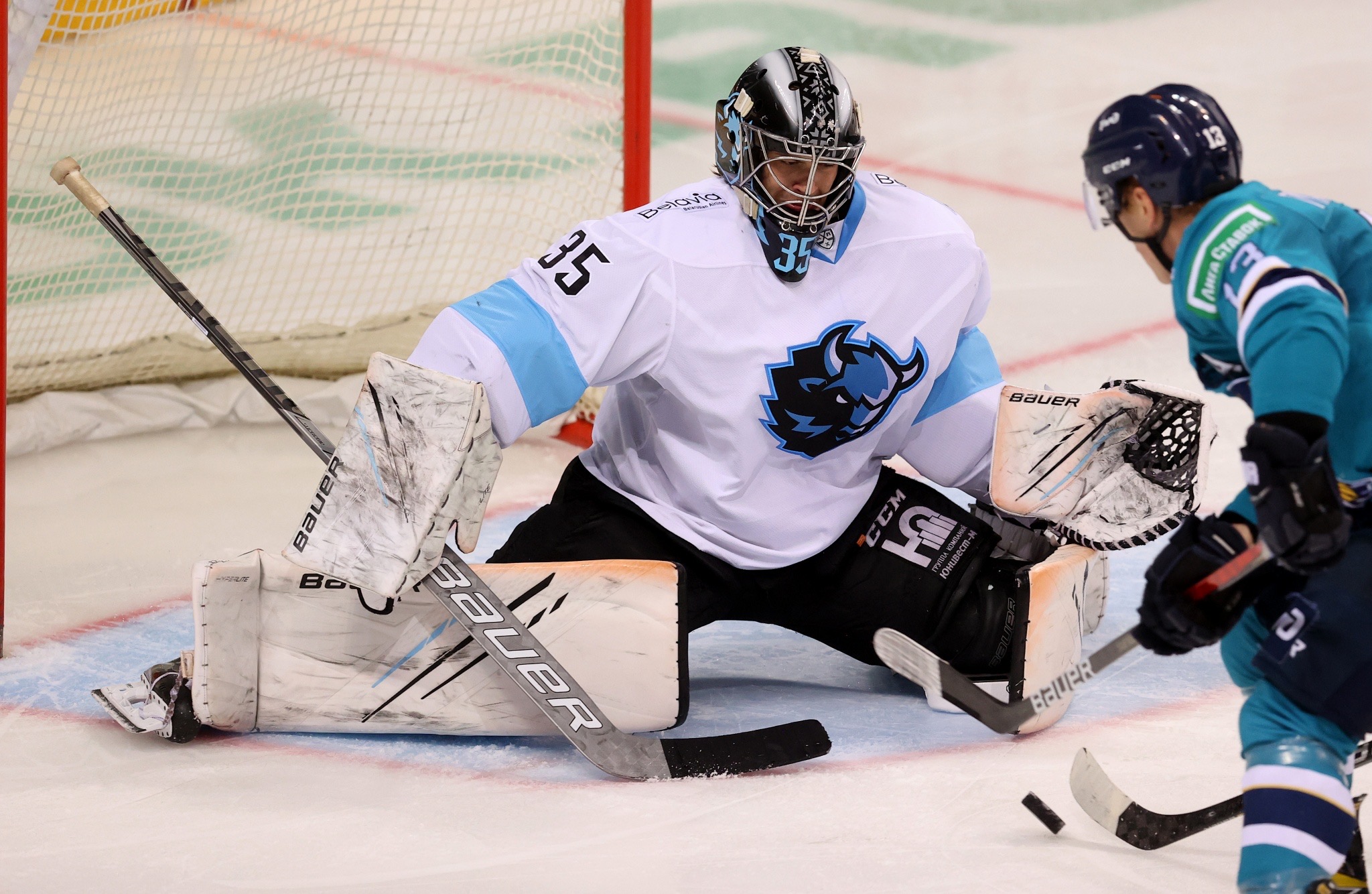 Former Philadelphia Flyers general manager Chuck Fletcher signed Ivan Fedotov to an entry-level contract on the 7th of May, 2022, in the hopes that he would be able to fly over the pond and vie for a roster spot in training camp against the likes of Felix Sandström and Samuel Ersson.
The 6'8" goaltender enjoyed a very successful 2021-22 campaign that included winning the Gagarin Cup in the KHL, winning silver at the Olympics due to his heroics in net, and he posted superb numbers wherever he played.
For CSKA Moscow, the then-25-year-old sported a 14-10-2 record, a 2.00 GAA and a .919 SV% alongside 2 shutouts. In the playoffs, Fedotov went 16-6 with 1 shutout, a 1.85 GAA, and a .937 SV%. For the Russians at the Olympics, he went 4-2 in 6 games, posted 1.61 GAA and a .943 SV%, claiming the silver medal after being defeated by Finland.
Taken with the 7th pick of the 7th round in the 2015 NHL Entry Draft, I'm not sure how much was expected from the young goaltender, but it seemed like Ron Hextall was building a goaltending factory, hoping that he could find the duo to lead the team to greatness. He got his first real taste as a starting goaltender at the KHL level in 2019-20 for Traktor Chelyabinsk, where despite going 10-16-2, he posted a 2.10 GAA an a .931 SV% with 3 shutouts. He then went 14-7-3 the following year with a 2.21 GAA and a .925 SV% for Traktor before joining CSKA Moscow in 2021-22.
He seemed ready and destined to join the Flyers, however he was forced to remain in Russia, after they deemed that he was deserting the country and evading being drafted into the Russian military with their war against the Ukraine going on. It was a very unfortunate situation, at some stages it seemed like he had disappeared and gone off the grid before popping up in the Arctic and being stationed for what they said was going to be a one-year pit stop.
EP Rinkside's Russ Cohen tweeted out that CSKA Moscow President, Igor Esmantovich, expects him to return from his one-year of service and play for his KHL side.
Getting word that CSKA GM said he expects Ivan Fedotov back from the army to play for his team for the rest of his career. #Flyers #KHL

— sportsology (@sportsology) May 2, 2023
CSKA president Igor Esmantovich 🗣️:

"What are the plans for #FueledByPhilly Ivan Fedotov when he is demobilized? For Fedotov, the decisions will be good. He will serve, he will return to CSKA. Don't worry. We are ready to take him back," Esmantovich said. #KHL pic.twitter.com/RT0uEonsN8

— Hockey News Hub (@HockeyNewsHub) May 1, 2023
With Fedotov slowly shifting out of the picture for the Flyers, Alexei Kolosov's stock has only risen in the last 12 months. He has jumped into many top-10 prospect lists for the Flyers after his 2022-23 season. There are probably similar concerns regarding Kolosov since he also plays in the KHL, but considering he is of Belarusian descent, he most likely doesn't have to endure the same hardships as Fedotov did with the Russian-Ukrainian war and the draft.
The Flyers drafted Kolosov in the third round of the 2021 NHL Entry Draft and has spent his entire junior circuit playing in various Belarusian leagues and the KHL. In his draft year, Kolosov played 9 games for Dinamo Minsk of the KHL where he sported a 3-5-1 record despite posting good peripherals with a .911 SV% and a 2.69 GAA. He also played 12 games for Dinamo-Molodechno of the Belarusian Extraleague, where he posted a 6-6-0 record, 2.23 GAA, and .915 SV%.
The following year he played in 22 games for Dinamo Minsk, where he posted an 11-9-1 record, a 2.90 GAA, and a .906 SV%, and then he played in 42 games this past season with a 13-21-5 record but with a 2.55 GAA and a .912 SV%. Kolosov is still only 21 years old, has plenty of years of experience waiting for him at the KHL level – unless the Flyers give him the early call-up to the AHL – and would currently be the 2nd best goaltending prospect in the organization behind Samuel Ersson.
As of right now, it seems like the Flyers will let him marinate further in the KHL for his hometown team of Dinamo Minsk. Ersson has the best chance of taking the backup role from Felix Sandström, unless Daniel Brière and company sign a free agent backup goaltender in free agency – which seems like a stretch when you consider how high they are on Ersson.
John Tortorella did not want to send Ersson back down to the Lehigh Valley Phantoms during his first stint with the Flyers, but they had no other choice considering he was waiver-exempt in contrast to Sandström.
Now that he has served his time, it seems like Fedotov is destined to remain in the KHL indefinitely. I think once he was forced into staying put, his Flyers career, let alone NHL career, was essentially thrown down the tube. He looked every bit the part of a stellar starting goaltender, but unfortunately politics got in the way of the Flyers having a dynamic tandem of Carter Hart and Ivan Fedotov with Samuel Ersson and Felix Sandström right behind them.
It's unfortunate that we may never see Fedotov don the Orange and Black since he looked to have all the intangibles of a successful goaltender – size, frame, experience – but at the very least the Flyers do have a few prospects outside to soften the blow.