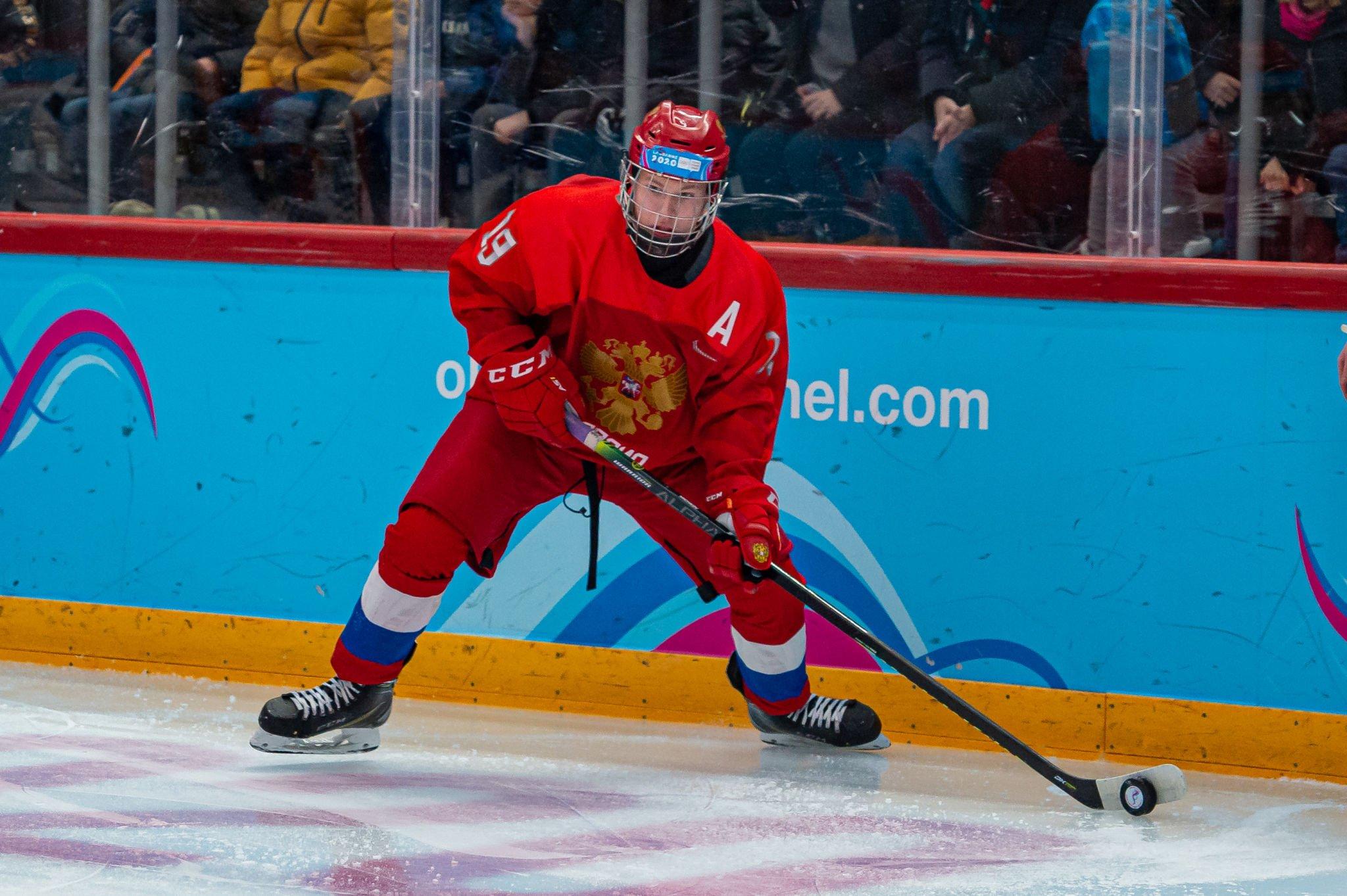 It has been officially announced that Philadelphia Flyers prospect, Matvei Michkov, will be loaned out from SKA St. Petersburg to HK Sochi after serving as a healthy scratch to start the KHL season for all but one game.
Michkov will be returning to HK Sochi, where he was loaned out last year and played particularly well – well enough to break several records for players of his age group, including Alexander Ovechkin.
Hearing #FueledByPhilly Matvei Michkov will be loaned to Sochi.
Nothing official yet. #KHL

— Hockey News Hub (@HockeyNewsHub) September 11, 2023
The KHL's notoriety for development was on hand when the regular season started and Michkov found himself riding the pine after a very successful pre-season and 3-on-3 tournament that saw him claim the MVP trophy. The 7th overall pick from the 2023 NHL Entry Draft was attempting to transition from the wing to the centre position and was playing alongside Ivan Demidov, a 2024 NHL Draft hopeful. Demidov and Michkov both earned some time as the 13th forward, which is usually a player who is relegated to a few shifts per game and something Michkov dealt with in his final tune-up in the preseason – and unsurprisingly, he scored a goal in his only shift.
Matvei Michkov 4 games into the season

1 Game Played
— 0 Goals
— 0 Assists
— 0 Points
— 0 Shots
— 0 +/-
— 0 PIMS
— 6:12 TOI Total
— 3 Healthy Scratches

If SKA spends 2 years not developing him – is he still a good pick at 7? pic.twitter.com/qoWHgKTbAg

— Big Head Hockey (@BigHeadHcky) September 8, 2023
It started to grab media attention in North America and brought about the conversation that maybe it was a mistake to draft Michkov at 7th? Several pundits – especially from those teams that passed on the uber talented prospect – took their shots and made their claims but all in all, the Flyers got what they had wanted from the beginning, which was a loan out of SKA St. Petersburg. Known to be one of the crown jewels of the KHL, they usually roll out with a very experienced, veteran-filled, and skilled lineup that usually battles for the Gagarin Cup. They have finished in 1st place in their division – Bobrov Division – in 6 consecutive seasons and have finished either 1st or 2nd in every season from 2009-10.
Artemi Panarin paced the club in points in 2013-14 and 2014-15, Ilya Kovalchuk took his turn from 2016-17 to 2017-18, and Vladimir Tkachev paced the club in back to back seasons from 2019-20 to 2020-21. Former or current NHLers in Nikita Gusev, Andrei Kuzmenko, Dmitrij Jaskin, and Vadim Shipachyov each had their turns for respective seasons.
SKA St. Petersburg won the Gagarin Cup in 2014-15 and 2016-17, they lost in the Conference Finals in 2015-16, 2017-18, 2018-19, 2020-21, 2021-22, and 2022-23, while advancing to the Finals in 2019-20 but the playoffs were then cancelled due to COVID-19. Last year alone, they finished 1st in the Western Conference with a 40-10-5 record and ultimately 1st in the Continental Cup – which is the league standings – and were 11 points clear of CSKA Moscow, who finished 2nd.
They also had the leading scorer of the league in Jaskin with 40 goals and 62 points, while teammates in Alexander Nikishin and Marat Khairullin finished 9th and 10th, respectively, in the league. So, as we previously mentioned, this a team that is always in the running and don't generally have the time or space for young players, even of the Michkov variety.
As for Michkov, the loan back to HK Sochi couldn't have come at a better time, as he looks to continue to make his mark in the KHL. Last season in 27 games for the club, he scored 9 goals and 20 points, while also chipping in with 10 goals and 14 points in 12 games for SKA-Neva St. Petersburg of the VHL. His 20 points in 27 games was only 3 points less than what Alexander Ovechkin produced at the same age – but in 26 less games!
Matvei Michkov's Draft Season in the KHL:

27 Games
— 9 Goals
— 20 Points
— 8 EVG
— 97 Shots

At the same age, Ovechkin had 3 more points in 26 more games.

Philadelphia just got a generational talent at 7th overall. pic.twitter.com/90xHraEAPn

— Big Head Hockey (@BigHeadHcky) June 28, 2023
If that wasn't bombastic enough, how about the list of players Michkov had a higher points per game average than at the same age:
Alex Ovechkin
Evgeni Malkin
Vladimir Tarasenko
Kirill Kaprizov
Nikita Kucherov
Evgeni Kuznetsov
Pavel Buchnevich
All current NHLers, some of varying degrees of talent, but most notably being game-breaking talents. It might only be one season but at 18-years-of-age, Michkov is doing things that are unheard of from players in the KHL and if he continues to develop – which he should with Sochi – the sky is truly the limit.
KHL players that Matvei Michkov had a higher P/PG than at the same age:

— Alex Ovechkin
— Evgeni Malkin
— Vladimir Tarasenko
— Kirill Kaprizov
— Nikita Kucherov
— Evgeni Kuznetsov
— Pavel Buchnevich

Eventually, we'll stop talking about him. But wow is he a great prospect. pic.twitter.com/4L1x7h1Mhj

— Big Head Hockey (@BigHeadHcky) July 3, 2023
Rather than languishing either in the press box or as the 13th forward for Roman Rotenberg's club, Michkov will be lining up on the 2nd line with Amir Garayev and Arthur Tyanulin as their first line of Dmitri Zavgorodny, Michal Kristof, and Borna Rendulic are doing fairly well right now, according to Hockey News Hub.
He'll likely play 2nd line minutes with Michkov-Garayev-Tyanulin as Zavgorodny-Krištof-Rendulic is fire right now for Sochi.

— Hockey News Hub (@HockeyNewsHub) September 11, 2023
The Philadelphia Flyers will be keeping tabs on their top prospect throughout the year as enter the first real season of the long-awaited rebuild. With Michkov now getting the playing time he deserved with Sochi, Alexei Kolosov doing his thing with Dinamo Minsk, Cutter Gauthier leading the way for Boston College, and Tyson Foerster looking to pave his way onto the opening night roster for the Flyers, the future is in good hands.
At one point in time, Michkov was head-to-head with Connor Bedard but as weeks turned to months and the with the draft inching closer by the day, Michkov's draft stock took a hit. The "Russian factor" had concerned several teams and the fact that he wouldn't be NHL-ready until 2026 scared some teams away like the San Jose Sharks and Montreal Canadiens – both of whom were looking for prospects that could play right now. It all worked out wonderfully as San Jose, Montreal, and Arizona balked at the chance of drafting someone with a skill set very similar to Bedard because it allowed the Flyers to upgrade their prospect pool with one fell swoop. 
His point totals in the international circuit – before Russia was banned due to their invasion of Ukraine – were astonishing as he paced some of the tournaments that featured Bedard and the loaded Canadian team. He also produced in every tier of the Russian circuit, whether it was in the MHL, VHL, or KHL. The timing couldn't have worked out any better as the Flyers don't intend to contend for another 2-3 seasons, which will allow Michkov to play out of his contract in the KHL and then mosey on over to North America with the Flyers coming out of a rebuild.
2024 Stadium Series Trip
Flyers Nation and Philly Sports Trips have teamed up to bring you on an amazing bus trip to the 2024 NHL Stadium Series between the Flyers and Devils. Place an early deposit to reserve your spot at the ultimate tailgate experience at MetLife Stadium before the game. The package includes a game ticket, round-trip charter bus, an all-inclusive tailgate party with unlimited cold beverages, "Philly Style" catered food, live entertainment, and more.