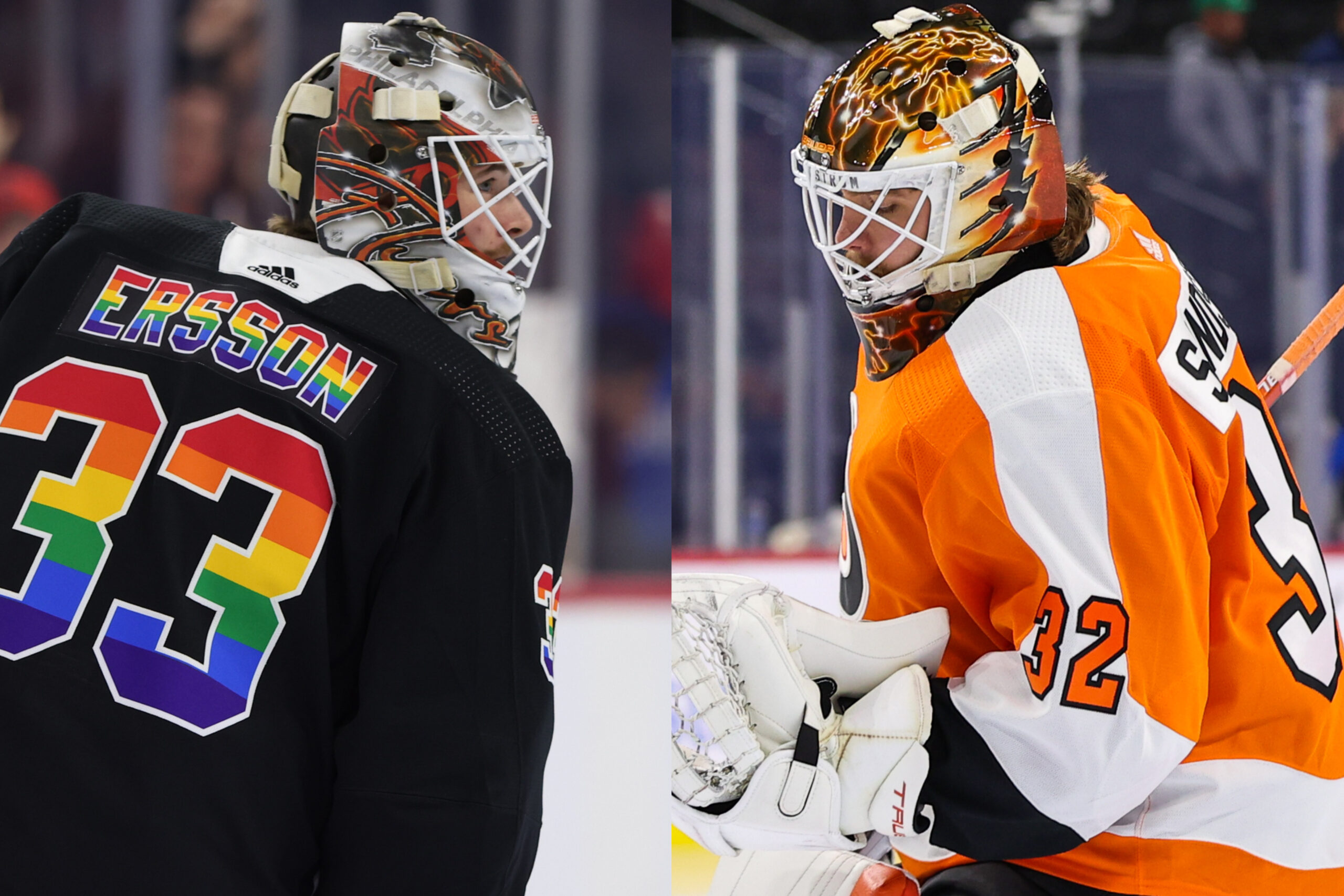 With a Decision Looming, What Do the Flyers Do with Samuel Ersson and Felix Sandström?
Samuel Ersson improved to a perfect 5-0-0 after the Philadelphia Flyers defeated the Anaheim Ducks on Tuesday, but with Felix Sandström's conditioning stint coming to an end, the Flyers have a decision on their hands.
All of a sudden, they are 5 points from the final Wild Card spot with plenty of games still to be played and with how Ersson has played in goal, it should give the team at least a second thought before they have to send him down. Thrusted into a position where he was the only healthy goaltender available, Ersson stole the show and has played some amazing hockey in a short period of time, while also collecting wins, something that has alluded Sandström. The lone caveat in this decision is that Ersson is waiver exempt and Sandström is not, otherwise I believe the Flyers would have already made their decision.
Heading into training camp, the backup position was going to be a battle between Felix Sandström and Troy Grosenick. The Flyers gave Ersson several games just to get a feel for things but he impressed so much that they had to question their already-made decision of sending him down. Grosenick flamed out, Ersson was spectacular, but Sandström was the obvious choice because the Flyers wanted Ersson to marinate in the minors for the time being. Sandström played relatively well in his short stint with the Flyers at the end of last season even though he finished with a 0-4-1 record. He faced 177 shots in just 5 games but stopped 91% of the shots.
In the 5 games that he played in last year, the Flyers gave him a grand total of 6 goals of support as they were shutout twice. In other words, he faced an average of 35.4 shots a game and got 1.2 goals of support. This year hasn't been all too different as he sports a 1-6-1 record with an .888 SV% and a 3.37 GAA. In his 7 losses the Flyers have only scored 12 times and they were against teams like the Florida Panthers, Toronto Maple Leafs, Dallas Stars, and the Colorado Avalanche. He might only have 1 win in 14 games in his short career, but his .897 SV% isn't that bad when you consider the team in front of him, the 30.6 shots a game he faces, and the 18 goals of support in 12 losses.
With Ersson, things seem and feel different. He's sturdy, dependable, and looks very comfortable between the pipes. He stands tall to the shooters, doesn't expose himself too much, and has good rebound control. Now he's only played in 6 NHL games but he's a perfect 5-0-0 with a Flyers team that's been rather unpredictable this season. He carries a .918 SV% and a 2.40 GAA, which includes his NHL debut where he allowed 5 goals on 30 shots and the 2 goals on 13 shots in relief for Carter Hart on Monday against the Boston Bruins. If you extrapolate his 5 wins, he's allowed 8 goals on 141 shots for a ridiculous .943 SV%.
Not that Sandström has been bad by any means, but Ersson is clearly the superior option between the 2 as of right now and sometimes you want to ride the hot hand, but the waiver exemption is the only thing keeping him from being the full-time NHL backup. They're both rather similar at the AHL level however, where Ersson was 9-8-1, carried a .910 SV%, and sported a 2.72 GAA, while Sandström will finish his conditioning stint going 4-1-2 with a 2.39 GAA and a .911 SV%.
So what do the Flyers do? I think the answer is obvious in the sense that they're not going to risk losing Felix Sandström on waivers to keep Ersson around. Sandström just turned 26 years old, Ersson just recently turned 23, and Carter Hart is still only 24. The future in goal is bright in Philadelphia and for the first time in forever, it's not their top priority or concern. In regards to Sandström and Ersson, the Flyers are very high on both goaltenders and believe that both goalies can help this team in the not-so-distant future.
Carter Hart will play the lion's share of the remaining games as he has done all season. Before his concussion, he led the the league in games played and with a 5-game week and several back-to-back sets, it opened the door for Ersson who stole the show almost immediately upon his arrival. Hart suffered his concussion in relief of Ersson during his debut and the Flyers played it cautiously when he was cleared to play, while also acknowledging that Ersson deserved the playing time with how he handled the Western road trip.
If unfortunate circumstances were to arise again, the Flyers know they have a stud down in the minors in the form of Samuel Ersson that will be able to handle the workload of the national hockey league. For the time being, if and when the Flyers recall Sandström, he's played relatively well in his conditioning stint and looks ready to roll for the Flyers who are finally playing great hockey – a first for him. His games came during the horrid stretch where the Flyers won 3 out of a possible 20 games. With better structure in front of him, the hope is that he can turn things around and keep the Flyers afloat in their sudden chase for a Wild Card spot.