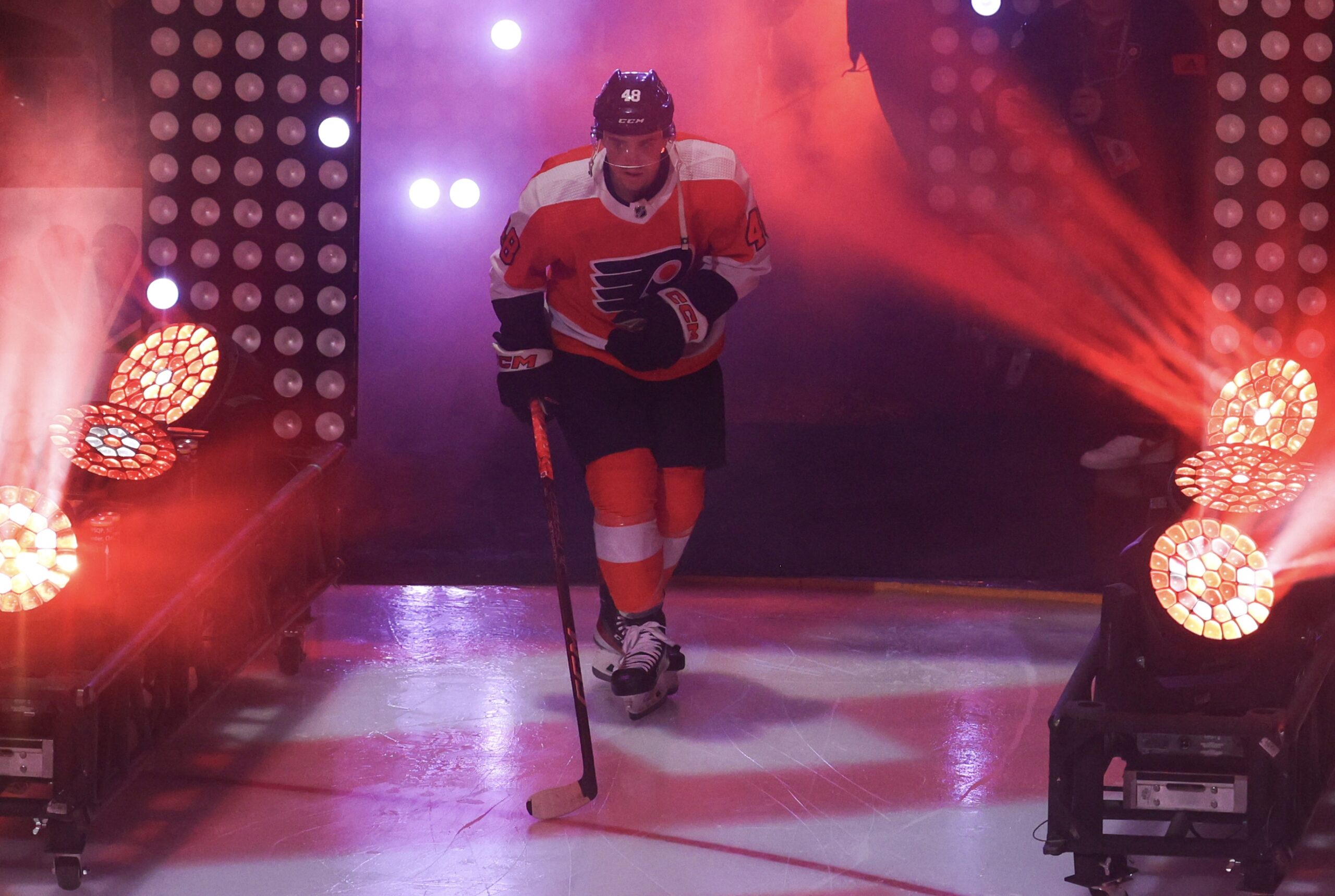 I'm sure negotiations between the Philadelphia Flyers and centre, Morgan Frost, were never going to be completely peachy, however I don't think many would've had him unsigned with September only a couple days away on their bingo cards.
The Flyers had a laundry list of RFAs to sign to new contracts including Egor Zamula, Ronnie Attard, Noah Cates, Olle Lycksell, and Cam York – all of whom signed new deals. They even signed goaltender, Samuel Ersson with one year remaining on his original deal. However, Frost has eluded the dotted line and there hasn't been much information coming out of the gates either.
Entering the summer of 2022 without a contract, the Flyers signed Frost, Owen Tippett, and Isaac Ratcliffe to new deals in quick succession. Tippett received a 2-year deal worth 3 million dollars, Ratcliffe received a 1-year deal worth 813,750 dollars, and shockingly enough, Frost received 13,750 dollars less than Ratcliffe – a prospect who had barely made any inroads at the NHL-level, if any at all. It was a prove-it deal for the former first round pick and a critical contract year at that with a new head coach coming within the confines of the Wells Fargo Center.
It's fair to say that Frost disappointed in the early stages of the 2022-23 season but made up for it by pacing the club in points during the second half of the season. Patience was required and sometimes in the past he wasn't afforded that luxury, however with John Tortorella trying to turn over a new leaf, he gave the youngster a longer leash than any of his predecessors, and it certainly paid off.
After scoring 2 goals in the first game of the season and then recording an assist in the third game, Frost started off pretty well but then slumped to the tune of 1 goal and 3 assists in the next 24 games. His catalyst was a December 11th matchup against the Arizona Coyotes where he scored a goal and added 3 helpers in an overtime loss. That was his first goal in 9 games and just his 2nd in 27 games.
From the Arizona game all the way to the season finale against Chicago, Frost scored 16 goals and 40 points in 54 games, averaged 17:17 TOI, and perhaps even better that 15 goals and 36 of those points came while at even-strength. He finally became the player that Ron Hextall was expecting when he traded Brayden Schenn to the St. Louis Blues for a package that included the 2017 27th overall pick that was used on Frost.
Of course when it comes to Frost, we can't forget the previous seasons where he either wasn't up to par or was injured. He entered the 2022-23 season with just 7 goals and 23 points in 77 games across 3 different seasons and things weren't looking great to start either. Combining his previous 3 seasons with the first 27 games of 2022-23, Frost was walking around with 10 goals and 29 points in 104 career games.
Nevertheless, he ended the season on a terrific run, it wasn't just a small sample size either, and if you configure those numbers to a full-82 game season that would be 24 goals and 60 points, exactly what the Flyers would be hoping for from a more seasoned and confident Frost.
It also wasn't just the fact that he scored in bunches and ended the season on a high note, but he was consistent throughout with no point drought longer than 3 games, which only happened twice.
According to CapFriendly, Frost's qualifying offer sits at just $840,000 since a qualifying offer is equal to 105% of the previous contract ($800,000 x 1.05). Surely Frost won't be accepting that as he looks to cash in on his fortunes from this past season. Since that is out of the cards, it all boils down to his worth right now and with the exponential rise of the salary cap in the next 2 seasons.
It is projected to rise to $87,500,000 in 2024-25 and then an even bigger jump in 2025-26 to $92,000,000. The cap is currently at $83,500,000, which is a 1 million dollar jump from 2022-23 and a 2 million dollar jump from the stagnant cap between 2019-20 to 2021-22.
A lot of players are signing 1 or 2-year deals with an eye at the exponential rise in the salary cap, and Frost could definitely be one of them. We've already seen that from the likes of Noah Cates and Cam York, so it's nothing we aren't aware of.
Even though it's hard not to see a deal getting done before training camp – and something similar occurred with Travis Konecny before the 2019-20 season – it is still a little strange that nothing has come out about the situation either. The Flyers probably want to keep a tight lip on the ship after the Kevin Hayes-Torey Krug-Travis Sanheim-St. Louis Blues trade rumour fiasco that caught the attention of the hockey world in quick order.
Short-term or long-term, it's anyone's guess right now, but one would also have to wonder how this plays out with Frost's fiery head coach, who all of a sudden has a lot more power and sway in the decision making process, at least compared to last season when Chuck Fletcher was still around. Commitment to the cause is very important for Tortorella, so the longer this drags out, the worse it could play in Frost's favour.
Nevertheless, Frost is still seen as an important piece to this puzzle and as we've been saying for a few years now, the upcoming season is going to be a big one for Morgan, who looks to finally solidify his spot on the team and in the NHL.
2024 Stadium Series Trip
Flyers Nation and Philly Sports Trips have teamed up to bring you on an amazing bus trip to the 2024 NHL Stadium Series between the Flyers and Devils. Place an early deposit to reserve your spot at the ultimate tailgate experience at MetLife Stadium before the game. The package includes a game ticket, round-trip charter bus, an all-inclusive tailgate party with unlimited cold beverages, "Philly Style" catered food, live entertainment, and more.